« Lotus 2 Eleven kit car build diary
El
Kolla även under Uppdateringar där en del finns beskrivet. Also check under Updates were some jobs are described.
Datum 2021 Apr 11
Jobbat med kablarna framme, kopplat upp en strålkastare, monterat nya signalhorn, dragit fram ledningar till dimljusen, gjort fäste för reläboxen till ljus och ordnat en gemensam jordpunkt. Har också monterat batteriet och huvudströmbrytaren.
Have been working with wiring at the front, wired up headlights, new horns, fog lights, made brackets for relay box and ground point. I've also fitted battery and main safety switch.




Modifierat kopplingsschema och legend/ Modified wiring diagram and key to diagram
Datum 2021 Apr 05
Flyttat relä- och säkringsboxen för hel- o halv-ljus bakåt i kabelhärvan så att man kan komma åt den via luckan fram. Förlängt ca 30 kablar som ansluter till instrumentet.
Moved the fuse and relay box for main lights a bit to the rear in the wire loom so it can be reached at from the bonnet (front) . Extended 30 wires to the instrument cluster connector to reach the new position in relation to the fusebox.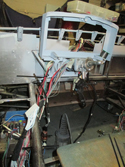 Datum 2021 Apr 02
Spårat lite kablar i motorns kabelhärva, framförallt matning från generator och matning till startmotor eftersom dessa måste förlängas fram till batteri och säkringarna. Köpte ett AGM-batteri och tillverkade en batterilåda, passade på att göra fästen för den stora säkringslådan framme vid batteriet.
Traced wires from alternator and to starter as those have to be lengthened up to the fuse box up front. Made a battery box to the AGM-battery I bought and also made brackets for the fuse box I placed close to the battery.




Datum 2021 Mar 24
Har monterat generatorfästet och generatorn, ganska tight fit. Öppnat upp framför instrumentbrädan så jag kunnat trä igenom säkringsdosa och kablar, samlat kablarna som går bakåt och de räcker precis till bakstammen.
I've fitted the alternator bracket and the alternator, tight fit. Opened up in front of the instrument cluster, so I was able to thread the wire loom and fuse box through, I also joined the wires going to the rear, and they are long enough, just.




Datum 2021 Mar 22
Då jag inte hittar delar av fästet för generatorn tillverkar jag ett eget av plåt.
Not finding parts of the alternator bracket, I'm making my own out of steel plate.






Datum 2021 Mar 20
Nu vågar jag inte klippa mer, jag har lagt ut härvan och samlat kablarna med buntband. Provar i bilen vad som passar och vad som behöver ändras. Troligen räcker huvudstammen mellanstora säkringsdosan och ECU som tur är, men alla de tunna kablarna till instrumentet måste förlängas. En annan fråga är batteriet bak eller fram, i Toyotan sitter batteriet bredvid motorn och väljer jag samma lösning måste ett gäng kablar färlängas fram till den svarta avlånga säkringsdosan som har huvudsäkringarna, eller så flyttar jag batteriet till framändan och förlänger kablaget från generatorn (plus några andra kablar), men det verkar enklare och borde heller inte vara fel ur viktbalanssynpunkt heller.
I don't dare cut any more, so I spread out the cables and temporarily joined them with cable ties. Testing in the car what works and what needs to be altered. It seems that the main loom between the big fuse and relay box and the ECU is long enough, but all the thin wires from the loom to the instrument cluster needs to be lengthened. Another question is if I'll put the battery at the back or at the front, in the Toyota it sits next to the engine and if I choose the same solution Quite a few thin wires and the main feed to the main fuses need to be lengthened up to the black fuse box that sits at the front. The other solution is that I move the battery to the front and lengthens the wires from the alternator (and a few others), this seem simpler and will also improve the weight distribution a bit.





Datum 2021 Mar 17
Fortsatt med att rensa i kabelhärvan, men nu vågar jag inte klippa mer efter ytterligare en vecka med näsan i kopplingscheman, har rensat ut 7.5 kg kabel. Jag har även rensat bort ett antal kopplingsstycken och skarvat kvarvarande kablar permanent. Mycket hjälp av betaltjänsten <"Toyota tech.eu"> där jag laddat ner alla kopplingsscheman och annan teknisk dokumentation.
Continuing to strip the wire loom, but now I don't dare cut any more after another week of cutting and studying wiring diagrams. I've removed 7.5 kgs of wire and also quite a few junction boxes and then joined the remining wires permanently. I've had a lot help from pay per hour <"Toyota tech.eu"> where I've downloaded all the wiring diagrams and other technical documentation.

Datum 2021 Mar 11
Fortsatt med att rensa i kabelhärvan, radio o högtalarkablar, ABS, styrservo, vindrutetorkare och spolning (fram o bak), höjdreglering strålkastare. Har också börjat spåra upp system som ska behållas, hel o halvljus, dimljus, blinkers, backljus, tändningslås mm.. Försöker också lista ut vilka kablar som finns i den kapade stammen till bakre delen av bilen.
Continuing to strip the wire loom, radio and speakers, stability control, power steering, wipers and washers (front and back), level control head-lights. I have also started to track systems to keep, such as headlight, foglight, reversing light, indicators, starter key among other things. Also trying to figure out which wire is which in the loom to the rear of the car, which is cut of.


Datum 2021 Mar 02
Börjat lite försiktigt rensa i kabelhärvan, först bort blev air-bagsystemet och stolsvärmen.
Started cutting out wires from the wire harness, first out was air-bag system and heated seats.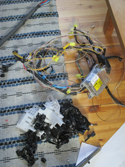 Datum 2020 Dec 04
Lagt ut de båda kabelhärvorna för jämförelse. Lite skrämmande mängd kablar vid första påseende, men försiktigt ska väl en hel del som stolsvärme, krockkuddar, innerbelysning mm. kunna klippas bort. Började med att borra ur låsskruvarna till tändningslåset för att få loss det från styrservot, en annan komponent som inte kommer att behövas. ABS och antispinn lär väl också få stryka på foten.
Spread out the two wiring looms to compare them. A little bit terrifying amount of wires at first glance, but with some caution, a lot should be able to get rid of, such as seat heating, air bags, inner lighting etc.. Started with drilling out the locking screws for the ignition lock separating it from the servo, another thing that will be gone as well as ABS and traction control.