Chassiåtgärder, bromsar, fjädring och styrning
Kolla även under Uppdateringar där en del finns beskrivet. Also check under Updates were some jobs are described.
2019 Feb 17
Provade mitt nya verktyg för att pressa flänsar på bromsledningar, vilket nöje att använda bra verktyg, det enkla helt manuella jag använt tidigare var hemskt att använda. Använde verktyget på ledningarna till bromsarna fram som behövde kortas för att passa mot de nya lägena på bromsslangarna. Har också bockat till ledningen till kopplingen, många böjar occh vridningar på den ledningen.
Testing my new tool for making en flanges in brake line pipes, such a joy using good tools, I had a simple manual that was horrible to use. Had to cut and use the brake line tool on the front brake lines to adapt to the new positions of the brake hose ends. Made the clutch line, many twists and turns.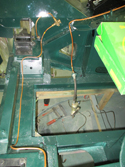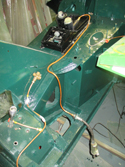 2019 Feb 16
Upptäckte att en bit vakumslang på det nya servot var sprucken, antagligen transportskada, nu bytt. Målade spilltrågen med bromsokfärg och skruvade dit dem på plats, pedalstället provisoriskt dock, eftersom jag ska byta packningssatserna i båda cylindrarna. Började dra bromsrör då det slog mig att de nya övre bärarmarna nog gör att bromsledningarna fram måste dras på annat sätt än original, därför monterade jag de nya bärarmarna och ena sidans stötdämpare för att se hur bromsslangen kan dras. Behöver nog montera spindel och bromsok också för att få de rätt.
Discovered that a short vacum rubber hose had split, probably a "shipping damage", new piece of hose now in place. Painted the drip pans with brake caliper paint and fitted them, the pedal box temporary though as I'm going to fit new seals in both main cylinders. Started tracing new brakelines when it hit me that the ones to the front wheels will need to be traced differently due to the new Frontline upper "wishbones". Therefore I fitted the Frontline kit including the new shock absorber, so I can figure out how to fit the brake hose without fouling. I now see that I will have to fit the upright and the brake caliper as well to get it right.




2019 Feb 15
Tillverkat spilltråg för broms- och kopplingscylindrarna samt för servot, den för servot fungerar också som fäste för servon.
Made drip pans for main brake and clutch cylinders and for the power brake, the one for the power brake also serves as support for the power brake.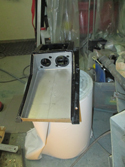 2019 Feb 14
Innan jag går vidare med målningen och att lyfta i motorn ska jag dra broms och bränsleledningar samt eventuellt kabelstammen. Måste hitta en bra position för bromsservot (som inte är original) och monterade därför vindrutetorkarmotorn så att jag kan se att den inte kolliderar med servot. Måste också kolla att servot går fritt under huven, jag har också tillfälligt satt dit pedalstället så jag kan måtta in nya ledningar till servot. Funderar starkt på att göra någon form av spilltråg under huvudcylindrar och servo för att inte förstöra lacken vid ev läckage eller spill, som det hände på TR2:an.
Before continuing painting the body and fitting the engine, I'll trace the brake and fuel lines, perhaps even the wire loom. First I need to find a good spot for the power brake (as it isn't original), so I fitted the windscreen wiper motor to check clearance. Also need to check clearance under the bonnet. I temporary fitted the pedal box and the master cylinders, so I now how to trace the new lines to and from the power brake. Thinking about making spillage trays under the master cylinders and the power brake, so I won't ruin the paint with brake fluid like it happened on the Triumph TR2.