Inredning / Interior/Trim
Datum 2019 Jun 21
Snyggat till domkraft och hjulnyckel.
Touched up the jack and wheel nut wrench.

Datum 2019 Mar 11
Fick hem nya suffletten från Limora, för en gångs skull billigare än Moss, rejält mycket billigare, så jag köpte en sufflet med dragkedja runt bakrutan.
Got the new soft top from Limora today, for once cheaper than Moss (even with the 15% Moss discount), a lot cheaper, so I felt that I could afford a top with zip out rear window.

Datum 2019 Feb 09
Målat, satt i tätningar och monterat ihop värmebatteriet samt klistrat på lite etiketter jag hittat i lådorna som följde med bilen. Putsat upp flaskan till vindrutespolningen så gott det går, etikett även här.
Painted, sealed and fitted the parts of the heater to a box and glued on some labels that I found in the boxes that came with the car. Cleaned up the windscreen washer bottle as good as it gets and fitted a label here also.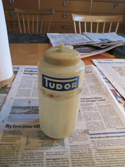 Datum 2019 Jan 16
Köpte en stoppning till kanten på instrumentbrädan från MGCO, den är visserligen till MGB men passar med lite anpassning. Fick börja med att ta ut en ränna på baksidan med en handöverfräs samt korta den knappt 10 cm. Hittade en ny typ av kontaktlim, lösningsmedelbaserat, men helt tixotropt, inte en enda limsträng, jättebra att jobba med.
Kommer att klä om listerna till överkanten av dörrarna i svart då jag inte tror jag kan hitta vinyl i rätt brun färg .
I bought padding for the dashboard from MGCO, it's actually for a MGB but fits with a little adapting. Started by milling out a channel on the rear side and shortening the padding with approx 100 mm. I found a new type of contact adhesive that's much easier to work with than the old "stringy" type (it's not water based).
Will also cover the door capping in black vinyl, I don't think I'll find vinyl in right brown colour.