Kaross
Kolla även under Uppdateringar där en del finns beskrivet. Also check under Updates were some jobs are described.
2019 Apr 17
Maskerade och plockade fram den lilla färgsprutan och lackade runt startmotor och växelspak.
Masked of and took out the tiny spray gun and painted orund starter and gear stick.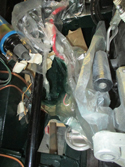 2019 Apr 16
Lite tråkiga justeringar i karossen blev av nöden när motot och växellåda återmonterades, genomföringen för växelspaken flyttad 15 mm åt vänster. Ett urtag för startmotorns solenoid var också av nöden. Har tätat med karosserikitt och får komplettera med spackel och färg.
A bit of boring adjustments of the body became necessary after engine and gearbox went in, had to move the opening for the gear stick 15 mm to the left. It was also necessary to make a recess for the starter solenoid. All new welds sealed with body cement before filler and paint.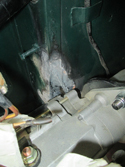 2019 Mar 07
Lite blandat, monterade ihop bakre stötfångarna vilket inkluderade att fixa till kontaktblecket i ena skyltbelysningen. Monterat locket till pedalstället, saknade tätningen, men hade tätningsremsor från TR2-bygget som funkerar bra. Monterade gaspedalen som jag modifierade lite genom att svetsa fast skruvarna i golvfästet vilket gör det enkelt att skruva fast pedalen i golvet. Hittade också de 2 returfjädrarna för broms- och kopplingspedal.
A little mix of things, fitted the details of the rear bumpers which included fixing the bulb holder of one of the licence plate lamps. Fitted the lid of the pedal box, threads needed to be cleaned and I missed the seal which was fixed with some surplus from the TR2 build. Fitted the throttle pedal and modified it a bit as I welded two bolts to the floor bracket which made it much easier to fit. Also found the 2 missing return springs for brake and clutch pedals.







2019 Mar 02, 06
Monterat stötfångarfästena och bogseröglorna.
Stålborstade ett gäng rostiga skruvar för bakre stötfångarna och penslade dem med "rostätare" innan jag ska måla dem.
Fitted front bumper brackets and towing eyelets.
Steelbrushed a set of rusty screws for rear bumpers and painted them with "rust eater" to prepare them for paint.


2019 Feb 23
Målade svart bakom grillen och monterade signalhorn och huvlåsen. Kollade att kylaren passar in.
Painted the front black behind the grille and fitted one horn and bonnet locks. Checking that radiator fits.



2019 Feb 12
Fortsatt måla, nu invändigt i sittbrunnen och ett extra lager i motorrum och bagage.
Continued paiting, now inside the cabin andan extra layer in boot and engine compartment.




2019 Feb 11
Börjat färdigmåla karossen, först motorrum, kanter av skärmar och insidan av fronten och även baggaerummet. Nästa etapp blir ett lager till i motorrummet och sen invändigt i sittbrunnen innan jag ger mig på karossen utvändigt. Har även borrat hål för kromlisternas fästen längs tröskellådorna och hålen för "MIDGET" texten.
I've started to paint the body, starting with engine bay, inside of front and the edges of the wings, also painted the boot. Next will be inside the cabin and a second layer in the engine compartment before fitting wings and starting painting the bodys outside. I also drilled the holes for the sill moulding fasteners and the "MIDGET" text.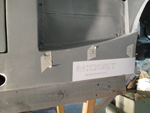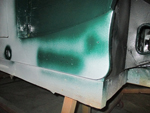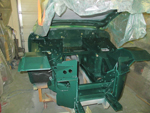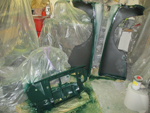 2019 Feb 10
Slipat hela karossen med "400 korn", ganska trött i armarna just nu.
Grinded down the filler with 400 grit, the whole body, so a bit sore arms now.



2019 Feb 05
Sprutat stenskottsskydd under skärmarna.
Sprayed stone chip protection under the wings.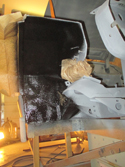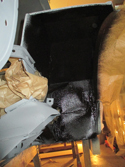 2019 Feb 05
Slipat karossen innan nästa lager slipgrund.
Grinded down the filler before next layer filler.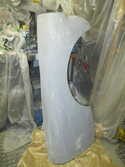 2019 Feb 02
Rengjort karossen med silkontvätt, blandat till slipgrund och sprayat över hela karossen.
Cleaned up the body with silicon remover, mixed up actylic filler and sparyed the entire body.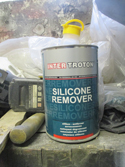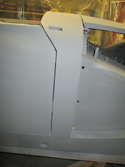 2019 Feb 02
Spacklat och slipat och nu gått över med epoxigrundfärgen igen, kan finnas någon por fortfarande men den syns bättre när grundfärgen kommit på.
Yet more filler and grinding and a final touch up spray with epoxy primer, there might still exist some scratch and pores, but they will show better when the paint has dried.



2019 Jan 31
Justerat passning på skärmar och höger dörr med hjälp av kapskiva och svets samt spackel. En kil borttagen i framkant höger dörr, skar ett snitt i bakkanten på höger skärm för att få passning mot A-stolpen. Vänster skärm justerad lite i flänsen, men mer spackel måste till högst upp på A-stolpen för att få passning mot skärmen.
Fick också hem ett färgprov, men måste se det i dagsljus. Tog två bilder med olika kameror och man ser hur man kan lura sig genom att bara kolla på datorn. Färgen heter Blue Royal och användes av BL och MG runt 70-talet.
Adjusted fitting of wings and RH door with help of cutting disc and MIG-welder. I took of a wedge i front edge of the RH door to make it fit against A-post and made a cut out in the RH wing rear edge to make an even opening against the A post. LH wing has a small cut in the flange against the A-post and the post has to be raised a bit with filler so it meets the wing.
Got a test spray home, but need to see it in daylight. As an example i took two pictures with different cameras just to show how hard it is to decide coulour from computer images. The couler is called Blue Royale and was used by BL and MG around the 70-ties.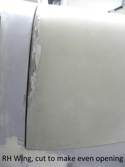 2019 Jan 30
Monterat tillbaka den delade fronten för att få rätt passning samt fyllt i material och svetsat ihop delarna. Provat att grillen passar.
Fitted the cut up front shroud to get good fit before welding, filled in new plate and welded everything togeether. Test fitted the grill to verify fit.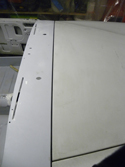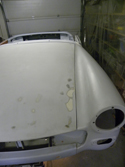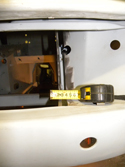 2019 Jan 29
Tillverkade en spegelvänd kopia av hållaren för nummerskyltbelysningen eftersom den ena saknades. Monterade motorhuven med rätt passning i bakkant så att jag kan anpassa fronten efter huven. Skurit isär fronten så jag kan flytta överdelen (och skärmarna) 100 mm åt vänster.
Made a mirror image of the bracket for number plate lighting as one was missing. Put the bonnet in place to get the exact position before changing the front shroud. Cutting up the front shroud to move upper part 10 mm to the left.



2019 Jan 27
Provmonterat dörrarna, vänster dörr passar rätt bra men jag måste förlänga hålen i dörren så att jag kan flytta dörren några mm framåt. Höger dörr passar sämre, nedre främre kanten måste öppnas upp lite så att jag kan få ner bakänden, blir nog lite kapa och svetsa. Bakluckan passar utmärkt
Test fitting of doors, LH door fits fine but i need to elongate some holes, so I can move it a couple of mm:s to the front. RH door has a more poor fit, I'll need to cut and weld the from lower edge to get the rear end down. The boot lid fits excellent though.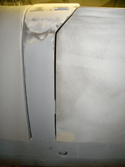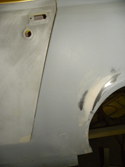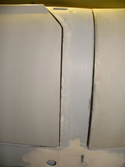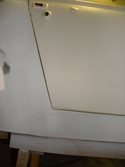 2019 Jan 24
Provmonterar front, skärmar och huv. Behövde byta ut en mutter utan gänga i bakkant höger skärm och borra några nya hål i insvetsad reparationsplåt bakom skärmarna.
Bakkant höger skärm har ojämn spalt, kapa och svetsa?
Bakkant vänster skärm sticker ut i nerkant, defintivt behov av kapa och svetsa.
Största problemet är att om huven passar mellan skärmarna blir spalten i bakkant kilformad, om man vrider huven så kilen försvinner måste hela fronten flyttas 8 mm åt vänster, tål att fundera på hur den justeringen ska göras.
Test fitting front , wings and bonnet. Needed to weld in a new nut in rear edge of RH wing and drill some new holes for screws in the new plate behind the wings
Rear edge RH wing has uneven gap, cut and weld?
Rear lower edge of LH wing sticking out, absolutely need for cutting and welding.
The biggest issue is bonnet, wedge shaped gap in rear end when it's fitting between wings and if I twist the bonnet until it's an even gap, the whole front end has to be moved 8 mm to the left, need to think about how to solve that in the best way. Probably more cutting and welding.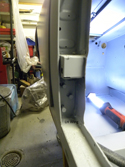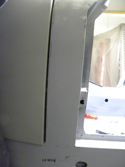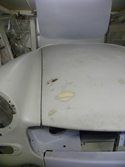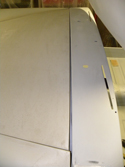 2019 Jan 24
Nästan 2 liter epoxigrundfärg senare.
Almost 2 litres epoxi primer later.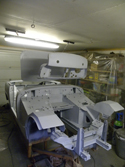 2019 Jan 21
Tredje omgången spackel, snart nöjd med finishen.
Third round with filler, almost there with the finish.





2019 Jan 13
Tätat svetsskarvar med karosserikitt och börjat spackla utvändigt.
I've been sealing welds with body cement and started first round of putty outside of body.





2019 Jan 10
Första lagret grundfärg, spädde en del så att den skulle penetrera bra i alla skarvar, nackdelen är att den rinner väldigt lätt på vertikala ytor (som synes).
First coat of primer, kept it very thin to penetrate well, downside is it becomes very runny on vertical faces.




2019 Jan 09
Rätade till några kanter ooch små bucklor, en avdragen skruv i nitmutter för "door strap" fick ersättas av ny nitmutter, M5 isf BSF 3/16", gängade om de övriga nitmuttrarna till M5 också. Satt i skruvar i samtliga gängade hål så jag slipper göra ren dem efter jag målat karossen. Fick hem grundfärgen jag tänker lägga först, den är mer tolerant mot rost än zinkrik eller epoxi grundfärger. Kan målas över med Epoxi vilket jag tänker göra med en 2K epoxigrundfärg före slipgrundfärgen.
Adjusted some minor dents and straightened some edges, a broken screw in one of the rivnuts for the door straps was broken, so I had to drill it out and replace it with a M5 rivnut, I retapped the remaining rivnuts to M5 as well. Fitted screws in all tapped holes so it will not be necessary to retapp them after paint. Got the rust tolerant primer home which I'll use first as it's more forgiving to rust than epoxi or zink rich paints, it will also accept the second layer 2K epoxi primer I will be using before the filler.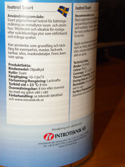 2019 Jan 07
I stort sett färdig med slipning och stålborstning av karossen.
Pracitically finished with grinding and steel brushing of the body.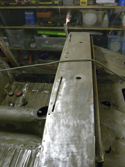 2019 Jan 04
Har börjat ta bort ytrost, karossen har varit blästrad, men stått ganska länge obehandlad. Slipar med "flapdisk" där det är mest och sen med roterande stålborste efteråt och på övriga ytor
Started removing surface rust, the body has been sandblasted but left unprotected for quite some time. Grinding with a flapdisk where it's most rust, and then rotating steel brushes afterwards and on less rusted surfaces.


2018 Dec 24
Lite anpassningar för att få fri passage för grenrör och luftfiltret, kapa ch svetsa.
Some minor adjustments, cutting and welding to make space for exhaust manifold and air filter.



2018 Dec 20
Med växellådan på plats visade det sig att jag beövde flytta öppningen för växelspaken 35 mm bakåt vilket medförde en del svetsning. När det var gjort borrade jag hålen för det nya växellådsstödet och monterade det.
With the gearbox in place it showed necessary to move the opening for the gear stick 35 mm towards the rear, followed by some welding. With that finished I drilled the bolt holes for the new gearbox support, now in place.





2018 Dec 18
Skar ut botten av kardantunneln och tvärbalken för växellådsupphängningen enligt Frontlines anvisning. Monterade in förstärkningrna av fyrkantrör i den avskurna balken. Lyfte in motor och växellåda för att kunna montera det nya stödet för växellådan.
Cut ut the bottom ouf the driveshaft tunnel and the cross member gear box support according to Frontline instructions. Fitted the square tube reinforcements supplied by Frontline into the cut off cross member. Lifted the motor and gear box i place to be able to fit the new gear box support.



2018 Dec 17
Plockade bort instrument och brytare ur instrumentbrädan och tvättade bort nästan 50 år smuts. Målade baksidan vit så att det blir ljusare att jobba bakom brädan, målade framsidan med svart skrynkelfärg. Problemet var att det var för kallt i garaget så det blev inga skrynklor, fick ta in instrumentbrädan i köket för att få färgen att skrynkla sig.
Took out the gauges and switches from the dash and cleaned out almost 50 years of dirt. Painted the dash white on the rear side, better visibility when checking electrics, and wrinkle black on the front. Problem was, it didn't wrinkle, it was to cool in the garage so I had to take it into the kitchen to make the paint wrinkle.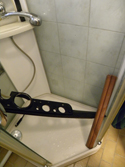 2018 Dec 10
Allra första jobbet blev att sortera upp burken med skruvar, muttrar och brickor i UNF, UNC och några metriska som tydligen slunkit med. De med (för mig) okända gängor får en egen burk att utforska vid behov.
The first job became sorting a big can of nuts, bolts and washers in cans of UNF, UNC and also som metric that may came by accident. The (for me) bolts and nuts with unknown threads gos in the can to be investigated when needed.