Motor, Engine
Kolla även under Uppdateringar där en del finns beskrivet. Also check under Updates were some jobs are described.
Engine specification and engine number


Datum 2019 Apr 18
Monterat grenröret, lite trångt, var tvungen demontera värmebatteriet innan jag lyckades krångla ner grenröret. Monterat hastighetsmätarvajern och kopplat in backljuskontakten. Plockat fram avgasröret och förberett för montage.
Fitted the exhaust manifold, it was so tight space so I had to remove the heater before I was able to wrestle it in place. Fitted speedo cable and connected the reversing light switch. Fetched the exhaust pipe and silencers preparing to fit them.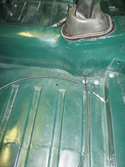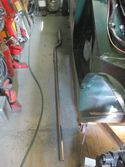 Datum 2019 Mar 22
Lindade det nya grenröret med avgasbandage.
Wrapped the new exhaust manifold with bandage.


Datum 2019 Mar 01-02
Bockat till ledningen från tank till pump, tillverkat rörclips av upphängningsklammer för kopparrör till vattenledningar. Fäst broms och bränsleledning samt tillverkat ett stöd för bränslefiltret.
Bent and fitted the line from tank to pump, made P-clips from hangers for copper water/heating pipes. Fixed brake and fuel lines and made a bracket for the fuel filter.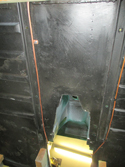 Datum 2019 Feb 21-22
Monterat bränslepump och tank så att jag kan dra bränsleledningen. Gjorde ett nytt fästjärn för den nya pumpen som passar på den gamla pumpens fästen.
Renoverat tryckregulatorn med nytt membran, nytt filter och tätningar i filterdelen.
Fitted the fuel pump and the fuel tank, so I'll know how to trace the fuel line. Made a new bracket for the new fuel pump that fit on the old pumps screws that are welded to the body.
Renewed the Filter King fuel pressure regulator with new diaphragm and new filter cartridge and seals in the filter part.




Datum 2019 Feb 05
Rengjort och polerat upp plastfläkten.
Cleaned up and polished the plastic cooling fan.

Datum 2019 Jan 19
Bytte ut samtlliga pinnskruvarna för grenrör och insug och flera av muttrarna eftersom gängorna var skadade på flera av skruvarna.
Fitted new screws and most of the nuts for exhaust and intake manifold as severel screws had damaged threads.

Datum 2019 Jan 03
Lyfte ur motor och växellåda efter inpasssning av växellådsfästen mm. så att jag kan börja slipa/borsta bort rost före grundmålning.
Removed engine and gearbox after adapting and drilling holes for new gearbox mounting among other things, so now all is prepared for grinding and steelbrushing body before painting.
Datum 2018 Dec 18
När jag skulle provmontera motor och växellåda insåg jag att det måste finnas en mellanbit mellan ram och gummidämparen. Kollade online hos Moss hur de skulle se ut och gjorde sen en djupdykning i lådorna med delar. Ett av dem behövde repareras och ja svetsade in en ny plåtbit och borrade och slipade upp nya bulthål innan de målades.
When attempting test fit of the engine I realized there should exist a support between rubber damper and chassis. Checked online at Moss what it should look like at made a dive in the boxes. Found them an realized that one needed a bit of repair, I welded in a new piece of metal, drilled and filed out the holes for bolts before painting them.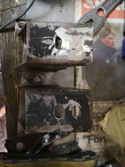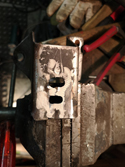 Datum 2018 Dec 13
Tagit av maskeringen och monterat tillbaka en del detaljer. Eftersom bilen kom med en helt ny oljekylare kunde jag få användning för en adapter, från ett tidigare projekt, så man kan ansluta slangarna till oljekylaren vid oljefiltret
Refitting some parts to the engine. As the car came with a brand new oil cooler I was lucky to have an adapter leftover from an earlier build, fitted it beneth the oilfilter.



Datum 2018 Dec 12
Första riktiga jobbet blir att göra iordning motor och växellåda så att jag kan provmontera och anpassa karossen för nytt växellådsfäste och ev urtag i innerskärmen för Webern innan jag börjar med själva karossen och grundmålningen av den. Slipade rent blocket och målade med svart motorfärg.
First real job is to finish the engine and gearbox so they can be test fitted and the body adopted to the new gearbox, maybe I'll also need to make a cut out in the inner wing for the Weber. After that I can start cleaning up the main body and prep it for primer and paint. I ground the engine clean and painted it black with engine paint.