Köra bilen / Driving
Datum Oct 17, 2017
Första turen med besiktigad bil.
First trip after MOT.
Youtube clip first ride after MOT

Datum Oct 16, 2017
Milstolpe igen!Så lättad, godkänd besiktning utan en enda anmärkning. Förra gången bilen besiktades var 1972.
Milestone again! I'm so relieved, approved MOT, not a single fault. Last time the car passed a MOT was in 1972.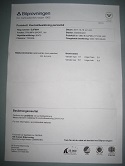 Datum Oc 15, 2017
Nästa milstolpe!Idag första gången på allmän väg. Sammanfattningsvis, varvvillig motor, osynkad etta, hård fjädring, dåliga bromsar men kan inte sluta le.
Next milestone! Today I ran the car for the first time in public road. First impressions, easy to rev, non syncro on first, stiff suspension, bad brakes but can't stop smiling.

Youtubeklipp första provturen

Datum Oc 14, 2017
Milstolpe!Idag rullade bilen för egen maskin några meter fram och tillbaka i garaget.
Milestone! Today I ran the car for the first time on it's own wheels a few meteras forward and backwards in the garage.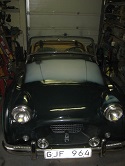 Datum Jun 12
Första chauffören i bilen.
First driver of the car.