Uppgraderingar / Updates
Datum 2018 Sept 29
Handlade på mig ett par begagnade bakre stötdämpare och en dito fördelare från en medlem i TR-klubben. Stötdämparna skickade till Stevenson Motors för renovering och fördelaren till Distributor Doctor. Ska även köpa ett framhjulsnav och en "Logic overdrive switch" från Revington. Börjar samla på mig lite delar att jobba med i vinter.
Purchased a couple of used rear shock absorbers and a distributor from a fellow club member. The shocks went to Stevensons Motors for restoring and the distributor to Distributor Doctor. I'm also about to buy a front wheel hub and a "Logic overdrive switch" from Revington. I've started to collect some parts and pieces for the winter season jobs.

Datum 2018 Jul 29
Jag har haft problem med en läcka vid huvudcylindern för broms och koppling, det förstör färgen, men har inte var så allvarlig att det påverkat funktionen. Bestämde mig för att köpa en ny då jag är osäker på om jag kan hona cylinderloppen ytterligare, jag har ju bytt tätningarna och man får hoppas att det inte var någon av de nya som var defekt. Jag har läst om undermålig kvalitet på gummidetaljer, men tyvärr även på nytillverkade cylindrar. Gjorde rent och slipade, tvättade och maskerade samt lackade nödtorftigt, får se om jag försöker göra det snyggare i vinter. Monterade de nya cylindrarna och observerade att de inte är riktigt lika i bakänden, det är även olika gänga i godset för adaptern till ledningen för kopplingen. Kunde förresten konstatera att det var kopplingcylindern som läckt. Fick sen hjälp av en bekant att lufta bromssystemet.
I've had a problem with a small leak at the brake and clutch master cylinder taking the paint out but not so big that it affected the functions. Decided to buy a new cylinder instead of trying to grind/polish it further, the seals are all new, but I've heard of rubbish quality of both rubber details and new master cylinders but I'm hoping It will work out well. Stripped out the cylinder grinded and washed away ruined paint, masked it up and sprayed new paint as a quick fix, I'll try to make it better in the coming winter. Comparing the old and new cylinder I observed that the new is a bit different at the rear end and that the threads for the adapter piece for the clutch line are different. By the way I noticed that it was the clutch cylinder that had been leaking. Got help from a friend working the pedals to get the air out of the lines, I have a vacuum tool but somehow it has problems getting all air out of the system, another problem is the small volume in the the master cylinder reservoir, I managed to empty it twice, drawing new air into the brake lines..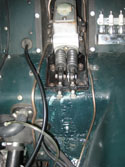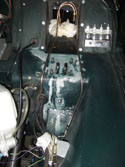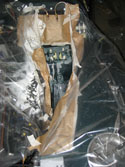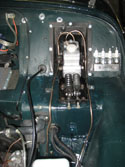 Datum 2018 May 03
Fått hem nya bromstrummor fram, hoppas att vibrtionen som kom vid 90-100 kmh försvinner. Jag är tvungen att kapa av 4 mm för att de ska gå fria från P-ändarna som sticker ut mer än orignal pga de modifierade styrarmarna från Revington. Jag målar trummorna med högtemperaturfärg och bakar trummorna i 250 i ugnen för att härda färgen.
I've got the new front brake drums and hope that it will sort the unbalance at 60 mph and above. I have to cut 4 mm of the rim of the drums to make them fit, the track rod ends are getting to close to the drums caused by the Revington steering arms. I'm painting the outside of the drums with high temperature paint and I'm curing the paint at 250 centigrade in the oven.




Datum 2018 May 01
Har monterat en backspegel på vänster skärm så jag får lite bättre koll på trafik bakom.
I've fitted a rear view mirror on left front wing to get a better view what's behind.


Datum 2018 Apr 26
Gjort iordning en reservfördelare, isf att ta med rotor, kondensor, brytare, fördelarlock, blev det inte mycket dyrare att köpa en komplett från Accuspark, visserligen en motsvarande Lucas 25D, men flyttar man tändkablarna ett steg moturs och vrider fördelaren max medurs funkar det hjälpligt. Rätt fördelare är Lucas DM24P Man kan naturligtvis köpa en elektronisk från 123 Ignition, men då pratar vi 3000 kronor.
Prepared a spare distributor instead of bringing rotor, condensator, points and distributor cap. It wasn't much more expensive buying the equivalent of a Lucas 25D from Accuspark. It works OK if you move the ignition cables one step counter CW and turns the distributor max advanced. Accurate distributor would be Lucas DM24P. I could of course bought an electronic from 123 Ignition, but then the cost would be 250 pounds.

Datum Apr 13 2018
Bra att ha saker som jag stoppar i reservhjulsutrymmet, 5 l reservdunk, varningstriangel, bogserlina, domkraft, reservdäck på burk, en verktygssats, en liten L-lampa. Enda originalverktyget är hjulmutternyckeln. Ska även stoppa dit startkablar. Får fundera på reservdelar, men fläktrem, kondensator, rotor, brytarsptsar är väl ett minimum.
Stuffed som essentials in the spare wheel compartment, 5 l spare fuel can, warning triangle, tow line, jack, spare wheel on can, some basic tools and a little LED-torch. Only original tool is the wheel nut spanner. Still missing is wires for emergency start. Also need to have some spareparts like fan belt, condensor, rotor, breaker points at least.

Datum Dec 08 2017
Ny vindruta levererad från Rimmers. Kostade på en Triplexruta eftersom den sägs ha bäst passform. Priset var OK eftersom Rimmer hade ett av sina erbjudanden (17% rabatt) men frakten var svettig.
Got the new windscreen from Rimmers. Decided to buy the Triplex screen even though it's twice the price of the cheap ones, it's said to fit the frame better than the cheaper ones. The price became a bit better as Rimmers had one of their offers of -17%. The shipping cost to Sweden was hefty though. TR shop had a better offer but they didn't leave any guarantee that I should get the windscreen in one piece.

Datum Nov 10 2017
Köpte ett par ramar till "sidescreens" från en privat säljare i England, har inte riktigt bestämt om jag ska gå på original eller modifierat utförande. Reparationen redovisad på sidan Kaross.
Bought a couple of sidescreen frames from a private seller in UK, haven't decided yet if I'm going for originality or if I'm going to modify them. Repairing of the sidescreens documented under page Body.