« Lotus 2 Eleven kit car build diary
Inredning / Interior/Trim
Kolla även under Uppdateringar där en del finns beskrivet. Also check under Updates were some jobs are described.
2022 jul 27
Har gjort ett par detaljer till insidan dörrarna, jag klädde originalplastbiten som sitter bakom öppningshandtaget med kolfiber.
Made a couple of parts for the inside of the doors, I covered the original part that sits behind the opening handle, with carbon fibre.

2022 Apr 19
Har gjort ett par aluminiumplåtar som mall för dörrpaneler, klätt med kolfiberväv och epoxi. Börjat tillverka ett stag för att hålla upp bakluckan.
Made a couple of templates for the door cards out of aluminium plate, covered them with carbon fibre cloth and epoxi. Started making a stay for the bonnet.





2022 Apr 05
Det mesta av interiåren är också på plats nu, egentligen bara backspeglarna som också ska monteras.
Most parts of the interior are in place, it's only the rearview mirrors that aren't fitted.



2022 Feb 07
Slipade ner plasten över kolfibern till en jämn yta med maskin och sen våtslipning, efter det ett lager 2K klarlack. Provmonterat instrumentbräda och växelspakskåpan. Försöker göra en mall för vindruta/vindavvisare.
Grindied down the resin first with a maskin and then with wetsanding before covering it with 2K clear coat. Testfitting the dashboard and gearstick cover. Trying to make a template for windscreen/wind deflector.





2022 Feb 04
Monterade tillbaka störtbågen och de nya säkerhetsbältena (lyckades avbeställa 4-punktsbältena). Gjort en omfattning till damasken för växelspaken.
Refitted Roll Over Bar and the new seat belts. Made a surround for the gear stick gaiter.


2022 Jan 24
Gjort håltagningar i kåpan, tillverkat fästen för tunnel och kåpa mot golvbalkarna, plastat fast fästen i kåpan. Kapat bort 70 mm från Lotus fotstöd till passagerarplatsen och svetsat ihop de igen, för att få det att passa den min bil.
Cut holes for tunnels and gear stick in the carbon fibre box, made brackets to fix tunnel and box to the floor and secured the 2 for the box with some more carbon fibre and resin. Cut out 70 mm from the Lotus passenger side footrest and welded it together to make it fit in my car.




2022 Jan 23
Lagt ett andra lager kolfiber. Tillverkat en bit tunnel av 3 mm Alu-plåt bakom växelspaken, lyckades forma den med plåtbocken och en bit av en tjockt papprör och försiktigt bocka en liten bit i taget runt rö segmentet.
Laid a second layer fibre. Made a piece of tunnel of of 3 mm Aluminium plate, rear of the gear stick, and succeed bending it to a round shape with the help of a segment of a thick cardboard tube in the plate bender.




2022 Jan 22
Gjorde ett fäste för mittunneln och passade in den. Tillverkade en pappmodell för kåpan över växelspaksmekanismen, sen en cellplastplugg och slutligen ett första lager kolfiber.
Welded up a bracket for the tunnel section and fitted the tunnel. Made a cardboard model for making a cover to the gearshift mechanism, then a plug out of polyester foam and covered it with a first layer of carbon fibre an vinyl ester.






2022 Jan 20
Tillverkat mängder med fästen för rörklammer till brandsläckningssystemet och gjort klar systemet.
Made a bunch of brackets for the pipe clips to the fire extinguisher pipes and finished the system.







2022 Jan 15-16
Testar utrymme och placering av brandsläckare, rördragning och placering av munstycken. Tillverkat förstärkningsbrickor för infästning av tanken och påbörjat rördragning. Beställt mera rörklammer för att fästa upp rör och munstycken. Ett munstycke framåt mot tank och batteri samt huvudsäkringar, ett munstycke bakåt in under instrumentbräda och sittbrunn, två framför motor och bensintank, två bakom motor på den varma sidan.
Checking out location and space for fire extinguisher tank, piping and nozzles. Made reinforcement washers for tank brackets, also started bending and fitting pipes. I need to buy pipe clamps to support pipes and nozzles. One nozzle facing forward to protect the extinguisher tank and electricity, main fuses and the battery, one facing to the rear behind dashboard and fotwell, two in front of the engine and the fuel tank, two nozzles behind the the engine in the "hot area".








2021 jun 26
Anpassat rattkåpan mot Toyotainstrumentet och den nya instrumentpanelen samt klätt den med kolfiber.
Adapted the Lotus steering column escutcheon to the Toyota cluster and the new dashboard, also covered it wiyh carbon fiber.





2021 Feb 28
Lagt till ett lager kolfiberväv över resten av instrumentbrädan och grundmålat på baksidan.
Added a layer of carbonfiber cloth over the rest of the dashboard and painted primer on the rear side.



2021 Feb 23
Lagt till ett lager kolfiberväv över instrumentkåpan.
Added a layer of carbonfiber cloth over the instrument cluster hood.



Datum 2021 Feb21
Slipat epoxyfiller och lyckats lossa aluminiumformen för glasfiberkåpan, ska nu spacklas en gång till och slipas igen.
Grinded down the epoxi filler and succeded in removing the aluminium plate mold, now ready for more filler and more grinding/sanding.

Datum 2021 Feb18
Gjorde en struktur av hård cellplast tänkt som bas för glasfiber, men ändrade mig och svetsade ihop en metallstomme, för att få en snygg radie på plåten bockade jag den över ett rör. Plastade fast huven över instrumenten med plåtstommen. När jag ändå var igång med glasfibern så la jag på en 3 mm distansskiva på aluminiumplåten framför rutan för att få den lite mer i nivå med omgivande paneler, la sen på glasfiberduk och polyester. Spacklade sen med epoxifiller för att få bättre profiler.
Made model out of Styrofoam as a base for GRP, but changed my mind and welded up a structure of steel plate, to get a nice radius I bent/rolled the plate over a tube. I then covered the hood over the instrument cluster with GRP to join it with the metal. When working with GRP I continued with the area in front of the windscreen and raised the surface 3 mm with a hard foam sheet to get it more in level with the surrounding panels, covered it with woven fiberglas cloth and soaked it with epoxy resin. Later, when it had cured I put on some lightweight epoxy filler to even out imperfections.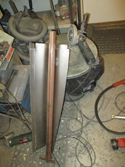 Datum 2021 Feb15
Börjat tillverka stukturen för en instrumentpanel, använder fästena för vindrutan så jag jobbade med en distans mellan rutram och ram frör panelen för att simulera rutan. Först gjorde jag en mall till en huv över hållaren för instrumentklustret, klippte ut i aluminiumplåt och formade sidor av lite cellplast, den ska sen täckas av glasfiber och har jag tur får jag loss den efter att glasfibern härdat.
Started making a frame for the dashboard, I'm using the supports for the windscreen, but putting in a spacer to simulate the windscreen thickness. First I made a sort of a hood over the bracket for the instrument cluster out of aluminium plate and bits of styrofoam which later will be covered with GRP. If I'm lucky I can separate the aluminium and the GRP.







Datum 2021 Jan 12
Svetsat in fästen för sätena i ramen och målat delarna som fästs i sätena.
Welded the seat supports to the frame and painted the parts that are removable.


Datum 2021 Jan 11
Gjort klar lätthålen. Fortsatt med delarna till förarsätet fäste som är justerbart. Fattas att svetsa in fästen i ramen samt måla detaljerna.
Made the rest of the lightning holes. Continued with the pieces for the adjusable driver seat frame.





<
Datum 2021 Jan 09
Svetsat ihop delarna och monterat ihop passagerarsidans fäste. Testade också att såga upp ett lätthål, det fungerade så det får bli några till.
Welded the pieces together and fitted the passenger seat frame. Tested cutting a hole to save some weight and it worked, so I'll cut some more.




<
Datum 2021 Jan 08
Med på köpet följde fästen till ett säte, men lutningen på fästena ger för dåligt stöd under låren så jag måste luta dem lite bakåt. Jag har bestämt mig för att sätta förarstolen på sjutbart underrede och montera passagerarstolen i fast position. Tillverkat ett par fästen till den andra stolen och förberett för att ändra lutningen på de som följde med. Bygger också en ny skena under framkanten. Väntar nu på Sparco-underredet jag köpt från Rallyshop.
Included whit the seats were supports for one seat, but I was not satisfied whit the inclination that didn't give enough support for the thighs, I had to modify the supports. I also made new supports for the other side, also modifying the hight of the front support. Now waiting for the sliding support I'm going to use on driver's seat. Passenger seat will be in a fixed position.





<
Datum 2021 Jan 06
Fick nyss de stolarna jag köpte på en eBay auktion, eftersom de är från en Elise är de smala och eftersom Lotusen också är smal, så provade jag att ställa in stolarna för se hur de passar, och det gör de även om det är trångt på passagerarsidan.
Just got the used seats I bought on an eBay auction, since they are from an Elise they are quite narrow and since my car also need quite narrow seats, I put one in just to see how they fit, and they do even though it is quite a close fit on the passenger side.