Chassiåtgärder, bromsar, fjädring och styrning
Kolla även under Uppdateringar där en del finns beskrivet. Also check under Updates were some jobs are described.
2020 Feb 24
UNF 3/8" gängsnitt hemma, tillverkade ett eget verktyg att hålla gängsnittet så att jag når ner över skänkeln på U-bultarna. Förlängde gängan och kapat av ca 20 mm, nu kan jag montera tillbaka momentstaget också.
The UNF 3/8" dye is home, made a tool to hold the dye and reach over the U-bolt leg. Prolonged the thread and cut of the legs by 20 mm, so now I can fit the tramp bars as well.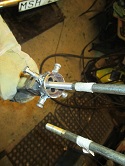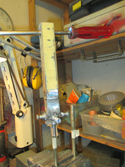 2020 Feb 22
Tillbaka i garaget efter att TR2:an fått sitt underhåll. Tyckte att bilen var onödigt låg när jag provkörde så jag plockar bort sänkningssatsen bak. Ett dilemma uppstod, U-bultarna för sänkningen är för långa trots långa gängor, standard U-bultar är för korta när momentstagen och stötdämparfästena är monterade. Ska skaffa ett UNF 3/8" gängsnitt så får jag se om jag på något sätt kan förlänga gängan på de långa U-bultarna, det blir lite besvärligt eftersom jag inte kan använda en gängkloppa.
Back in the garage after the TR2 got its maintenance. After driving the Midget it felt too low, so I'm removing the lowering kit. Now I'm facing a dilemma, the U-bolts from the kit are to long/thread too short, and standard U-bolts are too short when both tramp bar and shock support are fitted. I'll buy a UNF 3/8" dye and will try to prolong the thread on the long U-bolts, not easy as I won't be able to use a handle for the Dye inside the U-bolt.


2019 Nov 15
Justerat toe-in med hjälp av mitt hembyggda "instrument", duger gott för grovinställning. Justerade även in Panhardstaget och drog åt låsmuttrarna.
Adjusted toe-in with a DIY "instrument". Also adjusted the Panhard rod and tightened the locking nuts.
2019 Mar 29-30
För att flytta bensinpumpen ur vägen för stötdämpare fick det bli en nitmutter där det inte går att sätta en genomgående skruv. Monterade ihop ett bladfjäderpaket inklusive "anti tramp bar" som ska hindra bakaxel och bladfjäder att vrida sig vid acceleration. Fick slipa ur det främre fästet eftersom det tar i bladfjädern. Nya bussningar i fjädern, genomslagsgummi och remmar som begränsar hur lång axeln kan gå ner, ska helst fungera innan stötdämparen är fullt utsträckt. Var tvungen att kolla att P-änden går fri mot fälgen, väldigt lite spel, men den går fri.
Fjäder på vänster sida också monterad. Bromsledningen på plats på bakaxeln.
To make it possible move the fuel pump I had to put in a rivnut where it's not possible to put a screw straight through. Assembled the leaf spring package including the "anti tramp bar" which will impede the leaf spring twist at acceleration. Had to grind out a bit of material from the front bracket for the anti tramp bar because it touched the leaf spring. New bushings all over, bump stop and new check straps. Had to check that there was clearance between rim and tie rod end at the front wheels, it is but it's tight.
LH side rear spring also in place waiting for axle. Brake line in place on rear axle.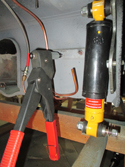 2019 Mar 24
Bytt P-ändar och bälgar samt smörjt upp kuggstångsstyrningen.
Put in new expansion bellows, grease and tie rod ends in the steering rack.




2019 Mar 23
Nu är hjulupphängning och bromsar fram klara. Var tvungen att ta loss vänster nav en gång till, hade glömt ta bort färgen på navet under bromsskivan, den var så ojämnt tjock att skivan wobblade lite grann. Har gjort flera urttag ur bromsskölden och satt på en slangbit på bromsslangarna för att skydda dem i styrblecket.
Now the front wheel suspension and brakes are finished. Had to take of the RH hub once again, I had forgotten to clean the hub from paint under the brake disc, the paint was so uneven thick it made the disc wobble. Made som more cuts in the brake disc covers so the won't interfer with the modified wishbones, also made a protection of the brake hoses of of a piece of rubber hose to protect them from the guide brackets. the stainless braided hoses are much thinner than the old rubber hoses.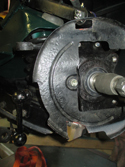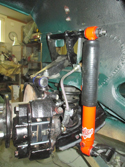 2019 Mar 19
Monterat ihop det andra bromsoket också. Tack vare Haynes handbok vet man hur lagren ska placeras, och så pressade jag i lagren bara för att upptäcka att jag glömt montera distanshållaren mellan lagren. Tyvärr spräckte jag lagerbanan när jag försökte slå ut ytterlagret från baksidan, sur kostnad på 300 kr. Sen höll jag på att göra ett misstag till men hann inte pressa på navet på axel innan jag insåg att bromsskivan måste monteras innan man trycker fast navet på axeln. Var tvungen att kapa ett jack i bromsskölden eftersom den kolliderade med den nya övre bärarmen.
Put the second caliper together. Thanks to Haynes manual you know how to place the bearings, and then I pressed the bearings in place (just as I'm used to doing on the Triumph) only to discover that I had forgotten to put the spacer btween the bearings. Unfortunately I cracked the outer race of the outer bearing when I knocked it out from behind the hub, an unfortunate loss of £30. Starting all over again I almost made another mistake before I realized that the brake disc has to be fitted on the hub before pressing the hub in place. Had to make a cut in the brake disc cover due to that it interfered with the new Frontline upper "wishbone".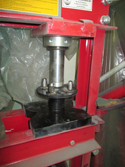 2019 Mar 17
Monterat ihop bromsoket med nya tätningar, belägg och kolvar. Gjort om och gjort rätt genom att demontera spindlarna och satt i O-ringar som tätningar uppe och nere för den fjädrande tuben som skyddar mellan bussningarna. Hittade och rättade till passningen på kilen som håller nedre tappen för spindeln centrerad och hindrar tappen från att rotera. Har också monterat styrarmarna och bromssköldarna.
Got the brake caliper fitted together with new seals, pistons and pads. Redone and done right by dimantling the uprights and putting in O-ring seals in both end of the spring-loaded tube between the bushes, also found and fitted the right cotter pin to secure the fulcrum pin from rotating. Also fitted 2 shims below the trunnion on LH side. Fitted the steering arms and brake disc covers.






2019 Mar 13-15
Arbetet med framhjulsupphängningen fortsätter, var tvungen montera bort nedre bärarmen för att kunna montera spindeln, dels för att kunna få dit O-ringar som tätningar och dels för att pressa i tappen och låsa den. Original koniska låspinne funkade inte, fellevererad? Den är för stor helt enkelt så det fick bli en M5 skruv slipad platt på ena sidan.
Monterat dit en fjäder och stötdämparen, montera fjädrar är ett av de jobb jag gillar minst. Här tog det ett tag att klura ut hur man löser det. Handboken, när jag kom mig för att kolla i den, säger att man ska lossa tråget för fjädern, alltså det som sitter under fjädern i bärarmen, och sen ta långa bult och spänna upp tråget och fjädern. Inte så lätt med de nya fästena från Frontline som sitter på tvärs under tråget, men nu sitter fjädern där.
När man lärt sig går det mycket snabbare, andra sidan gick som en dans, upptäckte dock att jag vänt övre spindelledsbussningen på det jag gjorde igår fel, mycket negativ camber, fixat nu. Har också börjat jobba med ett av bromsoken.
Work continues with front suspension, had to dismantle lower wishbone to be able to fit the upright, Tight fit for the sealing O-rings and the cotter pin for the fulcrum pin didnt't fit, too large diameter, maybe for another car? Made one of my own fram a M5 screw grinded flat on one side.
Fitted one spring and a shock absorber, fitting springs is one of my least popular jobs, but now it's there. Took a while to figure out how to solve it, the workshop manual say to remove the tray under the spring in the wishbone and the use long bolts to tighten the spring, problem is that when the Frontline shock absorber support is fitted it's obstructing. While fitting the other side I'll try to fit that support after fitting the spring and see if that works out.
When you once figured out how to do it, it's so much faster. Made LH side in half the time and discovered that I had turned the upper upright bush on the RH side I did yesterday 180 deg wrong causing a lot of negative camber, now fixed. Also started to work on one of the calipers.



2019 Mar 11
Har börjat fixa till främre hjulupphängningar, gjort ren spindeln och fixat till tätningshylsan i mitten så att den fjädrar som den ska. Satt i nya polyuretanbussningar, nya bultar och muttrar. Nya bussningar och bult även i nedre länkarmen.
Started to fix front suspension, cleaned the upright bearings and made the spring loaded tube seal work. New poly bushes, bolts and nuts, also in the lower wishbone.



2019 Mar 05-06
Plockat loss huvudcylindrarna för broms och koppling och målat dem med bromsoksfärg.
Bytt tätningar i cylndrarna och monterat tillbaka pedalstället, nu gäller det att hitta fjädrarna som ska dra tillbaka pedalerna.
Removed both the MC for clutch and brakes and painted them with paint to be used on brake calipers to withstand brake fluid leakage/spillage.
Put in new seals in the MC's and fitted the pedal box, now I need to find the return springs for the pedals.




2019 Feb 26
Fixat handbromsen efter att ha klurat ut hur handbromskabeln är fäst. Glad åt ordentligt uppmärkta påsar med skruvar som förre ägaren gjort. Gjorde ren vajern ordentligt och fettade in den på nytt. Dragit bränsleledning bak till pumpen, fattas bara sista böjarna längst bak. Börjat att fästa ledningarna med klammer.
Fixed the handbrake after figuring out how the cable is supposed to be fixed. Glad that PO bagged and tagged most of the screws. Cleaned and greased the cable. Traced the fuel line to the pump, only last bends at the rear left to do. Begun fixing the brake and fuel lines to the body with clips.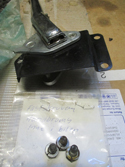 2019 Feb 17
Tillverkat bromsledningarna till och från servot samt dragit ledningen till bakaxeln. Fattas att fästa ledningarna med klammer.
Made the brake lines to and from the power brake, also made the line to the rear axle. Still need to fix them with clips.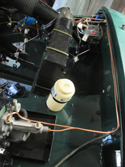 2019 Feb 17
Provade mitt nya verktyg för att pressa flänsar på bromsledningar, vilket nöje att använda bra verktyg, det enkla helt manuella jag använt tidigare var hemskt att använda. Använde verktyget på ledningarna till bromsarna fram som behövde kortas för att passa mot de nya lägena på bromsslangarna. Har också bockat till ledningen till kopplingen, många böjar occh vridningar på den ledningen.
Testing my new tool for making en flanges in brake line pipes, such a joy using good tools, I had a simple manual that was horrible to use. Had to cut and use the brake line tool on the front brake lines to adapt to the new positions of the brake hose ends. Made the clutch line, many twists and turns.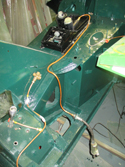 2019 Feb 16
Upptäckte att en bit vakumslang på det nya servot var sprucken, antagligen transportskada, nu bytt. Målade spilltrågen med bromsokfärg och skruvade dit dem på plats, pedalstället provisoriskt dock, eftersom jag ska byta packningssatserna i båda cylindrarna. Började dra bromsrör då det slog mig att de nya övre bärarmarna nog gör att bromsledningarna fram måste dras på annat sätt än original, därför monterade jag de nya bärarmarna och ena sidans stötdämpare för att se hur bromsslangen kan dras. Behöver nog montera spindel och bromsok också för att få de rätt.
Discovered that a short vacum rubber hose had split, probably a "shipping damage", new piece of hose now in place. Painted the drip pans with brake caliper paint and fitted them, the pedal box temporary though as I'm going to fit new seals in both main cylinders. Started tracing new brakelines when it hit me that the ones to the front wheels will need to be traced differently due to the new Frontline upper "wishbones". Therefore I fitted the Frontline kit including the new shock absorber, so I can figure out how to fit the brake hose without fouling. I now see that I will have to fit the upright and the brake caliper as well to get it right.





2019 Feb 15
Tillverkat spilltråg för broms- och kopplingscylindrarna samt för servot, den för servot fungerar också som fäste för servon.
Made drip pans for main brake and clutch cylinders and for the power brake, the one for the power brake also serves as support for the power brake.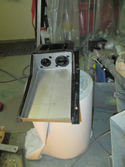 2019 Feb 14
Innan jag går vidare med målningen och att lyfta i motorn ska jag dra broms och bränsleledningar samt eventuellt kabelstammen. Måste hitta en bra position för bromsservot (som inte är original) och monterade därför vindrutetorkarmotorn så att jag kan se att den inte kolliderar med servot. Måste också kolla att servot går fritt under huven, jag har också tillfälligt satt dit pedalstället så jag kan måtta in nya ledningar till servot. Funderar starkt på att göra någon form av spilltråg under huvudcylindrar och servo för att inte förstöra lacken vid ev läckage eller spill, som det hände på TR2:an.
Before continuing painting the body and fitting the engine, I'll trace the brake and fuel lines, perhaps even the wire loom. First I need to find a good spot for the power brake (as it isn't original), so I fitted the windscreen wiper motor to check clearance. Also need to check clearance under the bonnet. I temporary fitted the pedal box and the master cylinders, so I now how to trace the new lines to and from the power brake. Thinking about making spillage trays under the master cylinders and the power brake, so I won't ruin the paint with brake fluid like it happened on the Triumph TR2.