Drivlina
Kolla även under Uppdateringar där en del finns beskrivet. Also check under Updates were some jobs are described.
Växellåda 5-växlad Ford med konverteringssats från Frontline, nummer.
Datum 2019 May 16
Efter extremt lång leveranstid (i Sverige, en månad efter att ha betalat importavgiften) fick jag hem den kinesiska växelspaksknoppen i aluminium.
Fyllt olja i växellåda och differential, gick väldigt bra med pumpen jag köpte på Biltema.
Fick också hem nya huvudcylindern till kopplingen, målade den med bromsoksfärg och monterade den, fyllt olja men inte luftat färdigt.
After quite some time, the Chinese aluminium gear stick knob got delivered.
Filled gearbox and differential with oil, very easy with the new pump I purchased from Biltema.
Also got the new MC I ordered from Limora, painted it with brake caliper paint to withstand spillage of brake fluid, filled up with oil, but air isn't bled out yet.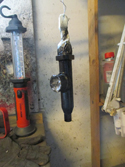 Datum 2019 May 09
Började fylla växellådsolja,men upptäckte ett litet läckage i växllådans bakre fläns. Kollade närmare och såg att det saknades en bult i nedre flänsen, en M10x75 räddade dagen. Problemet vara att komma åt att sätta dit bulten, var tvungen lossa växellådsfästet och lyfta lådan ca 20 mm. Fyllde sen hydrauliken, och.... den fungerar inte, det verkar vara läckage runt inre tätningen, den bakre håller tätt utåt, ny huvudcylinder beställd. Fyllde bromssystemet och fått ut mesta luften.
Started filling the gearbox with oil and discovered a leak at the rear flange of the gearbox. Checked and found that a bolt was missing in the lower part of the flange, now solved with a M10x75 bolt. The problem was access, had to release the gearbox support and lift the gearbox approx. 20 mm. Then I filled the clutch hydraulics, and.... it didn't work. It seems that the front seal doesn't work. Must be the bore, all seals are new and correctly fitted (did it twice), new MC ordered, repro though, original is 4 times the price. Filled the brake system, no leaks and, almost, all air bled out.




Datum 2019 Apr 15
Nu är motor och växellåda på plats liksom kardanen, tyvärr måste jag göra lite ingrepp i karossen. Startmotorn var inte monterad när jag gjorde anpassningar innan jag målade karossen invändigt, det visar sig att den tar i torpedplåten, måste också flytta hålet för växelspaken en gång till, nu åt väster sida.
Now, the engine and gearbox are in place as well as prop shaft, unfortunately I've got to make some cutting and welding in the body. I hadn't fitted the starter when I test fitted the engine to adapt the body, now it shows that the solenoid interfere with the bulkhead and I have to move the opening for the gear stick once again, now to the left.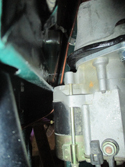 Datum 2019 Apr 14
Monterat kopplingen och växellådan, inte mitt favoritjobb att få dit växellådan utan hjälp, svårt få splinsen i rätt läge. Nu sitter den där, nästa jobb var att borra och gänga hål för slavcylindern, jag gängade för UNC eftersom det är säkrare med en grov gänga i aluminiumgods. Har också monterat startmotorn så nu är det bara att lyfta i hela paketet.
Fitted clutch and gearbox, not my favorite job doing it alone, it's tricky to find the right position of the splines. Now it's in place and the next job was to drill and tap holes for the bolts to the slave cylinder, I used UNC because it's safer with a coarse thread in aluminium. The starter is also in place and the whole package is now ready to be lifted in place.





Datum 2019 Apr 06
Målade de nya bromstrummorna med värmetålig färg och gjorde fädig bakaxeln. Säkrade bromsledningarna med rostfria bandklammer. Monterade bakaxeln på fjädrarna och anslöt handbromskabeln och bromsslangen.
Monterade Panhardstaget (från Frontline) som ska hålla axeln på plats i sidled.
Painted the new brake drums with heat-resistant paint and finished up the rear axle. Secured the brake lines with stainless ties. Put the rear axle in place and connected handbrake wire and brake hose.
Fitted the Panhard link (from Frontline) that is going to keep the axle in position sideways.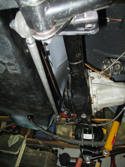 Datum 2019 Apr 04
Har väntat på den lilla axeln inne i diffen och axialbrickorna som nu äntligen kom från Limora. Med den nya axeln och de nya axiallagren runt planentväxeln är allt glapp borta där. Jobbigt att dra muttern till pinjongen till 140 lbf, det är nästan 190 Nm (eller 19 kpm för oss gamlingar). Lite glapp mellan pinjong och kronhjul kvar, man kan se att pinjongdrevet är lite slitet, men i det stora hela är jag nöjd. Momentdragit kronhjulsbultarna stegvis till 60 lbf och överfallen till 65 lbf.har även pillat dit en drivaxel och låst muttern som håller lagret, bara komma ihåg nu att vänster sidas mutter är vänstergängad.
I've been waiting for the small axle and the thrust bearings, but now they are home from Limora. With the new axle and the thrust shims the planet gear feels quite tight. Hard work to tighten the pinion nut to 140 lbf, but I have a good torque wrench. Still, a little backlash between crown wheel and pinion due to a bit of wear on the pinion, but all in all I*m quite satisfied. Torqued down the crown wheel bolts gradually to 60 lbf and the bearing caps to 65 lbf. I've also fitted one drive shaft, just have to remember to on the other side (LH) the thread is counter clockwise.




Datum 2019 Mar 31
Skaffat nödvändiga oljor.
Got the necessary oils.

Datum 2019 Mar 28-30
Jobbar vidare med bakaxeln genom att fixa handbromsmekanismen, borrar upp lederna och sätter i grövre bultar och pinnar för att få bort så mycket glapp som möjligt. Bestämmer mig för att plocka fram de flesta detaljerna till bakaxel och fjädring, upptäcker att de nya stötdämparna krockar med bränslepumpen som måste flyttas lite. Det ser ut som bromsledningarna kan dras på samma sätt som original utan att krocka med de nya delarna. Bussningarna för de s.k. Anti tramp bars, som ska förhindra att bakaxeln vrider sig, har mycket tight passning i fästena, var tvungen att slipa lite på insidan för att dit dem.
Bromsledningen på plats på bakaxeln.
Working on the rear axle fixing the hand brake mechanism, drilling out the joints, so I can put in lager pins to eliminate as much free play as possible. Decided to find out how all new parts as shock absorbers and Anti tramp bars (and later Panhard stay) will fit and if it will interfere with something, and it does, I have to move the fuel pump to make room for RH shock absorber. The supports for the anti tramp bars has such a tight fit that I had to grind of a bit to make them fit.
Brake line in place on rear axle.






Datum 2019 Mar 27
I väntan på delar till diffen, kör jag på med bakaxeln, knackar ur lagren i naven och sen packboxarna. Lägger nav och lager till diffen i ugnen på ca 100 grader, bakhjulslagren och själva diffkorgen i frysen så att det ska gå lite lättare att få dit lagren. Under tiden värme och kyla gör sitt monterar jag trumbromsarna, får användning för det lilla specialverktyget att pressa på låsclipset som håller bromscylindern på plats i bromsskölden. Superlätt att montera lagren när värme och kyla gjort sitt, glömde inte att sätta tillbaka shimsen under lagren på diffen i samma ordning de satt.
In wait for diff parts, I start with rear axle, knocking out the bearings and seals from the hubs. Putting diff cage and wheel bearings in the freezer and the hubs and the diff bearings in the oven on 100 degrees Centigrade to facilitate fitting the bearings. Meanwhile, the heat and cold is doing its work, I fit the drum,brakes on the rear axle getting use for the special tool to press on the securing clip for the brake cylinder to back plate. Very easy to press on/in the bearings when hot and cool has made its work, didn't forget to fit the shims under the diff bearings in the same order as they came out.








Datum 2019 Mar 25
Fortsatt demonteringen, hör och ser sen att yttre kullagren åtminstone ena sidan är ganska dåligt. Noga med att notra hur många shims finns under respektive lager och hur tjocka de är. Slår ur låssprinten för axeln till planetväxeln och ser att axeln är rätt sliten och att jag missat att beställa "axiallagren" bakom drivhjulen, extra beställning på gång. Jag bestämmer mig för att inte byta pinjonglagren, dels för att de låter och känns bra, men också för att jag inte ska riskera att göra fel vid injustering av pinjongen.
Continuing dismantling the differential, hears and then also see that one of the cage bearings is no good. After pulling each bearing I'm careful to notice the number and thickness of shims under each bearing. Knocks out the securing pin from the cross pin, after removing the sun wheels I notice that the pin is worn and than that I also missed ordering the thrust washers behind the whell gears, so have to order those as well. I've decided not to change pinion bearings as the sounds and feels OK, but also because I haven't the experience and tools to adjust the pinion right.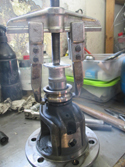 Datum 2019 Mar 24
Börjat plocka isär och göra ren diffen, var tvungen att modifiera mitt specialverktyg för att hålla flänsen medan man lossar muttern.
Started to dismantle and clean up the differential, had to modify my "special tool" that holds the flange so you can loosen the nut.




Datum 2019 Mar 17
Inventerar att jag har allt som behövs för bakaxel och differential, saknar distansbiten mellan pinjonglagren och några shims samt tätningen i "nosen". Passar också på och beställer ett par nya bromscylindrar, låsbrickor mm smådetaljer.
Taking a check of the stock for work on differential and rear axel, missing shims, a thrust washer, lock tabs, oilseal at the "nose" and the spacer between the pinion bearings. Also taking advantage and is ordering new braake cylinders for the rear brakes and some other small details for front suspension and brakes.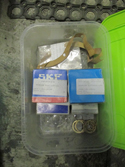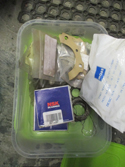 Datum 2019 Mar 05
Hämtade hem nya däcken, billiga Firestone, men liknar 70-talsdäck litegrann. Inga problem med hastighetskoder till den här bilen.
Fetched the new tires fitted and balanced, fairly cheap Firestones that has a bit of 70-ties look. No problems with speed codes on a Midget.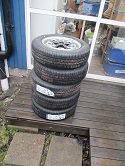 Datum 2019 Feb 09
Lite småpyssel, putsade upp fälgcentrum och klistrade på MG-märken.
Small job, cleaned up the rim center caps and glued on MG badges.


Datum 2018 Dec 17
Lite orolig att kopplingen ser ocentrerad ut över lamellen som är centrerad i svänghjulet. Monterat växellådan provisoriskt mot motorn för att kunna lyfta i motor och växelåda i karossen så jag kan passa in det nya växellådsfästet.
A bit worried as the clutch doesn't look centerd over the clutch plate. Temporary fitted the gearbox to the engine so I'll be able lift it into the body so I can fit the new gear box support.


Datum 2018 Dec 14
Förbereder den nya växellådan för montage, Behöver kopplingsgaffeln och bolten som håller den från den gamla lådan, förslaget var att använda även skyddskåpan för startmotordrevet, men det behövs inte med en modern startmostor så jag tillverkade ett eget täcklock. En ny bussning och lagerbehöver monteras i svänghjul/vevaxel, momentdrar och låser bultarna för svänghjulet. Monterar kopplingen. Kollar att det är rätt drev på startmotorn och att den inte tar i svänghjulet.
Preparing the new 5-speed gearbox. The clutch fork and bolt is needed from the old gearbox, it's also suggested using the cover for starter cog wheel, but this will not be needed with a modern starter, so I made an own cover plate. New bush and spigot bearing was fitted to the flywheel and crankshaft, bolts torqued and locked. Fitted the clutch. Checking that I have the right drive on the starter and that there isn't any interference with the flywheel.