El
Kolla även under Uppdateringar där en del finns beskrivet. Also check under Updates were some jobs are described.
Modifierat kopplingsschema och legend/ Modified wiring diagram and key to diagram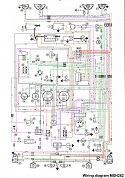 Datum 2020 Mar 22
Vänster blinkers slutade fungera och jag kunde härleda felet till spakomkopplaren, så det var bara att plocka dän ratten, kåpan och spaken. Det visade sig att den lilla inringade fjädern inte gav kontakt mot polen, så med lite putsande och böjande såfungerar det igen, passade också på att byta ut en bit kabel med dålig lödning och sönderklämd isolering.
Left indicator stopped working and I diagnosed the fault to the stalk switch, so had to remove steering wheel, cowling and the switch. The problem was the little spring "inside the red circle" didn't make contact with the pole, but after polishing and a little bending it works again. Took the opportunity to fix a bad soldering and substitute a wire with damage insulation.


Datum 2020 Mar 04
Fick aldrig den hembyggda Lambdadisplayen att fungera så jag köpte ett standardinstrument av fabrikat AEM som visar antingen lamdavärdet eller bränsle-luftkvoten, kallas även AFR (Air Fuel Ratio) eller UEGO (Universal Exhaust Gas Oxygen (sensor)). Själva sensorn fungerar som den ska så den behöll jag.
Never got the DIY AFR-diplay to work, so I bought a AFM (brand) standard gauge, it kan display AFR (Air Fuel Ratio) or lambda value. I kept the sensor because it's working OK.

Datum 2020 Mar 02
Hittade stag till extraljus inköpta för mer än 50 år sen till extraljusen på en Cooper. Med lite modifiering passar de även på en Midget.
Found a couple of adjustable supports for spotlights, I bought them for more then 50 years ago to the Cooper I had once upon a time. They work with some modification on a Midget as well.


Datum 2020 Feb 29
Monterade tillbaka elektroniska fördelaren från 123 Ignition, den här gången med lite eftertanke, tror att jag hade kopplat + och - fel på mot tändspolen. Nu funkar det som det ska.
Fitted the 123 Ignition once again, took a bit more care and thinking twice, now working as it should. True is I had connected + and - wrong at the coil.

Datum 2019 Nov 24
Hade en liten oljeläcka från anslutningen till oljetrycksmätaren vilket medförde att instrumentbrädan var tvunge att demonteras igen. Tyvärr hade jag inte checkat ut ordentligt så nu kunde jag byta plats på brytarna för vindrutetorkare och ljus (och även skifta brytare). Upptäckte att jag inte hade parkeringsljus fram, vilket visade sig bero på dålig jordning, för mycket färg under låsbrickorna. Hade heller inget signalhorn när jag satte dit tryckknappen i centrum, fjäderstiftet bottnade inte riktigt mot släpringen. Nu allt åtgärdat.
Had a tiny oil leak from the oil pressure gauge which resulted in a need to remove the dashboard (once again). Unfortunately I hadn't checked out the electrics properly, so no I could switch place, and switches, for wipers and light. Also discovered that I had no parking lights at the front due to poor ground, too much paint under the locking washers to get proper ground. When fitting the horn push, no signal due to the spring-loaded contact pin not connecting to the slip ring. Sorted with a bit of drilling and grinding. Now everything fixed but I reverted to the old type of distributor and mailed 123ignition about what I think is an issue with their distributor, the indicating LED doesn't light up where it should.




Datum 2019 Nov 15
Justerat in tändningen och kopplat upp nya fördelaren. Vevat runt motorn från startnyckeln utan ström till tändspolen och med stiften urmonterade, tills jag fått oljetryck.
Adjusted the new electronic distributors timing and wired it up. Turned the engine over from starter key until I got oil pressure, no power to the coil and plugs out.

Datum 2019 Nov 14
Hittade ett par felkällor, en hona med dålig krypning i matning till extrapanelen och ett kontaktstycke i ledningen till höger blinkers fram. Nu har jag visning på voltmetern och ström till strömuttag och bypassbrytaren för kylarfläkten. Fick hem rätt sorts blinkrelä och tillverkade en hållare till reläet så nu fungerar blinkers som den ska. Monterade den gamla fördelaren för att kolla vart rotorn pekar vid ÖD. Satt i nya elektroniska fördelaren, så nu fattas bara att justera in tändningen.
Tyvärr verkar inte den byggsatsbyggda visningen av lambdavärdet fungera.
Found a couple of "gremlins", one female spade whit bad crimping in the power supply to the extra panel and an old bad contact piece in the wiring to RH indicator lamp. Now I have a working volt meter and power to the by-pass switch for the radiator cooling fan. Got the new flasher relay that works with LED lamps in the mail, had to make a sort of clamp to fix it in place, now indicators and dashboard indicator lamps all work. Fitted the old distributor to see in which direction the rotor points at TDC. Fitted the new electronic distributor, so now the only thing missing is adjusting the timing.
Unfortunately the AFR/UEGO display I built, doesn't work.








Datum 2019 Nov 11
Checkar ut elen, det mesta fungerar. Lite knepigt fel på vänster helljus som visade sig vara att den helt nya halogenlampan inte fungerar på helljus, lite sent att klaga då det är rätt länge sen jag köpte strålkastarna inklusive lampor. Ett mer svårfunnet fel som jag så småningom lyckats lokalisera till matningen till varvräknare och spänningsregulatorn för bränslemätaren samt matning till blinkers, det är nästa utmaning. Måste även justera läget för släpskon till signalhornet i rattstången. Har bränt 3 säkringar (samma position) innan jag hittat den enda kabel från säkringsdosan som orsakar kortslutningen. Vidare spårning gav att impulsledningen för temperaturmätaren låg an mot ett naket stift på spänningsregulatorn till bränslemätaren.
Checking electrics, most things work. A bit tricky fault was LH headlamp that refused to glow, it was the brand-new halogen bulb that was faulty on high beam, a bit late to complain as it's quite some time since I bought the whole lamps including bulbs, but I had a spare so no big deal. A bit more difficult to find is one fuse blowing, feeding "green" wires, after blow 3 fuses I have narrowed it down to rev counter, indicators and voltage regulator for fuel gauge which will be next task. Also need to adjust the position of the stationary contact against the contact ring in the steering wheel. Further investigation led to discover that the impulse tube to the temperature gauge was shorting on a naked terminal on the voltage regulator for the fuel gauge.

Datum 2019 Oct 19
Monterat ett tredje bromsljus i störtbågen, dragit ledningarna inuti störtbågen.
Fitted the high 3rd brakelight in the roll over bar and traced the wires inside the tubeing.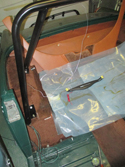 Datum 2019 Oct 16
Monterat en dold brytare för bränslepumpen. Löder in kabel för högt tredje bromsljus som jag tänker fästa i störtbågen.
Fitted a hidden switch for the fuel pump. Soldering in an extra wire for high 3rd brakelight which I'm going to fit to the roll over bar.

Datum 2019 Oct 01
Fick hem rattkåpan och monterade den.
The steering column cowl was delivered from MGOC Spares, now fitted.


Datum 2019 Sept 27
Monterat baklamporna.
Fitted rear lights.

Datum 2019 Sept 23-26
Dragit kablar för extraljusen till nytt relä (inte på plats än, men beställd), kopplat bort strömbrytaren för instrumentbelysningen och använder den för extraljusen istället. Kopplat in dörrkontakterna, förberett för varningssummer för glömt ljus, kopplad mellan P-ljus och dörrkontakter. Justerat in rattstång och blinkers/ljusspaken samt att, tyvärr sprack kåpan (jag la rätt mycket jobb på att laga) över blinkersspaken. Lödde på sladdar på en liten summer och koppade in reläet för extraljusen.
Markerade ett bättre synligt TDC med körnslag och färg, det som sitter mitt under är helt omöjligt att se.
Wired up spotlights to a new relay (missing, but ordered), connected to the switch for panel light, panel light always on with the lights. Connected the door switches and prepared wiring for a buzzer connected between parking light and door switches. Adjusted steering column and switches, the cowl I spent some time mending, unfortunately cracked. Soldered wires to a small buzzer and wired up the rely for the spotlights.
Marked up a better visible TDC with colour and punch marks, original one is almost impossible to see.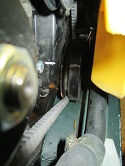 Datum 2019 Sept 22
Köpte ett par Hella extraljus på en veteranmarknad. Tillverkade ett par fästen som jag svetsade fast i stödet för stötfångaren och monterade dit ljusen.
Bought a couple of Hella spotlights on a automarket. Made a couple of supports that I welded to the bumper stay, and fitted the spot lights.




Datum 2019 Sept 20
Käpte nya justerskruvar fär strålkastarna från Rimmers, plastpluggarna fär skruvarna är av mycket bättre konstruktion än de från Moss. Var tvungen att tillverka ett nytt skruvfäste på den ena hållaren fär linsen.
Bought new adjuster kit for the headlights from Rimmers, much better quality than those from Moss. Had to make a new adjuster bracket on one of the lens holders.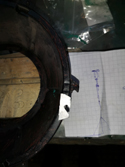 Datum 2019 Jun 27
Har modifierat det justerbara stödet för generatorn, som det sitter under generatorn är det väldigt svåråtkomligt och det finns inget naturligt sätt att spänna fläktremmen. Jag har svetsat ihop ett glidande drag som med hjälp av en skruv kan spänna remmen. Har intetestat än men har förhoppningar.
I've modified the adjustable stay for the alternator, it's located below the alternator and is hard to get at and there is no good way to stretch the fan belt. I've welded together a sliding tensioner which I have hope will work, haven't tested yet though.

Datum 2019 Jun 21
Har börjat koppla in elen till instrumentbrädan, får bara en hastighet på vindrutetorkarna och ingen automatisk återgång, har testat flera varianter men inget hjälper, ett vanligt problem brukar vara att kontakten för automatisk återgång är sönder. Tror inte jag bryr mig, det är en vackert väder bil.
I've started connecting wiring to the instruments and switches, can't make windscreen wipers work on two speed and there is no auto return either. Maybe the auto return switch has broken, it's a common fault. I think I will not care fix this problems, it's a car for nice weather.

Datum 2019 Jun 19
Förbereder montage av instrumentbrädan, egentligen föranlett av att jag vill ha allt klart i motorrummet och choke, ventilationsluftspjall, tempgivare och oljetrycksledningar hänger intimt ihop med instrumentbrädan.
Preparing for finishing the dashboard, in reality caused by me wanting to have everything finished in the engine bay and choke, cable to ventilation valve, oil pressure piping and gauge, temperature probe and pipe are all intimately connected to the dashboard.

Datum 2019 Jun 13
Fixat ett fäste till displayen för bredbandslambdan och monterat själva sonden. Jag ska göra ett litet sparkskydd för kabeln där den går upp genom golvet.
Made a bracket to hold the wide band lambda display and fitted the lambda probe. Need to make a kind of kick shield for the wire where it pass through the floor close to the firewall.




Datum 2019 Jun 12
Fixat till en fast startknapp i motorutrymmet monterad på fästet där solenoiden satt från början.
Har lött ihop bredbandslambdan som kom som byggsats, köpt från 14point7 i USA, den visar lambda värdet och sondens temperatur, det finns även utgångar till visarinstrument och linjär utgång lambda 1.
Fixed up a starter button in the engine compartment, will fix it with screws to the support where the solenoid used to sit.
I've soldered together a wide band lambda kit bought from 14point7 i USA, the display shows actual lambda and the probes temperature, it also has output for gauge and ECU or lambda 1.













Datum 2019 May 27
Borrade hål för dörrkontakterna och anpassade längden på utsticket, väldigt trångt mellan dörr och fäste.
Drilled holes for door switches and adapted the protruding length, very little distance between door and body.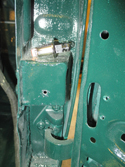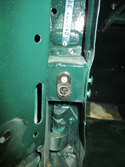 Datum 2019 May 07
Monterade den nya fördelaren från 123Ignition, efter att fått hem vakumslangen som passar i anslutningarna på insuget. Minsta kvatitet var 20 m av slang med 4mm ytterdiameter, så behöver någon luftslang finns det att hämta. Att hitta TDC är inte lätt på den här motorn om man ska gå efter märkena på remskivan, de är i princip omöjliga att se under bilen. Det går heller inte att komma åt muttern på remskivan för att vrida motorn. Har satt dit fläktremmen, 850 mm blev bra längd, men spännanordningen är väldigt bakfram eftersm den är placerad under generatorn och inte särskilt lätt att komma åt.
Fitted the new distributor from 123 Ignition, after the 4 mm vacuum hose was delivered, minimum quantity was 20 meters so, if somebody needs 4 mm OD hose I've got plenty. Finding TDC on this engine isn't easy, the marks are in fact invisible under the car. Getting to the nut on the main pulley isn't an option to turn the engine either. Fitted the new fan belt, 850 mm was a perfect fit, but the arrangement to tighten the belt is a bit backwards and difficult to access being under the alternator.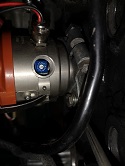 Datum 2019 May 01
Monterade styrningen för kylfläkten, sensor i övre anslutningen på kylaren och temperaturkontrollenhet.
Fitted control unit for electric cooling fan, sensor in upper hose of radiator and the adjustable temperature control unit.



Datum 2019 Apr 17
Lite elpyssel, kopplade in bagarumsbelysning och brytare, besvärlig väg få in kablarna till lampan. Kopplade jordflätan mellan motor och kaross samt batterikabel till startmotor och kabel från startnyckel till solenoiden.
Tinkered a bit with the electrics, connecting boot light and contact breaker, a bit difficult to trace the wires to the lamp. Also fitted groound strap between engine and body, as well as battery wire to starter and wire from key to solenoid.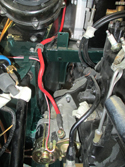 Datum 2019 Mar 11
Monterat elfläkten på sitt specialfäste som förre ägaren tillverkat, det behövs eftersom fläkten inte kan monteras dikt an mot kylaren som man brukar pga oljekylarens placering. Har också fåt anpassa signalhornens placering lite för att de inte ska krocka med fläkten.
Fitted the electric cooling fan on the special mount made by the PO, it's needed because the fan can't be fitted on the face of the radiator as suggested becuse of the oil cooler. The placement of the horns also had to be adjusted not to interfere with the fan blades.


Datum 2019 Mar 05
Gjort ren vindrutetorkarmekanismen från gammalt hårdnat fett och målat lite grann på de exponerade delen av styrröret.
Cleaned out the windscreen wiper mechanism from old hardened grease and painted the part of the guide tube in the engine bay that had a bit of surface rust.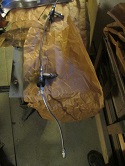 Datum 2019 Mar 03
Monterat säkerhetsbrytare och lött in terminaler på batterikablarna, fattas bara att anpassa längden på kabeln till startmotorn.
Fitted the safety switch and soldered terminals on the battery wires, what is missing is adapting the length of the wire going to the starter.


Datum 2019 Mar 02
Tillverkat fästen för batteriet.
Made battery fastening bracket.




Datum 2019 Feb 23-24
Fortsätter placera ut saker som måste tas hänsyn till när jag ska dra bromsledningar. Nu tillverkade jag ett fäste för säkringsdosa och huvudsäkring, lite mer komplicerat än nödvändigt kanske, men jag återanvänder gamla fästen i karossen.
Även reläna på plats.
Continuing placing things that might interfere with new brake lines, this time the front wire loom, fuse box and the main fuse. Made a new support for the fuses, a bit more complicated than might be necessary, but I'm reusing existing nuts welded to the body.
The relays are also in place.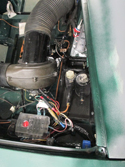 Datum 2019 Feb 21
Monterade fläkt och värmare så jag kan se att de inte kolliderar med säkringsdosan eller bromsledningarna.
Fitted heater and fan so I can check that there will be no interference with the new fuse box and the new brake lines.

Datum 2019 Feb 20
La ut kabelhärvan lite provsoriskt för att se om säkringsdosans inkoppling funkade placeringsmässigt samt för att kunna hitta var någonstans jg ska koppla in reläerna för ljus, fläkt och signalhorn. Gjorde om lite på säkringsdosan och använder jordplinten som samlingspunkt för batterianslutningen, har satt in en huvudsäkring i batterianslutningen. Lite klurigt att fundera ut hur kablarna fästs och låses i reläsockeln, men nu sitter alla reläna där.
Temporary put the wire loom in place to see if the fuse box should fit and also find the place where to cut in the relays connections. Modified the wiring at the fuse box, using the socket for ground as a battery connection and distributing from that point, also put in a main 50 A main fuse in the battery wire. Took a bit of thinking and testing to find out how to wire up and secure the wires in the relay socket, but now they are there.






Datum 2019 Feb 19
Modifierar kabelstammen till nya säkringshållaren, sätter också in ett relämellan strömmatning och tändningslåset så att mindre sröm behöver gå tur o retur tändningslåset.
Lägger också till ett par kablar från säkringshållaren fram till tänkt plats för relän för ljus och kylfläkt. Kablar för laddningsrelä och separat solenoid bortrationaliserade, ny startmotor och växelströmsgenerator tar hand om det.
Modifying the wire loom to the new fuse box, also putting in a relay to relive the starter key from a lot of current.
Also adding wires to the loom, up to the front, where I'll fit the relays for light and cooling fan. No wiring for control box and separate solenoid left, new starter and alternator takes care of that.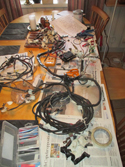 Datum 2019 Feb 18
Leverans av elektronisk fördelare från 123 Igniton, den gamla får följa med som reserv.
Delivery of electronic distributor from 123 ignition, the old one will join as spare.


Datum 2019 Feb 08
Monterade LED"glödlampor" alltså sådana som har glasbulb lika gamla glödlampor i blinkers/stopp och parkering. Jag har redan skaffat ett elektroniskt blinkrela, så det bör fungera.
Tillverkade en extra panel till instrumentbrädan för ladduttag, USB och Cig, en liten voltmeter och en manuell brytare för elektriska kylfläkten. Jag har lämnat plats för två extra brytare eller liknande, kanske en vajer till en reglerventil för värmen och en extraljuskontakt tex.
Put in LED"bulbs", meaning LED:s that have a glass bulb like old light bulbs in rear lights and front indicators/parking light. I've already got an electronic flasher relay so it should work.
Made an extension to the dashboard for charger outlets, USB and cig, a small volt meter and an override switch for the electric cooling fan. I left space for a couple of extras likes a push/pull cable for a heater valve like I did on the TR2 and maybe a switch for spotlights or DRL's.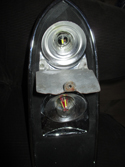 Datum 2019 Jan 22
Ska linda på ny vävtape-isolering på bakre kabelstammen, den främre med vinyltape har klarat sig bättre.
About to wrap the rear wire loom with cloth tape, the front loom with vinyl tape has managed better.

Datum 2019 Jan 21
Lagat fläkthuset, ett par sprickor, men viktigast var att 2 skruvar saknades för fastsättning av fläktmotor och luftintaget. Jag gjorde hålen lite större och fräste ur för aluminiumnitmuttrar och stukade dem lite lätt samt förstärkte med snabblim, satte sen in en skruv från baksidan. Gjorde även en gummitätning mella fläkthus och motorflänsen.
Fick även en leverans från CBS med lite extra el som ska in i bilen som säkerhetsbrytare, ny större säkringsdosa, en huvudsäkring, en reläbank för ljus, signal och elfläkt, nya batterikablar mm. Med i leveransen var även en rulle avgasbandage som inte alls har med elen att göra.
Mended the heater fan housing, it had a couple of cracks and two screws missing for holding fan motor and air inlet. I enlarged the holes and milled out room for the rivnut flanges with a Dremel. Expanded the rivnuts a bit and enforced with superglue, put in a screw for inside and now it looks like the rest of the screws, also cut out a rubber seal from a thin rubber sheet to use between motor flange and fan housing.
Got a delivery from CBS (Car Builder Solutions) including extra electric gear like safety switch, new battery cables, new fuse box, main fuse, relays for lights, horns and electric fan, relay holder and more. Also ordered exhaust wrap which has nothing what so ever to do with the electrics.





Datum 2019 Jan 20
Gjort ren och målat lite elprylar som fläktmotor, signalhorn och vindrutetorkarmotor. Har också fixat lit halvbra fix i kabelstammen.
Cleaned and painted heater fan motor, horn and wiper motor. Also fixed som, not so god fixes, in the wiring loom.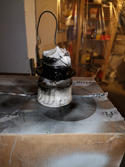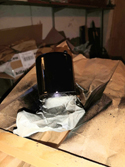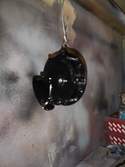 Datum 2019 Jan 19
Lagade blinkers o ljusomkopplarspaken med ny släpkontakt fär signalhornet samt skaravade och lädde dit en trasig kabel. Fixade en stor spricka i kåpan fär ovanstående kontakt, liksom ersatte en saknad (sänderbruten) mutter med en M4 nitmutter som jag byggde upp ett fäste runt med snabblim och bakpulver (som fyllmedel).
Har bärjat märka upp kabelstammen, de 30 år gamla etiketterna av maskeringstejp är väldigt spräda och i de flesta fall oläsliga.
Fixed some problems like broken wire and bad horn connector "shoe in the column stalk switch. Also fixed the cracked cowl and glued in a M4 rivnut instead of a missing nut, also built up the broken support for the screw using superglue and baking soda (as a filler).
Started labeling the wiring loom, most labels of 30+ years on masking tape can't be read any more.



Datum 2019 Jan 16
Gjort klar varvräknaren och hastighetsmätaren, packningen under kromringen var som kol, utmaningen blev att hitta en ersättning. Jag hittade en smal plastslang som jag plattade till lite med en kastrull på en lagom varm spisplatta. Provmonterat det mesta i instrumentbrädan.
Finished the rev counter and speedo, the gaskets behind the bezel was like carbon, the challenge was to find a replacement gasket. I found a thin plastic tube which I flattened on the stove under a pan to right dimension. Test fitted most of the switches and instruments in the dashboard.





Datum 2019 Jan 15
Fortsatt rengöra, nu instrumenten. Målar nytt vitt invändigt för bättre instrumentbelysning, Glas och omfattningar är väldigt smutsiga. Fixade den trasiga kontakten till fläkten, hade tur och hittade ett kontaktbleck
Continued cleaning, now instruments. Glass and bezels are very dirty. Painting the bodys white inside to improve lighting. Also fixed the fan switchwich was broken, some superglue, soldering and more glue.








Datum 2019 Jan 12
Fortsatt rengöra och polera. Några före- och efter-bilder.
Continued cleaning and polishing. Some before and after pictures.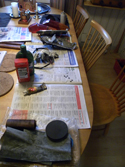 Datum 2019 Jan 11
Tvättade av kabelhärvan nästan 50 års smuts med köksrengöring och varm dusch, nöjd med resultatet, kablarna är fortfarande mjuka och endast lite isolering behöver kompletteras. Gjorde rent fram och baklyktor i diskmaskinen för att se skick och vad som kan behöva kompletteras. Vänster blinkersglas fram är trasigt och själva sockeln är svårt rostangripen, i princip bara kromsargen som är OK. På ena skylbelysningen bak har kromsargen gått av så den måste anskaffas också liksom några packningar till backlamporna och diverse sruvar till glas och fastsättning. Till huvudstrålkastarna fanns en hel del nytt och själva insatserna har jag redan köpt.
Washed off almost 50 years dirt with the help of kitchen cleaner and a hot shower, quite satisfied with the result, the wires are still flexible and soft and the only thing missing is a bit of outer cloth insulation. I also cleaned up the front and rear lamps in the dishwasher to establish condition and what's missing. Front left indicator glass lens is missing a chip and the back plate is heavily attacked by rust, only thing worth saving is the chrome rim. On one of the number plate lamps the chromed cover is cracked, so that one has to be acquired as well as the front indicator, gaskets for the reversing lamps and various screws for lenses and back plates. For the headlamps a lot of new bits came with the car and I've already bought the light units. The chrome rims are not perfect but may serve for the moment.