Status vid köp och känd historia / Status at purchase and known history
Datum Mar 22 2019
Fick kontakt med Lars och Anita från västkusten som importerade bilen 1986 efter att ha köpt den i Cambridge Englad, de hade ett par bilder från när det begav sig. De lät meddela att de fortfarande kör Midget och Mini.
Got in touch with Lars and Anita from swedish west coast, they bought the car in Cambridge in -86 and imported it to Sweden, they had a couple of pictures from the epoc. They said they keep driving Midget and Mini.



Datum Feb 01 2019
Kontaktade Riksarkivet för att få uppgift om tidiga registreringar, det visade sig att bilen importerades från Englad våren 1985, engelskt regnummer WWN320 J. Jag ska försöka få kontakt med den fösta svenska ögaren.
Got in contact with National archive to get information about early registration information, it showed that the car was imported from GB in spring 1985 and had GB license plate WWN320 J. I'll try to find and get in touch with that first swedish owner.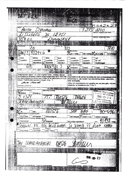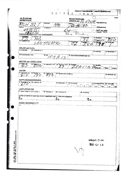 Datum Dec 10 2018
Jag skannade lite diabilder som kom med dokumentationen, där kan man se att bilen ursprungligen var blå, men har varit omlackerad röd och Christer skickade med några liter BRG, hmmm, jag kanske skulle måla bilen gul ;).
Bland bilderna fanns även de som visade att den inte var rostfri precis, det syns också på den omfattande svetsning som gjorts på karossen fram o bak, golv, trösklar samt skärmar och dörrar.
I scanned some slides that came with the documentation, and there you can see that the car was blue from start but was repainted red, Christer who sold the car sent a couple of litres BRG paint with the car, hmmm, maybe I should pint it yellow ;).
There were some pictures that also showed obvious signs of rust, and looking at the body you can see that a fair amount of welding has been done replacing sills and parts of wings and floor as well as parts of rear and front of the body.







Datum Dec 04 2018
Hämtade karossen, och suffletten samt bladfjädrarna. Nu tror jag Christer hittat alla bitar. Det gick smidigt att fÅ in karossen i garaget, pratade med gubbarna som gräver i gatan och de flyttade sina avspärrningar sÅ mycket som det gick. Jag hade fixat ett fäste för en liten vinsch i garaget, sÅ det gick hur lätt som helst att dra in karossen.
.
Picked up the body, and the leaf springs and hood. Now I think Christer has found all the pieces. It went very well to get the body into the garage, I spoke to the men who dug up the street and they moved the safety rails as much as possible to facilitate the passage, I had a couple of inches clearance on each side of the body. I made a support for a small winch in the garage so it was a piece of cake to pull the body up the ramp and inside the garage.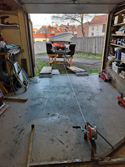 Datum Nov 28 2018
Kommunen har ställt till det genom att nästan gräva av vägen ner till garaget, lite besvärligt att få inprylarna nu.
Det var oväntat kallt när jag hade hyrt släp för att hämta allt utom karossen, 14 minus!
Det här är lass nummer två hämtat hos Christer i Motala, fullt släp och bil, nu är bara karossen kvar att hämta. Lite att sortera och stuva undan så att jag får in karossen.
The city decide to dig up the road outside my house due to a new building on the other side of the road, so now it will be difficult to get the body down to the garage.
Unexpectedly freezing outside today, -14 centigrade, when I rented a trailer to go get the main part of the car, everything expect the body.
Here is what I picked up at Christer in Motala, full load in car and on trailer, only the body remains to be picked up. A few things to organize so I can get the body inside the garage.














Datum 2018 Nov 20
En bekant såg en annonsen på Blocket och jag slog en signal. åkte till Motala och kollade och det blev affär, positivt överraskad!
A friend saw an ad on an Internet site and I phoned. I went to Motala, had a look at the bits and pieces and made the deal.

Datum 2018 Nov 20
Lite bilder på skicket vid köp, väldigt glad att all svetsning var gjord den här gången, skärmar, dörrar och huvar var dessutom redan grundade och målade med slipgrund. Motor och växellåda reparerade, mycket nytt följer med, bla. förbättrad fjädring och stötdämpning både fram o bak.
Here are some pictures of the state at purchase, I'm very happy that all welding was done this time, not having to start at the point were I started with the TR2. Wing, doors and bonnets are already painted with primer. Motor repaired and tuned, leadfree head polished and flow tested, hotter cam, Weber 45 and tubular manifold. Lot of parts for improved suspension and shocks. A complete set of brand new interior trim.