Kaross
Kolla även under Uppdateringar där en del finns beskrivet. Also check under Updates were some jobs are described.
2020 Jul 15
Nu har skomakaren gjort sitt och sytt dit blixtlås och kardborreband så att störtbågen kan gå igenom kapellet.
Now the local shoemaker has done his thing and sewed in zippers and velcro, so the ROB can pass through the tonneau.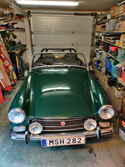 2020 Jun 05
Har satt i tryckknapparna i sittbrunnskapellet och klippt hål och slitsar för att låta störtbågen passera. Nästa steg blir att ta det till skomakaren för att sy i kardborreflikar.
Fitted LTD and Teenax buttons tonneau, also cut holes and slits to make the roll over bar pass through. Next step will be passing it to the shoemaker, so he can sew in Velcro strips over the slits.

2020 May 25
Tog en stund att få sittbrunnskapellet leverat, coronatider, men nu hemma från Donhoods. Mycket bättre priser än Moss, Limora och övriga leverantörer, efter kontakt så fick jag dem att skicka med extra material till flikar för genomföring av störtbågen. De levererade även LTD och Teenax knapparna också.
Took a while to get the tonneau delivered, corona times, but now it's home from Donhoods. Much cheaper than the usual suppliers Moss, Limora and others, even MGOC Spares. After mailing them I even got some extra vinyl to make openings and "flaps" for roll over bar legs. Teenax and LTD buttons were also included.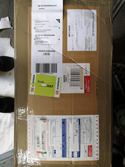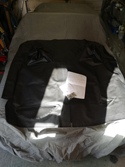 2020 Mar 01
Ytterligare en liten detalj att fixa, tryckknappar i flikarna på suffletten som fäster mot vindrutan. Hade förlagt de två knapparna som följde med suffletten, men som tur var hade jag kvar knappar sen tidigare projekt.
Still, another little detail to finish, the buttons in the hood above the side screens that attach to the wind screen frame. I have mislaid the buttons that came with the hood, but luckily I had some left over from earlier projects.


2020 Feb 29
Tillverkat kortare stänkskydd, de köpta skrapade i marken. Monterat nya registreringsskyltar, den bak gör verkligen skillnad, så mycket bättre med liten skylt.
Made a couple of slash guards, the ones I bought are too long and scrapes the ground. Fitted new number plates, the rear one really fits much better than the old big one.



2020 Feb 22
Efter att sett bilen i solljus var det tydligt att det fanns jobb att göra på huven och vänster dörr. På huven fanns en stor rinning som jag inte hade lyckats slipa ner samt diverse slipmärken kvar efter grövre slippapper, på dörren fanns en rinning jag inte ens hade sett samt lite apelsinskal i nederkanten på dörren. Mycket slit för att få huven bra, och har finputsen på dörren kvar att göra.
After getting the car outdoor in the sun, it was obvious I had to do something to the bonnet and LH side door. Bonnet had a big running not ground completely down and various scratches from coarse grinding left, on the door was a running and orange peel at the lower edge. Bonnet required a lot of "elbow grease" and I have still some polishing left to do on the door.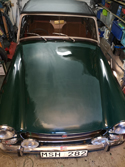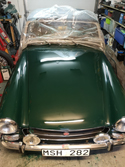 2019 Nov 24
Monterat lite "bling", MG-märke på bagageluckan och MIDGET under framskärmarna, saknas bara list under dörr.
Fitted a bit of bling, MG badge on the boot and MIDGET below front wings, only missing to fit the moulding beneeth the door.




2019 Nov 23
Står nu på hjulen på golvet och har rullat för egen maskin några meter fram och tillbaka. Monterat backspeglar på dörrarna.
Now standig on the wheels on the floor and I've moved it with it's own engine forwards and back a couple of yards in the garage. Fitted rear view mirrors on the doors.



2019 Oct 18
Monterat störtbågen och rostskyddat fästena under skärmarna. Ställt ner bilen på hjulen för första gången, sänksatsen har gjort den ganska låg, ska bli spännande att se hur låg när jag tar bort "dollysarna".
Fitted the roll over bar and rust protected the washers and bolts underneath the wings. Put down the car on it's own wheels for the first time, the lowering kit has really made it low, how low will show when I remove the dolly.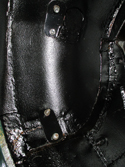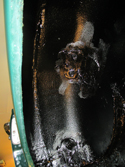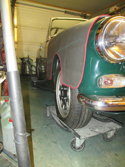 2019 Oct 17
Tejpat dit plastfolie som fuktskydd för dörrpanelerna. Hittade inte de stora plattjärnsbrickorna som sitter under skärmarna under störtbågens fästen så jag fick tillverka nya.
Sealed the doors with foile to protect the door trim panels from wet. Didn't find the big washers for the roll over bar, so I had to fabricate new ones.





2019 Oct 13
Monterat stopp för sidorutorna, tillverkade en efter modell av den jag köpte.
Fitted the stops for the door screens, made one out the model of another on purchased.



2019 Oct 10
Monterat rutorna i ena dörren, mycket "trail and error" innan jag fick ihop en fungerande dörr och lyckts klura ut i vilken ordning saker och ting måste monteras, gäller att ta den andra dörren direkt innan jag hinner glömma. Fick användning för verktyget jag tillverkade (när jag hade TR6:an) för att montera clipsen till tätningslisterna för sidorutan.
Fitted the glass and locks in RH door, a lot of "trail and error" before I got a working door. Parts has to be fitted in a certain order and I had to fit , take apart and fit again, and now I have to put the other door together at once before forgetting how to do it. Got use for the tool I made when I had the TR6 to fit the weather strips for the door glass.








2019 Oct 07
Sprutat hjulhusen med underredsmassa, inte överdrivet, men där man kan förvänta sig sprut från grus. Hjulhusen är ju i grunden målade med "bedliner" som ju ska tåla det mesta.
Sprayed the wheel arches with stone chip/corrosion protection, not a lot, but where you can expect spray from gravel. The wheel arches are primarily protected with "bedliner" paint that withstands most things.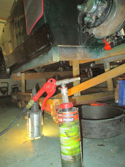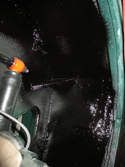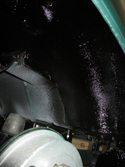 2019 Oct 06
Fixat en extra vajer för nödöppning av huven och monterat huvlåset. Borrat hål för oljekylarslangar samt monterat grillen.
Fixed an extra wire for emergency opening of the bonnet an fitted the bonnet lock. Drilled holes for oil cooler hoses and fixed the grill.




2019 Oct 01
Fick hem en NOS främre stötfångare köpt på Ebay från England, betydligt bättre krom än den befintliga. Monterad liksom kromet runt grillen.
Got the NOS front bumper I bought on Ebay from England, much better chrome than the one I already have. Fitted together with the chrome grill surroundings.




2019 Sep 22-24
Gjorde ren och målade störtbågen.
Rostskyddat inuti trösklar och andra skrymslen.
Cleaned and repainted the roll over bar.
Treated sills and other crevices with waxoil.


2019 Sep 20
Efter att ha monterat vindrutan kan jag konstatera att den inte alls passar mot karossen, jag tillverkade två spännstag fär att avhjälpa en del, jag lär få fylla ut med tätningsmassa under listen.
After fitting the windscreen I noticed quite a gap under the middle part, even though it fits OK at the pillars. Therefore I made two expanding stays to put under the edge of the scuttle and raise as much as possible, but even so, I see there is a need to add sealant under the lower seal to make it watertight.




2019 Sep 15
Jobbat med bakluckan och satt dit gummibuffertar och låshandtaget. Monterat bakre stötfångare och backljusen. Monterat bränslepåfyllningsröret och det nya locket, fick slipa av ca 3 mm för att det låsbara locket under snabblocket skulle gå att montera.
Working on the rear end, putting rubber buffers for the boot and fitting the boot lock handle. Fitted the rear bumpers and reversing lights. Also fitted the filler neck and the new filler neck lid, had to cut the lid neck 3 mm to make the inner locking lid fit.


2019 Sep 11-12
Fixade till ett märke på höger framskärm där antagligen luftslangen kommit åt den blöta färgen. Bestämde mig efter viss vånda att lackera om motorhuven då vissa defekter blev synliga efter polering, de gick inte att fixa på samma sätt som skärmen. Efter omlackering, slipning och polering ser det rätt bra ut, finns forfarande några "porer" små gropar som troligen uppstår när vattendroppar kommit med tryckluften. Jag har vattenavskiljare, men det räcker tydligen inte, proffsen har lufttork/avfuktning av tryckluften för att undvika det här.
Fixed a groove on RH front wing where probably the air hose had touched the wet paint. After some consideration I decided to respray the bonnet when some defects showed after polishing, I wasn't able to repair them in the same manner as the wing. After painting, grinding and polishing once again, I'm quite happy with the result, still there are a few imperfections in form of tiny "pits", probably due to water drops in the compressed air. I have a water trap after the compressor, but that is obviously not enough, professional paint shops have dehumidifier for their compressed air to avoid this problem.




2019 Sep 10
Gått över hela karossen en gång till med rubbing, hittade en rinning på vänster bakskärm som jag slipade ner och polerade. Nu är jag rätt nöjd.
Did all ofthe body once again wih rubbing, found a running on the left rear wing which I grinded down and polished. Now I'm quite happy with the result.



2019 Sep 09
Samma procedur på huv och framskärmarna som på bakluckan.
Same procedure on the bonnet and the front wings as on the boot.




2019 Sep 08
Testade på bakluckan vad som behövs för att ta bort dammet ur lacken. Våtslipade med 1000, 2000, 2500 körde sen med rubbing och polish, nöjd med resultatet. En bild som ser mer skrämmande ut än vad det är visar dammet på huven reflekterat i ljuset, så såg bakluckan ut innan behandling.
Tried out what's needed to get rid of the dust in the paint. Started with 2500 grit wet sanding, which got rid of the dust, but made other imperfections visible, so I started with 1000 then 2000 and then 2500 followed with rubbing and polish, quite happy with the result. The second picture shows the dust on the bonnet reflecting light so it looks much worse than it is, the boot looked the same before treatment.


2019 Sep 07
Maskinslipade hela karossen med 400 papper, sen våtslipade jag allt med 1000 korn. Slutligen ett lager till ny lack, lite damm i färgen men det går nog att slipa och polera bort. Damm och färgdamm som faller tillbaka i blöt färg är problemet när man målar i ett garage utan ordentlig ventilation.
Grinded down the paint with machine 400 grit paper and then wet sanded the whole body with 1000 grit. Then put on another layer of paint, a bit of dust in the paint but I think it can be sanded and polish away. Dust or paint dust falling back in the wet paint is the problem when painting in a small garage without proper ventilation.







2019 Sep 06
Har lagt två lager lack, rätt nöjd, lite dammprickar samt några ställen där lacken inte flutit ut perfekt. Inga apelsinskal och inga rinningar! Nästa steg blir att våtslipa allt och lägga ett lager lack till.
Put on two layers of paint, pretty satisfied, some dust specs and some areas where the paint hasn't flowed together perfectly. But, no orange peel and no runnings! Next step will be wet sanding and a final coat of paint.


2019 Sep 03
Preparerat för att börja lacka och börjar sen med det halvblanka på trösklarna.
Prepared for painting and started with the black semi gloss on the sills.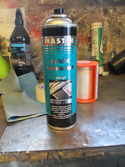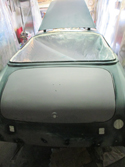 2019 Sep 03
Monterar stänkskydden så att skruvhålen är gjorda innan lackingen. Fick göra ett par extra stödplåtar för att staga upp stänkskydden, nu vita men kommer att bli svarta.
Fitting the rear splash guards so even the tapped holes will be done before painting. Had to make a couple of reinforcing plates to stiffen up the splash guards, now white, but will be painted black.




2019 Aug 30
Har gjort en kanal vid sidan av kylaren för friskluftslang till förgasaren, hade bra effekt på Triumphen, så varför inte här. Fick höja expansionskärlet några centimeter för att komma förbi med aluminiumslangen. Passade också på att göra dräneringshål i framkant av huven.
Made a duct at the side of the radiator for cold air intake to the carburetor, worked fine on the Triumph, so why not here. Had to raise the expansion bottle to make room for the aluminium hose. Also drilled draining holes in the front of the bonnet.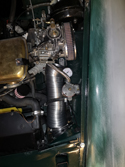 2019 Aug 25
Passade in vindrutan, var tvungen att öppna upp hålen i karossen, lite osäker på passningen mot karossen vid skruvhålen. Måste lossa instrumentbrädan och i värsta fall även dörrarna för att kunna sätta i skruvar.
Hade tidigare beställt ny backspegel och stång för denna för att ersätta den rostiga som fanns sen tidigare. Stången passade inte alls (mitt eget fel, hade köpt fel stång), var för lång och saknade gänga i ena änden, lösningen fick bli att kapa av och göra en M5 gänga i övre fästet och på stången, jag har inget gängsnitt för Nr 10 UNF 3/16.
Fitted the windscreen, had to open up the holes in the body (new sheet metal there) a bit unsure about fitting against the body and the holes for the screws. Have to take away the dashboard and in the worst case the doors to get access for the bolts.
I had earlier bought a new rear view mirror and the supporting rod, as the existing rod was rusty and the mirror missing. The new rod didn't fit at all (my own fault, I had bought the wrong rod), to long and no thread in one end, so I cut it and made an M5 thread in t the upper support and on the rod as I only have the tap but no die for No 10 UNF 3/16.


2019 Jun 19
Klädde handskfacket med vinyl invändigt, målade svart utvändigt och provmonterade.
Vinyl glued inside the glove box, painted black outside and test fitted.



2019 Jun 18
Gjorde en mall i kartong för att kunna göra ett handskfack, den aluminiumplåt jag hade räckte, nästan. Ett hörn upptill blir tomt. Jag ska limma vinyl invändigt för att undvika skrammel direkt mot plåten.
Made a template out of cardboard for a glove box, I had , almost, enough of aluminium plate at home, one upper corner will be missing. I'll glue vinyl inside the glove box to avoid things rattling against the metal.




2019 Jun 16
Målade insidan av huven för att bättra upp där jag svetsat och justerat.
Touched up the paint under the bonnet where I had welded and made adjustments.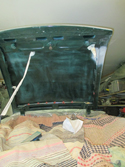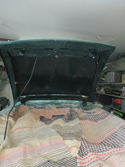 2019 Jun 11
Huven passade inte riktigt på vänster sida mot skärmen, troligen pga en svetslagning som fått den att kröka sig mer än skärmen. Jag skar av kanten och förstyvningen samt svetsade ihop det igen, så nu passar den bättre. Det krävs lite spackling och slipning för att jämna ut huven just vid svetsen.
The bonnet had a poor fit towards the curve of the wing, probably due to a weld repair of the reinforcement plate that made the bonnet bend more than the wing profile. I cut the edge and reinforcement plate and welded it together once again, so now the fit is better. Afterwards there was a need for some filler, grinding and paint.




2019 Jun 07
Provmonterar stötfångarna, bakre fästena kräver lite justering. Gjort ren främre stötfångaren, slipat rost på baksida och rostskyddat, kromet är väldigt slitet, men det får duga tills vidare.
Test fitting bumpers, rear supports need a bit adjusting due to repair welds. Cleaned and removed rust on the rear side of front bumper, rust protected, chrome is in a bad condition but it will have to do for now.




2019 Jun 05
Provmonterar instrumentbrädan för att se om jag behöver ändra växelspaken, behövs inte, tillräckligt avstånd för att fingrarna inte ska komma i kläm. Hittade den lilla fjädern som ska förhindra att staget för motorhuven ska skramla, monterade också säkerhetshaken för huven.
Test fitting the dashboard to check clearance for gear stick, it's OK, no finger will be hurt shifting gears. Found the little anti rattle spring for the bonnet stay rod, also fitted the safety hook for the bonnet.




2019 Jun 04
För att få all håltagning gjord i ny insvetsad plåt monterade jag sätena, samt hittat plats för brandsläckaren (som inte fick plats bakom sätena). Måste även göra en del nya bulthål för störtbågen.
To complete all bolt holes in new plate, I fitted the seats and found a place for the fire extinguisher (which didn't fit behind the seats). Also need to make some new bolt holes for the roll over bar.



2019 Jun 01
Testade med den typ av stag till motorhuven som bilen ska ha enligt årsmodellen, men gillade inte att framskärmen flexade ganska mycket när huven belastade staget, återgår till den gamla typen av stag. Jackat ur förstyvningen av huven så att jag får frigång mot bromsservot, nu kan huven stängas utan att det tar emot någonstans.
Tested the bonnet stay that is correct for this model but didn't like that the wing flexed quite a lot when the bonnet put load on the stay, I'm going back to the old type of stay. Made a notch in the bonnet reinforcement plate to clear it from the power brake unit, now the bonnet can be closed without hitting anything it shouldn't.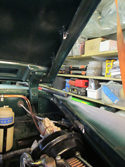 2019 May 31
Monterat vänster skärm och huven, skärmen passade bra. En förstyvning i huven behöver jackas ur lite vid bromsservot och lite justering på en plåt höger fram. Var också tvungen att bocka om staget för huven, det tog i toppen på kylaren.
Fitted LH wing and bonnet, the wing fitted well. A bracing in the bonnet needs a bit of an adjusting cut to clear the power brake unit and a plate at RH front need a bit of trimming. Had to make a couple of extra bends of the stay rod for the bonnet because it was interfering with the top of the radiator, I'm suspecting the bonnet is from a Mark 2 model.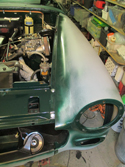 2019 May 29
Monterat vänster skärm med karosstätning runt alla skruvhål, glider inte på plats med mekanisk precision utan det måste bändas och bökas en del för att få skruvhålen att passa. Nu med gott om utrymme runt termostatvredet. Huvlåset säkrat med dubbla vajerlås, det är så tråkigt om vajern släpper.
Fitted RH wing with body cement around all holes for screws, the wing doesn't slip in place with mechanical precision, but need a bit of bending and twisting to get holes and fixed nuts to fit. Now plenty of room around the thermostat knob. Double wire locks on the wire for bonnet lock, I don't want the wire to slip, ever.


2019 May 28
Har börjat med att återmontera framskärmarna, men upptäcker att saker jag monterat krockar med skärmkanterna, lite misstänksam även på passningen mot fronten, men det får bli nästa steg, jag hade inte kylaren monterad när jag passade in skärmar och front. Har fått göra om fästet för elfläktens termostat samt en liten inbuktning vid bromsservot. Passade på att måla plåten framför kylaren eftersom jag inte kommer åt den senare med huven stängd.
Started refitting front wings and discovered interference with thermostat and slightly with the power brake unit. I'm also a bit suspicious about fitting of the front, I didn't have the radiator fitted last time I fitted wings and bonnet. Made a new bracket for the thermostat and a small bulge at the power brake flange. Painted the bit in front of the radiator, easier now than later when the bonnet is fitted.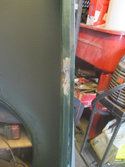 2019 May 18
Fixade till ett fäste för handtaget till huvöppning av en bit plattjärn, kanske lite "heavy-duty" så det lär inte vika sig i första taget.
Made a bracket for the bonnet opening handle/wire out of a piece of angle bar, maybe a bit "heavy-duty" but it will not fold ever.



2019 May 16
Ventilationsrutorna färdigmonterade, glasen nu fästa med tätningsmassa.
Quarter lights now fitted, glass held in place with sealing compound.

2019 May 14
Fick hem lite resevdelar till fönstren, tyvärr är väl inte passformen den bästa. I en av listerna till ventilationsrutorna saknades hålet för axeln, slog nytt hål med en hålpipa. Axlarna är 1,5 mm grövre än hålen och ansatsen på fel ställe, satte axeln i borrmaskinen och "svarvade ner dimensionen med en fil, borrade upp hålet i den vridbara delen så att axeln går igenom. Har lyckats pressa i en gummilist och monterat rutan. Försökte sätta rutan med hjälp av ett gummiband, men den vill glida ur så jag får försöka fästa den med någon typ av tätningsmassa.
Got delivery of spare parts for windows, unfortunately the quality isn't the best. In one of the rubber seals a hole was missing, punched out a new hole. The pivot axis didn't fit either, 1,5 mm to thick and the reset in wrong height, put the axis in the power drill and turned it down with a file. Succeeded pressing the rubber seal in place and fit the window. The glass doesn't stay in place with the rubber strip I used to keep it in place, I think I'll use some kind of sealing compound instead.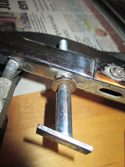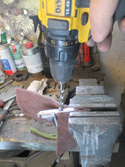 2019 May 06
Har jobbat med fönster och dörmeknismer, som vanligt så måste allt gummi, plast och filtmaterial bytas ut, en del fanns men även del nytt fick beställas, bla saknas en s.k. "pivot pin" i nederkant ventilatitonsrtan, inte säker på att den andra är komplett heller. Gjort rent målat, smörjt och putsat krom. Ett litet gångjärn för ena ventilationsrutan är utbytt, sidorutorna körde jag i diskmaskinen, extra intensivt program, och det blev över förväntan rent. Har bytt filtlisterna, den i bakkant kontaktlimmades.
I've been working on door windows and lock mechanisms, as usual all rubber, plastic and felt material needs to be substituted, some I already had, but more had to be ordered online, among other things the pivot pin for one of the quarter lights was missing and I'm not sure the other one is complete either. General clean up, painting, lubricating and chrome polishing. Fitted a replacement for a broken hinge on one of the quarter lights. Washed the door glass in the extra intense program on the dish washer and the result was surprisingly good. New felt strips went in, the rear ones had to be glued into the channels.











2019 May 03
Fronten monterad, svårt få skruvarna att ta på vissa ställen, ont i fingertopparna. Tog upp ett hål för oljepåfyllning, dock fungerade inte pumpen, får skaffa bättre grejor.
Tillverkat ett nät som skydd för att dra in skräp i luftkanalen.
Front fitted, tricky to make some of the screws catch, sour fingertips now. Drilled a hole to facilitate removing oil plug in the gear box an fill oil, this pump didn't work though, got to find better pump.
Made mesh and frame holding the mesh at the inlet of the air intake to prevent debris entering the tube.





2019 May 02
Tänkte provmontera fronten för att se var elkablarna ska dras, upptäckte då att det saknas två s.k. mutterkorgar i plåtomfattningen för kylaren, finns inget annat sätt att lösa det på eftersom man inte kommer åt från baksidan. Lyckligtvis hade jag ett par över från TR2-bygget. Borrade hål med punktsvetsborren så jag fick bort resterna av de gamla korgarna och svetsade dit de nya. Har också satt i diverse gummigenomföringar och pluggar i hål som inte används samt monterat defrostermunstyckena och tilluftspjällen. Slutligen en översiktsbild av statusen idag. Satte fast chassinummerplåten och karossnummerbrickan
Was about to test fit the front to see where to trace the wire loom, discovered the two nut cages where missing in the top radiator shroud, there is no other way to secure the front since you can't get to the back side of the plate. Luckily I had a couple left over from my TR2 restoration. Drilled out the old welds with the "dot weld cutting tool" and welded in the new cages(with nuts). I've also fitted some of the rubber plugs and grommets in unused openings and fitted the defroster vents. Finally, an overview of status of today. Riveted the chassis number plate and the body number tag in place.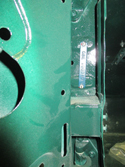 2019 Apr 17
Maskerade och plockade fram den lilla färgsprutan och lackade runt startmotor och växelspak.
Masked of and took out the tiny spray gun and painted orund starter and gear stick.

2019 Apr 16
Lite tråkiga justeringar i karossen blev av nöden när motot och växellåda återmonterades, genomföringen för växelspaken flyttad 15 mm åt vänster. Ett urtag för startmotorns solenoid var också av nöden. Har tätat med karosserikitt och får komplettera med spackel och färg.
A bit of boring adjustments of the body became necessary after engine and gearbox went in, had to move the opening for the gear stick 15 mm to the left. It was also necessary to make a recess for the starter solenoid. All new welds sealed with body cement before filler and paint.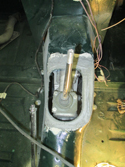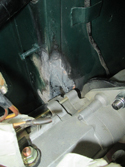 2019 Mar 07
Lite blandat, monterade ihop bakre stötfångarna vilket inkluderade att fixa till kontaktblecket i ena skyltbelysningen. Monterat locket till pedalstället, saknade tätningen, men hade tätningsremsor från TR2-bygget som funkerar bra. Monterade gaspedalen som jag modifierade lite genom att svetsa fast skruvarna i golvfästet vilket gör det enkelt att skruva fast pedalen i golvet. Hittade också de 2 returfjädrarna för broms- och kopplingspedal.
A little mix of things, fitted the details of the rear bumpers which included fixing the bulb holder of one of the licence plate lamps. Fitted the lid of the pedal box, threads needed to be cleaned and I missed the seal which was fixed with some surplus from the TR2 build. Fitted the throttle pedal and modified it a bit as I welded two bolts to the floor bracket which made it much easier to fit. Also found the 2 missing return springs for brake and clutch pedals.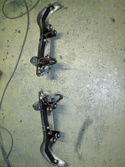 2019 Mar 02, 06
Monterat stötfångarfästena och bogseröglorna.
Stålborstade ett gäng rostiga skruvar för bakre stötfångarna och penslade dem med "rostätare" innan jag ska måla dem.
Fitted front bumper brackets and towing eyelets.
Steelbrushed a set of rusty screws for rear bumpers and painted them with "rust eater" to prepare them for paint.

2019 Feb 23
Målade svart bakom grillen och monterade signalhorn och huvlåsen. Kollade att kylaren passar in.
Painted the front black behind the grille and fitted one horn and bonnet locks. Checking that radiator fits.

2019 Feb 12
Fortsatt måla, nu invändigt i sittbrunnen och ett extra lager i motorrum och bagage.
Continued paiting, now inside the cabin andan extra layer in boot and engine compartment.




2019 Feb 11
Börjat färdigmåla karossen, först motorrum, kanter av skärmar och insidan av fronten och även baggaerummet. Nästa etapp blir ett lager till i motorrummet och sen invändigt i sittbrunnen innan jag ger mig på karossen utvändigt. Har även borrat hål för kromlisternas fästen längs tröskellådorna och hålen för "MIDGET" texten.
I've started to paint the body, starting with engine bay, inside of front and the edges of the wings, also painted the boot. Next will be inside the cabin and a second layer in the engine compartment before fitting wings and starting painting the bodys outside. I also drilled the holes for the sill moulding fasteners and the "MIDGET" text.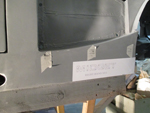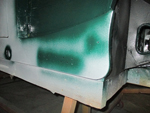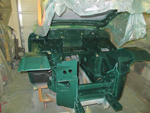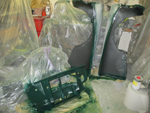 2019 Feb 10
Slipat hela karossen med "400 korn", ganska trött i armarna just nu.
Grinded down the filler with 400 grit, the whole body, so a bit sore arms now.


2019 Feb 05
Sprutat stenskottsskydd under skärmarna.
Sprayed stone chip protection under the wings.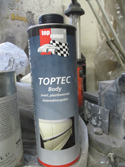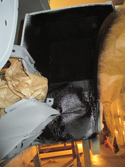 2019 Feb 05
Slipat karossen innan nästa lager slipgrund.
Grinded down the filler before next layer filler.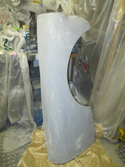 2019 Feb 02
Rengjort karossen med silkontvätt, blandat till slipgrund och sprayat över hela karossen.
Cleaned up the body with silicon remover, mixed up actylic filler and sparyed the entire body.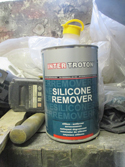 2019 Feb 02
Spacklat och slipat och nu gått över med epoxigrundfärgen igen, kan finnas någon por fortfarande men den syns bättre när grundfärgen kommit på.
Yet more filler and grinding and a final touch up spray with epoxy primer, there might still exist some scratch and pores, but they will show better when the paint has dried.




2019 Jan 31
Justerat passning på skärmar och höger dörr med hjälp av kapskiva och svets samt spackel. En kil borttagen i framkant höger dörr, skar ett snitt i bakkanten på höger skärm för att få passning mot A-stolpen. Vänster skärm justerad lite i flänsen, men mer spackel måste till högst upp på A-stolpen för att få passning mot skärmen.
Fick också hem ett färgprov, men måste se det i dagsljus. Tog två bilder med olika kameror och man ser hur man kan lura sig genom att bara kolla på datorn. Färgen heter Blue Royal och användes av BL och MG runt 70-talet.
Adjusted fitting of wings and RH door with help of cutting disc and MIG-welder. I took of a wedge i front edge of the RH door to make it fit against A-post and made a cut out in the RH wing rear edge to make an even opening against the A post. LH wing has a small cut in the flange against the A-post and the post has to be raised a bit with filler so it meets the wing.
Got a test spray home, but need to see it in daylight. As an example i took two pictures with different cameras just to show how hard it is to decide coulour from computer images. The couler is called Blue Royale and was used by BL and MG around the 70-ties.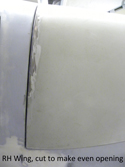 2019 Jan 30
Monterat tillbaka den delade fronten för att få rätt passning samt fyllt i material och svetsat ihop delarna. Provat att grillen passar.
Fitted the cut up front shroud to get good fit before welding, filled in new plate and welded everything togeether. Test fitted the grill to verify fit.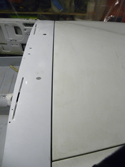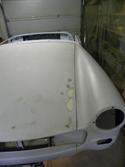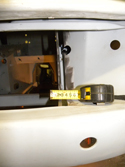 2019 Jan 29
Tillverkade en spegelvänd kopia av hållaren för nummerskyltbelysningen eftersom den ena saknades. Monterade motorhuven med rätt passning i bakkant så att jag kan anpassa fronten efter huven. Skurit isär fronten så jag kan flytta överdelen (och skärmarna) 100 mm åt vänster.
Made a mirror image of the bracket for number plate lighting as one was missing. Put the bonnet in place to get the exact position before changing the front shroud. Cutting up the front shroud to move upper part 10 mm to the left.


2019 Jan 27
Provmonterat dörrarna, vänster dörr passar rätt bra men jag måste förlänga hålen i dörren så att jag kan flytta dörren några mm framåt. Höger dörr passar sämre, nedre främre kanten måste öppnas upp lite så att jag kan få ner bakänden, blir nog lite kapa och svetsa. Bakluckan passar utmärkt
Test fitting of doors, LH door fits fine but i need to elongate some holes, so I can move it a couple of mm:s to the front. RH door has a more poor fit, I'll need to cut and weld the from lower edge to get the rear end down. The boot lid fits excellent though.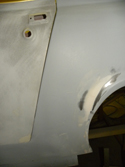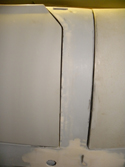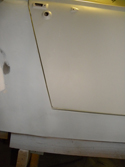 2019 Jan 24
Provmonterar front, skärmar och huv. Behövde byta ut en mutter utan gänga i bakkant höger skärm och borra några nya hål i insvetsad reparationsplåt bakom skärmarna.
Bakkant höger skärm har ojämn spalt, kapa och svetsa?
Bakkant vänster skärm sticker ut i nerkant, defintivt behov av kapa och svetsa.
Största problemet är att om huven passar mellan skärmarna blir spalten i bakkant kilformad, om man vrider huven så kilen försvinner måste hela fronten flyttas 8 mm åt vänster, tål att fundera på hur den justeringen ska göras.
Test fitting front , wings and bonnet. Needed to weld in a new nut in rear edge of RH wing and drill some new holes for screws in the new plate behind the wings
Rear edge RH wing has uneven gap, cut and weld?
Rear lower edge of LH wing sticking out, absolutely need for cutting and welding.
The biggest issue is bonnet, wedge shaped gap in rear end when it's fitting between wings and if I twist the bonnet until it's an even gap, the whole front end has to be moved 8 mm to the left, need to think about how to solve that in the best way. Probably more cutting and welding.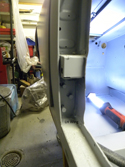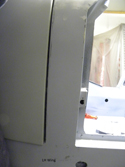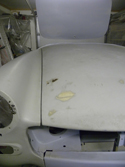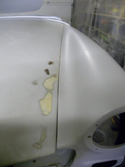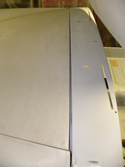 2019 Jan 24
Nästan 2 liter epoxigrundfärg senare.
Almost 2 litres epoxi primer later.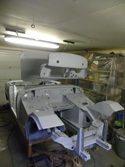 2019 Jan 21
Tredje omgången spackel, snart nöjd med finishen.
Third round with filler, almost there with the finish.





2019 Jan 13
Tätat svetsskarvar med karosserikitt och börjat spackla utvändigt.
I've been sealing welds with body cement and started first round of putty outside of body.




2019 Jan 10
Första lagret grundfärg, spädde en del så att den skulle penetrera bra i alla skarvar, nackdelen är att den rinner väldigt lätt på vertikala ytor (som synes).
First coat of primer, kept it very thin to penetrate well, downside is it becomes very runny on vertical faces.


2019 Jan 09
Rätade till några kanter ooch små bucklor, en avdragen skruv i nitmutter för "door strap" fick ersättas av ny nitmutter, M5 isf BSF 3/16", gängade om de övriga nitmuttrarna till M5 också. Satt i skruvar i samtliga gängade hål så jag slipper göra ren dem efter jag målat karossen. Fick hem grundfärgen jag tänker lägga först, den är mer tolerant mot rost än zinkrik eller epoxi grundfärger. Kan målas över med Epoxi vilket jag tänker göra med en 2K epoxigrundfärg före slipgrundfärgen.
Adjusted some minor dents and straightened some edges, a broken screw in one of the rivnuts for the door straps was broken, so I had to drill it out and replace it with a M5 rivnut, I retapped the remaining rivnuts to M5 as well. Fitted screws in all tapped holes so it will not be necessary to retapp them after paint. Got the rust tolerant primer home which I'll use first as it's more forgiving to rust than epoxi or zink rich paints, it will also accept the second layer 2K epoxi primer I will be using before the filler.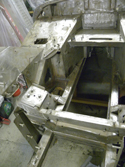 2019 Jan 07
I stort sett färdig med slipning och stålborstning av karossen.
Pracitically finished with grinding and steel brushing of the body.





2019 Jan 04
Har börjat ta bort ytrost, karossen har varit blästrad, men stått ganska länge obehandlad. Slipar med "flapdisk" där det är mest och sen med roterande stålborste efteråt och på övriga ytor
Started removing surface rust, the body has been sandblasted but left unprotected for quite some time. Grinding with a flapdisk where it's most rust, and then rotating steel brushes afterwards and on less rusted surfaces.

2018 Dec 24
Lite anpassningar för att få fri passage för grenrör och luftfiltret, kapa ch svetsa.
Some minor adjustments, cutting and welding to make space for exhaust manifold and air filter.





2018 Dec 20
Med växellådan på plats visade det sig att jag beövde flytta öppningen för växelspaken 35 mm bakåt vilket medförde en del svetsning. När det var gjort borrade jag hålen för det nya växellådsstödet och monterade det.
With the gearbox in place it showed necessary to move the opening for the gear stick 35 mm towards the rear, followed by some welding. With that finished I drilled the bolt holes for the new gearbox support, now in place.






2018 Dec 18
Skar ut botten av kardantunneln och tvärbalken för växellådsupphängningen enligt Frontlines anvisning. Monterade in förstärkningrna av fyrkantrör i den avskurna balken. Lyfte in motor och växellåda för att kunna montera det nya stödet för växellådan.
Cut ut the bottom ouf the driveshaft tunnel and the cross member gear box support according to Frontline instructions. Fitted the square tube reinforcements supplied by Frontline into the cut off cross member. Lifted the motor and gear box i place to be able to fit the new gear box support.






2018 Dec 17
Plockade bort instrument och brytare ur instrumentbrädan och tvättade bort nästan 50 år smuts. Målade baksidan vit så att det blir ljusare att jobba bakom brädan, målade framsidan med svart skrynkelfärg. Problemet var att det var för kallt i garaget så det blev inga skrynklor, fick ta in instrumentbrädan i köket för att få färgen att skrynkla sig.
Took out the gauges and switches from the dash and cleaned out almost 50 years of dirt. Painted the dash white on the rear side, better visibility when checking electrics, and wrinkle black on the front. Problem was, it didn't wrinkle, it was to cool in the garage so I had to take it into the kitchen to make the paint wrinkle.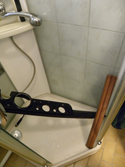 2018 Dec 10
Allra första jobbet blev att sortera upp burken med skruvar, muttrar och brickor i UNF, UNC och några metriska som tydligen slunkit med. De med (för mig) okända gängor får en egen burk att utforska vid behov.
The first job became sorting a big can of nuts, bolts and washers in cans of UNF, UNC and also som metric that may came by accident. The (for me) bolts and nuts with unknown threads gos in the can to be investigated when needed.