Köra bilen / Driving
Datum 2020 Mar 10
Besiktning "med beröm godkänd" som det hette en gång i tiden. CO endast 0.3 (utan att ta till etanol) så jag kan nog skruva på lite mer soppa till förgasarna.
MOT passed "with flying colours" and as the car is 50 years old this was the last MOT needed. CO was only 0.3, so I think I can adjust the carburetors a bit richer.


Datum 2020 Mar 08
En liten provtur innan besiktning om ett par dagar. Gick ganska bra trots snålt ställda förgasare. Besiktningen blir den första sen 1987.
A short test drive before the first MOT since 1987. Worked quite well despite very lean tuned carburetors, CO value is one of the things measured at MOT that can fail you, hence the lean tuning.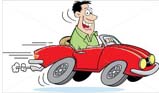 "film provtur/movie test drive"
Datum 2019 Nov 25
Så äntligen på egna hjul utanför garaget. En liten förvirrad filmsnutt av första turen på gata, försäkrad och påställd men inte besiktigad än, det skrapande ljudet är stänkskydden bak som är så långa att de tar i marken.
Finally, on its own wheels outside the garage. Next followed by a slightly confused video of the first run on the streets after 32 years in boxes, now insured and registered but MOT will wait until spring. Scraping sound in the video is the mudflaps at the rear that scrapes in the ground being far to long, or the car is way to low, which way you want to look at it.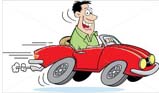 "film/movie"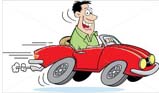 "FB-klipp"
Datum 2019 Nov 23
Stor milsolpe, bilen har rullat några meter fram och tillbaka för egen maskin inne i garaget.
Major milestone, the car has moved by it's own engine and gearbox a couple oft yards front and back inside the garage.