Chassiåtgärder
Kolla även under Uppdateringar där en del finns beskrivet. Also check under Updates were some jobs are described.
2017 Jun-Jul
Bromsproblem hela tiden med att efter en stunds körning började bromsarna ligga an, det gick att lösa temporart genom att släppa trycket via luftningsnippeln på servot, trodde det var servot så det blev bytt mot ett likadant, problemet kvarstod. Beställde nya bromsslangar från Rimmers, men det visade sig att de hade fel anslutningar, så de gick i retur. Tog bort servot, problemet kvar! La ut en fråga på TR register forum, fick tipset att bromspedalen var tillbakajusterad så att kolven i huvudcylindern inte gick helt tillbaka så att returporten aldrig öppnade, och mycket riktigt var det felet. Efter att ha provat att felet inte kom tillbaka, återmonterade jag servot. Kvarstår att fixa lacken som förstörts av allt slabbande med bromsvätska.
Problems with the brakes all the time, after a while of driving the brakes started locking up. I was able to solve it temporarily by bleeding the system with the bleeding nipple on the servo. I started believing the problem was the servo, so I took it away, but the problems continued. I ordered a new set of brake hoses from Rimmers in case my hoses were blocking up inside, had to return the hoses to Rimmesrs due to connections not fitting at all. Posted a question on TR Register Forum and got the tip that the main cylinder wasn't returning fully and thus blocking the return opening in the cylinder. I adjusted the brake pedal and Main cylinder positions and it solved the problem. After test drives, I refitted the servo and now all is OK.





2017 Jul 28
Tillverkade en mätram för att ställa in framhjulen genom att mäta på insidan fälgarna mitt bak och mitt fram och kan så justera in lite toe-in.
Made a measuring probe for adjusting front wheels by measuring at midpoint rims rear and front and thus adjusting to slight toe in.


2017 Jun 17-22
Sista biten bromsledning på plats. Också sista biten ledning till kopplingen, var tvungen att kapa av ca 30 cm.
Last piece of brake line in place. Also last piece of the clutch line, had to cut of 30 cm as the one purchased was to long.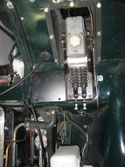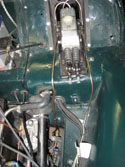 2017 May 11
Trodde jag svetsat klart, men när jag skulle testmontera stötfångarfästena saknades det ett bulthål som dessutom har ett invändigt rör för stabilisering. När svetsen var framme passade jag på att tillverka ett skydd för nederdelen av kylaren, finns att köpa men mitt blir stabilare.
Thought I was finished with welding of the chassis but when I test fitted the bumper irons there was one hole missing, it even has a stabilizing pipe inside. When The welder was out I took the opportunity to make a protection for the lower radiator tank, it can be bought but I think mine is tougher






2017 Apr 29
äntligen börjat montera saker i den sammansatta ramen och karossen, började med att återmontera handbromsspaken och sen styrstången. Styrstången var lite knepig att få dit, fick lossa kylaren, styrstagen och staget mellan rambenen, men nu sitter den på plats.
Finally it's possible to start fitting parts in the joined chassis and body, started with refitting the handbrake lever and then the steering column. The steering column was a bit tricky, had to loosen the radiator, all steering rods and the bracing tube in front of engine, but now it's in place.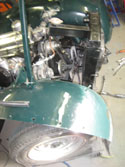 2017 Feb 28
Tyckte bromsledningen gick lite för nära avgasröret så jag satte på men värmeskyddande slang för säkerhets skull.
Passade också på att dra alla muttrar i framvagnen till rätt moment nu när motorn är monterad och hjulen är belastade.
I thought the brakeline was a bit to close to the exhaust so I put a heat insulation sleeve on to protect it.
Also took advantage to torque down all nuts in front suspension now when the engine is in place and weighing down the chassis.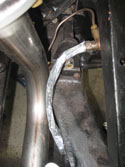 2017 Feb 12
En milstolpe idag, ramen står på hjulen ute ur karossvaggan, närmast ska motor ochväxellåda på plats.
A milestone today, chassi on the wheels out of the rotisserie, next will be fitting engine and gearbox.



2017 Feb 09
Jobbat med bromssystemet, dragit ledningarna , renoverat huvudbroms- och kopplingscylindern och monterat ihop pedalstället. Ska lomplettera med justerskruvar för pedalstopp, men måste svetsa dit muttrar som saknas. Tur att jag skaffade original av verkstadshandboken, annars hade jag nog inte fått ihop packningssatsen på rätt sätt, det som satt kvar i cylindrarna av gummi var desintegrerat.
Been working on the brake system, fitted all lines, repaired main brake and clutch cylinders and mounted the pedal box. I needed to weld in a couple of nuts for the adjustment screws for pedal stops. Lucky I did buy the original workshop manual, else I wouldn't have figured out hove to fit the seals the right way, everything of rubber inside the cylinders had disintegrated.








2017 Feb 03
När jag skulle passa in vänster nav bak så upptäckte jag att det navet troligen är lite skevt så jag kommer att använda det återvunna navet från den skrotade bakaxeln. Tyvärr är tätningsläget väldigt slitet så jag har beställt en axelhylsa typ "Speedi-Sleeve" för 38 mm:s axel och pressat på denna. Har passat in bromstrummorna på högersidan, lite justeringar här och där med slip och fil för att få nytt och gammalt att passa ihop. Bromstrumman fram har jag varit tvungen att slipa ner innerkanten med ett par mm pga få den att gå fritt från P-änden i den nya styrarmen.
Mounting LH side hub rear I discovered that it's probably a bit warped, probably due to being very stuck. I'll use the recovered hub from the old scrapped axle. Unfortunately the sealing surface is in poor state, so I've purchased a "Speedi-Sleeve" for a 38 mm axle and pressed it on the hub axle. Fitted the brake drums on RH side and some grinding was needed to make new and old parts fit, also had to grind of a couple of mm:s to clear the track rod end for the new steering arms.





2017 Jan 26
Har plockat ihop bromssköldarna bak, lite huvudbry pga av att jag felköpt en ej brukbar låssats för bromscylindern (passar de senare Girlingbromsarna), fanns dessutom ett urval fjädrar att välja på och som tur var fanns den övre fjädern med 2 spiraldelar kvar sen tidigare så även den fjädern var felköpt. Finns det någon som har TR2-3 med Girling finns det lite bitar att hämta ;)
Tillverkade ett par gafflar för handbromsvajrarna och testmonterade handbromsen, spärren verkar tvärtom mot en modern spak, dvs här låser man med knappen inte lossar som man är van vid.
Mounted rear brakes, had a bit of problem how to get it together due to that I had bought springs and locking plates to later Girling brakes, luckily PO had saved the upper spring with 2 coils. So is there a TR2-3 owner with Girling brakes is there some spare parts to pick up ;)
Fabricated a couple of forks for hand brake cables. Test fitted the hand brake, it works a bit different from a modern one as you lock it with the buttom not releasing it.






2017 Jan 23
Stötdämparna på plats, fyllda med stötdämparolja, nya länkstag. Bromsslangarna är också på plats
Shocks in place, topped up with oil, new droplinks. Also got brakeline hoses in place.



2017 Jan 15
Monterat hjulcylindarna fram och bockat till bromsledningen mellan dem, bromsbackarna på plats också.
Lite huvudbry hur jag skulle få fast bakaxeln, dvs hur skulle jag spänna bladfjädern utan någon last på ramen. Skruvade fast axeln mot fjädern med byglarna och spände sen fast ett järnspett som förlängning av fjädern och bröt sedan ner bakänden på fjädern så att shacklet gick i.
Har också fått de nya axlarna så nu är nya axlar, lager och trummor på plats.
Mounted wheel cyliders and bent brake line pipe that goes between them, brake shoes also in place.
Had to figure out a metod how to get axle in place, meaning how to tension leaf spring without any weigt of engine and body on the frame. I bolted the axle to the springs and then made an extension of the spring with a pry bar and the forced the rear end of the spring down so I could fit the shackle.
Got the new axles and fitted them with new bearings and the drums.






2017 Jan 10
Fortsatt jobba med vänster framhjulsupphängning, upptäckte då att axlarna är ganska slitna i lagerlägena, tydligen har någon tidigare ägare slagit körnslag i lagerlägena för att inneringen på lagren inte ska snurra. Har därför beställt nya axlar. Har också varit tvungen att beställa en ny bromscylinder och nya bromsslangar fram, de bromslslangar jag hade beställt tidigare från Rimmers hade fel anslutning mot adaptrarna.
Kompletterat styrningen med parallellstag där jag pressat in nya pinnar och pressat i nya lagerbanor i naven fram.
Börjat jobba med bakaxelupphängningen, bla med att svetsa in en hjulbult som borrats ur navet. Försökte få den helt centrerad genom att montera ihop nav, bromstrumma och fälg innan jag svetsade fast bulten. Lite jobb med att få bort inre delen av främre bussningen i ena bladfjädern, tack o lov behöver jag inte byta bulten (den är svetsad från insidan i ramen) som bussningen sitter på
Sågade ett spår igeom den gamla ytterringen så att den skulle bli lätare att pressa ur viket jag gjorde med den nya bussningen. Fjädrarna på plats och bakaxel i position för montage.
Been working on left hand front suspension, discovered that the stub axles are quite worn under the bearings, obviously a previous owner has punched marks under the bearings to make the inner ring stick. Therefore I've ordered new axles. I've also ordered one new brake cylinder, 3 was able to save, and new front brake hoses. The hoses I purchased earlier from Rimmer (marked aftermarket) didn't fit, wrong diameter towards the adapters.
Added the centre trackrod with new pins pressed in and also pressed in new outer rings for front wheel bearings.
Started works with rear axle suspension with among other things welding in a new wheel stud replacing one that obviously been drilled out, tried to center it by fitting hub, brake drum an wheel rim before welding. Also a bit of force needed to remove the inner steel tube of bushings for leaf springs, fortunately the pins are in good condition, they are a bit tricky to substitute as they are welded to the frame from the inside. Now remains to get the outer tube of the bushings out of the leaf springs.
Cut through the outer shell of the old bushes to faciliate pressing out the old with the new ones. Springs in place and the rear axle in position for fttig it.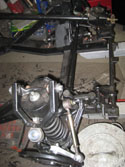 2017 Jan 04
Fortsatt med framhjulsupphängningarna, mer jobb än jag insett. Nu har jag fått dit fjäder, stötdämpare, sköld, axel och styrarm. Styrarmen är den uppdaterade varianten från Revington, verkar dock kräva att jag tar ett hål i skölden för att P-änden på styrstaget ska gå fritt vilket antyds i instruktionen att det kan behövas. För att få dit fjädern var jag tvungen att ta bort nedre "bump stop", jag lär inte få dit det förran bilen står på hjulen med motor i, försökte lyfta hjulupphängningen med domkraft men jag lyfte hela karossvaggan.
Hålet för P-änden till styrstaget i bromsskölden är taget och tätat med en tunnare plåt jag svetsat dit, hoppas den inte tar i kanten på bromstrumman
Continuing with front suspension, a bit more to do than I imagined. Now I got sping, shock, shield, axle and tie rod lever in place. Tie rod lever is the improved one from Revington and as suggested in instruction I will need to make a "window" in the shield to make room for the track rod ball joint. To fit the spring I had to remove the lower bump stop, I'm not going to get it back until the car is on it's wheels whit motor in place. I tried to lift the suspension with a jack, but I ended lifting the whole rotisserie.
Now the hole for track rod joint is taken in the brake shield, sealed it from inside with a thin plate, hope it won't touch brake drum rim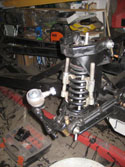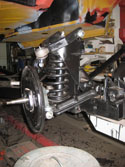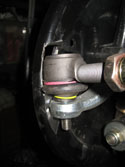 2017 Jan 02
Har börjat med främre hjulupphängningar och styrning, kom så långt som till att pressa in en ny bussning i en av de nedre bärarmarna när det visar sig att man måste brotscha bussningen för att den ska passa på spindeln. Alltså väntar jag på leverans av passande ställbar brotsch, och när den kom så vara det bara att sätta igång. Lite klurande går åt när man inte plockat isär grejerna själv men nuär en upphängning snart klar.
Have started with stearing and front suspension, got as far as pressing in a new bush in on of the lower wishbones and discovered that I need a reamer to make it fit on the bottom trunnion, so for now I'm waiting for delivery of an adjustable reamer and now when it's here it's just getting at it. It's taking a bit of thinking and searching to makes the bits and pieces fit when it's not yourself that broke it down.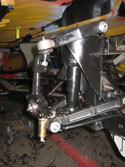 2016 Dec 21
Efter att ha lyft karossen med hjälp av spännband och fästen i takbjälkarna så har jag börjat måla ramen, ska lägga ett skikt till av POR15. Lite besvärlig att penselmåla med eftesom den är väldigt rinnig men rdlen är att de tränger in bra
After lifting the body with straps and some hooks in the roof beams I've started painting the frame with a first coat of POR15. This paint is no fun to use with a brush as it's very "runny" the advantage is of course it's good at penetrating.


2016 Sept 11
Börjat måla smådetaljer från huvudsakligen hjulupphangningar, men även en del lösa karossdetaljer. Det mesta var redan blästrat. Jag har köpt ett målningssystem som heter POR15 från Malm Motors och som består av ett rengöringsmedel, ett betmedel (någon form av syra av lukten att döma) och själva färgen som målas direkt på och utgör både grund och täckfärg. Målningsbox blev lådan som karossnurran kom i.
Started painting small parts mainly from uprights, links and suspension but also various body fittings. Most of it was already blasted. I've purchased a painting system called POR15 from Malm Motors, which consists of a cleaner, an etching agent (some acid judging from the smell) and the paint itself which serves as both primer and finisher. I use the box in which the rotisserie for the body came in as "paint box".



2016 Sept 09
Första svetsarna, främre höger stötfångarfäste.
First welds on this project, front right hand bumper support.