Drivlina
Kolla även under Uppdateringar där en del finns beskrivet. Also check under Updates were some jobs are described.
Datum 2023 Sept19-21
Jag och OD hemma från England, snuvat staten på skatt och moms och frakten blev gratis den med. När jag väl fått hem ett nytt urtrampningslager var det bara att sätta igång. Först säkra den lill oljepumpen så att den går fri från den lilla kammen på växellådsaxeln. Sen knacka fram ett par packningar, dels mellan OD och låda samt en mellan växelförarmekanismen och själva växellådan. Sen tog det lilla meckiga att få splinsen att linjera mellan axel, OD:ens koppling och utgående axel. Därefter nästa prövning, att få in lådans tapp i lagret i svänghjulet, ibland har man tur, men det hade jag inte idag. När lådan väl var på plats kom nästa prövning, att få ihop avgassystemet igen med bilen på pallbockar, men nu stter det där. Som om det vore slut där, nu gllde det att få dit tunneln över växellådan, ett motspänstigt stycke plåt, men jag är envisare, så nu stter även den på plats. Slutligen något som gick smärtfritt, få dit mattor och stolar. Ett tips, glöm inte att man ska provköra låda och OD INNAN moterar kåpan, det kan spara mycket tid och tårar.
Back home from England, no tax and no VAT paid, and shipping was "free". After I got the clutch release bearing in the mail, I could start fitting everything together, starting with securing the oil pump so it will be free of the cam on the gearbox axle. Next was knocking out new gaskets for the OD/gearbox flange and the gearshifter box on top of the gearbox. Next fiddely thing was making the splines of the gearbox axle fit the splines of the OD clutch and the outgoing axle of the OD. Next timeconsuming task was making the gearbox axle fit the bearing in the flywheel, sometimes you are lucky, I was not. Then it was time to tackle the exhaust system, not so exiting when the car is on stands only, but now it's joined up again. Final test of patience is getting the gearbox tunnel in place, a stubborn piece of metal fighting all the way, but I'm more stubborn. DO NOT FORGET to test the gearbox/OD before fitting the tunnel. Fitting carpets and seats was the easy part.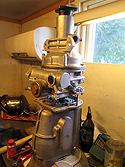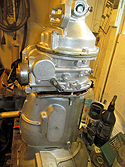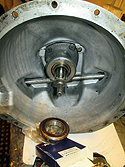 Datum 2023 Aug 15-16
Jag hade märkt att det läckte olja från drivaxeln på ena sidan, det visade sig att jag inte ordnat riktig packningvid axelns fläns när jag renoverade differentialen. Passade på att byta till de nya bromsbackarna bak och ordnade med ett nytt lager på reservdrivaxeln vilket inte hade behövt handlas från Limora (eller Rimmer/Moss) det är ett standardlager tex SKF 6206 (62x30x16) som kan köpas billigare online i Sverige.
I had noticed an oil leak at one of the rear wheels coming from the axle flange. I hadn't made a proper job sealing the flange when I fixed the differential. With the whells off I took th e oppertunity to fit the new brake shoes. I also purchased a rear wheel bearing for the spare drive shaft. No need to buy it from the usual suspects as I did), it's a standard roller bearing like SKF 6202 (62x30x16 mm) which I could have bought cheaper online in Sweden.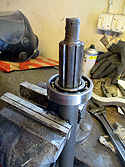 Datum 2023 Aug 08-10
Jag har känt lite vibrationer i växelspaken, men på hemväg från TR-klubbens sommarträff I Flämslätt blev vibrationerna allt kraftigare och ljudliga, jag tog ändå risken och körde hem i hällande regn. På vägen hem gjorde jag några tester, med växel i och ur, med koppling nertryckt och frirullande med växel i samtidigt som jag kopplade OD i och ur, samma procedur med växel ur. I samtliga fall blev vibrationerna mindre med OD aktiverad. Jag kontaktade Pete Cox and Son Sportscars i England för att få råd vid vidare felsökning. Han föreslog att ställa bilen på pallbockar och köra bilen med växel i och samtidigt lyssna med en skruvmejsel mot växellåda resp. OD. Som tur är har jag ett stetoskop som ärsmidigare än skruvmejsel. Slutsatsen blev entydigt att det är OD:ens lager som är slut. Tur i oturen är att jag ska följa med som passagerare till Europaträffen för TR-klubbarna som hålls bara 1 timmes resväg från Pete Cox verkstad. Jag tar med OD-lådan som bagage och får den reparerad där. Det finns inget utbytessystem eftersom det är ont om passande OD-lådor. Nu är Växellådan urplockad och OD skiljd. I den korta videon kan man höra hur illa det låter.
I've felt vibrations in the gearstick, and on returning home from the Swedish TR Club summer meeting it became increasingly worse, but I took a risk and drove it all the way home in the pouring rain. On the way I did some test, castin, coasting with clutch down, same thin with gear in and out, with OD engaged and not. In all cases vibrations were less whit OD engaged. I got in touch with Pete Cox and Son Sportscars (Tom Cox actually) and he suggested to put the car on stands and make the same tests while on stands. Listening with a stetoscope the conclusion was that the bearings in the OD was the cause. Fortunately I was about to go to the Europeean TR meeting in Coventry and Tom Cox is situated less than an hour from our hotel. So, I'll bring the OD there and he will fix it until we return a week later. There isn't any surplus of OD's so you have to get your own repaired. Now the Gearbox and OD are out of the car, and the OD packed for the trip to the UK. In the short video you can hear how bad it was.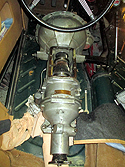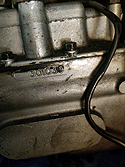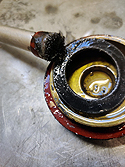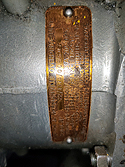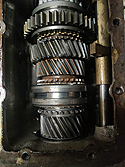 "film/movie"
Datum 2022 Nov 12-15
Lite försent fick jag hem relinade bromsbackar till bromsarn bak. Bromsarna luftade, hjulen återmonterade. Bytte olja och filter också. Tog en liten provtur, 16 grader varmt mitt i november, allt känns OK. Glappet som kändes speciellt när man "frirullar/costar" är borta. Tankade upp bilen och höjde lufttrycket i däcken, då den nog kommer att stå ett tag, fast ingen egentlig vinterförvaring, den står i ett varmgarage med några andra bilar och ett par båtar, så det är bara att dra av kapellet och ut och köra om det kommer fina dagar.
A couple days to late, I got the relined brakeshoes for the rear axle, easy to fit later if needed. Brakes bled, wheels fitted. Did an oil-change and new filter. Took a test-drive, an incredible 16 centigrades in mid-November, and everything sounds and feels OK. The play I felt earlier when coasting is totally gone. Filled the tank, raised tire pressure and stored the car in a warm garage together with some Porsches (GT3, 914, Carrera S 4x) a TR6, Nissan Skyline and a Merc coupe. It's not locked in, so I can just remove the cover and take it out for a spin at any time if there will come some nice warm days.


Datum 2022 Nov 11
Drivaxlar, bromssköldar, bromsledningar, handbromsvajrar, bromstrummor återmonterade. När jag skulle montera handbromsvajer så hittade ett brustet fäst för vajern, vilket förklarar varför det inte gått att justera handbromsen, plockade fram svetsen och lagade fästet, nu är förhoppningen att jag har handbroms igen.
Driveshafts, backing plates, brake lines, handbrake wires, brake drums are back in place. When I was about to fit handbrake wires, I discovered why I hadn't been able to adjust and get handbrake working, a support for the wire had broken. I got the MIG welder out, and mended the support, so now I have great hope the handbrake will work once again.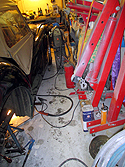 Datum 2022 Nov 10
Började med att dra in lagerbanorna för pinjongen med mitt verktyg, det klarade av det lilla lagret, det stora lagret gick så tungt att gängorna på gängstången gick av. Det var bara att baxa upp hela axeln i pressen, och där gick det lätt. själva rulllagren fick ligga i ugnen vid 150 grader, ytterlagren på själva diffväxeln gled på hur lätt som helst, det stora pinjonglagret behövde lite övertalning. Det lilla pinjonglagret fick jag dra av ett par gånger och ändra shims-tjocklekar tills det gick lagom tungt enligt manualen. Sen var det bara att motera tillbaks växeln i huset, ta bort spännverktygeet, sätta på locket och baxa axeln på plats.
I started pulling in the pinion races with the tool I made, but it only managed the smaller one, when trying to pull the bigger race, the threads stripped. Only option was lifting the axlile up into the hydraulic press. Easy done in the press. The roller bearings went into the oven at 150 deg C, the two bearings on the differential slipped on very easy, the big inner bearing on the pinion needed some persuasion. The smaller pinion bearing had to come off a couple of times to get the right amount of shims giving the proper torque as to the workshop manual. After that, the differential went back into the house, with a little more resistance than it came out. Sealed the housing and put the axle back in its place.






Datum 2022 Nov 09
Nu har jag fått hem avdagaren, hur enkelt är inte jobbet med de rätta verktygen, också glad att jag inte köpte den billigare varianten, nästan alltid gäller "man får vad man betalar för". Inre lagerbanorna är demonterade, planetväxeln/solhjulet ur monterat(genom att slå ut låspinnen som håller axeln), och återmonterat med ny axel och nya lagerbrickor. Glappet är nu minimalt.
Got the new puller tool delivered, and what a joy to work with the proper tools, glad I didn't buy the cheaper one, it's almost every time true that "you get what you pay for". Inner races are all removed the planet gear has been out (by punching out the locking pin), and new axle and thrust washers fitted. The play is much reduced.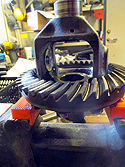 Datum 2022 Nov 07
Insåg att jag inte kunde få loss lagren från pinjongens axel, och inte heller lagren för drivaxlarna med de verktyg jag har, så jag har beställt en knivavdragare från Verktygsboden. Medan jag väntar på leverans av det nya verktyget, så tillverkade jag ett verktyg till av diverse spillbitar för att pressa in pinjongens lagerbanor i diff-huset med hjälp av de gamla lagerbanorna.
I realised that none of my tools would work to get the bearings off the pinion axel and the driveshaft bearings in the differential. I, therefore, ordered a bearing splitter (knife edge) from a toolshop online. While waiting for the new tool to be delivered, I made another tool for pressing the pinion-bearing races into the differential house, out of some scrap bits, among other bits, using the old races.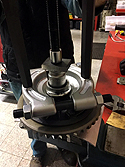 Datum 2022 Nov 05
Jag tillverkade ett par verktyg av diverse spillbitar, ett för att spänna isär diff-huset,, och ett annat för att hålla fast pinjongen. Nu är kronhjulet ute, liksom pinjongen och lagerbanorna för pinjonglagren. Det inre pinjonglagrets bana har "pitting"/frätskador. När jag lossade låsmuttern för pinjongen kändes det som den satt lite för löst.
I made a couple of tools, one to spread the housing, another to lock the pinion. The crown wheel is out, the pinion is out, the races for the pinion bearings are out. The inner race of the pinion bearings has some pitting, and removing the pinion locking nut, it felt a bit too loose.








Datum 2022 Nov 02
Påbörjat årets renoveringar med att demontera bakaxeln så jag kan renovera differentialen.
Started this years updates by taking down the rear axle, so I can renovate the differential.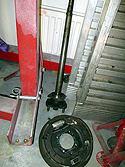 Datum 2018 Jan 23
Fälgarna blästrade och målade i samma färg (hos Mobil-Lyft Lackering) som karossen fast med ett lager klarlack som extra skydd. På väg till däckfirman.
Rims sandblasted an painted in same paint and colour as body, but the rims has a coat of clear as well to protect them better. On their way to the tire center.


Datum 2017 Sept 08
Fortsätter jaga läckor, byter slavcylinder eftersom honingen av den gamla inte räckte utan lite bromsvätska läckte igenom. Nästa fix blev dräneringspluggen till overdriven envisades med att släppa lite olja, försökte fila ytan på lådan så plan som möjligt. Tredje läckan var fortfarande oljefiltret där det visade sig att den inre delen inte gled som den skulle när man skruvade dit filtret, slipade lite lätt på ytorna och hoppas att den kan glida när man skruvar dit filtret och det blir tätt.
Still chasing leaks, fitting new slave cylinder as the repair of the old one still seeped brake fluid. Next job was drain plug of overdrive box, filed the plug seat as flat as possible and hope it is good enough. Third leak was the still leaking oil filter, it showed to be that the inner part didn't slide as supposed when you screw the spin on filter on, grinded the surfaces with very fine grade paper and hopes it slides as it should.


Datum May 24 2017;
Bytte packning i dräneringspluggen för overdriven, det läckte lite pga en "buckla" i kanten på tätningsytan, filade ner den plan så nu läcker det inte längre.
.

Datum Feb 15 2017;
När nu motor och växellåda är på plats monterade jag slavcylindern.
Now when engine and gearbox is in place, I've fitted the slave cylinder.

Datum Jan 30 2017;
Nya bakhjulslager på plats, trots en hel del värme på lagren behövde det ena lite övertalning med hjälp av gamla lager satplade fick jag en tillräckligt hög "hylsa" över axeltappen att slå på. Tyvärr var packboxarna från Rimmers 1 mm för små i ytterdiameter, 57 isf 58 mm, så de ramlade rakt igenom. Rimmer hävdar att de har rätt dimension så då får man gissa att någon vid något tillfälle svarvat ur naven så att en annan stadardtätning skulle passa, men jag är tveksam, åtminstone den ena tätningen och lagret verkar väldigt original. Har beställt nya från Kullagret.com. Packboxen för pinjongen passade däremot som den skulle.
New rear wheel bearings in place, even with a lot of heat one of the bearings struggled to fit, had to persuade it with a stack of old bearings to cover the axle end so I could give it a whack. Unfortunatly the oil seals I'd bought from Rimmers fell straight through, the old seals OD is 58 mm the new ones 57. Rimmers say that there is only one size, so either someone put the retainers in a lathe to make a lager diam. seal fit or Rimmers are wrong. To me at least one of the bearings and seal look very original. I purchased new seals from Kullagret.com. The oil seal for the pinion though fitted as it should.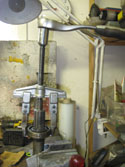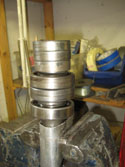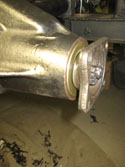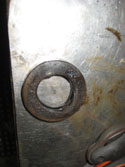 Datum Jan 24 2017;
Lite uppfräschning av kopplingsmekanismen på den "nya" OD-växellådan. Ny sleeve och urtrampningslager, nya bussningar i kåpan för axeln och nya stift i gaffeln samt slutligen förstärkning av gaffelns infästning i axeln, en känd svag punkt att den koniska skruven skärs av, men en ny sådan sätts också i. Kände att den som satt redan var lite krokig så det ligger lite i varningen om den svaga punkten.
Räddade en drivaxel en bromstrumma och ett stöd för bromsbackarna allt annat är skrot på den extra bakaxeln som följde med på köpet av bilen.
Slipade och packade om slavcylindern.
A bit of new bits and pieces in the clutch mechanism in the "new" OD-gearbox. New sleeve and bearing, new axle bushes, new pins in the fork and a reinforcing pin in the fork to take care of the known weak point beeing the tapered screw fixing the fork to the axle. When I unscrewed the old screw I felt that it was already a bit bent so it seems confirmed that it's a good idea putting in new screw and an extra pin.
Saved a brake drum, a drive shaft and a brakshoe support from the extra rear axle that came with the car, everything else was to corroded to save.
Honed and fitted new seals in the slave cylinder.









Datum Jan 19 2017;
Lite huvudbry hur jag skulle få fast bakaxeln, dvs hur skulle jag spänna bladfjädern utan någon last på ramen. Skruvade fast axeln mot fjädern med byglarna och spände sen fast ett järnspett som förlängning av fjädern och bröt sedan ner bakänden på fjädern så att shacklet gick i.
Har också varit och hämtat växellådan med overdrive från Ulf Mattsson i Svanesund. Han har en verkligt fin TR3:a i den färgställning jag själv också har valt.
Har börjat plocka isär kardanen men upptäckte att de knutkors jag hade i hyllan var begagnade från TR6:an.
Fått tag på knutkors, de är desamma som till diverse gamla Volvo, och fått ihop kardanen på nytt. Gjorde en ny korkpackning till splineskopplingen.
Had to figure out a metod how to get axle in place, meaning how to tension leaf spring without any weigt of engine and body on the frame. I bolted the axle to the springs and then made an extension of the spring with a pry bar and the forced the rear end of the spring down so I could fit the shackle.
I've picked up the OD gearbox (500 miles trip), the guy who sold it has a really nice TR3 in the same colours I've picked for my car.
Started dismantle the prop shaft but discovered that the UJ:s I had on the shelf were used ones from the TR6 I had earlier.
Found new UJ:s, they are the same as to some old Volvos, mounted the prop shaft. Had to make new gasket from a cork sheet to the splined joint.






Datum Dec 10 2016;
Såg en annons i TR magazine på en växelllåda med överväxel som bara har gåttt några hundra mil efter renovering hos Bennets. Slog till direkt men har inte hämtat den än eftersom den finns på västkusten.
Har börjat åtgärda kardanen, först avrostning sen ska jag byta drivknutarna.
Saw an ad in the Swedish TR Magazine for a gearbox with OD that only has made 1500 miles sine overhauled by well known swedish garage. Bought it but haven't picked it up yet, it's on the opposite side of Sweden.
Started cleaning up the prop shaft, first "derusting" and later on I'll put in new UJ:s.