Drivlina
Kolla även under Uppdateringar där en del finns beskrivet. Also check under Updates were some jobs are described.
Datum 2018 Jan 23
Fälgarna blästrade och målade i samma färg (hos Mobil-Lyft Lackering) som karossen fast med ett lager klarlack som extra skydd. På väg till däckfirman.
Rims sandblasted an painted in same paint and colour as body, but the rims has a coat of clear as well to protect them better. On their way to the tire center.


Datum 2017 Sept 08
Fortsätter jaga läckor, byter slavcylinder eftersom honingen av den gamla inte räckte utan lite bromsvätska läckte igenom. Nästa fix blev dräneringspluggen till overdriven envisades med att släppa lite olja, försökte fila ytan på lådan så plan som möjligt. Tredje läckan var fortfarande oljefiltret där det visade sig att den inre delen inte gled som den skulle när man skruvade dit filtret, slipade lite lätt på ytorna och hoppas att den kan glida när man skruvar dit filtret och det blir tätt.
Still chasing leaks, fitting new slave cylinder as the repair of the old one still seeped brake fluid. Next job was drain plug of overdrive box, filed the plug seat as flat as possible and hope it is good enough. Third leak was the still leaking oil filter, it showed to be that the inner part didn't slide as supposed when you screw the spin on filter on, grinded the surfaces with very fine grade paper and hopes it slides as it should.


Datum May 24 2017;
Bytte packning i dräneringspluggen för overdriven, det läckte lite pga en "buckla" i kanten på tätningsytan, filade ner den plan så nu läcker det inte längre.
.

Datum Feb 15 2017;
När nu motor och växellåda är på plats monterade jag slavcylindern.
Now when engine and gearbox is in place, I've fitted the slave cylinder.

Datum Jan 30 2017;
Nya bakhjulslager på plats, trots en hel del värme på lagren behövde det ena lite övertalning med hjälp av gamla lager satplade fick jag en tillräckligt hög "hylsa" över axeltappen att slå på. Tyvärr var packboxarna från Rimmers 1 mm för små i ytterdiameter, 57 isf 58 mm, så de ramlade rakt igenom. Rimmer hävdar att de har rätt dimension så då får man gissa att någon vid något tillfälle svarvat ur naven så att en annan stadardtätning skulle passa, men jag är tveksam, åtminstone den ena tätningen och lagret verkar väldigt original. Har beställt nya från Kullagret.com. Packboxen för pinjongen passade däremot som den skulle.
New rear wheel bearings in place, even with a lot of heat one of the bearings struggled to fit, had to persuade it with a stack of old bearings to cover the axle end so I could give it a whack. Unfortunatly the oil seals I'd bought from Rimmers fell straight through, the old seals OD is 58 mm the new ones 57. Rimmers say that there is only one size, so either someone put the retainers in a lathe to make a lager diam. seal fit or Rimmers are wrong. To me at least one of the bearings and seal look very original. I purchased new seals from Kullagret.com. The oil seal for the pinion though fitted as it should.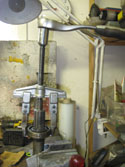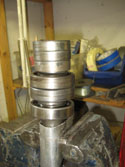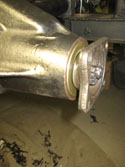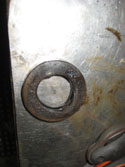 Datum Jan 24 2017;
Lite uppfräschning av kopplingsmekanismen på den "nya" OD-växellådan. Ny sleeve och urtrampningslager, nya bussningar i kåpan för axeln och nya stift i gaffeln samt slutligen förstärkning av gaffelns infästning i axeln, en känd svag punkt att den koniska skruven skärs av, men en ny sådan sätts också i. Kände att den som satt redan var lite krokig så det ligger lite i varningen om den svaga punkten.
Räddade en drivaxel en bromstrumma och ett stöd för bromsbackarna allt annat är skrot på den extra bakaxeln som följde med på köpet av bilen.
Slipade och packade om slavcylindern.
A bit of new bits and pieces in the clutch mechanism in the "new" OD-gearbox. New sleeve and bearing, new axle bushes, new pins in the fork and a reinforcing pin in the fork to take care of the known weak point beeing the tapered screw fixing the fork to the axle. When I unscrewed the old screw I felt that it was already a bit bent so it seems confirmed that it's a good idea putting in new screw and an extra pin.
Saved a brake drum, a drive shaft and a brakshoe support from the extra rear axle that came with the car, everything else was to corroded to save.
Honed and fitted new seals in the slave cylinder.









Datum Jan 19 2017;
Lite huvudbry hur jag skulle få fast bakaxeln, dvs hur skulle jag spänna bladfjädern utan någon last på ramen. Skruvade fast axeln mot fjädern med byglarna och spände sen fast ett järnspett som förlängning av fjädern och bröt sedan ner bakänden på fjädern så att shacklet gick i.
Har också varit och hämtat växellådan med overdrive från Ulf Mattsson i Svanesund. Han har en verkligt fin TR3:a i den färgställning jag själv också har valt.
Har börjat plocka isär kardanen men upptäckte att de knutkors jag hade i hyllan var begagnade från TR6:an.
Fått tag på knutkors, de är desamma som till diverse gamla Volvo, och fått ihop kardanen på nytt. Gjorde en ny korkpackning till splineskopplingen.
Had to figure out a metod how to get axle in place, meaning how to tension leaf spring without any weigt of engine and body on the frame. I bolted the axle to the springs and then made an extension of the spring with a pry bar and the forced the rear end of the spring down so I could fit the shackle.
I've picked up the OD gearbox (500 miles trip), the guy who sold it has a really nice TR3 in the same colours I've picked for my car.
Started dismantle the prop shaft but discovered that the UJ:s I had on the shelf were used ones from the TR6 I had earlier.
Found new UJ:s, they are the same as to some old Volvos, mounted the prop shaft. Had to make new gasket from a cork sheet to the splined joint.






Datum Dec 10 2016;
Såg en annons i TR magazine på en växelllåda med överväxel som bara har gåttt några hundra mil efter renovering hos Bennets. Slog till direkt men har inte hämtat den än eftersom den finns på västkusten.
Har börjat åtgärda kardanen, först avrostning sen ska jag byta drivknutarna.
Saw an ad in the Swedish TR Magazine for a gearbox with OD that only has made 1500 miles sine overhauled by well known swedish garage. Bought it but haven't picked it up yet, it's on the opposite side of Sweden.
Started cleaning up the prop shaft, first "derusting" and later on I'll put in new UJ:s.