Fordonsträffar/Events
Datum Sept 27 2021
Från ett par andra träffar i sommar, Svenskt Sportvagnsmeeting, Mönsterås, årliga TR-träffen i år i Hallstahammar, Cabtouren Öland och Lönneberga.
Pictures from some other events this summer, classic racing, the annual meeting of TR-club Sweden, overheated front brakes, a cab touring, and a couple of local meetings.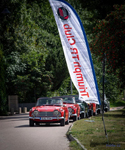 Datum Jun 19 2021
Nästan 2 år sen senaste bilträffen, men på väg till träff i Eksjö via Vimmerby. Körde totalt 25 mil i över 30 graders värme utan problem med överhettning eller ånglås.
Almost 2 years ago since last event, but now on my way to Eksjö via Vimmerby. Total run of 250 km in over 30 cetigrades and no overheating issus.


Datum Aug 20 2019
Lite bilder från Sportbilsdagen i Västervik dit jag var inbjuden, parkerad brevid den Porsche cab super 1600 som blev publikens val som bästa bil.
Some pictures from Sportcars meeting in neighbour city Västervik to which is was invited, parked next to the peoples choice a Porsche convertible super 1600.





Datum Aug 02-04 2019
Lite bilder från årets TR-möte i Vann på västkusten. Även bild på vandringspriset för träffens mest intressanta bil, min tur välja bil nästa år.
Some pictures from this years meeting in the Swedish TR-club, this time on the west coast north of Gothenburg.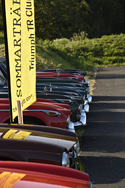 Datum Jul 06-07 2019
Svensk Sportvagnsmeeting med TR6 50-års jubileum, min TR2:a var utställd på lördagen.
At Svensk Sportvagnsmeeting including TR6 50-year jubilee, my TR2 was exhibited at Saturday.





Datum Jul-13-2019
Lite bilder från några lokala bilträffar så här i början av säsongen.
Some pictures from local meetings in the beginning of the season.








Datum Aug-03-05-2018
Sommarträffen i TR-klubben var förlagd till Åkerby herrgård en bit norr om Nora i Västmanland, ordningsman på parkeringen var Fabbe. Lördagens utflykt inbegrep besök vid Persbergs hytta och gruva (nerlagd runt 1950) med guidad tur, även här ordning och reda på parkeringen, jag fick äran att leda konvojen genom Nora eftersom jag hade äldsta bilen, det fanns en annan TR2:a åkså men lite yngre än min. Lunch vid ett mikrobryggeri i en annan gruvmiljö.
The yearly summer meet in Swedish TR club took place in an old mining district called Bergslagen. Fabbe was organising the parking. Saturday we had a 150 km planned road trip where I got the honour the start first in the convoy through the neighbouring town having the oldest TR, there was another TR2 but a bit younger than mine. Among other things, we had a guided tour at an old mine and iron mill and lunch at a small brewery, also situated at an old mine.





Datum Jul-19-2018
Besöker träffen i Kristdala, lyssnar till rockbandet The Southbounds (finns på Spotify) .
A visit to neighbour Kristdala, listening to almost local rock band The Soutbounds (also on Spotify) .



Datum Jun-26-2018
Hälsar på i Mönsterås som bla. bjuder på rockabilly live.
A visit to a neighbour town.


Datum Jun-20-2018
En tur ner till Helsingborg och Sofiero slott och Sofiero Classic tillsammans med några andra TR-bilar. Problem på vägen ner då bilen dog flera gånger för att slutligen dö totalt inne på utställningsområdet. Efter intensiv felsökning visade det sig att det var kondensatorn som gett upp. Plockade en ny från reservfördelaren som ligger i bagaget (rotor, brytare, tändspole och kondensor är bra att ha i reserv, plus lite andra bitar, ska komplettera med en billig multimeter bla).
Travelled down south to Helsingborg and Sofiero Castle where Sofiero Classic takes place. Met up with friends in Triumph TR Club Sweden, a nice trip of 720 km (450 miles). Had a bit of problems on the way down with car stalling and finally died inside the show area. After some serious fault finding it showed to be a faulty condenser, robbed one from the spare ditributor kept in the boot (always keep spare coil, rotor, points and condenser in the boot, and a couple of other bits).




Datum Jun 06 2018
På nationaldagen i stadsparken.
In the city park at national day.


Datum May-20-2018
Åkte tvärs Sverige till Tjolöholm Classic för att ställa ut tillsammans med TR-klubben, det blev en resa på 620 km.
Traveled across Sweden to the west coast south of Gotembourgh, to Tjolöholm Classic, one of the maior gatherings of classic cars in Sweden. Met up with friends in Triump TR Clud Sweden, a nice trip of 620 km (385 miles).

Datum Aug-31-2016
Passade på att visa upp den hämtade byggsatsen på den lokala onsdagsträffen eftersom den råkade sammanfalla med den dag jag hämtade TR2:an i Ljungby.
Showed the DIY-kit at the local Wednesday meeting since it coincided with the day I picked up the TR2.