Status vid köp och känd historia / Status at purchase and known history
Datum Dec 18 2020
Hittade gamla annonser för TR2
Found some old ads for TR2.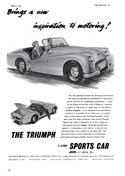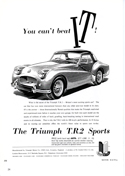 Datum Aug 10 2016
Såg den här annonsen i Nostalgia och slog en signal, tyvärr hade ägaren redan en köpare. Två veckor senare ringar han och säger att han gett upp på den förmente köparen och frågar om jag är intresserad. Åkte till Ljungby och kollade och det blev affär!
I saw an ad in Nostalgia magazine and phoned, unfortunately he already had a buyer. Two weeks later he phoned me and said he had given up one the first "buyer" and asked me if I still was interested. I went to Ljungby, had a look at the bits and pieces and made the deal.

Datum Aug 24, 2016
Lite bilder på skicket vid köp, väldigt glad att ramen var åtgärdad, riktad i bänk och inmätt. Karossen var blästrad och grundmålad så man kunde verkligen se vad som behövde åtgärdas, en del svets lär det bli, men det mesta i form av rparationsplåtar finns. I praktiken är det nog bara höger bakskärm som behöver införskaffas. Motorn behöver en hel reparationssats, som tur är har den lösa foder och en komplett sats med foder och kolvar, inkl oljepump och kamkedja kostar lite drygt 600 pund. Vad som jag måste fundera på är om vevaxel ska slipas om och modifieras för modern packbox i bakre tätningen, det blir minst lika dyrt som reparationssatsen.
Here are some pictures of the state at purchase, I'm very happy that the frame was mended, adjusted in professional bench and properly measured so it will make a good foundation. The body was also blasted and primed so you could easily spot all rot that needs welding, all necessary repair panels exist, the only part that needs to be found i right, rear fender. The motor needs a total overhaul, what's good is that a complete repair kit including pistons, liners, cam chain, oil pump and all gaskets is about 600 pounds. What I need to consider if the crank shaft shall be sent for regrinding and modifying for new type of rear seal, that will be at least as expansive as the repair kit.