Inredning / Interior/Trim
Datum Jun 21 2021
Efter att kört en längre runda märkte jag att den lilla höjningen jag tidigare gjorde i framkant av förarstolen inte räckte då det nästan blev kramp i högerbenet pga. att jag inte fick stöd av sätet. Tillverkade nya distanser för stolsunderredet som höjer stolen 8 cm i framkant 5 i bakkant.
After driving a long distance, I noticed that the increased height of the front edge by an inch wasn't enough, as I almost got a cramp in the right leg due to lack of support from the seat. I made a couple of consoles under the seat runners that increased the height of the seat by 3 inches in the front and 2 inches in the rear. Looking forward to testing this new position.




Datum Dec 24 2020
Häromdagen fick jag de nya stolarna från Cobra Seats, beställda för att passa färgerna i övrigt.
The other day I got the new seats from Cobra Seats, just before the expected Brexit, they are orderd in colours that better match the interior than the old ones.

Datum May 17 2018
Sista kapitlet om sittbrunnskapellet, har fått tillbaka det från skomakare Löfgren som sytt dit kragar och flikar med karborreband runt genomföringarna för störtbågen. Var tvungen att riva ut lite inredning för att kunna borra hål i karossen och montera de två sista Tenax-knapparna.
Last chapter on the tonneau, got it back from shoemaker Löfgren who stiched in collars and sealing flaps with Velcro strips for the roll over bar legs. Had to remove parts of the trimming and panels so I could drill holes for the to last Tenax pegs. Didn't dare to fit them before the tonneau was finished.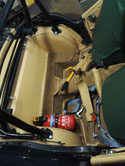 Datum Apr 23 2018
Fortsatt med sittbrunnskapellet så långt jag kan, har lämnat det till lokala skomakaren för att sy in kragar och "flärpar" runt öppningarna för genomföringarna av de fyra benen på störtbågen. Jag måste komplettera med två Tenax-knappar till strax bakom dörrarna, retfullt nog hade jag bara en tryckknapp, men åtskilliga "studs" över. Får se om jag kan lägga in i en beställning från England, jag känner att jag behöver en yttre backspegel också, den inre är väldigt liten.
Continuing the work on the tonneau, and I've come as far as I can for the moment, left it at the local shoemaker who will sew in some collars and seals around the openings for the roll over bar legs. I will need to fit two extra Tenax buttons one on each side just behind the doors, unfortunately I had just one button but plenty of studs. I'll order it from one of the usual suspects together with a LH outside mirror, when driving I realised that the inside rear view mirror is quite small.


Datum Apr 19 2018
Börjat sätta i Tenax-knappar i sittbrunnskapellet (eller tonneau som det också kallas), måste fundera ut hur jag gör hål och tätningar runt störtbågens ben.
Started fitting Tenax sockets to the Tonneau, have to figure out how to make a proper cut and seal around the roll over bar legs.


Datum Feb 01-03 2018
Även små saker måste åtgärdas, har tillverkat ett stopp för handskfackets lucka av en stång från reglaget till proppen i ett gammalt handfat. Hittade det ena originalblecket för genomföringen av dörrhandtaget, tillverkade en liknande i aluminium till den andra dörren och kastade bort blecken jag gjort tidigare.
Installerade brandsläckaren som krävs av försäkringsbolaget.
Passade på att justera bromsarna bak och handbromsen också.
Small items also need addressing, made a stop for the glove box lid out of the lings from and old sink. A grommet on the rod behind the stop makes it soft and I threaded the rod so the position can be adjusted with a nut. Found one of the original escutcheon latch lever slot, made a similar one out of aluminium for the other door and scrapped the ones I had made earlier.
Fitted the fire extinguisher demanded by the insurance company.
As I had to take off the rear wheel to access the screws that hold the fire extinguisher, I took the opportunity to adjust the rear brakes and the hand brake cables.



Datum Jan 28 2018
Jobbat med fästen för sidorutorna, bla med att limma i träpluggar i de gamla skruvhålen för att få skruvarna att ta bättre. Ett av fästena har en avbruten stoppskruv, jag borrade ett hål igenom resterna gjorde en gänga halvvägs, drog i en skruv och lyckades gänga ur den avbrutna delen. Tillverkade en ny skruv genom att gänga på en mutter som slipades ner mha borrmaskin, vinkelslip och fil så att jag fick en lagom stor sockel. Slipade sen ner mitten så att jag fick en hals för låsstiftet som ska hindra att den ramlar ur fästet. Provmonterade en gammal sidruta (som ska göras iordning senare).
Been working with sidescreen sockets, glued wooden pegs into old screw holes to make the screws grip better. One of the sockets had a broken wedge clamping screw, I drilled a hole through it and tapped it halfway through, inserted a screw and managed to get out the broken part. The securing pin was punched out with a broken 1,5 mm drill bit. Made a new clamping screw out of normal UNF screw, the thick neck part was made from a grinded down nut, the thinner part where the securing pin goes was turned with the help of a power drill, an angel grinder and a file. Finally I test fitted an old side screen (which will undergo serious repairs).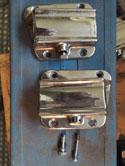 Datum Jan 26 2018
Har börjat återmontera interiören efter lackeringen, har bla lärt mig via TR register forum att piggarna för sittbrunnskapellet i framkant inte sitter framför kantskoningen utan genom from chassinummer TS1872.
Started refitting the interior after the body has been painted, learned on the TR reister forum that the tonneau Teenax pegs go through the fascia capping from TS 1872 and not in front of as I'd seen in some pictures.


Datum Oct 19 2017
Bytt ut slitna "Baby Teenax" i vindrutesargen och har kunnat spänna upp suffletten ordentligt för första gången.
Substituted worn out "Baby Teenax" in the wind screen surrounding an was able to fit and stretch the hood properly for the first time.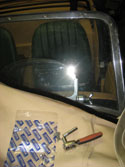 Datum Oct 13 2017
Monterat stolarna, fick ta fram kapskiva och svets igen för att justera handtaget lite.
Fitted the seats, had to take out the cutter and welder again to adjust the handle a bit.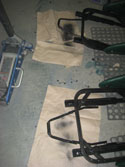 Datum Oct 11-12 2017
Fortsatt med mattorna, kickpaneler och framför växellådan limmar jag fast kardborreband, golvmattorna med tryckknappar.
Continuing with carpets, for kickpanels and in front of gearbox cover I'm gluing velcro strips, for floor carpets push buttons.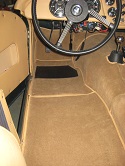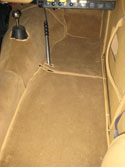 Datum Oct 10 2017
Äntligen fått tag i rätt gängtapp för gängan i bakre fästet för banden till suflettställningen, surare var att jag var tvungen köpa en förpackning på 200 skruv när jag bara behövde 8 för att fästa banden mot rören i sufflettställningen.
Finally got hold of the proper tap to make thread in the rear support for the hood straps, the old screws were drilled out. Didn't like though that I had to buy a pack of 200 tiny screws for fixing the straps to the frame when I only needed 8.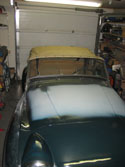 Datum Oct 07 2017
Börjat montera de nya mattorna, klippt och limmat i bitarna längst bak..
Started fitting the new carpets, beginning at the rear with a bit of cutting and glueing.



Datum Oct 04 2017
Gjort iordning bagageutrymmet, förstärkte pappskivan bakom tanken med en bockad plåt i nerkant där den ville vika sig. Klippt till en matta för golvet, inte riktigt samma som i inredningen, men hyfsat lik, får duga tills vidare.
Prepared the boot, reinforced the lower part of the cardboard in rear of tank with a plate I bent to an 90 deg profile, the cardboard tended to fold in the lower edge, Cut a carpet for the boot floor, not exactly like the interior trim but will do for now.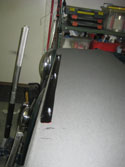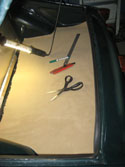 Datum Oct 03 2017
Fått hem ett nytt set mattor från TR Shop.
Kraftig modifiering av handskfcket för att ge plats för defrosterslang, munstycke och utblås mot golv. När jag gjorde fästet för nya värmeaggregatet kollade jag på ett liknande på en engelsk bil, det var placerat lite åt höger, inser nu att jag borde placerat mitt åt vänster sida för att handskfacket skulle ha fått plats.
Got the new set of carpets from TR Shop, much better quality than the ones that came with the "car".
Made a big modification of the glove box to make room for defroster nozzle, hose and nozzle for floor heat. When I made the support for the new heater I looked a support made for an English car where the heater was offset to the right, realizing I should had made mine offset to the left to make room for the glove box.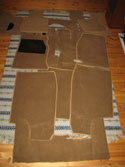 Datum Oct 01 2017
Börjat fixa sufflettramen.
Started working on the hood frame.

Datum Sept 30 2017
Dörrpanelerna på plats, dragsnoddarna funkar. Gjorde tröskelplåtar av aluminiumplåt.
Trim panels for doors in place, door pulls work. Made threshold plates out of aluminium







Datum Sept 28 2017
Har hållit på flera dagar med att tillverka små beslag för dragsnodden till dörröppningen, fick göra flera varianter på förlängningen som sticker ut genom klädseln. Har också "tillverkat" försänkta skruvar för att hålla sufflettställningen genom att slipa ner skallen på vanliga 6-kantskruvar.
Spent several days making small details for door pull, had to make several attempts of the spacer going through the trim. Also "manufactured" counter sunk screws for the hood frame out of ordinary hex bolts.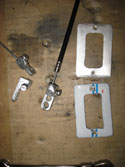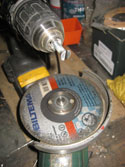 Datum Sept 20-23 2017
Börjat montera kantskoning och klädsel för att sen kunna montera sufflettställningen.
Målat panelen fÄr bagageutrymmet i karossens fÄrg och grundat baksidan av dÄrrpanelerna med golvprimer fÄr att de ska klara fukt bÄttre.
I've started fit cappings and trim panels so I later can fit the hood frame.
I've painted the panel for the boot in body colour and inside of door panels with wet room floor primer to make them a bit more resistant to humidity.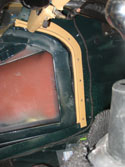 Datum Sept 17 2017
Vindrutan monterad med nya tätningar uppe och nere, men det täter inte särskilt bra nere i hörnen, får se vad jag kan hitta på. Med rutan på plats kan jag börja med suffletten och sufflettställningen, men först blev det nya Teenax-knappar i bakkant, fram mot vindrutan fungerar de gamla "Baby-Teenax" fortfarande bra, det fanns några i reserv så jag kunde byta ut ett par trasiga.
Windscreen fitted with new seals up and down, though still gaps towards the scuttle at the corners, will have to find a way to seal those better. With windscreen in place I could start with the hood and hood frame, first I had to fit new Teenax fasteners at the rear, at front the existing "Baby-Teenax" still works and I was lucky there were some spare to replace a couple broken ones.



Datum Jun 09 2017
Monterat pedalstället, ordentligt med karosserikitt för att hålla vattnet ute. Funderar på att borra ett dräneringshål i torpedplåten framför pedallådan, fattar inte vart eventuellt inläckage ska ta vägen annars?
Fitted the pedalbox, used plenty of bodysealer to keep water (and brake fluid) out. Thinking about drilling a draining hole in the bulkhead at front bottom of the pedal box, can't imagine where water (or other fluids) can escape otherwise?



Datum May 13 2017
Slutmonterat instrumentbräda med stöd för rattstång, konsol för värmeaggregatet och defrostermunstycken samt dragit slangar för värme.
Finished fitting of dashboard with supports for steerig column, support for heater, ventilation nozzles for wind screen and hoses for heater.





Datum Apr 30 2017
Monterat genomföringar för slangar till värmebatteriet. Monterat tanken och nivågivaren, gängat om hålen för givaren till M5.
Fitted bulkhead pass through for heater hoses. Fitted fuel tank and fuel level sender, made new M5 threads for the sender.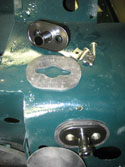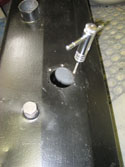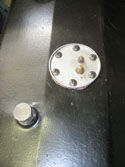 Datum Apr 12 2017
Upptäckte att Triumphens ratt hade samma diameter som Duettens, beställde därför läderklädsel till ratten från VP Autoparts och klädde den ppå samma sätt som jag redan gjort på Volvon.
Discovered that the Triumphs steering wheel has the same diameter as the Volvo Duett, ordered a leather cover from VP Autoparts and applied it as I've already done on the Volvo.



Datum Apr 11 2017
Har varit lite låg fart några dagar, Duetten har varit flyttbil, men nu har jag gjort iordning sista biten runt sittbrunnen. Den var i så dåligt skick att jag fick åka och köpa en bit aluminium och knacka till en radie över en rörstump, som tur är så är just den här biten alldeles rak.
It has been a bit low activity some days, I've been out with the old Volvo helping a son moving furniture, but now I've finished the last piece of the cockpit surroundings. It was in such a bad shape that I had to buy a new piece of aluminum and knock out a radius over a piece of pipe, fortunately this part is straight so it was the easiest to manufacture.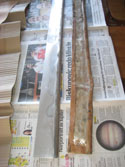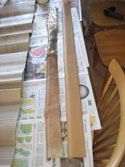 Datum Apr 04 2017
Har börjat klä om sittbrunnssargen, består av 8 bitar. Mycket rengöring kladd med kontaktlim och inpassning av vinylbitarna. Småbitarna på ömse sidor om dörrarna (och före och efter bild på en dörröverstycke) är klara. Instrumentbrädan är klar förutom kabeldragning förståss.
I've started fit the vinyl trim on the 8 pieces around the cockpit. Lot of cleaning and messing with adhesive and fitting the vinyl. The smaller pieces on either side of the doors are finished (and a before and after picture of the door rim padding). Dashboard is finished except electrical wiring ofcourse.





Datum Mar 30, 2017
Fick invändig klädsel från TR Shop häromdagen, satte fram mattor och dörrsidor runt stolarna för att få en idé om hur det kommer att se ut. Klädde instrumentbrädan med en tunn stoppning och limmade dit vinylen, det blev rätt bra.
Got the interior trim from TR Shop the other day, put carpets and door sides around the seats to get an idea how it will be looking when finished. Put a thin padding on the dash and glued the vinyl to it, quite satisfied with the outcome.



Datum Mar 06-08, 2017
Leverans idag från AHspares av stoppning och klädsel, måste skaffa lite fast skumgummi till svankstöd innan jag börjar klä stommarna.
Skurit till och limmat fast skumgummi som svankstöd, klätt ryggstödet med stoppning och monterat vinylklädseln, en stol helt klar och sen båda, några veck i ryggstödet pga svankstödsfyllningen.
Delivery today from AHspares of covers and padding, must find and purchase some firm foam for lumbar support before fitting the covers.
Cut and glued foam for lumbar support attatched padding and dressed one seat with the vinyl covers, one seat compleatly finishedand then both finished, a couple of creases due to the extra padding for lumbar support.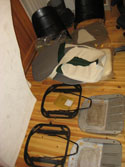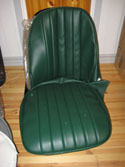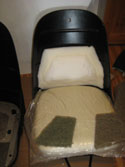 Datum Feb 22, 2017
Monterade ihop stödet för rattstången.
Assembled the steering column support.

Datum Feb 06-11, 2017
Slipat massor av ytrost (och skurit bort dåliga delar) och svetsat upp ramen till sitsen. Grundmålat ach färdigmålat allt. Beställt nya stolsunderreden för Sparcostolar, kom undan med 350 kr st. Har hittat klädsel och stoppning hos https://www.ahspares.co.uk/
Jobbat med att modifiera underredena, framförallt spärrhandtaget och Healysätesramen.
Grinded away a lot of surface rust and cut away some parts, welded in new bottom of the frame for one of the seats, the other seat was much better. Primed and painted all parts. Purchased new seat runners for Sparco seats, just 30pounds a seat runner. Found new covers and padding at https://www.ahspares.co.uk/
Been adapting the seatrunner lock handels and the Healy seat frame to fit each other and to the new floor.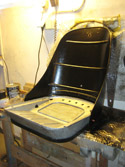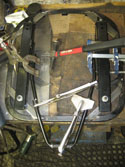 Datum Feb 04, 2017
Började fundera på om jag skulle köpa helt nya stolar, hyfsad kvalitet kostar 3.500 och uppåt per styck, eller om jag ska klä om befintliga. Om jag skulle satsat på original dvs med fjäderbotten mm fast fortfarande i vinyl blir det minst lika dyrt. Original är grön klädsel som verkade lite udda så jag slängde ut en fråga på forumet med en bild för att kolla om någon kände till den färgställningen. Efter viss diskussion kom vi fram till att det inte är Triumphstolar utan Healy Spritestolar, tidiga modellen, och att dessa bedöms som mer komfortabla än Triumphsätena. Klädsel och stoppning blir också billigare, under 2000 per säte, med rekommendation att lägga i lite extra stoppning i svankstödet.
Efter att ha rivit av klädsel och stoppning verkar det mesta gå att rädda, ena sitsen är dock ett gränsfall men jag ska göra ett försök med att svetsa ihop lite ny plåt, annars finns delen att köpa för ca 70-80 pund. Kan kanske delfinansiera med den korroderade 5-öring jag hittade i klädseln, säger lite om från vilken epok bilen är.
Began thinking about if I should buy new seats, decent quality is about 300 pound and up a seat, or if I should upholster the existing seats. If I'd go for originality with spring bottom but till vinyl it would become just as expensive. Original seat colour is dark green which seemed a bit odd so I asked at the forum if anyone recognized such colour and after some discussion we agreed that they aren't Triumph seats but Healey Sprite seats from the early model. Those seats are considered more comfortable than the Triumph seats with the recommendation to add a bit of padding in the lumbar support. Covers and padding is a bit cheaper as well, about 200 pounds a seat.
After tearing of covers and padding most parts seems the be salvageable, one seat pan is quite rusty though but I'll make an attempt to weld in some new sheet metal, else new pans can be bought online for around 70-80 pound. Might partly be financed with the coin from the fifties (5 öre, 5/100 of a krona, means less than 1/1000 of a pound) says a little about from which times the car originates.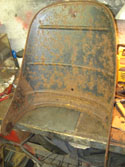 Datum Jan 01, 2017
Första dagen på nya året ägnades åt att tillverka ny lucka till handskfacket, lustigt att vissa saker som denna saknas. Låset är nyinskaffat från Moss, blecket är egen uppfinning. Plywood och gångjärn hade jag i skrothögen från annat projekt. Måste kolla om staget till luckan finns i lådan bland oidentifierade delar.
Dedicated first day of the year to fabricate new lid for the glove box, funny thing that a thing like that is missing. Lock is new and purchased from Moss, the lock striker is own invention. Plywood and hinge came from the scrap bin of other projects. I'll see if the stay is among the small bits and pieces still unidentified.




Datum Dec 17, 2016
Har gjort färdigt fästena för värmeaggregatet, försökt placera det så det blir plats för elkablar och slangar, instrument osv., behöver inte ta hänsyn till friskluftintag eftersom det inte finns på tidiga TR2:or.
Made brackets for heater and fan, tried to place it so it gives rom for electrics and instruments, no need to regard air inlet as early TR2's don't have it.


Datum Dec 06, 2016
Har börjat kolla att saker och ting passar, tex bränsletanken. Har gjort fästen till värmeaggregatet och gjort om fästet för värmeventilen lite pyssel med att vinkla om så att reglaget fungerar "logiskt" dvs jag öppnar ventilen när jag drar ut vajern (som kommer att sitta i den lilla extrapanelen som syns under El-fliken.
I've started to trail fit things like fuel tank. I've also manufactured brakets for the heater and the heater valve, had to modify the bracket for the valve so it is positioned in a way that the valve opens when I'll pull the knob/wire that will sit in the small extra dash described under Electrics.




2016 Dec 02
Defrostermunstyckena saknades så jag beställde ett par från CBS som såg ut att passa ungefär, anpassade utsläppet och gjorde nya fästen. Nästa steg blir att göra fästen för fläkt och värmebatteriet från T7-design.
The vent nozzles were missing so I bought a pair from CBS that seemed to fit, made a bit of adaption of the front lip and new brackets. Next step will be brackets for the heater unit I bought from T7-design.



Datum Dec 02, 2016
Har beställt klädsel exkusive stolar, valde mellan New Tan och Light Tan, det blev Light Tan.
I've ordered trim from TR Shop and was choosing between Light Tan and New Tan, decided for Light Tan.