Kaross
Kolla även under Uppdateringar där en del finns beskrivet. Also check under Updates were some jobs are described.
Karossen är lackad med 2K akrylat Deltron® topplacken Progress New UHS DG från PPG i kulören Jaguar HFB. Body is painted with Deltron Progress UHS Direct Gloss from PPG in colour code Jaguar HFB.

2018 Apr 19
Tätat fler hål i karossen genom att sätta dit Union Jack, har antagligen suttit något liknande där förut.
Found a couple of more holes in the body that I hadn't noticed earlier, put an Union Jack badge on both sides. Probably what has been there before.

2018 Mar 27
Justerat stöden och passat in i fästena samt satt dit Tenax knapparna.
Adjusted supports into sockets and fitted Tenax buttons.
Left hand side Right hand side 2018 Mar 05-06
Klippt rent innanför rutramen och kontaktlimmat mot ramen och sen även kontaktlimmat och vikt in vinylen över kanterna på kanalen för själva rutan. Amvände en liten överbliven bit av Lexan för att pressa in vinylen i kanalen, verifierar på så sätt att rutan kommer att gå in i kanalen.
Första rutan på plats, om jag hade hittat skulle jag nog använt 2 mm tjock Lexan, den här var rätt styv att böja för att pressa in i kanalen.
Kanske inte den vackraste skapelsen, men de kommer att hålla blåsten och det mesta av regnet ute. Tillfälligt på plats i dörren, inte justerat fästena än.
Cut the vinyl to fit after gluing it to the frame, then glued and folded the vinyl over the edges of the channel for the Lexan screen. I used some leftover piece of the Lexan to press the vinyl in place and thus verifying that the Lexan screen also will fit in the channel.
First screen in place, if I had found, I should have used 2 mm thick Lexanbecause this 3mm is quite stiff to bend into the channel.
Maybe not the most beatiful creation, but it will keep the wind and most of the water out. Just temporay in place, needs to be adjusted into the sockets.
Right hand side
Left hand side 2018 Mar 01-04
Vinylen tillbaka från skomakare Löfgren, bågarna i "flapsen" är insydda också, endast 200 kr.
Efter att ha samlat mig för attt klippa hål och se om det fungerade att trä över vinylen så gjorde jag det och det fungerade som tänkt, nästa steg blir att limma vinylen mot ramen och vika in den i kanalen för rutan.
Vinyl is back from the shoemaker Löfgren with the flap frames in place, only 20 pound!
Finally got the courage to cut the hole and try to fit the frame to see if it worked as I thought it would, and it did! Next step will be gluing the vinyl to the frame and then folding it over the edges of the channel for the clear window.




2018 Feb 20
Har jobbat med vinylen. Markerat för sömmar, kontaktlimmat och vikt in kanterna på yttersidan. Provsydde i lite spillbitar med en ganska kraftig, men vanlig, symaskin och insåg att det inte duger. Svårt att få konsekventa stygn och trådspänning så jag har lämnat vinylen till den lokala skomakaren som har de rätta verktygen (och kunskapen).
I've been working on the vinyl. Marked up for stitching, glued and folded the edges. Tested to sew in some left over vinyl with a pretty strong but still a household sewing machine and realised that it will not be good enough. Hard to get nice continuous stitches and proper thread tension so I left it to the local shoemaker who has the proper machine (and knowledge).


2018 Feb 14
Har börjat anpassning av ramarna, på högersidan var jag tvungen att flytta stöden 5 mm bakåt för att få bra passning mot fönsterstolpen. Jag hade kunnat flytta fästena i dörren, men 5 mm blir lite för nära de gamla skruvhålen så jag kapade loss och svestade fast stöden på ny plats. Sen har jag börjat tillverkningen av kanalen som ska hålla rutan på plats. När kanalen var färdigsvetsad tvättade jag med rostomvandlare, borrade och gängade jag hål för del löstagbara delen av kanalen som gör att man kan pressa i rutan. Därefter lite spackel runt kanterna som slipades och sen målning med Hammarlack.
Started the work on the frames, on the right hand side I had to move the supports 5 mm to the rear to get a good fit against the windscreen column. I could have moved the door supports to the front, but only 5 mm would have put the new screw holes very close to the old ones so I cut the supports loose and welded them in place 5 mm to the rear. Then I began welding the plate strips that will form the channel for the clear sidescreen. When the welding of the channel was finished I washed the frames with POR 15 Metal prep, then I drilled and tapped screwholes for the detachable piece of th channel wich will allow the clear screen to be pressed in place. Then some filler to smoothen the edges, grinded down and finally painted with "Hammerite".








2018 Feb 13
Monterade sufletten så jag kan börja med sidofönstren, först köpte jag hem 3 mm Lexan, eller Polykarbonat som det egentligen heter, till själva rutorna samt grön vinyl att klä ramarna med. Original är rutan av klar vinyl fastsydd i klädseln, men jag kommer att göra en kanal av plåtremsor fastsvetsade så att det blir en kanal runt om, i kanalen kommer jag att vika runt vinylen och sen pressa i rutan, jag kommer att lämna inre bakkanten lös och skruva fast den när rutan är på plats.
Fitted the hood so I could start work on the sidescreens, purchased 3 mm Lexan, or polycarbonate as is called, for the clear screens and green vinyl for the covers. On the original sidescreen the clear part is also vinyl and its sewn into the covers, but I'll make a channel from welded on plate strips for the clear screens. I'll fold the vinyl over the edges and then press the Lexan sheet into place, to make it possible I'll leave the inner rear strip loose and will screw it into the frame when the screen is in place. The thickness of the frame is 5 mm and the vinyl is 1 mm thick so when the vinyl is folded over the welded on strips there will be 3 mm left exactly what is needed for the clear screen.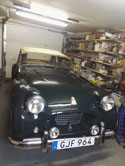 2018 Feb 09
Monterade stenskottsskydden på bakskärmarna.
Fitted the stone guards on the rear wings.


2018 Feb 06
Störtbågen från Revington hemma. Allt passade bra, men förstärkningsplattorna under skärmarna krävde lite slipning av hålen för att få dem på plats.
The roll over bar from Revington at home. It fitted well but had to file a bit in the holes in the counter plates under the wings to make the fit.




2018 Feb 05
Plockade ur den spruckna vindrutan, själförvållat, en spricka tvärs över i mitten knäckt medan jag försökte få in den i ramen sen två mindre srickor i kanten orsakat av lite för långa gängor på piggarna till Teenax-knapparna. Började med att få ur den spruckna rutan, sen slipade jag ner de utstickande gängorna. Den här gången använde jag inte gummiband runt hela rutan utan satte 10-12 stycken centimeterbreda remsor jämt fördelade och fyllde hela ramen med tätningsmassa för vindrutor, pressade in rutan, skrapade bor överflödet av tätningsmassa som tryckts ut. Monterade vindrutan och hoppas att min variant fungerar.
Removed the old cracked windscreen, caused by myself first a crack from top to bottom which happened when trying to force the windscreen into the frame then more cracks in the edges caused by a bit to long threads on the pegs for the Teenax pegs. Grinded the peg threads even with the frame, used 12 short one cm wide rubber strips evenly spaced around the frame instead of the continuous strip one is supposed to use. Filled the frame with windscreen sealing compound and pressed the glass in place, wiped off the surplus sealing compound which was pressed out. Put the finished product in place and hopes for the best.




Datum Jan 28 2018
Jobbat med fästen för sidorutorna, bla med att limma i träpluggar i de gamla skruvhålen för att få skruvarna att ta bättre. Ett av fästena har en avbruten stoppskruv, jag borrade ett hål igenom resterna gjorde en gänga halvvägs, drog i en skruv och lyckades gänga ur den avbrutna delen. Tillverkade en ny skruv genom att gänga på en mutter som slipades ner mha borrmaskin, vinkelslip och fil så att jag fick en lagom stor sockel. Slipade sen ner mitten så att jag fick en hals för låsstiftet som ska hindra att den ramlar ur fästet. Provmonterade en gammal sidruta (som ska göras iordning senare).
Been working with sidescreen sockets, glued wooden pegs into old screw holes to make the screws grip better. One of the sockets had a broken wedge clamping screw, I drilled a hole through it and tapped it halfway through, inserted a screw and managed to get out the broken part. The securing pin was punched out with a broken 1,5 mm drill bit. Made a new clamping screw out of normal UNF screw, the thick neck part was made from a grinded down nut, the thinner part where the securing pin goes was turned with the help of a power drill, an angel grinder and a file. Finally I test fitted an old side screen (which will undergo serious repairs).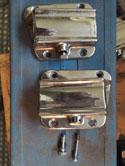 2018 Jan 25
Bakljusen och reservhjulslucka på plats.
Rear lights and spare wheel lid in place.


2018 Jan 20
Monterat tillbaka stötfångare, lampor och blinkers fram. Fick inte bla. extraljus kylfläkt och signalhorn att fungera, det visade sig vara dålig kontakt i huvudsäkringen A1-A2.
Bumper, lamps and indicaors are back in place. Had problems make spotslights, horn and cooling fan work, but it showed only to be bad contact in fuse A1-A2.

2018 Jan 14
Första återmonteringsjobben påbörjade, försiktigt, försiktigt monterade jag huv och bagagelucka för att inte skada lacken. Rikligt med maskeringstejp och filtar innan gångjärnen var fastskruvade.
Börjat byta rostiga fjädrar för "Dzus-skruvarna" i fästena för vindrutan.
Started refitting items, first bonnet and boot lid, very carefully, protecting the fresh paint with masking tape and blankets until the hinges were fixed.
Started changeing the springs for Dzus fasteners in the windscreen stanchion guides.



2018 Jan 12
Bilen åter i garaget med lite smälta snöflingor på.
Back in the garage with some melted snowflakes on the fresh paint.

2018 Jan 09
Lite sen julklapp, men fick besked om bilen var nästan färdiglackad, bara huv och bagagelucka kvar. Hämtar den på fredag den här veckan. Målning av fälgarna tar jag hand om senare, de ska blästras först.
Slightly delayed Christmas present, got the notice that the paint was almost finished, just bonnet and boot lid left to do, I can pick up the car on friday this week. I'll take care of painting the wheels later, the rims needs sandblasting before painting.



2017 Oct 21-22
Strippar av karossen och inredning som förberedelse för lack.
Stripping the body and interior preparing for paint.

2017 Oct 07-10
Fortsätter med inpassning av motorhuv, fram till höger är det en bred glipa där fronten inte passar mot huven, om jag kommer ihåg rätt så var det där en massa tenn rann bort när jag svetslagade. Skar upp och rättade till kanten, slipade bort 3-4 mm tenn och la en plåtstrimla bakom och punktade fasat med svets, pga all bortslipad tenn valde jag att bottna med glasfiber för att bygga upp och sen forstätta med finspackel. Lackade med sista skvätten i burken.
Förberedde huvlåsen genom att sätta dit vekare fjädrar eftersom på TR6 används ett lås medan jag använder två, misstänker det blir svårt att lossa dem annars.
Var tvungen att ta fram kaprondellen och svetsen igen, det vänstra fästet satt för långt mot mitten. Nu fungerar huvlåsen och även lossningen via vajern.
Continuing fitting the bonnet surroundings, at front right there is a local wide gap and if I remember right it is where a lot of tin melted away when I did weld repairs. Made a 200 mm cut and widened it 5 mm as the most, grinded away 3-4 mm thick tin layer so I could spot weld a plate strip to fill the gap. Due to the amount of lost tin I decided to fill up with GRP and the finish of with putty. Spraypainted the repair with the last drops in the can.
Prepared the bonnet locks by fitting a weaker springs, this because the TR6 where they are from only uses on lock and I'm using two, else I guess it would become hard to release the locks.
Had to bring out the cutting disk and welder once again, the LH lock pin was outside adjusting limits, now in right place. Locks work and release mechanism as well.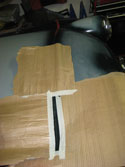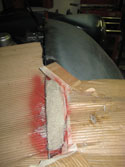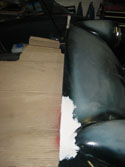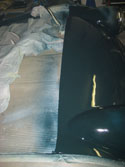 2017 Oct 05
Monterat motorhuven med diverse inpassningar som följd. Var tvungen att justera fronten vänster fram samt bocka ner huvens högra främre hörn. Tillverkat ett stöd för stången som håller huven öppen men som också fungerar som säkerhetslås för haken att greppa in i.
Fitted the bonnet which caused several adjustments. Had to knock in the upper left corner of the front and cut and weld the reinforcment of the right hand corner of the bonnet to make the bonnet fit. Made a support for the stay bar, the support also serves as saftey lock for the bonnet.








2017 Sept 16
Diverse småjobb som att byta locken över låsen på reservhjulsluckan till den runda typen som är originalutförande, montera Areoscreens, täckgummin under framskärmarna och dölja hålen i torpedplåten (troligen efter gamla relän) med en hållare för reservtändstift och en liten plåt med tändföljden instansad.
Several minor jobs done like switching the key hole covers for the spare wheel door to the round type like original, fitting Aeroscreens, fitting rubber seals under front wings and cover holes in the bulkhead (probably after old relays) with a holder for spare spark plugs and a plate with firing order punched in.






2017 Sept 09
Bytte ut tätningslisten för reserhjulsluckan mot en mjukare samt D-profil då den andra spände ut luckan för mycket. Satte också en tätningslist i underkant av dörren mot tröskeln, inte samma profil som original men känns som den gör minst lika bra jobb,m inget borrande för clips bara limmade.
Changed the sealing for the spare wheel door to another softer and lower D-profile, the one used for boot was putting a lot of tension on the door. Also fitted sealings in the doors towards the sills, not original type but one I think does the job just as well, no drilling holes, just glued.


2017 Sept 06
Skar till tätningslister från överbliven list till tätning i botten av vindrutestolprna. Monterade glaset i ramen, riktigt jobbigt trots att jag smorde med silikon för att glaset skulle pressa in gummitätningen i ramen, fick använda spännband, tvingar och gummiklubba, fubderade på om jag inte skulle köpt modern monteringsmassa för vindrutor istället.
Cut sealing rubber for the bottom of windscreen pillars out of another sealing rubber. Fitted the glass into the frame, a rel PIA, even though I used silicone grease to make the rubber seal easier slide into the frame. Had to use clamps, loading straps and rubber mallet to make it work, for a minute I was thinking of going out and buy modern windscreen fitting compound.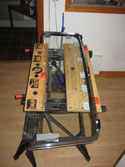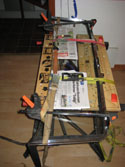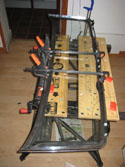 2017 Sept 01-05
Fortsatt med vindrutan, fick borra ur skruvarna i hörnfästena, det var totalt hoprostat, har nu fått loss glaset och beställt ny gummitätning, nya hörnfästen och skruvar. Nästa utmaning blir att få in rutan i ramen med den nya tätningen, har dock hittat en bra beskrivning på nätet som kan vara till hjälp. Nästan alla detaljer färdiga och rutan putsad klar för montering, saknas fortfarande lite skruvar och hörnfästen för bottentätningen.
Continuing with the windscreen, had to drill out the screws in the corner brackets, totally rusted together, the glass is now free of the frame and I've ordered new rubber seal, corner brackets and screws. Next challenge will be to fit the glass into the frame, but I've found a good guide how to do it on TR Register forum. Almost all details prepared and the glass cleaned ready to come together, still missing some screws and the cornerplates that secure the bottom seal.




2017 Aug 28
Har monterat ramen för suffletten så att jag kan sätta dit textilbanden som håller bågarna på plats mot karossen. Har också börjat göra ren vindrutan genom att ta bort de gamla gummilisterna, solskydden och hardtopstöden. Får gå över med Autosol också. Har ett par trilskande skruvar i underkant som är i vägen när man ska trä i den nya gummilisten.
I've fitted the hood frame so I can fit the straps that hold it to the body. I've also started to clean up the windscreen by removing the rubber seals, hard top supports and sun visors. I need to clean the frame with chrome polish. There are a couple of screws in the lower channel that are stuck and are in the way off fitting the new rubber seal.




2017 Aug 25
Tillverkade en ring i aluminiumplåt för att hålla fast genomföringen av växelspaken mot kåpan över växellådan.
Made a ring out of aluminium plate, to hold the gear stick rubber cone towards gear box cover.


2017 Aug 24
Fortfarande väntar jag på detaljer, bla så fick jag huvgångjärn till fel sida från Limora så det gick i retur. Har monterat lås och beslag för bakluckan och reservhjulsluckan, någon tidigare ägare har köpt dessa och de är avsedda för en TR3:a men jag är inte så kräsen så jag monterar dem i alla fall, krävdes tillverkning av ett fäste för låshandtaget som är helt annorlunda än TR2:ans, men mycket stabilare. Har även fått dit tätningslisten för bagageluckan, ganska jobbigt att pressa ner den en cm i taget i kanalen, senare modeller är enklare eftersom man bara trycker på listen på en kant. Jag har också gjort fästen för nummerskylten fram så jag slipper borra hål i den nya stötfångaren.
Still waiting for details, among other things I got the wrong side hinge for the bonnet from Limora, now returned and waiting for the correct hinge. I've fitted locks and escutcheons for the boot lid and the spare wheel cover, some previous owner has bought escutcheons for a TR3, but I'll stick with them even they are different from TR2:s. The lock handle is totally different and I had to make a support for the lock, but I think it is worth it because it is so much more stable than the lock for a TR 2. I have also fitted the rubber seal for the boot lid, very time consuming to press it down in the channel cm by cm, the more modern type used on TR3:s are so much simpler just pressing it over an edge. I've made supports for the front license plate that doesn't require drilling in the new bumper.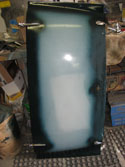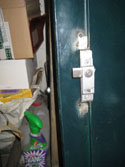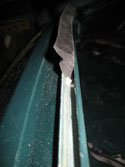 2017 Aug 05
Monterade gångjärnen (som borde vara okromade och lackade i karossens färg) som kom med i köpet, på grund av karossens och bakluckans utformning måste gångjärnen leda även i sidled, tänkte inte på detta utan lyckades käncka ett av dem. Slog ur sprinten ur det andra och filade bort material på den inre delen och gjorde även hålet för sprinten ovalt. Det blev nästan rätt men får nog ta bort det och fila lite till. Väntar på beställda UNC muttrar till motorhuvens gångjärn, gångjärnen bak har UNF gänga
Fitted the hinges (they should be unchromed an painted in the same colour as the body) that came with the car on the boot, but due to the shape of the boot and the body the need to articulate in both directions. I wasn't aware of this and partially broke one. Knocked the pin out and filed the inner part to a better shape and made the hole for the pin oval. It became almost OK, but I think I need to adjust it a bit more (and get another new hinge). Waiting for nuts to the hinges for the bonnet, because the are different and need UNC nuts, UNF at the rear.



2017 Aug 01
Nu är också bakre delen på plats, saknar en stor gummiplugg, annars tror jag att jag fått den ganska tät mot golv och torped.
Har målat lite också efter att ha slipat bort rinningar från förra lackningen av kanterna.
Also fitted rear part of gearbox cover, just missing a big rubber plug, else I think I got it pretty well sealed up towards floor and bulkhead.
Also touched up paint on the edges where I had to grind off rinnings from last spray I did.




2017 Jul 28
Har monterat främre delen av kåpan över växellådan, lite bökigt men nu sitter den på plats.
Fitted front part of gearbox cover, a bit fideling but now it's in it's place.

2017 Jun 25-26
Svetsade fast fästen för extraljus i stötfångarfästena. Passade på att montera bakre stötfångarna när jag gjorde klar bakljusen.
Welded supports for spot lights to the bumper iorns. Fitted rear bumpers at the same time I completed rear lights

2017 Jun 25
Monterade fronten och stötfångaren, presspassning men nu sitter den där, har inte använt karosstätning för att det ska gå att demontera vid behov.
Fitted the front apron and the bumper, tight fit but now it's in place. I've not used body sealing so it will be easier to take apart if necessary.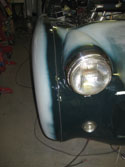 2017 Jun 18-21
Dörren på högersidan avkapad 3-4 mm och svetsad i framkant för att få bättre passning mot framskärmen. Spalten ser mycket bättre ut nu. Det tar emot att göra om, men man är nöjd efteråt
RH door cut and welded in front edge, took out 3-4 mm to make a nicer fit to the front wing. The gap looks much better now. It kind of hurts to cut and redo but feels much better when ready and done.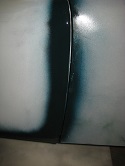 2017 Jun 07
Dörrar och grill monterade.
Coming together, doors and grille fitted.



2017 Jun 06
Gjort nya fästen för grillen så att elfläkten får plats, grillen framflyttad 30 mm. ändring gjord så att det är enkelt att återställa till original. Har också gjort några tätningsplåtar för att styra så mycket luft som möjligt till kylaren, lämnade dock en öppning uppe till höger för att få kallare luft till förgasarna, i alla fall i teorin. Har också lackat nosen och dörrarna invändigt samt innerkanterna på skärmarna med slutkulören innan noskonen monteras.
Moved the grille 30 mm to the front to make room for the electric fan, the modifition is done so it will be quite easy to go back to original. Made some new supports and also some sealing plates to guide max air flow to the radiator. Left an opening up to the right to let some cooler air to the carburetors, at least in theory. Also painted apron and doors insides as well as inner edges of wings before apron will be fitted.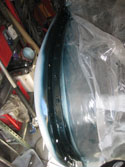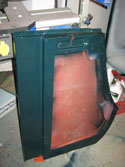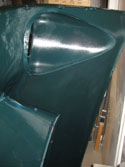 2017 Jun 03-05
Nu sitter bakskärmen på plats, riktigt besvärligt att komma åt de tre skruvarna i bakkanten. Gjorde stänkskydd av tjock gummiskiva. Har börjat med dörren på vänster sida, ser ut som den passar bättre än på andra sidan.
Plåten till vänsterdörren passade mycket bättre än den till högerdörren, men den är lite för kort i framkant. Glipan mot framskärmen är lite större än vad jag gillar, men jag tror det får vara så.
även vänster bakskärm på plats, av någon anledning var den här tjurigare att få på plats.
Now the rear wing is in it's place, really tricky to tighten the three screws in the rear end. Made mud flaps out of thick rubber plate. Also started on the LH door, looks like it fits better then the RH door from start.
Theskin for LH door fitted much better than the one for right hand side, but it is a bit short in the front edge leaving a gap a bit wider to the wing than I like. Still, I think I'll leave it like that.
Now is the LH rear wing also in place, for some reason this one fought back more than the RH one.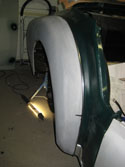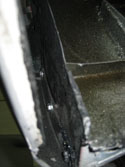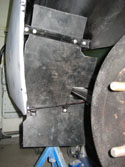 2017 Jun 02
Har förlängt dörren i bakkant med en 5mm dubbelvikt plåt för att få bättre passning, har fått kapa av några mm i nedre framkant för att få passning mot skärmen, fick även kapa ur en liten kil i underkant för att få passning mot tröskeln. Har även börjat montera bakskärmen på högersidan, har satt in ett extra stag för att sätta in en extra hög stänklapp för att minska sprutet upp under skärmen.
Needed to extend the door 5 mm in the rear end to get an acceptable gap and had to cut a couple of mm:s in front lower edge to make the door fit to the front wing. Also had to take out a wedge in the bottom rear part to adjust the fit to the sill. Started fitting the right hand rear wing where I've put in an extra stay so I can support en extra long mud flap protecting the wing better.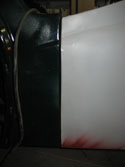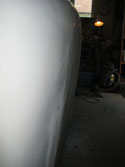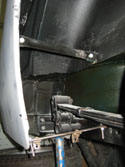 2017 May 30
Har tappat räkningen på hur många gånger jag skruvat dit och tagit loss dörren från gångjärnen för att justera passningen. Tråkigast att ta itu med var att den tidigare svetsningen jag gjorde av nederdelen av dörramen, som visade sig sticka ner 1 cm nedanför skärmkanten, men det var bara att kapa och bocka plåt igen.
I've lost count of how many times I've screwed and unscrewed the door from the hinges for adjusting the edges. Not happy at all finding out that the welding I did earlier of new lower part of the dooor frame was sticking out about 10 mm below the lower edge of the front wing, but it had to be done so cut it off and adjusted.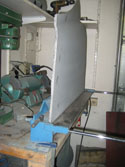 2017 May 26
Med framskärmarna på plats kan jag äntligen börja med dörrarna, sista stora jobbet på karossen och kanske det knepigaste att ordna med passnng i alla ledder. Har provmontrat högerdörren för att kolla passningen och sen tagit av de gamla plåten från ramen. Nu ska den nya passas in.
With front wings in place I finally can start with the doors, last big job on the body and maybe the trickiest in making it fit in all directions. Test fitted RH door to check fitting and then removed the skin. Now the new skin will be fitted.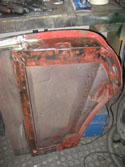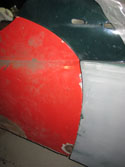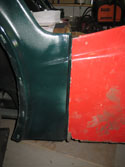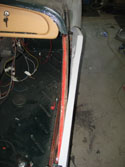 2017 May 25
ägnat åtskilliga timmar åt att passa in framskärmarna, var tvungen att vidga diverse hål för att få dem på rätt plats. Själva kylardelen behåller jag lös tills vidare.
Spent many hours fitting front wings, putting them on taking them off, adjusting holes, adding sticky sealer etc. Front apron will be kept loose until all wiring is done and I will not use sealer in the joints becuse I've heard the trouble people have had removing the front apron when used body sealer in the joints.

2017 May 23
Tillverkat ett stag för att hålla motorhuven öppen av en 8 mm rundstång, kollat på bilder för att få det ungefär som original. Hettade upp ändarna rödheta med gasolbrännare så att det gick att smida. Ser bra ut men nu måste jag klura ut hur mothållet ska se ut./p>
Made a bonnet stay out of a 8 mm steel round bar, looking at pictures trying to make it close to original. Heated the ends red hot with a propane burner and forged them with a hammer, one flat end and the other 90 deg bend. Looks OK, but now I have to figure out how the support for open bonnet looks like.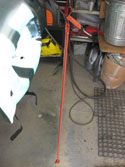 2017 May 11
Två av fyra lås för baklucka och reservhjulslucka gick att återvinna, totalt behövs fem och som tur är fanns tre till i lådorna.
Two out of four locks for boot lid and spare wheel door was possible to save, in total five are needed and luckily three more was found in the boxes.


2017 May 02
Fick den nytillverkade karossnummerskylten från USA idag.
Got the new body number tag from Frank Angelini today.

2017 Apr 25
Sprayat första lagret slutfärg invändigt, sprayar även under gångjärn och andra kromdetaljer.
Sprayed first layer paint inside the body, also spray paint where hinges and chrome details will be fitted.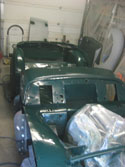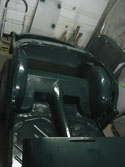 2017 Apr 20-22
Ny milstolpe idag, sänkte ner karossen på ramen, nu definitivt. Shimsning med brickor och gummipackningar så lite baxande hit och dit. Fick nästan omedelbart lite problem med bakre stötfångarfästena där nedre inre hålet inte linjerade, svetsade på en bit och borrade ett nytt hål.
Fick slipa upp hålen i vänstra golvhalvan där det inte riktigt stämde mot ramen, men nu sitter den på plats och stagningen av karossen är borttagen.
A new milestone today, lowered the body to the chassis, now for good. Fitted all shims and rubber gaskets so some minor lifting was still necessary. Ran into a small problem with rear bumper supports, the lower inner holes didn't line up with the holes in the chassis, solved it with welding in an extension piece and drilled new holes.
Had to elongate some holes in the left hand floor pan as they didn't line up with the frame. Now the body is fixed to the frame and the bracing of the body is removed.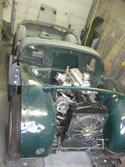 2017 Apr 14-18
Eftersom den gröna färgen jag målat med i motorrum och undertill är vattenbaserad kräver den även ett lager klarlack, har jag testat hur det blir. Behöver nog lägga på lite till på en del ställen samt slipa lite där det blivit apelsinyta, beslutet att hålla mig till att lacka under och invändigt är helt rätt.
När jag fått allt blankt och fint kör jag på med rostskydd, inte det svarta kletet utan hålrumsvaxet.
Since the green paint I'm using is water based it also need a covering layer of clear paint, I've tested what it will look like. Looks like I'll need to add a bit in some places and also grind down some orange skin in places, so the decision to leave the finishing paint outside to a professional is obviously right.
And, after everything is nice and shiny, I spray it with "Waxoyl" not the heavy black stuff, that I'll use under the wings after fitted.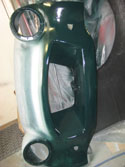 2017 Apr 13
Justerat passformen på huven, var tvungen att kapa upp förstyvningen och dra ihop litegrann. Monterat blindplåtarna under skärmarna och dragit slagen från vattenrännan.
Adjusted fitting of bonnet, had to make a cut and pull in one side a bit. Fitted blinding plates under the wings and traced the tubes from the water chutes.


2017 Apr 05
Provmonterade framskärmar, front och motorhuv. Passningen är inte perfekt, men får vara nöjd med tanke på hur mycket jag svetsat och bytt ut. Var tvungen att skära upp vid höger framskärm och valde att skära i fronten isf i skärmen, fick både ta bort och lägga till för att få bra passning.
Test fitted front wings, front and bonnet. Fitting isn't perfect but I have to be satisfied thinking about how much welding and new material went in. Had to cut open up the front (that I opted over the wing) to get better fitting on the RH side, had to both add and take away material to make it fit.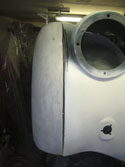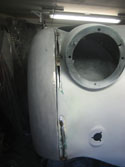 2017 Mar 30
Fortsatt slipa, spackla och grundmåla, men har också slutmålat undersidan och invändigt motorhuv, bagagelucka och invändigt front och motorrum, fattas ett skikt med klarlack. Sprayade även lite på utsidan fronten för att se var jag missat med spackel och slipning då det fanns gott om småbucklor på denna bit som har många kurviga ytor.
Continued grinding, filling and priming, but has also sprayed underside of body, bonnets and inside engine compartment with finishing paint less clear cote. Also sprayed a bit on the front to see were I've missed filler and grinding, lots of curved bits here.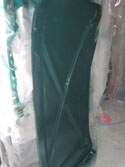 2017 Mar 24
En ny milstolpe, har lagt ca 75% av undersidan/utsidan av karossen med slipgrund.
Har målat under skärmarna med Bedliner som ska vara slitstarkt och tåligt, vi får se.
Another milestone, I've sprayd approx. 3/4 of underside/outside with base primer.
Painted under the wings with POR 15 Bedliner, should give a durabale surface, we will see.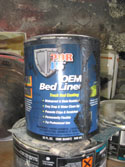 2017 Mar 22
Fortsätter med att sticka mellan med jobb medan spacklet härdar, nu har jag fixat nya inre nederdelar till dörrarna. Där återstår att bestaämma sig om jag ska skarva dörrplåten eller byta hela, jag har två kompletta "skin".
Continuing doing other jobs while the body filler is curing, now I've made new lower inner parts for the doors. Have to decide if I'll cut the existing skins and just replace the lower part or replace the entire skin, I've two complete skins so I've just have to make up my mind.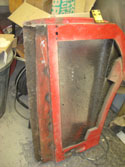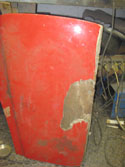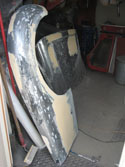 2017 Mar 16-19
Hoppar lite med jobben, spacklar låter torka och sticker mellan med något annat medan det härdar som tex nerkant på ena dörren, vajer för huvlåsen, justerar lite korgar för muttrar som är för rymliga/höga så att muttrarna ramlar ur.
Shifting tasks, applying body filler and while curing doing things like fixing lower part of door, wire for bonnet locks, adjusting height of cages for nuts because the nuts are falling out of the cages.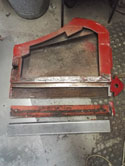 2017 Mar 12-15
Fint väder ute så jag tog ut motorhuven (som är sista delen som inte är ren från gammal färg) för att slipa ren den. Tjockt med spackel och tre lager färg samt några mindre roliga upptäckter, förstärkningsbalken i bakkanten är helt perforerad av rost som även brutit igenom själva huvplåten, igenplastade hål över förgasarna och en stor ispacklad bula på vänster sida. Bockar till en ny förstärkning men måste göra den i segment eftersom den är dubbelkrökt och jag har inga sofistikerade maskiner att bocka till den i som en hel profil, kapar ur och svetsar i ny plåt på två ställen i huven. återstår att kapa ur och fylla hålen över förgasarna som nu är fyllda med glasfiberspackel samt försöka krympa ut bucklan med värme och kyla.
Lyckades riktigt bra med värmepistol och duschflaska med vatten att krympa ut det mesta av bucklan, vågade inte gå på med gasolbrånnare. Lagade även det stora hålet över förgasarna
Nice weather outside so I took the bonnet (which is the last piece still not stripped from old paint) outside to grind it clean. Plenty of body filler and three layers of paint and some not so pleasant surprises, the reinforcement in the rear is completely pitted by rust probably due to that it's filled with some padding keeping the moist in, the rust has also penetrated the bonnet itself as well. Also found a big dent filled out with filler and a big hole above the carburetors filled with GRP. Shaped a new profile in segments as I haven't got tools to make a new profile as the original that is double curved, also cutting out and welding in new sheet metal in two holes above the reinforcement. What's remaining is to cut out and weld in new metal above carbs and try to shrink out the big dent in the bonnet using heat and chill.
Had quite a success shrinking out the big dent with the help of a heat gun and water spray gun. Mended the big hole above the carbs.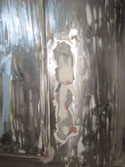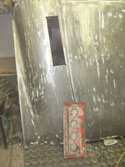 2017 Mar 10
Har börjat förbereda för slipgrund och lack under och inuti, utvändigt kommer jag att låta proffs sköta lacken. Grovspacklar, slipar samt tätar med karosserikitt. Har försökt täcka in det mesta med plast för att slippa städa bort massor med slipdamm.
I've started to prepare for paint, at least beneath and inside, outside I'll leave to a professional. Started with putty, grinding and body sealer. Tried to cover most of the shelves as well as the chassis and engine, in the garage with plastic covers to avoid most of the dust from grinding putty.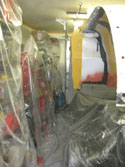 2017 Jan 23
Har kapat av kåpan över växellådan för att göra det lättare att demontera om man behöver komma åt overdriven. Har även gjort några inspektionsluckor för att enkelt kunna justera overdrivemekanismen för solenoiden, tog även ett hål för att komma åt den övre bulten till startmotorn utan att behöva demontera hela kåpan.
Chopped the gearbox cover to facilitate access to overdrive without the need to take of the entire cover. Also made smaller inspection hatches for solenoid levers and a hole to access the upper bolt for starter.



2017 Jan 20
Ett litet jobb på karossen, ställt in ett säte provisoriskt för att måtta in nya fästen för ett 2-punkts säkerhetsbälte. Fästet i B-stolpen kanske inte är det snyggaste men förhoppningsvis säkert och stabilt, det andra fästet i kardantunneln var betydligt enklare, stor bricka och mutter fastsvetsat på baksidan.
Made a minor job on the body, put in a seat temporarily to estimate where to put fasteners for saftey belts. The nut and washer in the B-post isn't the most beautiful, but should be safe and strong. The second nut and washer is welded inside the prop shaft tunnel.



2016 Dec 19
Har lyft karossen från ramen för att komma åt en del skador nära ramen, tex höger "ramben" fram.
Lifted the body to get to damaged parts close to the frame, for instance the "leg" at right front wing.


2016 Dec 17
Original huvlås verkar vara svåra att hitta så jag köpte ett par för en TR6:a och har börjat modifiera dem. Mätte fel och fick flytta bak låsen 30 mm, har nu också fixat fästen i huven. Låsen kan justeras upp och ner, låspinnarna framåt/bakåt och sidledes.
Original bonnet locks seems to be hard to find so I bought a pair for a TR6 and started modifying them. Measured wrong and had to move the locks 30mm towards rear, have also fixed brackets in bonnet for locking pins. Locks can be adjusted up/down and pins forward/backward and sideways so I think I I've covered all possibilities







2016 Dec 12
Har slipat bort gammal färg på framskärmar och fronten, hittade rostskadade flänsar på fronten som nu är utbytta inklusive nya mutterkorgar.
Been removing old paint on wings and front, discovered a bad flanges on the front that I've substituted including new cagenuts.





2016 Dec 04
Håller på med höger framskärm, den är i sämre skick än jag trodde, många lappar blir det förutom svetsplåten i underkant som inte riktigt passar i framkant. Slipade av all gammal färg för att kolla att det inte fanns mera rost.
Working on right hand front wing, it's in worse shape than I expected. Lots of patches and a big repair sheet at bottom that doesn't fit 100%. Grinded of all old paint to be sure there wasn't any more rust beneth.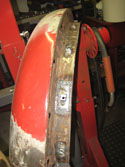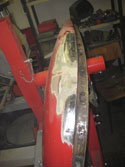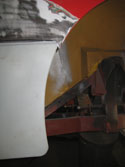 2016 Nov 30
Fortsätter med småjobben, först fästen till stagen för bakskärmarna, sen ett extra stag för att hålla instrumentbrädan på plats och som värmeaggregatet ska stå på. Nästa är tätning av hålet för högtalare och tillverkning och montage av dräneringsrännor under huv- oc skärmavrinning, sist påbörjat inpassning av tunneln över växellådan så att jag kan svetsa dit nya korgmuttrar i de nya golvplåtarna.
Continuing with minor tasks, first brackets for rear wing stays and fabricating an extra stay for the dash that will work as support for the heater. Next is sealing up the speaker hole and new channels for draining wings and bonnet, last fitting of gearbox tunnel so I can weld in new cage nuts to the new floor.





2016 Nov 28
Fixat lite småsaker, fästen för bränsletanken i den nya golvplåten samt bakre stötfångarfästen. Lite pyssligt att passa in och riktigt besvärligt att komma åt att svetsa.
Fixed some minor stuff like supports for fuel tank in the new floor and supports for rear bumpers. A bit fiddeling to make the bumper supports fit and a pain ITA to weld.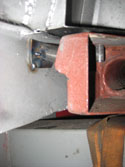 2016 Nov 26
Har fått lägga ett par dagar på att reparera hörnet med U-kanal för tätningslist mot bakluckan. Har börjat passa in sista stora plåten, golvet i bagageutrymmet, bara några mindre anpassningar behövdes.
Have spent a couple of days fixing the RH corner vith U-channel for sealing strip to boot lid. Started fitting last big metal sheet, floor of boot, only some minor adjustments was needed.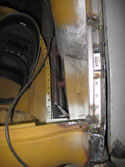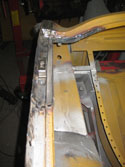 2016 Nov 20
Fortsatt med att passa in skärmarna, vänsterskärmen passade perfekt i längd, men liksom högerskärmen passar den inte mot plåten bakom B-stolpen. På vänsterskärmen fick jag skära ut en strimla och på högerskarmen fick jag fylla i som mest 6-7 mm. Måste göra om passningen vid höger bakljus för att det ska passa mot bakluckan. På båda sidor mitt uppe på måste jag bredda karossen lite.
Lot of fitting of rear wings, left hand wing fitted OK in length but needs to be fitted towards the quarter panels. On LH side I had to fill in 6-7 mm but on RH side I had to take of almost as much. Also had to redo fitting close to rear light on RH side to make the boot lid fit, drain and sealing channel also need a bit of new sheet metal. Also had to add a bit of metal on both sides to the body on both sides at top end of quarter panels.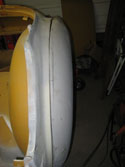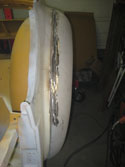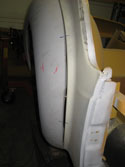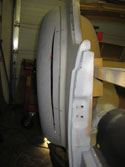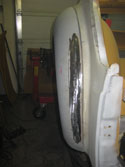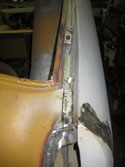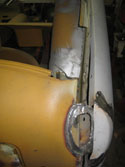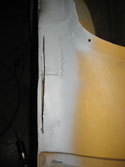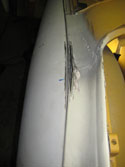 2016 Nov 14
Kortat upp en för lång bakskärm, hyfsat nöjd men återstår andra sidan också samt lite justering i nerkant.
Shortend a rear wing, quite satisfied but remains the other side and to adjust a bit in the lower edge as well..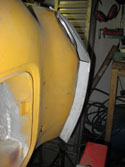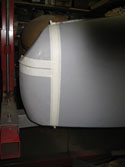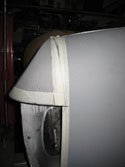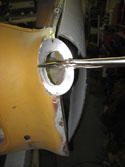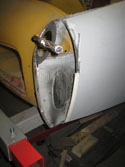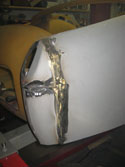 2016 Nov 14
Jobbar mig bakåt, nu "quarter panel" på vänstersidan, lite småtrixigt med plåt som är dubbelkrökt.
Working my way towards the rear, now with new quarter panel on left hand side, a bit fiddly working with sheet metal that is profiled two directions.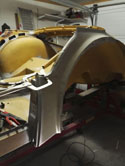 2016 Nov 14
Batterilådan klar, nu med dränering, dränering fanns inte original på den här modellen men kom lite senare.
Battery box finished, now with drain, drain didn't exist on this model but was included a little bit later on.




2016 Nov 13
Fixat kanten på skärmen inkl. nya korgmuttrar. Har också kapat ur botten på batterilådan.
Fixed edge of inner wing incl. cage nuts. Also cut out the bottom of the battery box.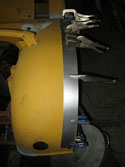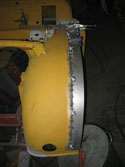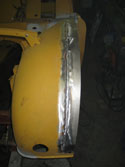 2016 Nov 11
Svåraste bitarna hittills att få till, inte mycket kvar av gamla plåten i det här hörnet.
Hardest bits to make fit until now, not much left of original sheet metal.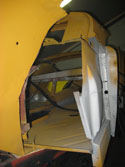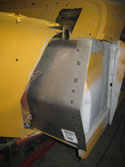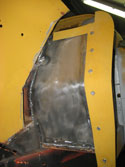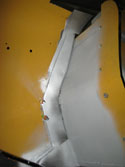 2016 Nov 09
Bygget har legat nere en dyrg vecka eftersom jag varit i österrike för att hälsa på en son som bor i Wien. Nu igång igen med byte av plåt på vänster sida mellan A-stolpe och torpedplåt. Ett par muttrar med korg saknades för det övre gångjärnet, nu fixat.
Build has been on hold while I was visiting a son that lives in Vienna. Now on it again and putting in a new plate between A-post and bulkhead. A coouple of cage nuts were missing for the upper door hinge, now fixed.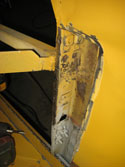 2016 Oct 28
Kapat bort rost i dubbelplåten bakom främre karossfästet mot ramen på båda sidor. Kapat bort vänster tröskel och gjort ny nederdel av A-stolpen.
Monterat vänster tröskel och tillverkat nedrdelen av B-stolpen från bitar av gamla tröskelen.
Kapat ur golvet på vänster sida och lagt in nytt samt lagat framkannt av bake innerskärm.
Cut away rust i dubble plate in innrwings behind front supports to frame. Also cut away lelft sill and made a new lower part of A-post.
Fitted LH sill and made a piece of B-post out of the old sill.
Cut of old floor on LH side and fitted a new, also repaired front part of rear inner wing.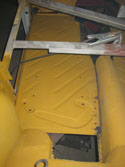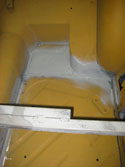 2016 Oct 24
Kapat ur brandväggen på höger sida och passat in ny plåt samt en bit av innerskärmshörnet, mycket pyssel.
Kollat om skärmen passar samt slipat och putsat fram ursprungsfärgen som verkar vara BRG.
Lagat skärmkanten och svetsat dit mutterhållare för skärm och täckplåt under skärm.
Cut out and replaced bulkhead on right hand side as well as a piece of the inner wing.
Checked if the wing fits and grinded and sanded throug the layers of paint and at bottom seems to be BRG
Welded in new edge of inner wing and cage nuts for wing and bulkhead seal plate.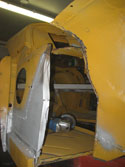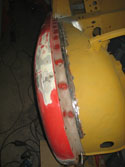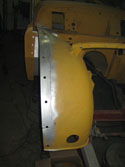 2016 Oct 19
Kapat ur golvet på höger sida och passat in ny golvplåt, tyvärr finns det mera rost i innerskärmshörnet, mycket pyssel. Fortsatt framåt och skarvat i en ny bit framför A-stolpen.
Cut out and replaced floor on right hand sid, unfotunatly there was more rust in a tricky corner to mend as well. Continued forward and welded in a new piece in front of A-post



2016 Oct 11
En liten knepig bit ovan skärmkanten blev till idag, nu är innerskärmen klar fram till B-stolpen.
A tricky little piece above inner wing was done today, now is the inner rear wing up to B-post finished.



2016 Oct 11
Ny kant på innerskärmen samt påbörjat inpassning av panelen bakom B-stolpen.
New edge on inner rear wing and started adjusting qurter panel.


2016 Oct 08
Förlängt nederkant hjulhus samt börjat fylla i överkanten. Passar in trekantsplåten, innan jag svetsar ihop passar jag in bakluckan. Har även provmonterat panelen bakom B-stolpen samt bakskärmen i vilken skruvhål måste borras, en del svetsmuttrar ska också till ibakre delen. Ganska många passningar på en gång. Lite problem med vinkeln på avslutningen, kapskiva och svets kan fixa det lätt
Have extended lower part of wheel house started filling in upper edge as well. Fitting the triangle shaped plate and test fitting boot lid to get gaps right before welding. Have also test fitted quarter panel and the same panel to rear wing in which holes for screws has to be drilled as well as some weld nuts in the rear part. A little problem with the angle at the finishing end, a cutting disc and a bit of welding can fix that.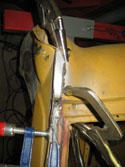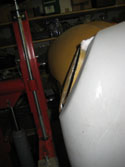 2016 Oct 04
Har svetsat in plåtar i bakre hörnen, passat in stötfångarfästen gjorda av ett parallerllstag från Duetten samt höger bakre karossfäste mot ramen.
Have been welding plates in rear corners, msde new bumper supports from a steering rod from the Volvo Duett and also fitted a body support.




2016 Oct 01
Köpt större gasflaska då det blir betydligt billigare med gasfyllning i längden. Fixat till nedre ändarna av A och B-stolparna mot tröskeln.
Bought a bigger gas bottle as it will be much cheaper filling gas in the long run. Made and welded in lower ends of A and B-posts to sill.





2016 Sept 28
Lagar lite skador på kåpan äver växellådan. Avrostar det som går ner i baljan och grundmålar.
Fixing some corrosion om gearbox cover. Runs what fits in the electrolytic bath, clean it up and painting it.





2016 Sept 26
Slipade lite för att kolla vilken ursprunglig fär kan ha varit, lite konfunderad eftersom skärmarna är röd, röd, grön som första lager medan fronten är röd, grön, röd.
Trying to figure out what the original coulor was I grinded through the layers and found re, red, green at the bottom on the wings, but red, green, red on the front so I'm a bit confused.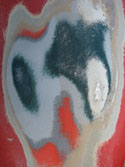 2016 Sept 16
Börjat lite smått med att kapa dän en tröskel och att passa in en ny. Fick också 2 bakskärmar från Moss, de som kom med bilen är för långt gågna för att det ska vara kul att försöka laga, framskärmarna är OK dock. det kom också dörrsidor från Limora samt "quarter panels" från TR shop.
Started little by little cutting away a sill and fitting a new one. Did also receive 2 rear wings from Moss, the ones that came with the car are too corroded to try to repair, also got door skins from Limora and quarter panels from TR Shop.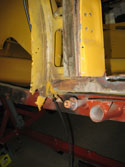 2016 Sept 09
Köpt och monterat en karossnurra, behövs för att komma åt all svetsning i mitt lilla garage
Bought and mounted a "rotesseri" for the body, almost a must to be able to do all welding nessecary in my little garage.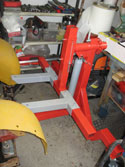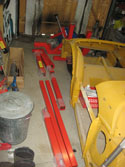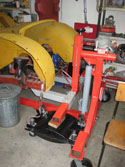 2016 Aug 31
På plats i garaget.
All parts unloaded into the garage .