Köra bilen / Driving
Datum Jun 22, 2023
Hittade den här bilden från Svenskt Sportvagnsmeeting 2019, på Carinfo.se fotad av Marcus Liedholm.
Found this picture from "Svenskt Sportvagnsmeeting" 2019, photo on Carinfo.se by Marcus Liedholm.

Datum Jun 11, 2021
Härlig sommardag med entusiastisk medpassagerare.
Lovely summers day with enthusiastic passenger.

Datum Feb 17, 2020
Provkörning med nya spjällhus, kylare och bromsservo. Förgasarna verkar vara lite snålt ställda eller så har jag fyllt för tunn olja i dämparna. Bromsarna känns väldigt annorlunda, först inget, sen inget och sen allt på en gång. Jag får lära mig bromsa på ett annat sätt än tidigare.
Test drive with new throttle bodies, radiator and brake servo. Carbs seem to be a little on the lean side or maybe to thin oil in the dampers. Brakes are a lot different with servo, first nothing, then nothing and then a lot, need to learn a new strategy when braking.

Datum May 06, 2018
Det rullar på bra med nya bromstrummorna.
Rolling on fine with the new brake drums in place.

Datum Apr 20, 2018
Idag var det riktigt sommarväder, alltså ner med suffletten. Ratten justerad, tändning höjd lite grann och sen ut på småvägarna runt Oskarshamn. Efter lite inspirerad körning nästan låste sig vänster fram, som tur var hade jag packat verktyg så jag kunde montera av hjulet och justera tillbaka bromsbackarna ett steg, sen var det bara att fortsätta 3 mil hem utan problem.
Today it was proper summer weather, Hood off after a bit more advanced timing and steering wheel adjusted to sit straight I was hitting the back roads. After some inspired driving front left almost locked up. Fortunately I had stuffed the jack and tools in the spare wheel compartment, so jacked up the car, took of the wheel and adjusted the brake shoes back one click. After that a nice ride home.




Datum Apr 18, 2018
Idag var det väder att testa vinterns jobb, körde med suffletten på för att kolla hur den fungerar med sidorutona, 100-120 km/h utan problem. Måste justera rattens position. Sen märkte jag att äver 100 km/h är något obalanserat, hoppas det är ett hjul och inte kardanen.
Today it was nice weather to check out winters jobs, drove with weather gear on to see how it worked with the sidescreens, 100-120 kmph no problem. Got to adjust the position of the steering wheel and something is unbalanced, hope it's a wheel and not the prop shaft.



Datum Oct 17, 2017
Första turen med besiktigad bil.
First trip after MOT.
Youtube clip first ride after MOT

Datum Oct 16, 2017
Milstolpe igen!Så lättad, godkänd besiktning utan en enda anmärkning. Förra gången bilen besiktades var 1972.
Milestone again! I'm so relieved, approved MOT, not a single fault. Last time the car passed a MOT was in 1972.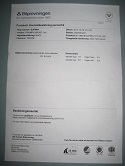 Datum Oc 15, 2017
Nästa milstolpe!Idag första gången på allmän väg. Sammanfattningsvis, varvvillig motor, osynkad etta, hård fjädring, dåliga bromsar men kan inte sluta le.
Next milestone! Today I ran the car for the first time in public road. First impressions, easy to rev, non syncro on first, stiff suspension, bad brakes but can't stop smiling.

Youtubeklipp första provturen

Datum Oc 14, 2017
Milstolpe!Idag rullade bilen för egen maskin några meter fram och tillbaka i garaget.
Milestone! Today I ran the car for the first time on it's own wheels a few meteras forward and backwards in the garage.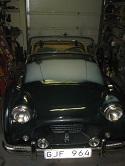 Datum Jun 12
Första chauffören i bilen.
First driver of the car.