Motor, Engine
Kolla även under Uppdateringar där en del finns beskrivet. Also check under Updates were some jobs are described.
Engine specification


Datum 2023 Jul 20
Det har läckt olja runt adapter för oljefiltret trots att jag dragit fast ganska hårt, så jag beställde ny packningssats plus nya filter från Rimmers. Det verkade göra susen med nya packninar, ingen förarglig pöl under bilen. Lite blir det från växellåda/OD, men det får jag stå ut med.
It's been dripping oil from the spin-on adapter for the oil filter even though I've tightened it quite hard. So, I ordered a new set of O-rings from Rimmers as well as a set of filters. It seems to have had an effect, no puddle of oil under the car, almost, a few drops are coming from the gearbox/OD, but I'll cope with that.

Datum 2023 Jun 20
Jag har sett lite rostigt skum i kylvattnet ett tag, jag misstänkte en trasig topplockspackning så jag köpte en testsats för att kolla gaser i kylvattnet, men det gav inget tydligt utslag. Jag bytte kylvatten, men efter ett tag började skummet återkomma, så jag bestämde mig för att byta topplockspackning. Beställde den dyra kopparpackningen samt nya bultar och muttrar plus en del andra packningar för grenrör mm.
Jag passade också på att ändra på uttaget för värmebatteriet genom att sätta dit en 30 graders böj så att man kan efterdra den mutter som sitter alldeles bredvid utan att behöva tömma kylarvatten.
Ett gäng nya tändstift blev det också, nu provar jag stift med ett snäpp högre värmetal, eller med NGK.s siffror från 6 till 5, nu sitter där BP5HS.
En pinnbult för grenrör mot topp gick av, men som tur var gick det att skruva ur den när toppen var lös med hjälp av en rörtång. Som tur var hade jag en överbliven UNC pinnbult, dock lite för kort, men den fungerar tills jag fått beställt en längre. Toppen tillbakamonterad, körd 15 mil och efterdragen, även grenrör och övriga bult som var loss är efterdragna. Inget skum syns än i kylvattnet, så där fanns nog en pytteliten läcka någonstans ändå, även om jag inte kunde hitta den.
I had seen a little rusty foam in the coolant water for a while, I suspected a faulty head gasket, so I purchased a test kit, but it didn't show gases in the water. I drained and washed the coolant system and filled it with antifreeze and water, but after a while, the foam returned. I then decided to change the head gasket and ordered an expensive copper gasket, new head bolts and nuts and other gaskets for manifolds among others.
I took the opportunity to modify the heater valve outlet with a 30-degree tube bend to make it possible to retorque the head bolt closest to the valve, without draining the coolant water.
I also purchased new spark plugs and will test if a higher heat value makes any difference going from NGK BP6HS to BP5HS.
One of the studs for the exhaust manifold broke, but fortunately, I could remove it with the help of a pipe wrench. I fortunately had a spare one (UNC), though a tiny bit too short, but it saved the day and a correct stud is ordered.
Head is back in place, I made a 100 miles trip and retorqued the head and all other bolts and nuts that had been loose. No foam in the coolant water so far, so there was probably a tiny leak even though I couldn't detect it.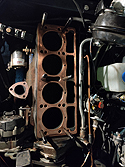 Datum 2022 Jul 20
När jag skulle lyfta bilen för att justera frambromsarna hade jag huven öppen, bilen gled av domkraften och av dunsen hoppade staget för huven ur sitt fäste, huven gick igen och staget punkterade aluminiumkylaren ohjälpligt. Plockade fram den gamla kylaren med hål för startveven och efter den var monterad och jag varmkörde visade sig att den läckte vid påfyllningsrörets skarv mot själva kylaren. Försökte löda men hade inte rätt lod så jag beställde ny kylare och även vattenpump från Limora, vattenpump för att ha en i reserv. Monterade vattenpump och kylare efter att också flyttat över och svetsat fästena för elfläkten. Nu är kylsystemet tätt igen. Jag passade på att köra ett test för att kolla att jag inte har några avgaser i kylvätskan, lösningen förblev blå, så inga problem med topplockspackningen heller.
When I was jacking up the car to adjust the front brakes, the car slid off the jack, and due to that I had the bonnet open the "thud" made the stick that keeps the bonnet open jump out of its bracket and with the bonnet closing the stick punctured the aluminium radiator, not reparable. Found the old radiator with a hole for the starting crank and fitted it, when running the engine I discovered a leak where the neck meets the main radiator, I tried to solder it without success. I bought a new radiator, and water pump to get one in reserve, from Limora. After moving and welding the brackets for the electric fan to the new radiator and fitting the pump and radiator I now have a good system once again. I also made a test to check for headgasket leaks into the cooling liquid, but the indicating liquid stayed blue, so all systems go.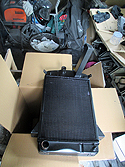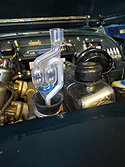 Datum 2020 Jul 16
Har alltid tvivlat på tempmätaren och att den visar för hög temperatur. Köpte en billig mätare och parallellkopplade den med mätaren i bilen (dock med 12V-matning, Smiths ska ha 10V) och den visade 20 grader lägre temp. Mätte med IR-mätare också ock den ger ungefär samma värde som den nya mätaren. Nu är frågan hur jag ska få mätaren i panelen att visa rätt? Börjar med att beställa en Smiths givare så får vi se.
I've always suspected the temperature gauge reading to high, so I bought another gauge, different brand, and wired it in parallel with the Smiths gauge but with 12 V feed as it requiered, not 10V as the Smiths. Result was 20 deg C lower reading, checked with an IR thermometer and that one showed almost the same reading as the new gauge. Now is the question of how to get the Smiths gauge to show correct reading? I'm starting with ordering a Smiths sender and will take it from there.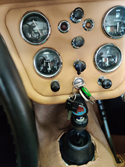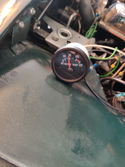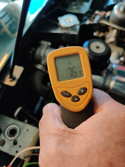 Datum 2018 Jan 19/Feb 02
När jag kom hem med bilen från lackeringen märkte jag en avsevärd bensinlukt och kunde se att jag lagt ett spår efter mig. Kollade noggrannare och såg att bakre förgasaren flödade över rejält. Undersökte jag och upptäckte att nålventilen hade delvis skruvat sig loss. Nu åtgärdat och kollat.
Fixade den andra förgasaren på samma sätt för säkerhets skull.
Coming home from paint shop I noticed a considerable smell of petrol and I saw that I had left a tail of petrol outside the garage. Checked it out and saw that the rear carb flooded. Found that the needle valve had almost unscrewed itself. Now sorted and checked.
Fixed the other carb as well.


Datum 2018 Jan 17
Målade locket och avluftningen på ventilkåpan svart som det ska vara original samt klistrade på en dekal som liknar original.
Painted the oil filler cap black and stuck on a label to make it look original.


Datum 2017 Sept 19
Tycker att motorn går upp lite för högt i temperatur så jag byter från 86 grader till 74 graders termostat samt stryper by-passen till ett 4 mm:s hål enligt rekommendationer på TR-forumet.
Thinking the temperature runs a bit to high, so changing from 86 deg to 74 deg thermostat and also blocks the by-pass to a 4 mm dia hole according to recommendations on the TR-forum.


Datum 2017 Sept 08
Fortsätter jaga läckor, byter slavcylinder eftersom honingen av den gamla inte räckte utan lite bromsvätska läckte igenom. Nästa fix blev dräneringspluggen till overdriven envisades med att släppa lite olja, försökte fila ytan på lådan så plan som möjligt. Tredje läckan var fortfarande oljefiltret där det visade sig att den inre delen inte gled som den skulle när man skruvade dit filtret, slipade lite lätt på ytorna och hoppas att den kan glida när man skruvar dit filtret och det blir tätt.
Still chasing leaks, fitting new slave cylinder as the repair of the old one still seeped brake fluid. Next job was drain plug of overdrive box, filed the plug seat as flat as possible and hope it is good enough. Third leak was the still leaking oil filter, it showed to be that the inner part didn't slide as supposed when you screw the spin on filter on, grinded the surfaces with very fine grade paper and hopes it slides as it should.


Datum 2017 Sept 04
Har förgäves försökt täta vid en pinnbult som håller vattenpumpen men gav upp och hällde i tätningsmedel och det fungerade (tills vidare, vi får se i långa loppet).
I've without success tried to seal a leaking stud at the water pump and gave up and poured in sealent into the cooling water, and it worked (lets see if it lasts).

Datum 2017 Aug 10
Dragit fortsättningsrör från spillrören på flottörerna ner under ramen, man vill inte ha ev. spill av bränsle på avgasröret. Sparade (för framtida bruk) de böjda originalrören som försöker styra ev. överskottsbränsle in i luftfiltren
Traced pipes extending from overflow pipes on float chambers down to under the frame, you don't want fuel pouring over the exhaust pipe. Kept the original curved pipes (in stock) that aim to direct fuel into the air filters.


Datum 2017 Aug 10
OK, nu när olja och bensin är tätade gäller det att hitta vattenläckan, men troligen en skruv på vattenpumpen.
OK, after sealing fuel and oil leaks I'm up to find the water leak, but probably it's a bolt on the water pump.

Datum 2017 Aug 09
Hittade orsaken till oljeläckan, egentligen två ställen, dels var packningen under adaptern till "spin on" oljefiltret för tunn och dels hade brickan under anslutningsskruven för oljetrycksledningen för liten ytterdiameter. Bensinläckan berodde på en sneddragen tätningsring i en klämkoppling mot avstängningsventilen i bränsleledningen. Tillverkade en ny bit ledning och blev kvitt en onödig skarv på köpet.
Found the reason for oil leaking, really two places, first was the sealing under the oil filter spin on converter to thin and second had the inner sealing washer under the connection for oil pressure line to small outer diameter. The fuel leak was caused by a "tilted" sealing ring on the copper pipe in the connection to the shut off valve in the fuel line. Made a new piece of line and also got rid of an unnecessary joint as well.

Datum 2017 Aug 06
Idag var det dags, försöker starta motorn efter att ha tätat bensinläckor, pulsen är hög, och motorn startar direkt! Jag var så spänd att jag glömde filma ögonblicket, youtubeklippet är från start nummer två. Nu återstår att täta en läcka till, tyvärr före avstängningsventilen men bara ett par liter bensin i tanken. Hittade även en oljeläcka någonstans i anslutningen av oljefiltret men borde vara lätt att fixa.
Today was the day, trying to start the engine after sealing gasoline leaks, pulse is a bit high, and the engine starts right away! I was so tense I forgot to video the moment, the youtube clip is actually from start number two 10 minutes later. What remains is to fix another fuel leak, unfortunately on the wrong side of the shut of valve, fortunately only a few litres gasoline in the tank. Also noticed an oil leak somewhere around the oil filter, shouldn't be to difficult to fix.
Youtubeklipp första starten

Datum 2017 Aug 05
Fick den nya tanken igår, ville inte passa direkt pga att påfyllningsröret tog i, den har lite annorlunda profil också, men alla anslutningar sitter där de ska. Kapade av 10 mm av röret och monterade tanken, fixade alla anslutningar och fyllde några liter bensin. Det ser ut att vara tätt, pumpade fram soppa med handpumpen på bensinpumpen men hittade tyvärr lite läckor runt förskruvningar på förgasarna så inget startförsök än.
Got the new tank yesterday, didn't fit straight away due to that the filler neck hit the body, the tank also has a bit different profile than the old tank but all connections are were they should be. Cut 10 mm of the filler neck and fitted the tank, had to adapt the retaining straps a bit to fit the new profile, fixed the connections and filled up a couple of litres of gasoline. Seems to be tight so I pumped fuel to the carbs with the hand pump on the fuel pump but unfortunately found some small leaks around connections on the carbs so no start up today.



Datum 2017 Jul 28
Fyllde lite bensin i tanken för att göra en provstart, men det ville sig inte, tanken läckte så det var bara att riva ur den. Hittade ett par porer i ena kanten längst ner. Vill inte svetsa mer utan har beställt en ny tank.
Filled a bit of petrol in the tank to make a test start, but no luck, the tank was leaking so I drained it and ripped it out. There is a couple of tiny holes in the bottom outer edge, Don't feel like welding any more in the tank so I've ordered a new tank.

Datum 2017 Jul 11
Varit på semesterresa i Europa så bygget har stått still några veckor. Började med att montera en avluftningsventil efter värmekranen, fick kapa av röret från ventilen en bit. Fortsatte med att montera ett kärl för att ta emot överskottsvatten från kylaren, inget som är original, men det funkade bra på TR6:an, fäste det på ett stag till kofångaren, har svårt att se var man annars skulle komma åt det. Fyllde sen olja och kylarvatten, även bromsolja, men där återstår luftningen.
Been on a holiday trip in Europe so the build has been on hold a couple of weeks. Started with fitting of a bleed valve after the main valve for the heater, had to cut the pipe a bit. Continued with fitting a overflow tank, noting that is there as original, but it worked fine on the TR6 so why not here, made a bracket fitted to the bumper iron. A bit low an in a place were it can be hit but didn't find any other place were you can get at it. Filled the engine up with coolant ( approx. 30 % ethylene antifreeze) and oil, also filled brake fluid but still has to bleed the system.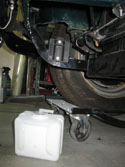 Datum 2017 Jun 17
Vakumledningen till fördelaren ansluten.
Läste ett tips om att sätta gummibussningar på stagen till kylaren för att minska risken att innfästningen i kylaren spricker, så nu är det fixat.
Vacuum pipe from distributor connected to manifold.
Read a tip about fitting rubber grommets on the stays for the radiator to avoid cracks in the brackets in the radiator, so I've fixed that.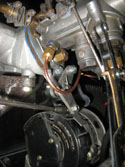 Datum 2017 May 10
Jag har äntligen fått ihop bränsleledningen när tanken är på plats, har även gjort en anslutning för avluftningen och en onödigt komplicerad dränering, men dräneringen avslutas med en liten ventil för smidig tömning av tanken vid behov. Den stora utmaningen är att hitta rätt kopplingar och anslutningar.
Finally finished the fuel line now with the tank in place, also made a new connection for the tank vent and an overly complicated drain of the tank finished with a valve to facilitate emptying of the tank. The real challenge is finding right couplings and pipe fittings.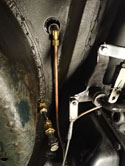 Datum 2017 May 08
Spenderade en hel eftermiddag bara med att få ihop gasreglaget. Att få dit bussningarna var ganska lätt när man inte hade förgasaren i vägen, men att få fast ändarna som passar i bussningarna krävde uppborrade hål och rörpinnar isf de gamla massiva 3 mms pinnar som fanns kvar. Fick svetsa dit en liten metallplatta på gaspedalen för att den skulle bättre passa mot det justerbara stoppet i torpedväggen. Knöligast av allt var att fixa till ena länkänden på den långa stången som går fram till förgasarna, det inköpta länkhuvudet från SU hade mindre diameter på skruvhålet än stången, och jag hade inget lämpligt gängsnitt för att anpassa så jag fick göra en justerskruv av mutter och kontramutter och en tillfixad skruv till det gamla huvudet där befintlig skruv helt enkelt hade varit fastsvetsad.
Spent the whole afternoon just assembling the accelerator linkage. Fitting the bushes was quite easy when the carb is out of the way, but to fix the two ends that go into the bushes I had to drill new holes and hammer in roll pins instead of the old massive pins. Had to weld a little piece of flat bar to the accelerator pedal shaft to make it better hit the adjustable pedal travel stop in the bulkhead. Most annoying was that the linkage head I bought from SU for the long rod that goes to the carbs didn't fit, the thread was smaller then the rods diam. and I had no dye to make a new thread so I had to make a new adjuster screw out of a bolt an 2 nuts one welded to the end of the old link head and the other serving as lock nut. I had to cut of a piece of link head because the adjuster screw was welded firm.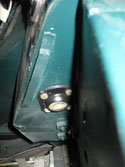 Datum 2017 Mar 03-05
Har börjat renovera förgasarna, SU H4, började med att göra ren 2 burkar lösa delar som kom med bilen. Det verkar som det mesta finns, hittar dock inte choke"excenter"brickan och det saknas nog en och annan skruv också. Renoveringssatsen innehåller förutom packningar nytt spjäll, själlaxel och axelbussningar mm. Brotschade ur de gamla bussningarna, pressade i nya bussningar, brotschade igen. Monterade axeln efter att ha borrat hål för juster/stopparmen och kapade den till rätt längd. Monterade ny nålventil och munstycke, länkarmar, fjädrar mm., så jag verkar fått ihop en komplett förgasare.
Nästa förgasare gick dubbelt så fort. Har upptäckt att det saknas några länkledsändar några skruvar och kammen för choken, beställer delar från Burlen inklusive nya fjädrar och ett par nålar eftersom jag misstänker att man behöver lite mer soppa när den är etanolblandad än när det begav sig.
Slutligen monterade på motorn, visade sig att jag vänt den bakre förgasarens spjällaxel åt fel håll, lätt fixat.
Began restoring the carburettors, SU H4, began with cleaning two cans of loose bits and pieces that came with the car. Most things seems to be there but I can't find the fast idle cam and probably one or another screw as well. The restoring kit includes new spindle, throttle disc, jet, needle valve and various gaskets. Drilled and reamed out old bushes and pressed in new ones, fitted spindle, cut it and drilled a new hole for the adjustin lever. Fitted the jet and the gaskets, the new jet and the lever arrangement and returning springs, seems like I've got a complete carburettor.
Next carb took only half the time to repair. Discovered that some rod ends, screws and the fast idle cam are missing so I've ordered new parts from Burlen, including new springs and a cople of needles which will give a bit richer mixture which I think will be needed due to enthanol mixing in todays fuel.
Finally both carbs lace, disered I ad turned the rear card sie wrog wy but it ws a easy fix to put it right.
















Datum 2017 Feb 28
Gjort klart fästena för elfläkten och monterat fläkten.
Finished the supports for the electric fan and fitted the fan.


Datum 2017 Feb 22-23
Borrade ur den avbrutna skruven och gängade hålet till 1/4 UNC. När jag skulle montera kylaren visade det sig att i kylarens fästen satt svetsmuttrarna 8 mm för långt ut på båda sidor så jag fick skära bort dem, göra nya hål och svetsa dit nya muttrar.
Med kylaren på plats och slangar anslutna, fläktrem på plats (specialbeställd längd 1000 mm) så har jag börjat förbereda fästen för elfläkten. Fläkten är av typen som blåser och sitter därför framför kylaren och då kan jag behålla originalfläkten.
Fick hem den nya bränslekranen men när jag monterade den och slangen till pumpen såg jag att slangen hamnade olyckligt framför oljefiltret så jag gjorde ett nytt fäste 100 mm längre bak och fick en snyggare dragning av slangen.
Drilled out the broken screw and tapped the hole to 1/4" UNC. When I tried to fit the radiator I discovered that the supports had their welded nuts 8 mm to far out on both sides so had to cut away the nuts drill new holes and weld in new nuts.
With the radiator in place and hoses connected, new narrow belt fitted (special order in length 1000 mm) I've started to prepare brackets for the electric fan. The fan is a "blower" so it's fitted in front of the radiator and therefore it's no need to remove the original fan.
Got the new fuel tap in the mail and when fitting it I saw that it kind of interfered with oil filter and blocked oil pressure outtake, also close to tacho drive, so I made a new bracket 100 mm further to the rear and got a nicer tracing of the hose.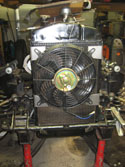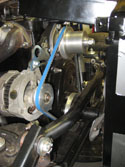 Datum 2017 Feb 20
Fick axelhylsan till vevaxelremskivan, den är lite kortare än tappen så flänsen bryts bort efter den är i läge.
Har monterat vattenröret till värmaren, fästet passade inte mot hålet i blocket som har en oidentifirad gänga, tror jag får borra ur och gänga 1/4 UNC som hålet bredvid är, tändspolen ska också fästas här. Gjorde om fäste lite grann och rensade ur gängan i vattenpumpen så nu är det på plats.
Sista jobbet för dagen var att byta ut original oljefilter mot adapter för modernt filter (som blir mycket lättare att byta) samt nytt filter.
Got the sleeve for the crank shaft pulley, it's a bit shorter than the axle so I twisted of the flange after the sleeve was in right position.
Also fitted the pipe going to the heater, the support didn't fit the hole in the engine so I modified it a bit, the hole has an unidentified thread so I think I have to enlarge it and make a 1/4 UNC thread in it making it equal to the second threaded hole for fastening the coil. I cleaned the thread in the water pump with a tap so now the pipe is in place.
Final job for today was fitting an adapter for spin on oil filter an a new filter.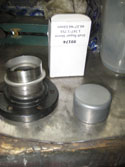 Datum 2017 Feb 19
Första rejäla felet, jag hade monterat bränslekranen i fästet för slangen från slavcylindern så jag har kapat bränsleledningen och får sätta in en passbit. Bränslekranen är igen höjdare, jag köpte ny korkpackning från Rimmers, men den var nästan lika hård som den gamla, det gick inte att expandera den så att kranen blev tät, försökte med en bit slang i passande dimension men det fungerade inte heller så jag har beställt en modern kulventil istället.
Nästa fel var att jag hade monterat växellådsfästet upp och ner så att flänsen krockade med avgasröret (på bilden nu rättvänt med flänsen uppåt). Det är väldigt trångt just där för avgasröret, undrar just om inte originalröret kan ha varit smalare än de 50 mm det här röret är.
Har även justerat längderna på rören runt dämparna så att främre dämparen går fri från bakaxeln och flyttat bakre dämparen lika mycket bakåt så att det blir en rakrörsdel under bakaxeln.
First real mistake, I had mounted the fuel tap in the support for the hose from the slave cylinder, I've cut the fuel line so I can put a new piece of pipe. The fuel tap is a disappointment, I purchased a new cork seal from Rimmers but it was almost as hard as the old one and I couldn't expand it enough to seal, tried to soak it, but it didn't help. Tried to make a seal out of a piece of fuel hose but that didn't work either, so I've ordered a new modern tap instead.
Next fault was that I had mounted the gearbox support upside down so the flange interfered with the exhaust pipe (in the picture the support is fitted as it should be). It's a very tight fit for the exhaust at this support so I wonder if original exhaust pipe wasn't less diameter than the 50 mm of this one.
I've adjusted the position of the silencers cutting an welding the pipes moving the front one forward to clear it from the rear axle and moving the rear one the same distance rearwards to get a piece of pipe beneath the rear axle.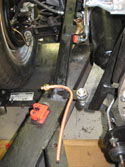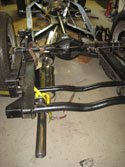 Datum 2017 Feb 16
Monterat insug och grenrör, det finns angivet moment för muttrarna men går inte att komma åt med den lilla momentnyckeln eftersom jag inte har passande hylsa, så jag satte upp en bult i skruvstädet filade till en mutter till att passa den hylsa jag hade och momentdrog till rätt moment och testade sen med en fast nyckel för att känna ungefär hur det kändes i handen innan jag drog fast muttrarna.
Monterade även fördelaren, lite pyssligt, men jag tror jag fått det rätt med cylinder 1 i kompression och rotorn pekande på kabel 1 i locket. Lite krångligt att få ner drivaxeln i rätt läge samtidigt som den ska träffa oljepumpens drivning, prova, prova och prova igen.
Fitted manifolds, manual gives recommended torque but I haven't the right size socket for the little torque wrench, so I fastened a bolt in the vice, filed down a nut to fit the socket I had, torqued it and than tried how it felt with a spanner before tightening the nuts on the manifolds.
Fitted the distributor as well, a little tricky, but I think I got it right with cylinder no 1 in compression and rotor pointing at HT cable no 1 in the cap. Also quite some work to get the distributor drive in right position at the same time as it has to fit the oil pump drive, try, try and try again.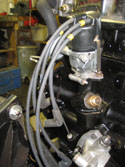 Datum 2017 Feb 15
Har börjat klä på motorn med generator, bensinpump, vattenpump, provmonterat insug- och grenrör. Remskivan på vevaxeln blir ny eftersom jag byter till smal rem, den saknar märkning och för att hitta TDC har jag använt ett kolvstopp som ger indikering på ömse sidor om TDC och följdaktligen TDC mitt emellan. Kolvstoppet gjorde jag till TR6:an av ett urborrat tänstift och en genomgående bult.
I've started to dress the engine with alternator, water pump, fuel pump, test fitted manifolds. The new crank shaft pulley (changing to narrow belt) lacks markings for TDC so I used the piston stop I made for the TR6 to find stops on each side of TDC and then TDC is right in the middle between those two marks. The piston stop is made from a holloed out spsark plug and an adjustable screw inside.





Datum 2017 Feb 12-14
Packade upp och baxade in motorn i garaget idag, imorgon ska den in i ramen.
Minst sagt "meckigt" att få in motorn i ramen i mitt lilla garage med karossen hängande i taket, men nu sitter den där med ny kopplingslamell dessutom.
Kollade på grenröret, tre varianter på fastsättning, en normal gänga för UNC 3/8, en M6 genom en avbruten pinnbult och ett hål utan gänga alls. Borrade ur till 8 mm ur den M6 gängade tappen och drog i en UNC 3/8 gängtapp och då lossnade resterna av den avbrutna pinnen, så nu har jag åtminstone två rätt, i hålet utan gängor får jag sätta en genomgående bult, som tur är är det hålet på utsidan så det är lättåtkomligt.
Efter att ha fixat gängorna så kletade jag in hela grenröret med ugnssvärta och körde på högsta temperatur i ugnen, blev riktigt bra. Har gjort så på TR6.an och Duetten fast då på plats i motorn.
Unpacked the engine and hauled it into the garage, tomorrow I'll fit it in the chassis.
A bit of "fiddling" to get engine and gearbox in place due to my tiny garage with the body tub hanging in the ceiling, but now it's in place and with new clutch plate as well.
Checked the exhaust manifold and found three different ways to attach the downpipe, one normal 3/8 UNC, one M6 drilled and tapped inside a broken pin and one hole without threads at all. Drilld out the M6 and started to tap a new 3/8 UNC and then the remains of the broken pin fell out so now I have two OK holes for new pins and in the remaining I'll put an bolt through and through, fortunately it's the hole on the outside so it's easy access
After fixing the threads I smeared the entire manifold with stove polish and baked it at high temperature in the oven, pleased with the result. I've done this before on the both the TR6 and the Volvo but then with manifold mounted on the engine and "baking" it while running the engine.











Datum 2017 Jan 03
Bränsleledningen i ramen är färdigbockad och på plats, bränslekranen gick fint att plocka isär men korkpackningen är stenhård och går inte att spänna ut med justerskruven.
Fuel line in the chassi is ready bent and in place, fuel tap was easy to disassemble but the cork seal is rock hard and impossible to compress with the adjusting screw.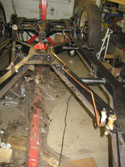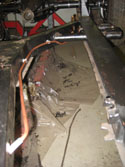 Datum 2017 Jan 03
Motorn färdig för emballering och skeppning från TR Shop.
Och nu, 26 januari står motorn utanför garaget
Engine finished and ready for packing and shiping from TR Shop.
And now, Jan 26 is the engine standing outside my garage.



Datum 2016 Nov 17
Ett mindre fix, ny utloppsledning från värmeventilen.
Minor fix, new outlet pipe from heater valve.

Datum 2016 Oct 16
Dåliga nyheter, inte bara blocket som är dåligt, upptäckte en spricka i toppen så dags att försöka spåra upp en ny topp, det är av den tidiga s.k. "low port" som bara fanns i TR2:orna så det finns inte alltför många i omlopp, måste hitta ett sådant annars passar inte insug och grenrör och passar inte insuget måste jag få tag på nya förgasare. Jag ska försöka med TR Shop i London, de verkar ha en hel del begagnat och till bra priser, tur att pundet närmar sig 10:an.
Bad news, not just the engine block that is bad, discovered a crack in the cylinder head as well so have to try to locate a new "low port" head, I guess there aren't to many out there. Need a low port to make use of the manifolds and carbs I've got. Will contact TR Shop in London, they seem to have quite a lot second hand an as the GBP rate is just above 10 SEK it doesn't hurt.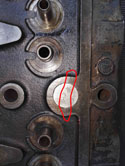 Datum 2016 Oct 12
Monterat isär , gjort ren och fixat ny packbox i värmeventilen, mycket praktisk, den sitter i motorrummet så man måste öppna motorhuven för att justera värmen. ägnat dagen åt bensintanken som visade sig vara fixad med glasfiber i botten, när glasfibern var bortpetad så fanns det diverse små hål, bytt ut det sämsta och kör tanktätning invändigt på resten. Själva tätningsprodukten är väldigt lik hammarlack.
Fixed the heater valve and made a new seal, this valve is very practical, it's fitted on the engine so you have to open the bonnet to adjust the heat. Used most of the day to fix the fuel tank, after peeling away some GRP at the bottom it revealed some nasty corrosion, welded up the worst and hope that the POR sealer will fix any invisible pittings.







Datum 2016 Sept 28
Avrostningsbadet puttrar, skruvar och muttrar lägger jag i påsar av järnnät, tvättar ordentligt, borstar eller "tumlar" i en burk med en stålboste på borrmaskinen, slutligen går jag över med gängrensningsverktyg på både skruvar och muttrar. Vatten pump och fördelarstativ efter avrostning. Oljetråget bjöd på överraskning eftersom man kunde se rakt igenom botten, skar ut och svetsade in ny plåt.
Electrolytic bath is bubbeling, I put nuts and bolts i bags of iorn net, washes carefully, brushes and "tumbles" nuts and small bolts in a tin can with a steel brush on the power drill. Water pump and distributor pedestal after cleaning, not painted yet. Oil pan had a suprise, you could look right through the bottom. Cut out the bottom and welded in a new plate..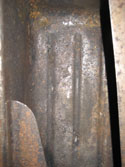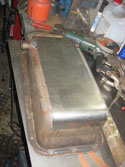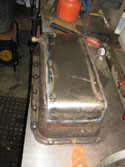 Datum 2016 Sept 20
En hemsk syn mötte när jag tog bort oljetråg och kåpan över kamkedjan. Försökte att se om något kunde räddas, fick skära av vevstakarna för att få loss vevaxeln men den verkar också kaputt då det rostat i lagren, verkar vara för mycket för att kunna slipa ner den. även foder och kolvar sitter stenhårt, det är nog att krypa till korset och försöka få tag i en ny motor. Några saker går att rädda som svänghjul och tryckplatta, kamdreven, fördelare och oljepump. Topplocket ser inte förlorat ut heller liksom grenrör och insug. En bild på elektrolytisk rostbottagning, 1:10 kaustiksodalösning, bromstrumma som offeranod och en batteriladdare
A terrible sight met me when I opened the engine taking off oil pan and chain cover. Tried to see if anything at all was able to salvage, had to cut off the con rods to be able to free the crank shaft and it seems as it is scrap as well due to deep corrosion pits beneath the bearing shells, to deep to be possible to grind down. The sleeves and pistons are also stuck rock solid as well as cam shaft and lifters. Have to start looking for a new engine. Some parts are possible to save like front plate, chain cover and crankshaft pulley, flywheel, pressure plate, chain wheels, distibutor and oilpump. Top seems also possible to save as well as inlet and exhaust manifolds. Also removing rust in elektrolytic bath, caustic soda and a battrycharger old brake drum serves as sacrificial anodes.













Datum 2016 Sept 07
Motorn uppe på stativet.
Motor fitted on the motor stand.

Datum 2016 Sept 01
Första åtgärden på TR2:an, skruvade loss koppling och svänghjul för att lätta lite på motorn.
First job on the TR2, unbolted clutch and flywheel to make the engine a bit lighter.