Chassiåtgärder
Kolla även under Uppdateringar där en del finns beskrivet. Also check under Updates were some jobs are described.
2015 Mar 10
Monterade nya bromsbackar bak, egentligen var det bara höger bak som var riktigt sliten. Såg till att allt var smort med kopparpasta och justerade upp handbromsen.
Fitted new brake shoes, it was really only right hand side that was worn, but they come in pairs so both side are now new. Greased moving parts with copper paste and adjusted handbrake.


2015 Feb 15
Har monterat gummibälgar som saknats som skydd av handbromsvajrarna ute vid hjulen. Det knöligaste var att lyckas spänna ut bälgen så att den kunde träs över fjäder och ändstoppen, jag gjorde ett slitsat plaströr som hjälpmedel (och ordentligt med silikon).
Fitted rubber bellows (from CBS) where these have been missing at ends of hand brake wires. The most difficult was to stretch the bellows so much so they could be pushed over the end stops of the spring. I made a cut open plastic tube to stretch the bellow (and quite a lot of silicone).




2015 Feb 08
Började dagen med att byta två trasiga gummibälgar på P-ändarna. Sen kapade, vinklade upp och svetsade jag rambalkarna bakom diffupphängningen för att höja dem, eftersom det var onödigt mycket packning mellan ram och kaross.
Started the day with replacing two broken Ball joint boots on steering rack. Then I cut, lifted up and welded the chassis frame behind diff supports since there was far to much padding between frame and body.








2015 Feb 07
Jag köpte gummibälgar till P-ändar och kulleder eftersom gummit i de jag köpte för 2 år sen spricker sönder, ett känt problem tydligen. Har jobbat med att förstärka fästena för diffen, man kan se lagningar av de typiska sprickorna (enligt TR-forumet). Började med att ta hål i golvet ovanför de främre fästena för att kunna se om det var några sprickor där samt lägga på en förstärkningsplåt. Gjorde luckor av de utskurna plåtbitarna. Klippt till plåtbitar för att "boxa" in fästena underifrån. Ett elände att ligga och svetsa under bilen när den står på pallbockar och inte blir det bättre av att ramen är galvad någon gång för 20 år sen. Det går inte att komma åt att slipa bort all zink så besvärligt att svetsa och äckligt/giftigt att andas in zinkröken.
Bought some Ball joint boots because the rubber in the ones I bought 2 years ago is all falling apart, problem known at the TR-forum. Have been working with reinforcing the differential supports, you can see already welded cracks at the typical locations (according to TR-forum). Started by cutting holes in the floor above the front supports to inspect and weld reinforcements. Made hatches out of the cut out plates. Cut plates for "boxing" in the supports from beneath. A PITA to lie under the car and weld when it's on stands, and it's no better considering the frame was galvanized some 20 years ago. Although grinding away the zinc it's almost impossible to remove all of it so there is a lot of toxic gas forming while welding.









2014 june 11
Tätningarna i den s.k. PDWA ventilen, som reagerar på differenstryck mellan bromskretsarna och har en invändig slid som påverkar ett stift i en elkontakt, läcker så att jag har blivit tvungen att blinda bort kontakten. Via forum och andra TR-siter fick jag fram att jag skulle behöva två små O-ringar som införskaffades. Efter att ha tömt bromsvätskan och demonterat ventilen passade jag på att bättringsmåla där bromsvätska läckt. Överraskningen kom när jag tog ut sliden och den hade helt annan typ av slid till vilken ingen verkar ha rätt tätning. Alternativet är att skaffa en komplett ny ventil men en ny kostar 2000 kr så det känns inte som prioriterat, så bromsvarningslampan får stå tillbaka.
The seals in the PDWA valve, which reacts on differential pressure between the 2 break circuits and activates a pin in an electrical switch,leaks so I have put in a plug instead of the switch. On the TR-forum and other sites I found out that I needed a couple of small O-rings. After emptying the break fluid and taking away the valve I touched up the paint which had suffered from leaking brake fluid. The surprise came when I opened the valve and saw that the seals looked totally different to the O-rings and after some research it seem that they are not available any more. The alternative is to buy a complete new valve at a cost of £200 and that doesn't fell like a priority, I'll live without brake warning lamp.




2014 mar 05
Länkarna för krängningshämmaren fram var lite slitna så de är nu utbytta.
New drop links for sway bar installed.
2014 feb 10
Försökt få bort lite bromsgnissel så jag har smort upp shimsen bakom bromsbeläggen med kopparpasta. Har också skaffat en adapter till domkraften för att lättare lyfta bak, tidigare gjorde det jag med två domkrafter parallellt.
Trying to get rid of some squeel from front brakes by applying som copperpaste bhind brake pad shims. I've also purchased a jack adapter for easier lifteing of the rear, before I had to use to jacks in parallell.


2013 jul
Märkte att det slitit lite mer på framdäckens ytterkanter och mha lite snören och linjaler fann jag att det var lite för mycket toe-in, vilket nu är fixat.
Noticed a bit more wear on outer faces of front tires so with the help of some strings and rulers I found that there was excessive toe in, which now is fixed. .

2012
Huvudsakliga åtgärder har varit byte av samtliga bussningar i hjulupphängningarna, krängningshämmare och motorfästen. Bussningarna för diffen byttes i samband med bytet av packboxar i diffen. Jag har också gjort iordning styrväxeln genom shimsning av lederna och nya bälgar. Stötdämparna fram är bytta till Spax justerbara. Vid senare provkörning var jag tvungen att ställa ner dem nästan till min-dämpning. På en del forum hävdas att Koni hade varit ett bättre val. Bak ersatte jag "cykelpumparna" med ett förstärkt kit som har infästning både i ram och kaross och har justerbara dämpare från Gaz. även dessa är ställda med liten dämpning efter första provturerna. Slutligen finns några bilder på byte av rattstångens bussningar, dessa var helt slut.
Main jobs has been installing new bushes in all trailing arms front and back as well as new motor supports and sway bar bushes. The bushes for differential was changed for new when I fitted new seals in the diff. The steering rack got new shims and bellows. At front I put in new adjustable Spax shocks. These were set to very low dampening after a test drive, at some forums they say Konis are a better choice. At the rear I put a reinforced kit substituting the originals with GAZ adjustable shocks, those were also set to fairly low dampening after test drive. Finally I fitted new bushes in the steering column because the old ones were totally finished. .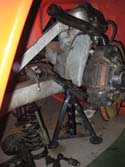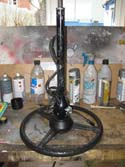 2012
Vid första provkörningen hörde jag att det klickade i framvagnen, jag konstaterade sen att det fanns lite glapp i nedre styrlederna, framförallt den vänstra. Efter att jag demonterat allt upptäckte jag att även axeln var sliten så jag bestämde mig för nya axlar och hjullager när allt ändå var demonterat.
At first test drive I heard some clicking noises from front suspension and found out that it was the trunnions, and later I understood that also vertical link was in bad shape. After dismantling everything I also discovered that the stub axle was worn so I decided to substitute them as well as the wheel bearings when everything was dismantled. .