El
Kolla även under Uppdateringar där en del finns beskrivet. Also check under Updates were some jobs are described.
Modifierat kopplingsschema

Modified wiring diagram

Datum 2016 Jul 19
Signalhornet började låta ynkligt, det visade sig att jordkabeln över gummileden var i stort sett av. Svårt att löda i gamla kablar så jag gjorde en ny som jag fätade ihop av avskalde kablar. Har även satt in ett nytt batteri.
The horn began to sound weak, it showed to be the ground wire over the rubber link on the steering column that was almost cut off. Made a new from peeled off wires. Also put in a new battery.

Datum 2015 Oct 21
Monterat ett tredje bromsljus, med blinkfunktion. Om man bromsar igen inom 8 sekunder lyser det med fast sken, annars kan det bli irriterande för bakomvarande. Detta fixas av en liten dosa från Kahtec.Testade även placering uppe vid tanklocket men det blev lite tight mellan tanklock och infästning suflett.
While waiting for nice weather I made a holder for the GPS by replacing the ash tray with a new ash tray with a backplate welded up from mild steel plate. It has a grommet in the bottom for the power cable to keep it out of the way.
Youtubeklipp




Datum 2015 Jun 29
överväxeln började fungera sporadiskt, efter mycket felsökning kom jag fram till att solenoidens kraftigare spole måste vara körd. Tyvärr är det rätt mycket att demontera, men jag hade varit förutseende och gjort en lucka i tunneln över växellådan. Var dock tvungen att göra ett till hål för att komma åt en kabelskarv och ytterligare ett hål på andra sidan för att komma åt hålet för injustering av läget för hävarmen till solenoiden (bilden där borret sitter som stopp i justeringsläget.
OD started malfunctioning, after extensive faultfinding the cause was the big coil in the solenoid. Unfortunately there is a lot to remove before getting at the solenoid, but I had made a hatch in the tunnel earlier so at least I didn't have to remove the gearbox tunnel. Still I had to make a hole to get at a wire junction and another to get at the adjustment hole for the solenoid lever (on the other side, with a drill bit inserted to fix the right position).





Datum 2015 Apr 23
Medan jag väntar på bättre väder tillverkade jag en hållare för GPSen genom att ersätta askkoppen med en egentillverkad ersättare med ett "ryggstöd" och en kabelgenomföring i botten för att bli kvitt sladdtrassel.
While waiting for nice weather I made a holder for the GPS by replacing the ash tray with a new ash tray with a backplate welded up from mild steel plate. It has a grommet in the bottom for the power cable to keep it out of the way.




Datum 2015 Mar 12
Fick tillbaka den renoverade och kalibrerade fördelaren från
Distributor Doctor
Got back the reconditioned distributor from Distributor Doctor
Plot Distr. advance curve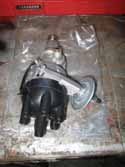 Datum 2015 Mar 10
Monterat gummitätningarna för blinkers fram, krävde en del demontage först. De gamla var rätt så ruttna, jag hade lagat dem hjälpligt tidigare med vulktejp.
Fitted the new rubber boots for front indicators, had to remove a bit of equipment before getting at them from the rear. The old ones were quite rotten, I had tried to mend them with self vulcanising tape earlier.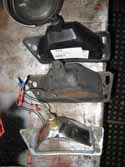 Datum 2015 Feb 20
Fick tillbaka varvräknaren som varit på service i England hos JDO, samt en ny bättre graderad vattentempmätare. Nu monterade i instrumentpanelen, liksom den lilla extra panelen nere till vänster kompletterad med intervallkontroll för torkarna.
Got the rev.counter in return after being on service at JDO i England, also a new water temp gauge with a more informative scale than the original one. The old one was almost touching red when I measured the actual temperature to 85 deg C with an IR thermometer. Now fitted in the instrument cluster, the little extra panel down to the left is increased with interval wiper control.




Datum 2015 Feb 18
Har börjat så smått med återställning och komplettering av elen. Började med att byta ut strömbrytaren för innerbelysningen samt montera utt USB-uttag för att kunna ladda mobilen tex. Ska också montera en extra säkringsdosa isf att ha ett gäng löst hängande säkringar för radio, ciggarettändare, instrumentbelysning och USB-uttaget.
I've started with putting the electrics back and adding some bits. Put in a new switch for interior light and an USB-charging outlet. I'll also put in an extra fuse box instead of various loose hanging fuses for radio, cigarette lighter, interior light and USB-outlet.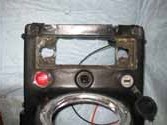 Datum 2015 Jan 22
Köpte på mig lite elektronikartiklar för att göra en LED-indikeringslampa som fungerar för blinkersindikering, den kräver nämligen en likriktare eftersom polariteten kastas om mellan höger- och vänster-indikering. Som grädde på moset sätter man dit en lite summer som kanske bättre gör att man inte glömmer blinkers vilken inte alltid återgår till neutral efter mindre svängar. Köpte även en annan sats för intervallkontroll av vindrutetorkarna eftersom den jag byggde ifjol inte fungerade som tänkt, får se om den här lödövningen fungerar bättre.
Bought some electronics to make a functioning LED for indicators, the LED needs a rectifier as the TR changes polarity between left and right indicating. As an extra there is a buzzer attached to help not forgetting reset the stalk after minor turns. I also made a new interval timer for wiper control, the one I made last year didn't work as expected so lets se if this soldering exercise worked better.





Datum 2014 Jul 15
Köpte en tändförstärkare som heter KIT 00069från
BoyerBrandsden
vilken ska förlänga livet på brytarspetsarna samt ge en uthålligare gnista vilket minskar betydelsen av en korrekt inställd tändning, de ger dessutom 5 års garanti! Rimligt pris också ca 400 kr inkl. frakt. Jag har monterat och provkört och allt verkar fungera OK, har naturligtvis inte sett långtidseffekten än.
Bought a "Inductive Discharge Electronic Ignition", called KIT 00069 from BoyerBrandsden which should extend life of points and give an extended spark, it also come with a 5 year warranty!. It does seem to work OK, but haven't seen the long time effects yet.


Datum 2014 may 28
Köpte nya säkringar som har en liten lysdiod som lyser om säkringen gått sönder, 5 kr/st från Diodhuset.
Bought new fuses which have a little LED that will glow if the fuse brakes, less than £0,5 a piece.

Datum 2014 Apr 15
Fick problem med kontrollenheten för den elektriska fläkten, felsökte och fann att sändaren i kylaren reagerar, reläet fungerar, fläkten fungerar med direktmatning så problemet tycks ligga i reläsockeln där det sitter en potentiometer för att ställa in tillslagstemperatur. Tyvärr är hela sockeln fylld med plast eller wax så det går inte att kolla var felet sitter. Jag köpte en standard termostatgivare ( 88C/79C) och skaffade ett T-stycke som monterades i kylarslangen på toppen av kylaren samt kopllade den till ett standard relä som får matar elfläkten, jag satte även in en förbikopplingsströmbrytare så fläkten kan köras manuellt.
The electric fan never started. After some fault finding it showed that the controller never engaged, took out the relay and it works fine, the sender also gives signal (change of ohms at least), fan works when fed directly so the problem seems to be inside the relay socket with a potentiometer and what? There is no way to know because the socket is filled up with wax or plastic, so I replaced the controller with a thermostat switch ( 88C/79C)in a T-piece in the top hose from radiator and wired it to a standard relay feeding the fan, also put in an override switch.




Datum 2014 Mar 28
Har bytt ut Amperemetern mot en Voltmeter (lite omkoppling behövdes naturligtvis) eftersom jag har satt in några reläer för fläkt plus några andra förbrukare som matas direkt från batteriet via egna säkringar och då visar inte Amp.metern rätt. Observerade också att Bränsle- och Temp-mäterna såg lite blekta och skitiga ut bredvid den nya mätaren så jag plockade isär, rengjorde och målade dem. Ganska svårt att få isär eftersom tätningarna mot glaset var helt uttorkade och hopbeckade, de är nu ersatta med en 2 mm O-ring.
I've substituted the Ampere meter for a Volt meter (a bit of wiring needed) since I have some "consumer" like the electric fan that is supplied straight from battery via it's own fuse, which means the Amp.meter won't show right value. Installing the new meter (Smith classic, made of plastic!) Fuel and Temp.-meter looked a bit faded so I dismantled, cleaned and painted them. It was quite difficult to separate the glass because the sealing had totally dried and crumbled, they are now substituted by O-rings.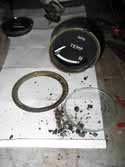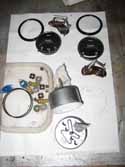 Datum 2014 feb 19
Kromsargen runt vänster bakljus grundmålades och täckmålades med "Silver chrome paint set" men blev inte alls så "kromlik" utan lite grå utan kromets glans, men groparna är borta. Montrade in overdrivesttyrningen och pausmekanismen för vindrutetorkarna. En bild på kinesiska LED-lampor för 10 kr st (alla fungerade!)
The chrome around left rear lights is now painted with "Silver chrome paint set" but is not shiny chrome but a bit greyish, the pitting is gone though. Fitted the OD-control unit and delay control for wipers. Also a picture of Chinese LED:s only £1 each (and all are working!).








Datum 2014 feb 19
Då kromsargen runt speciellt vänster bakljus har drabbats av "pitting" i den lättmetallblandning den är gjuten i, slipade jag ur groparna och testade först med aluminiumlödstång, men smältpunkten var i stort samma så jag höll på att smälta ner grundgodset. Spacklade istället upp med hårdspackel och rundade av med finspackel.Våtslipade och sen har jag beställt speciell spraykrom så får vi se hur det blir.
The chrome around left rear lights has a lot of pitting in the surrounding, I grinded every pit with a Dremel and tested soldering with aluminium compound, but I almost melted the frame as it seemed to have the same melting point as filler. Instead I filled the pits with 2-compound filler. Wet sanded super fine and ordered a chrome spray colour, yet to be seen the result.


Datum 2014 feb 10
Vindrutetorkarna har inte stannat i viloläge utan jag har varit tvungen att "timea" med strömbrytaren när de är i viloläget. Misstänker att strömbrytaren som sitter bakom drivhjulet inte fungerar, reserv fanns att köpa på nätet. Tyvärr så var fastsättningen av reservbrytaren inte skruvad som originalet, utan försedd med ett clips. I övrigt så passar den, men jag fick göra en klamma för att hålla fast brytaren och klippa bort kablarna och llöda fast dem på den nya brytarens stift (kollade först så lika funktioner fanns i den nya brytaren). Sen tillverkade jag en aluminiumkåpa för att gömma reläer mm. eftersom med nya reläer för fläkt, ljus mm ser det lite risigt ut.
Wiper haven't stopped in resting position, so I have had to time them and switch off manually when in right position. I have suspected the switch behind the drive wheel and got a replacement on the net. The new switch have a different fastener with a clip instead of screws as the old one, so i made a bracket to keep the switch in place. It's the right size and have the right terminals but the old switch have soldered wires so I cut the wires and soldered them to the new switch. Then I made a aluminum cover to hide the electrics as it doesn't look very nice with additional relays for fan, lights and more.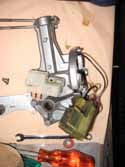 Datum Jan 14-29
Köpte en byggsats för intervallstyrning vindrutetorkarna, lödde ihop, fixade en låda och gjorde en ny konsol där det finns en kontakt för vla kontinuerlig/intervallstyrning samt en vridpot för tidsinställning. Där finns även kontrollen för överväxelurkoppling, men även en bypasskontakt ifall jag vill att överväxeln ska ligga kvar även efter nerväxling. Sen tidigare hade jag kontakten för de extra varselljusen.
I bought a kit for variable control wiper motor, soldered the kit, built a box and a console where I've fitted the variable control and the switch for selecting continuos/variable speed. There is also the control for disengaging OD when downshifting, but I also fitted a by-pass switch if I want the OD to maintain engaged. Since earlier There is also the switch for DRL.







Datum Jan 14-18
Monterade en liten LED-lampa som bagagerumsbelysning eftersom originalet var borttaget då placeringen inte fungerade med Aluminiumbensintanken.
I've fitted a small LED lamp as boot lamp. Previous owner removed the original du to interference with Alu-fuel tank.

Datum Sept 13-21
Har tillverkat en liten elektronikkrets som kopplar ur overdriven vid nerväxling, beskrivning finns på svenska TR-forumet under "Tekniska artiklar". Komponenterna kostade 95 kr plus 34 kr för etspulver.
I've made an electronic unit which disengages OD when downshifting, description on Swedish TR-forum (copy from TR Action nr 248). Components cost was less than £10, but I needed etching powder which added £3.


Datum Sept 13-06
Uppdaterade med ett nytt elektroniskt blinkrelä som även fungerar med diodlampor (ifall jag skulle börja använda sådana). Jag fick tillverka en hållare för det nya reläet av en aluminiumplåt.
Updated with an electronic flasher relay which also will work with LED:s (in case I should start using LED:s). I had to fabricate a clamp of aluminium plate to hold the new relay.



Datum Aug 13-11
Jag bytte till mig en radio från början av 70-talet, vilket passar bättre än den som satt i bilen och som förresten verkar kaputt. Det krävdes lite anpassningar av front och tillverkning av några stödbrickor så nu sitter den där och fungerar OK. Jag passade också på att göra ett beslag runt växelspaksdamasken eftersom vinylen hade spruckit, mer om det under fliken Kaross.
I got hold of a radio from the beginning of 70-ties, witch looks better than the one thaht came with the car. It took som adjustments and fabrication of som washers to make it fit, but now it's there and working properly. When the centre console was out I also took the opportunity to fabricate an escutcheon around the gear stick as the vinyl was cracked, more about that under "Body"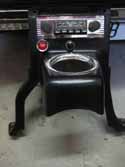 Datum Jul 13-07
Eftersom en säkring överbelastades vid lång körning med halvljuset på bestämde jag mig för att installerera varselljus. Det blev efter moget övervägande LED-lampor även om det inte stämmer med bilens karaktär, men de är ganska diskreta när de inte är tända. De är kopplade via ett relä så att de slås av om P-ljus eller hel/halvljuset sätts på. Jag satte även in en strömbrytare så att de kan släckas helt, normalt tänds de när tändningen sätts på.
Since the fuse for dip beam got overheated during long runs (it's law in Sweden that you either use headlamps or DRL during daytime) I decided to install DRL. After some considering I opted for LED's even if it's not adapted to age of car, but they are quite discrete when turned off. I used a relay that swith DRL off when normal lights go on and I also installed a switch so I can switch them off, normal position is on when igition is on.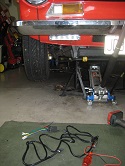 Datum Feb 13
Kolla på sida "Uppdateringar" Feb 13 för lite nyheter
See page "Updates" Feb 13 for som news
Datum jul 12
Efter att ha läst på mera om elproblem på forumen så bestämde jag mig för ytterligare några förbättringar, tex att sätta in relä för hel/halvljus. Som det är original går hela strömmen via omkopplaren vid ratten och sen till fotomkopplaren för hel/halvljus. Med relä så går endast strömmen till reläspolen via rattspaken. När jag ändå var igång så tillverkade jag ett fotstöd för vänsterfoten (som man annars inte riktigt vet var man ska vila) och flyttade fotomkopplaren till stödet, originalplaceringen sitter lite olägligt till. Jag passade också på att sätta in ett relä för bränslepumpen vilket ytterligare borde ta bort last från tändningslåset, på rekomendation på engelska forumet la jag in en grövre kabel för matning av bränslepumpen eftersom Boschpumpen tar mer ström än Lucas original.
After reading out more about electrical problems on the forums, I decided a few more improvements, such as inserting a relay for high / low beam. As it is original, the entire current goes through the switch at the wheel and then to the foot switch for high / low beam. With the relay will only power for the relay coil go through the switch at the steering wheel. While I was up and running I also made a footrest for the left foot (which otherwise do not really know where to rest) and moved the foot switch to the new support, the original location is a little inconvenient. I also took the opportunity to put a relay for the fuel pump which should further remove load from the ignition switch,on recommendation in the TR forum I added a thicker wire for supplying the fuel pump as Bosch pump takes more power than the original Lucas.
Datum jul 12
Efter de första turerna så började tändningslåset krångla, kontakten snurrade fritt och låsinsatsen lossnade. Jag gjorde två åtgärder, skaffade en startknapp och satte en liten skruv och bricka bakifrån i låskolven för att hålla fast den. Jag funderade på att sätta en fast brytare för tändningen också, men nyckeln fungerar tills vidare.
After fist longer trips the ignition switch began to malfunction, it just rotated freely and the lock came out. I did two actions, i purchased a starter button and fixed the lock cylinder with a tiny screw and washer from the back side. I also was thinking of installing an ignition switch but the original ignition switch is working so far.
Datum xx
Det första att ta sig an var instrumentbrädan som var ganska blekt och torr. Det hade ju naturligtvis vissa konsekvenser i att reda ut diverse kopplingar som gjorts där bakom under de senaste 40 åren. PS. jag upptäckte senare att man helst ska demontera ratten för att lättare kunna ta loss instrumentbrädan. Själva trädelen lackade jag med valnötskulör. Jag passade på att byta de flesta av glödlamporna, göra om en del skarvar samt montera ett par LED för innerbelysning. Har också haft isär mätarna och gjort rent samt putsat glasen på insidan samt lite färg på plåten
First out was the dashboard where the wood was dry and bleached. It had the consequence that I also had to resolve 40 years of rewireing. Discovered later that its advisable to remove the steering whell to fasilitate removing the dash. I painted the dash with walnut lacquer. Also change all bulbs, soldered some lousy done cable joints and fitted some LED lights beneeth the dash. While the gauges were out I took them apart and cleaned them up in an outside.
Datum xx
Det följde med en gammal Blaupunkt radio, men inga högtalare så jag köpte högtalare och gjorde nya paneler på båda sidor i fotutrymmet
There was a radio but no panels and no speakers, so I bought new speakers and fabrikated new panels.








Datum xx
Nästa objekt var att installera en elektrisk fläkt för att klara lite stillastående trafik en sommardag
Next item was installing an electric fan to be able to cope with slow traffic a warm summers day.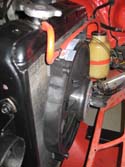 Datum xx
När jag ändå var igång så satte jag in ett brytarlöst tändningssystem.
While at it, I also installed an optic breaker and some electronics in the ignition.






Datum xx
Rengöring och kontroll av vindrutetorkarmotorn. Var tvungen att tillverka en ny ram till vänster blinker eftersom den gamla gjutna desintegrerade, det här verkar vara en av de få delar som inte finns att köpa som nytillverkad. Gjorde rent och polerade upp baklamporna samt bytte tätningar. Ena strålkastaren var i dåligt skick, fick byta båda eftersom de bara såldes som par
Cleaned up and checked the wiper motor. Had to fabricate a frame for left indicator due to the fact that the existing one was just shreds, this seems to be one of few parts that isn't manufactured. Also cleaned up rear lamps and fitted new gaskets. One of the head lamps was in a sorry state so both were changed (as they only were sold in pairs)