Kaross
Kolla även under Uppdateringar där en del finns beskrivet. Also check under Updates were some jobs are described.
2016 Aug 25
På begäran av nya ägaren skaffade och monterade jag ett bagageräcke.
On behalf of the new owner I purchased and fitted a luggage rack.





2015 Oct 12
Vänster dörrs dörrstoppslåsbygel var avbruten. Borrade ur gamla nitar och satte dit en ny med de medlevererade popnitarna.
Left doors doorstrap lock was broken. Old rivets drilled out and new lock fastened with new blind rivets.


2015 Mar 10
Bytte ut de gamla hemsnickrade dörrstropparna. Bytte bussningarna vid genomgången för vindrutetorkarna, den ena var OK men den andra gamla var trasig och väldigt skör.
Changed the old previos owners homemade door check straps. Fitted new wiper box surroundings, one of the old ones was fairly OK but the other one was broken and very brittle.



2015 Feb 07
Fixade nya tätningar till handbromsvajrarna.
Put in new grommets for hand brake wires.

2015 Jan 29
All inredning demonterad för att komma åt växellådan mm. När det är utplockat under instrumentbrädan skulle jag göra ny tätning till luckan för att komma åt växeln för vindrutetorkaren, men läckan var nog inte där. Tror att jag äntligen hittat vattenläckan, någon har borrat hål för en popnit från motorrummet och precis lyckats pricka botten för utrymmet under vindrutetorkarna(se bilden), tätade med silikon, ville inte svetsa och förstöra rostskyddet. Har satt dit ett nytt låsbart tanklock.
Stripped out all interior trim to get at gear box. When everything is out I decided to make a new seal for the inspection hatch for windscreen wiper box where I suspected a water leak. By chance I discovered that some previous owner had drilled a hole for a blind rivet through the firewall and exactly hit the bottom plate below the wiper drives (se pic.) I sealed it with silicon because I didn't want to weld and destroy the paint. Fitted a new lockable filler cap.




2014 Jun 15
Medan jag felsökte misständningsproblemen råkade jag se att ljus läckte igenom bakom bromsservot vilket förklarade våta fötter vid kraftigt regn. Tillverkade en gummipackning och tätade med silicon vilket förhoppningsvis ska hålla tätt.
While troubleshooting misfiring engine I happened to spot light shining through behind brake servo which explains why I get wet feet in heavy rains. I made a rubber seal and glued it with waterproof silicon, so now that problem should be solved.

2014 Apr 12
Nyss hemkommna dörrpaneler från John Skinner, jag primade mot fukt och sen skyddade med plastskynken mot ev regnvatten från fönstertätningen. De gamla var fuktskadade, speciellt den på förardörren. De nya ser bra ut, men stoppningen och sömmarna på de gamla såg trevligare ut.
Just arrived new door panels from John Skinner, I used a primer against water and also added a plastic sheet for rainwater protection, the old ones didn't look to good, especially the one on drivers side (note LHD car) The new panels look good, but the old ones had nicer stitching and padding (once upon a time).





2014 Mar 18
Har fixat ett par sprickor i lacken, vid höger strålkastere och vänster dörr.
Fixed a couple of cracks in the paint, one at left head lamp and at left hand door.


2014 Mar 18
Diverse småjobb, filtmatta i skuffen, kompletteringsmålning runt kanten av bakluckan så att det röda inte lyser fram i springan, en egentillverkad bälteshållare som gör det lättare att få tag på bältet, nya backspeglar (de förra hade dåliga plastfästen), rekonditionering av glidlisterna för höger sidoruta (inget skrammel denna sommar) jag använde samma filt som till skuffen vilken spraylimmades i U-kanalen.
Various little jobs like, new felt carpet in boot, painting black of rim around boot so red not will show in gap, made safety belt holder so it will be easier to get at belt, new mirrors because old ones had lousy plastic fasteners, reconditioning of side window guide rails (no rattling this summer) using the same felt as in boot and spray glued it in the U-channels.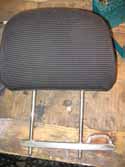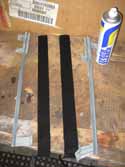 2014 feb 19
För att lättare kunna fylla på växellådsolja har jag tagit upp et hål i plastkåpan över växellådan och satt i en karossplug av gummi.
To facilitate topping up gearbox I cut a hole in the plastic cover and plugged it with a rubber plug/bung.


2014 feb 10
För att byta radioantenn var jag tvungen att plocka av vänster framskärm, det var ett bra tillfälle att kolla efter rost. Ingen rost varken iskärm eller tröskel.
To fit a new antenna I had to remove LH front wing, it was a good opportunity to check for rust. I am glad to say there was not a sign of rust in sill or in wing.


Datum Jan 14-18
Jag har tillverkat en mellanvägg i 1 mm Alu-plåt mellan kupé och bagage, det känns bättre med tanke på att bensintanken sitter precis där. Standard är den vinylklädda masonitskivan, som jag kommer att återmontera framför alu-plåten. För att få bra stöd svetsade jag dit en plåtkrage över bulan för diffklumpen. För att fästa plåten satte jag dit nitmuttrar runt om.
I've fabricated a separating "wall" between passenger area and fuel tank, which will make me feel a bit more secure as the standard is a cardboard sheet. The new "wall" made of 1 mm aluminum plate and secured with rivnuts, to make it more stable i welded a plate strip on top of the bulb above the diff. I'll finish it of by putting back the standard vinyl covered cardboard.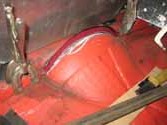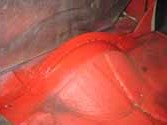 Datum Aug 13-08
När jag satte dit radion passade jag på att göra en aluminiumring rut växelspaksdamasken eftersom vinylen hade spruckit. Jag sågade ut ett hål i en bräda och fräste av kanten med handöverfräsen så det blev en bra radie. Sågade sen ut ett hål i en aluminiumplåt och knackade till plåten över hålet i brädan, klippte sen till den så det blev en lagom bred kant och sågade till en yttre radie som också frästes till radie över vilken jag sen knackade ner ytterkanten. Gjorde sen fyra försänkta hål genom vilka jag borrade hål i konsolen och skruvade fast beslaget.
When I had taken out the centre console to fit the radio, I took the opportunity to make an escutcheon out of a piece aluminum plate since the vinyl had cracked. I cut a hole in a board with a circular saw and a smaller hole in the plate. I rounded the edge with a milling tool an knocked the plate to shape with a rubber hammer. Then I made the same process with the outer edge, drilled four countersunk holes and drilled corresponding holes in the console and fastened the escutcheon.





Datum Feb 13
Kolla på sida "Uppdateringar" Feb 13 för lite nyheter
See page "Updates" Feb 13 for som news
Datum Jul 12
När man åker långt är det svårt att hitta en vilsam position för vänsterfoten. På tr-nord.de såg jag en konsol de säljer för att avhjälpa detta, men bra karl reder sig själv, så jag dök i skrotbingen och hittade lite järn- och plåtbitar och svetsade ihop en egen konstruktion. Testad och klar, fungerar bra, framförallt så får man ljusomkopplaren i en mycket bättre position, men jag kunde satt omkopplaren 1 cm närmare stödet.
When driving longer trips it's difficult to find a good position for the left foot. Surfing tr-nord.de I saw a support that remedies that. I took a dive in the junk bin and came up with some scrap metal and made my own support. It's in place and function is good, it also puts the light switch in a much better position, only thing I'd like to adjust is moving the switch about 1 cm closer to the foot rest.

Datum xx
I samband med att jag lackade instrumentbrädan och ordnade elen bakom så, så gjorde jag iordning även stödkonstruktionen bakom.
When I painted the dashboard I also freshened up the supporting structure as well.








Datum xx
Nya tätningsliser runt fönstren plus justering av styrskenor. Bytt alla låskolvar utom tändningslåset (dit ny nyckel beställdes från USA, färdigslipad). Svårast var att få dit clipsen för yttre fönstertätningslisten, jag fick göra ett litet specialverktyg. Nya greppbrädor är också monterade.
New seals around door windows, also changed all locks but ignition (purchased a ready cut key from USA). Most difficult was the clips for outer window seal, had to make a special tool. Also fitted new grips for doors.





Datum xx
En reservöppningsmekanism för huven är tillverkad av överbliven vajer från utbytt ordinarie sådan, om ordinarie skulle gå av är man i "deep shit".
Made and fitted an extra opening device for bonnet, made partly out of the old opening wire, not having this extra opening device make it extremely difficult to open the bonnet if the ordinary device breaks.



Datum xx
Lite uppfräschning av sufflettramen i form av kardborreband och tätningar. Ny inredning i bagagerummet, plus lite övriga inredningsdetaljer. Uppfräschning av pappkåpan framför kylaren. Nya backspeglar
Some small jobs on the hood, new upper door seals and Velcro strips. New interior for boot and some interior trim. New rear view mirrors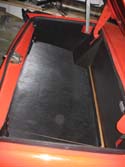 Datum xx
Lagning av en liten rostskada i vänsterdörren och nedre kanten av vänster framskärm
Fixed a couple small rust damages in left door and fender.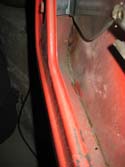 Datum xx
Stolarna byttes ut mot ett par från en Mazda Miata -97, nya fästen svetsade i golvet hellre än anpassning mot befintliga fästen.
Seats substituted for a couple of seats from a -97 Mazda Miata. Welded new supports in the floor instead of using the original ones.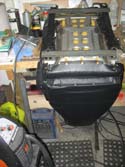 Datum xx
Datum xx
Tillverkat ett demonterbart vindskydd. Tänkte förbättra en tidigare konstruktion jag gjorde till Westfielden i plexiglas, så jag valde Lexan. Detta var nog inte så klokt då jag har gjort konstruktionen böjd, det visade sig att det jag testade på plexi vilket gick att böja i ca 100-125 grader så krävde Lexan 175-200 grader i ugnen plus värmepistol. Konstruktionen blev bra, men jag kommer nog att byta Lexanet mot Plexi längre fram
Made a detachable wind stopper. For the Westfield I made one from Plexi so I tried to bend the plexi in the oven, 100-125 deg C was OK, then I decided to use Lexan (polycarbonate) and that was a mistake because it takes 175-200 deg C to bend it and also with the help of a hot air gun. It didn't become perfect so I'll probably make a new one from Plexi next year.



















På inrådan från en annan TR6 ägare så köpte jag och monterade innerskärmar och stänkskydd eftersom jag kommer att köra en del på grusvägar. För att komma åt drevet för hastighetsmätarvajern kapade jag hål i kåpan över växellådan och gjorde en enkel täckbricka för att täta skarven. Gummikåpan runt växelspakens genomföring saknades, men är nu ersatt.
On the recommendation of a fellow TR6 owner I purchased and fitted wing protectors and mud flaps, as I'll do some driving on gravel roads. To get at the gear for the speedo cable I cut a hole in the gearbox cover. I made a simple cover to seal the joint. The boot around the gear stick was missing, now replaced.