Motor, Engine
Kolla även under Uppdateringar där en del finns beskrivet. Also check under Updates were some jobs are described.
A couple of videos on Youtube explaining the engine: The 6 digital The 4 analogue
Datum 2015 Mar 24
Ny remskiva hemkommen. För att få märkning på skivan tillverkade jag ett s.k. "TDC-stop" eller övre dödpunkt "stopp" av ett gammalt tändstift och en M10-bult som jag förlängde med en smalare M6 för att minska risken att en ventil slår i stoppet när det är iskruvat. Att man gör så här beror på att det är väldigt svårt att hitta ÖDP eftersom kolven rör sig förhållandevis lite i förhållande till vridningen av remskivan när kolven vänder. Om man däremot sticker in det tillverkade verktyget så får man stopp på kolven på först ena sidan och sen roterar man tillbaka tills det stoppar på andra sidan och gör ritsar på remskivan i resp stoppläge, tar man sen ut mittpunkten mellan ritsarna får man ÖDP perfekt. När det var bestämt kopierade jag över gradmärkena från den gamla skivan och stansade in dem. Sen var det bara att montera tillbaka, fylla på kylarvätska och starta upp.
The new pully arrived. To find TDC for TDC-marking on the blank pully, I made a TDC-stop tool from an old spark plug a M10 bolt and an extension from a M6 bolt, the thinner extension is there to minimize the risk that a valve hits the TDC-stop tool (anyhow I removed it when I turned the crankshaft). The reason for using the tool is that the piston moves very little in height in relation to the rotation of the crank/pully at TDC. Inserting the tool stops the piston on up going stroke first at one side than the other and you can then make a mark on each side of TDC and then mark exactly the midpoint between those marks and there is the TDC! That done I copied the other degree marks from the old pully, fitted everything back, filled up with coolant and started up.






Datum 2015 Mar 15
Så var det dags för uppstart efter vinterns övningar. Körde runt ett tag utan stift och med spridarna ur för att få fram bränslet till spridarna. Monterade spridare och stift och inget händer inte en enda puff. Börjar felsökning, gnista i stiften OK, Fördelaren i rätt läge, och så hittar jag felet mätenhetens rotor 180 grader fel! Plockar ihop och motorn går igång. Tar fram tändinställningslampan för att kolla och kan inte ens se märkningen fast motorn går rätt bra? Har hört att gummidämpningen i remskivan kan ge sig så jag biter i sura äpplet och demonterar (rätt mycket) för att kunna demontera remskivan och får se att gummit verkar rätt risigt så antagligen har ytterdelen vridit sig ca 30 grader, bara att köpa nytt!
Time for start up after winters maintenance. Turned the engine over without sparking plugs and the injectors out until I had good spray. Fitted injectors and sparking plugs and tried to start, absolutely nothing happens, not a single combustion! Started fault finding, sparks OK, distributor in right position, good spray, and then I find the cause... MU-rotor 180 degrees wrong. Fits everything back and the engine starts as it should. Go for timing strobe light to check timing and can't even find the timing marks even though engine runs fine. Stops and checks with a lightning bulb and finds the marks about 30 degrees off! I've heard that deteriorating rubber in crankshaft pully damper can slip so I dismantles (a lot) to get the pully out, and the rubber does really look bad, so just bite the bullet and buy a new pully.


Datum 2015 Feb 18
Fixade en liten baffel vid avluftningen i ventilkåpan så att olja inte stänker rakt in i röret. Den är skruvad, men fastsatt med självlåsande mutter på utsidan och gänglåsningsvätska, man vill ju inte att den här biten hammnar bland ventilfjädrarna. Har även förberett för start med att fylla olja och lufta spridarna
Made a small baffel in front of suction pipe so oil won't be thrown straight into the pipe. It's fastened with a screw and nut, the nut is selflocking and I also used thread fastener liquid, you don't want this piece loose among valve springs and rockers. I've also prepared for start up with filling oil and getting the air out of the injectors.


Datum 2015 Jan 28
Jobbat med lite förbättringar på bränslesystemet, först o främst har jag isolerat tryckledningen vilken går parallellt och ganska nära avgasröret viket kan ge ångbildning i bränslet och orsaka ånglås vid långsamtgående trafik. När jag skulle dra på isoleringen upptäckte jag en knäck på en slangskarv mellan ett original 8 mm och 10 mm:s rör som antagligen är av senare datum. Lödde på en bit 10 mm rör på 8 mm röret för att få bra och lika fäste för en ny armerad slangbit. Monterade slutligen dit en ny bränslepump vilket gör att jag vet att jag har en fungerande reserv i den gamla jag tog ut.
Have been working on some improvements on the fuel delivery system, mainly insulating the copper feed pipe that runs close to the exhaust system which can cause vaporization and vapour lock when driving slow in traffic congestion. When I was about to thread on the insulating sleeve I noticed a kink in a joining rubber hose, some previous owner has substituted the original 8 mm pipe with a 10 mm pipe under the car, so I soldered a piece of 10 mm copper pipe to the end of the 8 mm stump to give best possible grip for a piece of new armoured fuel hose in the joint. Also fitted a new fuel pump, which I've been carrying as spare, instead of the old one. Now I know I've a functioning spare in the old one I took out.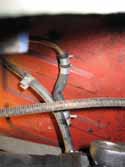 Datum 2015 Jan 22
Ny låspinne monterad i drevet till fördelaren, glappet borta. Har också vridit fram drevet en kugg så att fördelaren hammnar i korrekt läge. Bytt packboxar och andra tätningar i driften av mätenheten. Tillverkat ett rör som ska ersätta slangen som dränerar catchtanken för vevhusventilationen. Bytt termostaten mot en kallare eftersom den som satt i hade öppningstemperatur för nära temperaturen för givaren till elfläkten. Nya oljesumpen på plats, fick korta ett antal av de medskickade skruvarna eftersom de bottnade.
New locking pin in distributor drive, play all gone. Have also turned the drive one cog to get the distributor in right position. Put new seals in MU drive. Made a pipe to replace the hose that drains the catch tank for crank case ventilation. Changed thermostat to a cooler one as the old one was to close in temperature to transmitter for electric fan start. New sump in place, had to shorten some of the bolts that came with the sump as they bottomed out.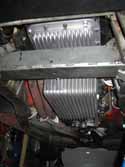 Datum 2015 Jan 22
Så är då vinterns underhållsarbeten igång. Pga. att vevaxelns axialspel ligger på max. så byter jag sk thrust bearings, köpte på mig std och första stegets övertjocklek för att ha lite att spela med. Jag använde en std halva och våtslipade ner en övertjock halva med 0,05 mm för att få rätt spel. Har också köpt på mig ett oljetråg i aluminium eftersom det gamla har blivit så trött i metallen runt bultarna att det inte går att få tätt längre. Har också plockat ur fördelaren för att få den renoverad, tog även ur drivaxeln som visar sig ha ett glapp i drevets fastsättning p axeln. Ska byta stiftet som håller drevet får vi se om det hjälper. När mätenheten är loss ska jag passa på att byta tätningarna mot fördelaren. Eftersom man måste lossa bakersta vevaxellagret för att komma åt axiallagret passade jag på att byta alla ramlagren. De var i bra skick förutom lagret längst fram där övre halvan inte verkade ha blivit bytt då den halvan var av annanat fabrikat och betydligt mera slitet.
Start of maintenance works this winter. Due to crankshaft axial play reaching max I bought two sets of thrust bearings, one oversized to have something to play with. I ended up using one std half an another that I wet sanded down by 0,05 mm to get optimum play (maybe on the tight side). I've also purchased an aluminum oil sump since the old one has gotten "tired" in the metal surrounding the bolts so it's almost impossible to get a proper seal. I've also sent of the distributor to "Distributor Doctor" to get it refurbished. When I took out the drive axis (because it's always been located one cog wrong)I noticed a play in the cogwheel so I've ordered a new pin for securing it to the axis. Following I had to take the drive out I'll also put in new sealings between MU and distributor once the MU is out. Changing the thrust bearings means you have to take out the rear main bearing so I took the opportunity to change all main bearings. They were in good condition except for the one at front were the upper half was of another make an quite worn.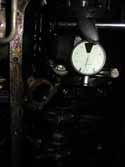 Datum 2014 Aug 19
Nu har jag fått och monterat nya banjobultar till spridare 2 och 5, samt ny stålarmerad slang före mätenheten. "Tillverkade" en låda för att kunna ha koll på spridarna så att man ser när all luft är ute ur systemet, man får mala rätt länge på startmotorn innan man har bra spray på de flesta, jag brukar lyfta upp locket och med fingrarna öppna spridarna för att snabbare få ur luften. Har bara provstartat och varmkört i garaget men allt verkar fungera som det ska
I've received and fitted the new banjo bolts for #2 and #5 injectors and the new steel armoured hose feeding the MU. I "made" a transparent box like I've seen on the TR forum, for the injectors so one can see when they start spraying, it takes quite some time running on the starter engine. I do open the injectors with the fingers a couple of times to get the air out quicker. I started the engine and been running it in the garage (raining outside) and it seems to work as it should.



Datum 2014 Aug 10
Under turen upp till årsmöte och Stockholm upptäckte jag ett problem som diskuterats friskt på TR forum. Mellan ca 1950 och 2050 rpm so hackar motorn kraftigt om jag försöker accelerera genom det varvtalsområdet speciellt på 3:an och 4:an. Bränsletillförsel, fördelare, resonansproblem har föreslagits. Jag kan undvika just de varvtalen genom att använda overdriven i och ur. Jag fick fart på loggern i enheten för att visa lambda mm så att jag kan ladda ner och visa trendkurvor, det visade sig att programmet förutsätter punkt och inte decimalkomma som avgränsare för decimaler så jag fick ställa om en gammal laptop så den använder punkt. Något lurt elektriskt är det eftersom varvtalskurvan dyker till noll vid det kritiska varvtalet. Medan jag provkörde efter att bla ökat bränsletrycket så fick jag ett annat problem, nämligen inget bränsle på spridare nr.5, jag har därför beställt nya banjobultar till spridare 2 och 5, det sitter en backventil i bulten som kan krångla. Ett av förslagen var hydraulisk resonans i slangen före mätenheten så jag byter även den vilket var på tiden ändå eftersom det fanns torrsprickor och skavsår på slangen.
During the trip to Annual meeting and Stockholm i discovered a problem that's been discussed a lot on TR forum. Between 1950 and 2050 rpm the engine "stutters" if trying to accelerate through this revs, especially on 3:d and 4:th gear. Fuel delivery, distributor and hydraulic resonance have been suggested. I can avoid these revs by flicking OD in/out. To understand more I finally got the data logger I use for monitoring lambda working collecting data, the problem was that Sweden uses comma and not point as decimal separator. I set up an old lap top to use point and now the downloaded graphs makes sense. Something is not right because the graph for rpm drops to zero at the critical rpms, signal it picked up at LT-lead of coil. While making test runs after adjusting fuel pressure and cleaning and greasing the distributor I got another problem, no spray on #5 injector. I've therefore ordered new banjo bolts for #2 and #5 injectors to eliminate that as cause (the internal non return valve are known to fail). I'll also substitute the flexible fuel hose before MU as some suggested old hoses might resonate. It was anyhow time to fit a new hose as the old one has cracks in outer rubber and also some wear marks.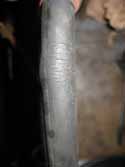 Datum 2014 Jun 11
Monterade den nya MU:n, för att komma åt var jag tvungen att ta bort gaspedal och dess axel och såg då att en av bussningarna för axeln var dålig så jag gjorde en ny av ett överblivet nylonhjul från en diskmaskinskorg. Jag var även tvungen att demontera oljekylarslangarna, slangen för vevhusventilation och den extra smörjledningen till vipparmsaxeln. Efter att ha kollat att port 6 var på väg att öppna vid cylinder 1 i TDC plockade jag ihop allt igen inklusive 6 nyrenoverade spridare. Plockade ur stiften och och tog bort spänningsmatning till tändspolen och körde startmotorn tills jag hade bensinspray från samtliga spridare. Tog sen ut bilen för provtur, OCH DEN GÅR NÄSTAN LIKA ILLA SOM FÖRUT! Efter att ha funderat så tar jag itu med mer felsökning nästa dag, byter tändstift, testar, byter tändkablar, testar, byter fördelarlock, testar, byter rotor, testar men lika illa. Tänker att den kan väl inte vara den ganska nya elektroniska tändningen Luminition optronic? Demonterar och sätter dit brytarspetsar och kondensator och NU MISSTÄNDER MOTORN INTE! Efter mer provkörning och justering av tomgång och tändning så fungerar det som det ska. Känns lite surt att ha lagt en hel del pengar på en nyrenoverad MU (utbytes) när det inte var den som var problemet. Visserligen var den över 10 år gammal och gummidetaljerna far illa av etanolinblandningen.
Fitted the new MU, to get at it I had to remove throttle pedal and axle and saw that one of the bushings was broken. I made a new on out of a nylon wheel from a dishwasher basket. I also had to remove oil cooler hoses, hose for crank vent and the oil feed for rocker shaft. After checking no 6 port was about to open at cyl 1 TDC, I put everything back together including 6 newly refurbished injectors. Took out the sparking plugs an disconnected the + feed to coil and started cranking, for some time, until I had spray on all injectors. Took out the car for a test run AND IT RAN ALMOST AS POOR AS BEFORE! After a time out, I started the following day with changing plugs, testing, changing HT leads, testing, changing dizzy cap, testing, changing rotor, testing and nothing has improved. Thinking, can't be the rather new electronic ignition Luminition optronic, can it? Taking it out and fits points and condenser and NO MISFIRING! After test run and tuning of ignition and tick over engine works as it should. Hurts a bit to have paid up for a new MU when that wasn't the problem, but the old one might have developed problems over time due to the ethanol mixture in the petrol.





Datum 2014 May 29
Tyvärr var något mer fel i insprutningen så nu kröp jag till korset och beställde en renoverad enhet inklusive dito spridare från Prestige injection. Efter att ha plockat ut MU:n så kan jag inte se något uppenbart fel, men det finns måga delar på insidan som också ska fungera perfekt. Gummidetaljerna och rotorn lär vara känsliga för oblyad bensin och etanolinblandningen lär inte göra saken bättre. Första bilden visar att port 6 är halvägs öppen vid TDC och cyl 1 i tändläge, vilket är helt rätt timing för MU:n
Unfortunately there was something more at fault in the injection system, so I decided to buy a upgraded MU including refurbished injectors from Prestige injection. After taking the MU out I can't see any obvious fault, but there are many parts inside that has to work perfectly. Details of rubber and the rotor can be damaged by unleaded petrol and the ethanol in modern petrol doesn't help either. The first picture shows port 6 half way open at TDC and no 1 cyl firing, which is correct timing for the MU so that's not the problem .
Datum 2014 May 26
Efter resan till Tjolöholm gick sista 20 milen hem på 5 cylindrar. Kollade stift, alla grå och fina, märkte också att bilen gick med väldigt högt lambda, uppåt 16-17 och ibland ändå högre så jag misstänkte en luftläcka alternativt dålig tändspole. Slutligen kom jag fram till att jag inte fick något bränsle till spridare 1. Bytte därför till en gammal spridare jag hade liggande, men inget resultat, kollade spridarna med tryckluft och de öppnade OK. Studerade verkstadshandboken och luskade ut att det sitter en backventil i utloppet från mätenheten. Skruvade ur denna och det visade sig att den läckte igenom bakåt. Beställde en ny (renoverad) från Revington på torsdag och som var hemma på måndag! Skruvade dit den med de nya packningarna och nu går motorn som den ska igen (inte). Synd bara att jag missade en jättefin vecka att åka nerkabbat.
After the trip across Sweden to a Classic Car event, last 200 km on my way home the engine started running on 5 cylinders only. Checked the plugs but all nice and grey, I also noticed that AFR was running 16-17 even 20m sometimes so I started suspecting an air leak alternatively a bad coil. Finally I discovered that I had no spray at all on injector no 1. I switched it for an old one but no result, checked with pressurized air and both injectors worked fine. After consulting TR register forum and the "Brown Bible" I noticed that there are non return valves in the MU outlets, and after taking no 1 out, I found it was leaking. Ordered a new one from Revington on Thursday an on Monday I had it in the mail. Monday afternoon it was in place and the car runs on all six (not)as it should. Pity though that the week I missed was one of the better this spring to run with top down.
Datum 2014 Mar 05
Monterat ett original avgassystem av kolstål, jag svetsade dit ett extra fäste på ljuddämparen, det känns som rören blir bättre avlastade så. Gjorde ett par kromade ändbitar av en stump kromat rör jag hade liggande.
Fitted an original carbon steel exhaust system. I welded in an extra support on the silencer, it feels like the pipes will take less load this way. I also made a couple of chromed finishers out of a piece of chromed tube I had in the scarp bin.
Datum 2014 Mar 05
Ny vattenpump och snyggare slangar runt bensinpumpen
New water pump and better looking hoses up to fuel pump
Datum 2014 feb 12
Med den nya kylaren på plats såg den gamla "luftstyrkåpan" av kartong ganska vissen ut, så jag tillverkade en ny av aluminiumplåt. Rätt nöjd med resultatet. Målade om luftfiltret när jag ändå höll på
With the new radiator in place the old cardboard air duct didn't look to good, so I made a new out of aluminum plate. I'm quite satisfied with the result. Painted the airfilter when I was "on the go"
Datum jan 14-29
Nya vevstakslager och bultar hemma. Kollade axialspelet (flera gånger)och tillåtet är mellan 0,01 och 0,02 mm, och det är 0,018 mm. Kollade även spelen i oljepumpen och alla var inom godkända toleranser. Tog ett foto av vevaxeln vid vevstake 6 och det finns lite skador, det ser värre ut på fotot än i verkligheten, övriga lagerlägen såg bra ut. Sparade de gamla lagren, 6 och 3 sämst skick. Ordentligt med tätningsgoja på oljetrågets packning innan det monterades.
New big end bearings and bolts arrived. Checked axial play in thrust bearings and it's 0,018 mm which is inside approved tolerances (0,01-0,02 mm). Also checked play in oil pump and everything within approved tolerances. Took a picture of crankshaft surface at number 6 big end, this has some grooves but not as bad as it looks at the picture, all other crankshaft (big end) surfaces are in good condition. Saved the old bearings, number 6, and for some reason number 3, are most worn. Plenty of sealing "gunk" on sump gasket before fitting back.
Datum jan 14-27
Förbereder lite motorjobb, plockade ur stiften och de ser OK ut så bränslemixen är lagom fet för en TR6 PI. Kollade ett vevstakslager med Plastigauge och spelet var nästan 0,05 mm vilket är lite för mycket, dessutom ser det ut som lagret fått lite stryk så jag beställer nya lager (standard)och bultar för vestakslagren. Under tiden fixar jag glapp i gasreglagets lagring, jag köpte nya plastbussningar av standardtyp ifjol, men det hjälpte inte eftersom det är själva axeln som är sliten och bussningens anläggningsyta är smal. jag gjorde därför egna lagerbussningar av nylonhjul från en gammal diskmaskinskorg. Nu är glappet helt borta.
Preparing some works on the motor, removing the spark plugs and they look OK showing just about right fat fuel mix for a TR6 PI. I checked a big end bearing with Plastiguage showing 0,05 mm play, a bit to much and it also looks like the bearing also got a bit of abuse so I'm ordering a set of standard bearings and a set of bolts. Meanwhile I'm fixing a play in the throttle linkage. I purchased and installed new bushes last summer but as it was the axle that was worn the play remained. I made my own bushes out of some nylon wheels from an old dishwasher basket. Now there is no play any longer.
Datum jan 14-18
Värmeregleringventilen på plats och så fick jag ersättningslocket till kylaren från Kina, nu 0,9 bar isf 1,3, det skulle egentligen vara bara 0,5 bar på -71-års modell men tydligen finns inte så låga öppningstryck längre. Tillverkade ett fäste för oljetermostaten och har anslutit alla slangar. Det blir för trångt för anslutningen den extra oljeledningen till vetillyftarna så jag har beställt en 90-graders vinkel hane/hona 1/8 NPT (inte helt lätt att hitta, men en 5-pack inkl frakt från Kina var billigare än 1 utan frakt från England!) Har också fått tätt i alla skarvar runt bränslepumpen, men var tvungen att demontera tanken 2 gånger eftersom en del ställen är svåråtkomliga. Nu ska det vara luktfritt från bensin i alla fall.
New heater valve in place, and I also got the replacement radiator cap from China, now 0,9 bar instead of the 1,3 bar cap delivered. It ought to be only 0,5 bar for a -71 TR6, but such low pressure can't be found any longer in this new dimension. Made a fastener for the oil thermostat and connected remaining hoses. With oil cooler hoses in place the extra feed line for rocker arms won't fit so I ordered and got a 90 deg male/female 1/8 NPT fitting (not so easy to find, but a 5-pack from China, £6 incl. P&P, is cheaper than just the fitting from England!). Also succeeded to get all joints in fuel system sealed, but I had to get the tank out twice since some joints around PRV (pressure release valve) are hard to get at with tools. Now it's odourless, at least from petrol.
Datum Nov 30
Har jobbat med att hitta och fixa en liten bensinläcka, väldigt liten, men luktar väldigt illa. Fick nytta av kranen jag satte dit tidigare, nu kunde jag dränera tanken genom en plugg i golvet ner i en reservdunk. Jag har ersatt den första slangstumpen som går från tanken med ett fast rör, slangen hade en tendens att få en "kink" som begränsade flödet. Läckan däremot satt i skarven mot den gamla anslutningen mot tryckregleringsventilen. Har också tillverkat fästen för och monterat oljekylaren samt gjort ett fäste för termostaten. I stället för att använda adaptern som följde med oljekylaren, avsed att placeras under oljefiltret, borrade jag hål och gängade fast två nipplar i befintlig konverteringsadapter för modernt oljefilter. Passade också på att gänga i en temperaturtransmitter.Jag ska också monter extra smörjrör till vipparmarna, enligt rekomendation på TR-forumet så har jag reducerat genomloppet genom att gänga i en plugg med 1 mm hål.
I have been trying to find and fix a tiny fuel leak, discovered the tiny leak in the inlet of the old connector for the pressure regulating valve, but still smells awful. Got use of the valve I had put in earlier, now I could drain the tank through a hole in the boot floor. I've also substituted the rubber hose from the tank with a solid pipe, the hose had a tendency to crease and restrict flow. I've also made brackets for the oil cooler and fitted the cooler. Instead of using the adapter to be used under the oil filter that came with the cooler, I drilled, tapped and plugged the "spin on adapter" and put in a couple of AN-nipples. I drilled and tapped a connection for an oil temperature sender. I also restricted the flow in the rocker feed kit as recommended on the TR-forum.
Datum Nov 20
Lite mer uppdateringsbitar, en bättre värmeventil som inte riskerar "blåsa" och ett nytt standard svart avgassystem som jag målat med avgassystemfärg (så att det håller sig snyggt på utsidan åtminstone).
Some more update parts, a better "no risk blow-off" heater valve and a new standard carbon steel exhaust, freshly painted with exhaust paint to keep it nice and shiny (at least on the outside).
Datum Nov 13
Aluminiumkylare provmonterad, passar bra förutom att slangfästet för expansionskärlet pekar åt ett annat håll än på kylaren som satt i bilen. Måste korta ner ett par M8 skruv för att fästa sidostagen, standardkylaren har UNC-pinnar stickande ut.
Aluminum radiator test fitted, fitting well except for hose connector for expansion bottle which points in another direction than the old radiator. Also will have to shorten a couple of M8 screws as the new radiator has rivnuts instead of UNC-pins for side supports.
Datum Sept 23
Snurrade runt på eBay och hittade tokbilliga aluminiumkylare från en kinesisk firma, Winner racing. I England och USA ligger priset på ca 5000 kr, här 270USD varav 80 USD är frakt. Beställde även en oljekylare inklusive adapter och slangar för 99 USD. En chansning, men prylarna ser riktigt bra ut. Montage blir när kylan kryper på och det inte är så lockande att åka nerkabbat.
Couldn't resist, bought an alu radiator and an oil cooler on eBay from China (Winner racing) less than 400 USD including p&p for both (radiator 190, oil cooler 100 incl. adaptor and hoses, p&p 80+15 USD). Got them yesterday and they look very OK. The radiator has a bit simpler design of the tanks than the ones I've seen from UK and US, but who cares at that price. I've not seen anything cheaper than £450 for the radiator alone in UK. Will fit them when the weather no longer invites driving whit top down.
Datum Sept 13
Hittade en hyfsat billig flödesmätare på en engelsk site, 37 pund från FRC . Fick den idag så jag tog en tur i det strålande höstvädret för att få upp tempen i motor och insug samt reglage. 1 tom 4 var lika medan 5 och 6 var lite snålare ställda, men med lite skruvande på länkarmen så är det nu lika flöden i alla insugen. Jag ställde in vid 2200 rpm eftersom det är där man vanligast ligger vid landsvägskörning. Fotot är taget vid tomgång.
Found a link on TR-forum to a site that sells a good priced flow meter, £ 37 from FRC . Got it today so I took a ride in the lovely autumn weather to get the right heat in motor and controls. 1 to 4 had equal flow but 5 and 6 ran a bit lean. With a bit of tuning on the link rods all flows are now equal. I made the tuning at 2200 revs, because that's where most driving takes place (4:the gear and OD), photo is taken at tick over.
Datum July 13
Inte för att det kanske behövdes, men jag hitade en billig catchtank som jag installerat för förbättrad vevhusventilation. Först flyttade jag tanken för vindrutespolningen till skärmsidan för bättre plats. Catchtanken hade ett dräneringsuttag, men tyvärr på fel sida så jag borrade upp ett 15 mm hål nära botten och gängade G3/8" (eller BSP för den som så vill) för en vanlig slangnippel med 10 mm hål. Sen tillverkades ett fäste av plattstång och vinkeljärn, satte i 2 nitmuttrar i plåten och tanken är på plats. Dränering till och förbättrad luftning av vevhus löses efter tips på TRforum med att ansluta till plåtbrickan under MU:n, jag tror att det är hålet för drivning av förgasarmodellens bränslepump. Borrade hål i den och svetsade dit en 3/8" muff och gängade i en slangnippel lika den i tanken. Drog sen avluftningen från ventilkåpan, som tidigare gick direkt till luftintaget, till den nya tanken och sen till luftintaget. Oljan ska då förhoppningsvis gå till tanken och rinna tillbaka till vevhuset isf. att förbrännas.
Not that it was absolutely needed, but I found a cheap catch tank which I installed for better ventilation. First I moved the windshield wash water tank to the fender side for better space. The catch tank had a draining hole, small and on the wrong side, so I drilled a 15 mm hole and tapped it to 3/8" BSP and fitted a hose nipple with 10 mm hole. Then I fabricated a bracket out of flat- and angel bar, drilled a couple of holes in the firewall and fitted a couple of rivnuts. As suggested on the TR register forum I drilled a hole in the blanking plate over the hole for carb. models mechanical fuel pump drive (beneath the MU) both for better ventilation a draining back oil. I welded a threaded sleeve and fitted another hose nipple just as the one in the tank. Connected the two with a hose and rerouted the existing one from valve cover via the top of the tank. Oil will now hopefully drain back to crank case instead of burning in the engine.
Datum July 13
Bilen hade när jag köpte den endast chokevajer till bränsledoseraren, den ska vara dubbel och även ha en vajer till gasspjällen. Jag lyckades till slut hitta en begagnad kam (som saknades) för påverkan av gasreglaget och har nu även köpt chokevajer. Den fanns entast för TR7, men det var bara att anpassa längden.
When I bought the car it only had a single choke wire to the MU. Now I got hold of the missing cam that actates the throttle so I purchased a new double choke wire,, this only was found for TR7 but it's just a matter of cutting it to the right length.
Datum Jan 13
Ombyggnad av bränsletillförsel, beroende på lite problem i somras. Jag har rätat ut utloppet och tagit ett nytt hål i karosssen direkt under tankens utlopp för att få en så rak och enkel matning som möjligt till bensinpumpen. Jag har satt in en avstängningskran och ett förfilter före pumpen. Bytt plats på tryckfilter och pump så att pumpen är underst för att helt säkert få tillrinning. Jag har monterat en ny tryckregleringsventil som är justerbar medan pumpen är i drift vilket inte är möjligt med originalventilen. Har också monterat en tryckgivare för inkoppling mot den nya enheten för bredbandslambdan, även en manometer finns nu lokalt så att man kan enkelt justera in trycket.
Rebuilding the fuel delivery system caused by some starvation problems last summer. I've straightened the outlet from the tank by opening a hole in the body right below the connection in the tank to get shortest possible feed to the pump. I've also fitted a pre filter and a tap before the pump. I also changed position on pump and the pressurized fuel filter to guarantee fuel feed to the pump by placing it as low as possible. I've also purchased a PRV from Revington so I can change pressure while pump is running. Along this there is now a pressure gauge to simplify tuning the pressure but also a fuel pressure emitter which will connect to the display for the wide band lambda. So in all, a lot of plumbing. Pictures show draining the tank, pre fitting the plumbing and final installation.
Datum Aug 12
Ombyggnad avgassystem föranlett av att jag tänker sätta in en bredbandslambda för att kunna ha lite koll på bränsleinsprutningen. Eftersom systemet är två separata rör, 3 cylindrar till varje, så svestade jag ihop ett X av två Y-rör så jag fick ett ställe att placera lambdasonden på som mäter alla cylindrars avgaser. På köpet fick jag faktiskt ett behagligare ljud vid högre fart (inget behov av öronproppar längre)
Rebuilding exhaust system prompted by that I intend to put in a wideband lambda, in order to keep eye on the fuel injection. Since the exhaust system is two separate tubes, 3 cylinders to each, I made an X-pipe out of two Y-pipes so I will have a place to put the lambda probe in measuring all cylinders gases. As a bonus, I was actually getting a more pleasing sound at higher speed (no need for earplugs anymore).
Datum Jul 12
Lite underhållsjobb på spridarna, allmän rengöring och byte av de små O-ringarna av Viton (FPM). (Beställda på ESSKA) Dimension 4,47x1,78mm (outside diam 8,03) 4,8x1,6 funkar också.
Did some work on the injectors, cleaning and fitting new small "Viton" (FPM) O-rings. Dimension 4,47x1,78mm (outside diam 8,03) 4,8x1,6 also works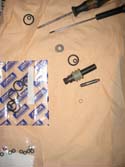 Datum xx
Inget dramatiskt med motorn, allmän rengöring, bytt länkarmar till gasspjällen, .gjort ren och fräschat upp kylaren, ny termostat och tempgivare. Jag har även bytt packboxen i kamkedjekåpan och packning i ventilkåpan. Samtliga kylvattenslangar är bytta. Under avsnittet "EL" finns lite bilder på elektrisk fläkt och brytarlös tändning
Nothing dramatic has to be done to the engine, I've just replaced throttle links, cleaned up the radiator and changed all hoses, new thermostate and temp. transmitter. I've also changed the sealing in cam chain cover and valve cover sealing. In the section "Electrical" are some pics. of new electrical fan and optical ignition breaker.
Datum xx
Föll för frestelsen att skaffa lite "bling" och köpte en ny ventilkåpa.
Couldn't resist some bling and purchased a new rocker cover.