Uppgraderingar / Updates
Datum Jan 22 2015
Att göra listan för vintern 2014-15. För detaljer kolla under respektive flik, Motor, Drivllina, El osv...
The "To do list" for winter 2014-15. For details, check under Motor, Drive train, Electrical etc....

Datum Mar 05 2014
En sats reservdelar från Rimmers, lamphållare för baklyktorna, krängningshämmarstag, främre bussningar till diffklumpen, packningssats för oljefilteradaptern, vattenpump, luftfilter, solskydd, mm.
A spare part delivery from Rimmers, bulb holders rear lights, sway bar drop links, front bushings for diff, set of gaskets for oil filter adapter, water pump, air filter, sun visors, among other things.

Datum Oct 13-20
Har börjat samla på mig inför vintern, här ett paket från Rimmer. Innehåller bla termostat för oljekylaren, nedre vevstakslager, "Rocker feed kit" för lite extra olja till vipparmarna samt lite packningar. Jag har också skaffat aluminiumplåt för att göra en bättre avskärmning mot bensintanken, standard är bara en vinylklädd masonitskiva bakom sätena.
I've started to collect some items for winter projects. Here is a delivery from Rimmer including oil cooler thermostat, Rocker feed kit, big end bearings and some gaskets that may bee needed. I've also purchased some aluminum plate to fabricate a better sealing between seats and fuel tank, standard is vinyl covered cardboard.

Datum Sep 13-24
Hastighetsmätaren har betett sig lite underligt, det verkar som ett lager har gått för den roterande magneten går emot skivan som vrider nålen. Jag skickade den till JDO Instruments i England och nu är den reparerad och tillbaka klar att monteras i bilen.
The speedo has been misbehaving, the rotating magnet is interfering with the disk that turns the needle. I sent the instrument to JDO Instruments in England and now it's repaired and back ready to go into the car.

Datum Aug 13-08
Installerat en catchtank.
Dålig drivknut i kardan medför att jag byter alla knutarna i höger drivaxel och kardanen, vänster drivaxel bytte jag förra året efter att hjullagret gick.
Passar på och installerar DRL-lampor eftersom jag märkte att under långkörning med halvjus på blir det lite väl hög belastning på en säkring.
Text och bilder finns under flikarna Drivlina respektive El och Motor.
Drivlina Motor El
Installed a catch tank.
A bad UJ in propshaft made me change all UJ:s in propshaft and right hand side driveshaft (left hand side got new drive shaft last year due to bad bearings)
Also installed DRL that work when no other lights are on, relay switch when parking light goes on.
Pictures are under chapters Driveline, Electrical and Motor.
Drivtrain Engine Electrical
Datum Mar 13-06
Det senaste är en omgjord skala för hastighetsmätaren, den förra blev fel stil jämfört med varvräknaren även om den var lik den som satt där från början. Jag har även fortsatt med att måla andra tröskeln svart, men framförallt baken som är mest utmärkande. Har även bytt de båda bakre bromsslangarna, speciellt den vänstra var besvärlig att komma åt.
Latest updates is a redone speedometer scale, the last one was just like the one it substituted but not the style of the rev counter, now it is.
I've continued painting the other sill black but most important the rear is now black as it was original. The rear brake line hoses are also new, the left one was really difficult to access.










Datum Feb 13-25
Senaste jobben, fixat el genom att sätt i LED-lampor, en ny bromsvarningskontakt samt dataloggern som bla. visar lambdavärdet, bränsletryck och varvtal. Det finns dessutom möjlighet att koppla in flera givare och även ta ut utsignaler om man skulle vilja det. Ny lite fetare greppvänligare ratt har kommit på plats. En del motorjobb för mindre oljespill och bätrre oljetryck, ny oljepump, ett nytt kraftigare tätningsblock framtill samt plant oljetråg för bättre tätning. En väldigt sliten vipparmsaxel utbytt inklusive nya vippor.
Latest jobs, fixed some electrical issues like changing to LED lamps in instruments and warning lights, new brake warning switch and also de new data logger that will show lambda value, fuel pressure and revs. It's possible to connect several other gauges and also take out signals for external use. A new a little "fatter" steering wheel is fitted to provide better grip. Some jobs has been done to the motor to ensure better oil pressure and less spillage. New oil pump, a better sealing block at front and a "planed" sump. A very worn rocker arm axle has been substituted for a new including new rockers.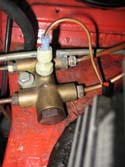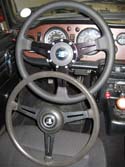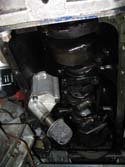 Datum Feb 13-14
Lite mer jobb gjort i vintermörkret, vissa saker är svårare än annat att komma åt tex brytaren för backlamporna. Hela inredningen måste ut så man kan få bort skyddet över växellådan, brytaren sitter nämligen uppe vid växelförarmekanismen. När jag väl kom åt brytarna upptäckte jag att det även fanns brytare för överväxel på 2:ans växel så nu är den också inkopplad. Backljuskontakten hade fått sig en törn så att den fastnat i aktiverat läge vilket förklarade varför jag hade varit tvungen att låta dessa vara oinkopplade. Nu med ny brytare fungerar det som det ska. Jag hade i höstas även köpt en ny startmotor som ska ha högre vridmoment, det tror man inte när man jämför storleken! I den nya är motorn knappt större än solenoiden. Nu visade det sig att det var nytta med att ha demonterat kåpan över växellådan, annars vet jag inte hur man skulle ha kommit åt den övre av skruvarna som håller startmotorn
Det passade också bra att montera och dra kabeln från bredbandslamdan genom ett nytt hål i växellådskåpan.
Jag har också lackat lite svart för att komma lite närmare hur originalet såg ut, bla svart på den plåt som syns genom grillen, svarta tröskellådar med en kromlist som avskiljare.
Jag har satt in en liten blindplåt i blinkersglasen fram bakom den vita linsen eftersom jag flyttat upp P-ljusen i strålkastarna och nu inte vill ha delvis vitt ljus i blinkers, jag funderade på färgade glödlampor men det fungerar inte med sockeln som är gjord för dubbla glödtrådar.
Ytterligare insats har varit att göra om skalan på hastighetsmätaren som var alldeles för optimistisk, den var tydligen för en Jaguar E-type. Jag gjorde en ny mha. CAD som jag skrev ut på laserskrivaren och behandlade sen med fixativ, en sådan lack som konstnärer använder för att fixera kol och blyertsteckningar.
I've been a bit busy and some things are a bit more difficult than others, for instance how to get to the switch for reverse lights. The whole interior has to go out so the cover for the gearbox can be taken out, the switch is on the top of the gear shift mechanism. When I had it removed I discovered that there is a switch for OD on 2nd gear as well, and now that is connected and working. The switch for reverse lights had become firmly stuck in activated position which explains why I had to disconnect the lamps. Now with new switch this is also in function. Earlier I had bought a new starter motor with higher torque which is hard to belive when you compare them, the new one is barely bigger then the solenoid! At this point it proved to be very useful not having the cover over the gearbox in place, I can't figure out how else to access the bolts/nuts holding the starter.
It was also a good moment to trace the wires from the wide band lambda through a new hole/grommet in the gearbox cover..
I've also done some paint work to bring it closer to original by painting the visible plate behind the grille black as well as the door sills with the new chrome mouldings divider.
There is now a screening plate inside the front indicator lenses behind the white area because I moved the pilot lights into the headlights and don't want the flasher to shine white. I was for a while thinking of using coloured lamps but it doesn't work with the sockets which are made for lamps with two connectors.
Finally the speedometer got a new scale, the one that came with the car was a bit optimistic as it was intended for a Jaguar E-type. I draw a new one in CAD and printed it on a laser, sprayed it with a matte transparent paint and glued it above the old one.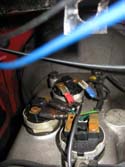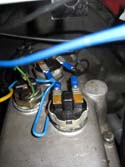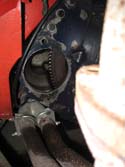 Datum Jan 13-13
Nya fjädrar och bromsslangar, jag byter ut de fjädrar som satt fram (390 lbs, svarta med vit markering) till standard (grå 312 lbs) då jag tycker att bilen är lite för stum fram för vanlig landsvägskörning. När jag ändå år i framvagnen och river så passar jag på och byter bromsslangar til stålomspunna, den ena av de befintliga var i lite dåligt skick så det var dags. Jag fick också chansen att pröva den nya leksaken, bromsluftare med tryckluftsejektor.
New front springs and brake hoses, I'm substituting the front springs that came with the car (black with white marking, 390 lbs) to standard (grey, 312 lbs) as I felt the car to bee a bit to "bouncy" in the front for road purposes. While working on front suspension I took the opportunity to fit new brake line hoses as one of the existing ones was a bit "soft". I also got the opportunity to test the new toy, vacuum brake bleeder.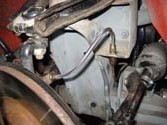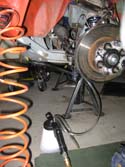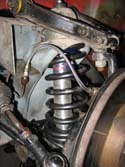 Datum Jun 12-12
Leverans från Protech. Jag var inte alls nöjd med Spax stötdämparna fram, så jag beställde ett par från Protech. Nu är de monterade och mycket följsammare än Spax-dämparna.
Delivery from Protech. I wasn't at all satisfied with the Spax shocks at front, so I ordered a pair from Protech. No they are fitted and they are much more "smooth" and easier to adjust.
Datum nov 11-20
Leverans från Rimmer.
Delivery from Rimmer.