Motorrenoveringen, Motor repair
9/10
Lyfter ur motorn, hämtar kameran, ska ta kort—ingen laddning!! Lyfter ur ändå, det sista som sitter fast är jordsladden till motorn bak på blocket.
Plockar bort insug, grenrör, generatorfäste, och några kylslangsanslutningar.
Nu åker också sista sladdhärvan som går i kardantunnels ur.
Lifts out the engine, picks up the camera- no charge! Lifts out the engine anyway, forgot to unbolt the ground wire at the rear of the engine.
Unbolts intake, exhaust, alternator brackets and cooling hoses.
10/10 2006
Skickar framstötdämparna till Falköping, inhandlar motorstativ och tvättlåda.
Plockar loss remskivor, kamremskåpor, lossar kamrem och spännrullar och kamremsdreven.
Skriver av numrering på lageröverfallen till kamaxlarna och lossar dessa, fotar kamaxelgivaren och monterar bort den. Tänker ta toppen men har inte rätt hylsa, mystisk Torx, ser ut som en torxpinne? 12 bommar 14 mm. Tar loss växellådan istället ,plus koppling och svänghjul. Bör byta lagret för ingående axel växellåda, bra placerat i svänghjulet.
Kör hem lådan på pirran.
Sends the front shocks to a guy in Falköping. Bought a motor support and a degreasing "Box". Loosens belt covers and belt, belt tensioner and belt pulleys. Marks and numbers the camshaft caps, released the crank angle sensor.
Going to undo the cylinder head bolts and can,t find a socket fitting the bolt heads. Looks like a strange Torx? Unbolts the gearbox and brings it back to the house for cleaning. Removes clutch and flywheel. Reminds myself to change the bearing in the flywheel.











Onsdag 11/10
Slog mig i går kväll att det inte är en torx, utan en tolvkantsmutter som en vanlig standard tolvkantshylsa passar på. Beställer en med lång hals hos Dahmbergs, får den imorgon eftersom de får ta den från Luna.
Lossar det som är kvar, några topplocksbultar som jag kommer åt, hastighetsmätarwiren, backspegeln.
Kör ner så mycket som möjligt till källaren.
Hit me suddenly that the bolt heads for cylinder head are 12 edge, need to order a special long 12 edged socket, I'll get it tomorrow from a specialized tool shop. Removes speedo cable, rearview mirror and brings as much as possible to the hose for cleaning up later.
Tors 12/10
Nu åker toppen av,lätt som en plätt. Ner med det skitiga eländet till block till huset för grovrengöring. Lyckas baxa ner blocket i källaren med säckkärran.
Inser att vi inte kan få ut bilen utan att sätta tillbaks hubbar och hjul även om det tar emot.
Funkar inte bak eftersom dämpare och fjäder är borta, har som tur är kvar de gamla dämparna och sätter dit dem, Miatan blir väldigt låg bak utan fjädrar, men den rullar igen.
Easy to undo the head bolts with the right socket. Brings the very dirty block back to the house for cleaning it. Realizes that I can't get the car body out of the garage without fitting the hubs and the wheels once again, even if I don't like it. Fortunately I still have the old shocks to give some support but I have no rear coils so it's going to be a reel low-rider.
Fred. 13/10
Får beställda reservdelar från IL och MX, ringar, lager, filter, lyftare, växelspaksdetaljer, repsatser för bromsarna bla. Får äntligen en handbok som visar att jag gjort hyfsat rätt, även om vissa saker kunde tagits i en annan ordning.
Monterar provisoriskt ihop tvättbalja och motorstativ.
Imorgon ska Joachim komma och hämta karossen.
Receives the spares I ordered from IL Motorsport an MXparts, piston rings, bearings, filter, brake repair kit, repair kit for gear stick. Finally receives the handbook from Amazon, learns that I did most things right, but some could have been undone easier than I did it.
Assemble the motor support and the degreasing/washing "box".
Tomorrow Joachim who bought the body will come to pick it up.
Lörd 14/10
Idag kom Joachim Osbeck från Askim och hämtade karossen. Plockade av hjul och hubbar och fraktade ner detta plus alla verktyg till källaren.
Försökte sätta fast fästet för motorstativet i växellådsflänsen, men har inte bultar som passar. Växellådans är för korta, får köpa längre i morgon på Materialmännen.
Body delivered, minus hubs and wheels. Tried to fit the block on the motor support, but need longer bolt, will purchase some tomorrow.




Sön 15/10
Lugn dag, köpte bultar och en förrådshylla. Knackat rost på diffen. Plockat bort vattenpumpen och kamremsdrevet.
Testar avrostning med batteriladdare och målarsoda, elektrod av armeringsjärn. Börjar med diffen. Slipar och borstar oljetråget, sprayar med klarlack, blev väl sådär, vet inte om jag ska behålla eller försöka annan metod?
Bought the bolts and also a shelf so I can organize all the parts. Started removing rust from differential, there is a lot of it.
Found a method to remove rust, using soda, water an steel electrodeand a battery charger, I'll start with the diff. Steelbrushes the oil pan and clearcoats it, not quiet satisfied, maybe I should have painted it instead.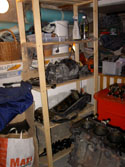 Mån 16/10
Grovrosten borta, men inte allt. Testar med en hubb från framhjulet. Fortsätter med att slipa på aluminiumet på diffens stag, Hur ska man skydda aluminum??
Most of the thick rust is gone from the diff. Testing on a front upright. Grinding off corrosion from the differentials aluminium supports. Wondering if I should protect the aluminium or not, and if so, with what?
Tis 17/10
Inget har hänt med hubben, tråden till elektroden (Järntråd) har ätits av. Gör ny elektrod av hopsvetsade armeringsjärn. Betydligt mer aktivitet i baljan.
Demonterar vevstakar efter att ha märkt dem med körnslag. Demonterar vevaxeln och drar ur kolvarna, sotar av dem med stålborstning och tar bort kolvringarna. Cylindrarna är slitna så jag honar dem. 2.ans verkar mest sliten, kanske därför den hade lägst kompression i alla fall och att det inte var en ventil som läckte. Hoppas att nya ringarna räcker utan överdimension.
Nothing happened in my corrosion solvent bath, found the cause, the wire I used for electrode had been consumed. I'll make a heavier one out of round bars. Now you can actally see activity in the solvent
Removes the crankshaft and the pistons after marking and numbering the crankshaft caps. Removes the piston rings and cleans the pistons and the grooves. The cylinders seem a bit worn so I'll grind them until I've got a nice even surface.
Ons 18/10
Mer soda i hubbadet får vi se om det ger resultat.
Stålborstat motorblocket, behandlat med "rostätare" och sen grundat med zinkprimer.
Kan inte bestämma mig om jag ska måla blocket blått eller svart?
Puts more soda in the corrosion solving bath to enhance the effect.
Uses rotating steel brush on the block and then treats it with "rust eater" and primes it.
Can't decide what colour to use, blue, black?

Torsd 19/10
Grundmålade och färdigmålade första hubben, målade blocket en gång till, ner med diffen i lutbadet igen.
Skulle ta bort första ventilen, då visar det sig at hylsan på ventilbågen är för kort!
Fram med plattjärn kaprondell och svetsen, förlängde skänklarna på hylsan ca 25 mm, sen fungerade det. Plockat ur två avgasventiler innan jag gav mig för idag.
The first upright looks nice after washing it off, primes and paints it. Painted the block with one more coat of primer. Puts the Iron end of the differential into the bath again.
Starts to loosen the first valve in the head, shows that the socket on the valve keeper removing tool is to short. Cuts the sides and lengthens them by 25 mm and it works as intended.
Removes two exhaust valves.







Fred 20/10
Sticker till Mekonomen och byter ut den blå färgen jag tänkte ha till bromsoken mot gul istället, tror det passar bättre till gul kaross. Köper också röd färg till ventilkåpan, kan nog bli snyggare än borstad aluminium, svårt att få alun jämnpolerad.
Försöker göra ren växellådan, lacknafta, citronsyra, tvättmedel, bleksalt, men helt ren blir den inte! Grundmålar hub 2.
Äntligen är diffen fri från rost, fick göra en stålborstning efter badet för att grundfärgen verkligen ska sitta. Lackar svart
Returns to the car parts dealer where I bought the paint for the calipers and changes it from blue to yellow, buys some red paint for the rocker cover, I think it will look nicer then brushed aluminium. It's very difficult to get the aluminium evenly polished.
Tries to clean up the gearbox, tries various solvents, both acid and soda but cant get it clean.
Paints another upright.
Finally got all the rust removed from the diff. Finished it off with steel brush before priming and painting, Makes it black, due to the heavy corrosion, I think aluminium colour wouldn't looked nice.


Lörd 21/10
Går på med Svinto på växellådan, men till slut blir det roterande stålborste, och nu är den skapligt ren o fin. Målar klart hub nr2 . En bakhub ger mig stora problem, får inte ur den nedre bulten för bussningarna, slår, värmer, borrar ur tills borren går åt skogen, ger upp och sänker den i rengöringsbadet får vi se vad jag kan hitta på senare?
Lugnar mig med att plocka ur ventilerna och gör ren topplocket, ser inga skador på ventilsätena, försiktig slipning räcker nog. Så jag bedrog mig, avgasventilerna är ganska angripna av pitting, inget i sätena dock.
Problem med "slippinnen", den är lite för stor för avgasventilerna, lossnar hela tiden. Inte utan att man blir lite förbannad. Två ventiler – två timmar! Monterar ventilskafttätningar, ingen anvisning i packningsatsen trots att det är två färger, chansar på grönt för insug, hittar inget i manualen.
Kl 23 slår det mig att det kanske står något på de tätningar jag köpte från IL, kollar på nätet och ja, det är skillnad. Kollar i paketet, och se där, gröna tätningar på avgassidan! Fixar det i rena ilskan innan sängdax. Hoppas bara att inte de tätningar som jag var tvungen att flytta inte blev skadade, ser dock inget för blotta ögat.
Ends up steel brushing the gearbox, looks quite nice. Finishes up the second upright. The rear hubs are really giving me problems, cant' remove the lower bolt. Uses all the tricks in the book, WD40, heating, beating and finally cuts it and starts to drill from the ends until I broke the drill bit. Started removing the rest of the valves and cleans up the head (covering the oil channel as recommended in the manual) the seats looks fine, I'll guess a light grinding will do. But no, when I start lapping the exhaust valves I discover a lot of pitting. The lapping "stick" doesn't work very well, it's got to big diameter so it slips all the time. Two valves in two hours! Starts fitting shaft seals and discovers that they are of two colours, green and black, and nothing about which is which, so I take a chance that green are for inlet. Late at night it hits me that the ones I bought separately from IL Motorsport maybe had some markings (I had later bought a complete gasket set from MX5parts and it included valve shaft seals also), and what do you know, green goes on exhaust! So quite pissed off I change all of them in the middle of the night.



Sönd 22/10
Fortsätter med ventilslipning hela dagen, avgasventilerna tar tid, men insugen desto lättare.
Att få dit knastren är en pina, men det går med en träpinne (grillspett) och en liten skruvmejsel samt segt fett. Monterar tillbaka de nya lyftarna (godbye startslammer) samt kamaxlarna, men saknar silkontätmassan som jag beställde i tisdags från ClasO. Ska vara en liten klick vid överfallen fram o bak.
Har också passat på att grunda och måla en bakaxelhubb, den andra ligger i blöt i avrostningsbadet.
Lapping valves most of the day, a lot of time spent on exhaust valves, but intake valves are a "piece of cake". Putting the keepers back in place is requires a lot of patience some sticks and a real sticky grease. Fits the new lifters and the camshafts. Need the silicon sealing compound I ordered earlier, need some for front and rear caps.
Finishes a rear upright and puts the last one in the corrosion solvent.
Mån 23/10
inget biljobb i kväll, chefsmöte på jobbet
Nothing today, late meeting at work
Tis 24/10
Upp med sista hubben ur reningsbadet, grundmålar innan jag ger mig för kvällen. Testar att lägga ett bromsok i badet.
Huvudjobbet i kväll är att montera nya kolvringar, FÖRSIKTIGT, bra tips att använda gamla bladmått för att hålla ut ringarna vid montage.
Skönt ljud när kolven glider på plats, sccchlopp.
(Utan handboken hade det säkert blivit fel.)
Cleans the last upright and primes it, next to go into the solvent are the callipers.
Main job tonight is to fit piston rings, CAREFULLY, good tip from the manual to use old feeler gauge blades to keep the rings spaced while fitting them. I had great help from the manual how to position the rings. Real nice sound when to piston goes into the cylinder (sccchlopp).






Onsd 25/10
Fick paketet från CO, så nu har jag STOR momentnyckel också.
Monterade kamaxeltätningarna efter att ha momentdragit lageröverfallen, monterade även dreven.
Oljemunstycket till 2:ans cylinder som kändes konstigt, var av i gängan. Hur kul blir det att få tag i ett sådant? (Hos Bonnjohan kanske)
Satt i nya vevaxel- och vevstakslager och dragit fast rubbbet, monterat även bakre vevaxeltätningen.
Gjort rent ett bromsok och grundmålat, målade även sista drivaxeln.
Today I got the BIG torque wrench I ordered earlier. Fitted the camshaft seals after torque tightening the caps, also fitted the pulleys. Discovered that the oil spray nozzle for no 2 cylinder was almost broken in the threads. Got to order a new one at the Mazda dealer.
Fitted the new main bearings for the rods and also for crankshaft, torque tightened and finally mounted the rear crankshaft seal.
Cleaned and primed a calliper and final paint on rear upright and driveshaft.


Lörd 28/10
Tre dagar i Värmland, köpt lite prylar på Biltema (blästersand bla). Borrade ur bulten ur bakre under hubben, äntligen loss! Nu återstår den andra, sitter lika hårt. Bussningarna däremot gick lätt som en plätt. Beställt nya bussningar, urtrampningslager och slavcylinder till kopplingen från MX5parts. Målat ett bromsok gult första lagret, färgen täcker dåligt, undrar om två lager räcker? Ett bromsok till i badet.
Been on a short vacation and took the opportunity to buy some items at car parts store.
Drilled the bolt out of rear upright lower support, one more to go. It was much easier to remove the upper bushes.
Need to order some more spare parts, upper bushes for rear uprights, clutch slave cylinder, release bearing.
Paints the first calliper, the yellow colour covers poorly, I guess I have to spray two or three times.
Sönd 29/10
Monterar vattenpump och oljepump, funderar en stund på varför kamremsdrevet sitter så långt in, tills jag hittar remskivan! Som sitter utanpå.
Upptäcker först att packningen för oljepumpen inte ingår i packningssatsen, kör med silkon istället. Får demontera igen eftersom läppen på axeltätningen krängt sig.
Ser också att jag glömt täckplåten framtill på topplocket, demontera dreven igen och sätta dit plåten.Ger mig på den andra bakhubben och borrar ur bulten, mycket lättare nu när man gjort det en gång förut.
Börjar rengöra diverse plastkåpor. Rengör generatorn, verkar ganska sliten men får hänga med ett tag till, ska testa att den ger ström dock.
Målar mera gult på bromsoken.
Mounts water pump and oil pump, fits the timing belt pulley and have to give it a second thought why it sit so high on the axis, until I realise that I need to fit the pulley for alternator as well. (Getting a little bit tired I guess).
Discovers that the gasket for the oil pump isn't included in the "complete" set of gaskets so I uses "Fluid seal". Have to take it off again because the lip of the crankshaft seal is out of position. Realises that I also forgot to fit the cover plate that goes behind the camshaft pulleys, so I have to remove them and fit the plate and fit them again.
Drills out the bolt from the second rear upright, much easier the second time.
Cleans a bunch of plastic covers. The alternator looks old and worn, but it will have to do, so I clean it up.
Paints the calliper once again



Mån 30/10
Får besked om att bilen kommer tisdag. Tar nog ledigt torsdag eller fredag.
Ringer BonnJohan ang reservdelar, de hittar inte något utan chassinummer, ringer igen när jag kom hem, de hittar inget MED chassinummer heller! Får besked om att ringa Krister imorgon.
Ger mig på att demontera bakre bromsoket, listig konstruktion där man måste skruva ur kolven, inget behov av slipning eftersom tätningen sitter i cylindern och kolven är i bra kondition. Hoppas bara att inget blev förstört när jag först försökte dra ut kolven isf att skruva ut den. Målar gult igen (och lite rött, remskivorna), den gula täcker hemskt dåligt.
Roadster tells me that the kit will arrive on Tuesday. I'll take a day off on Thursday or Friday to pick it up.
Calls the Mazda dealer about the spare parts, they say they need the manufacturing number of the Miata, found it, calls again and they can't find the parts with the number, hmm? They tell me to call tomorrow when another guy is in the shop.
Starts disassembling a rear calliper, a design I haven't seen before where you have to screw the piston out of the calliper. No need of lapping because the seal is fitted to the cylinder and not the piston, and the piston seems to be in good condition. Just hope I didn't wreck something when I tried to pull the piston out instead of unscrewing it.
Paints the calliper once again! And also some red colour on the pulleys for water pump and alternator.
Tis 31/10
Ringer Mazda igen (Krister) han hittar delarna efter 3 timmar. Bosse från Roadster ringer och säger att bilen blivit en dag försenad i transporten från Gbg.
Bestämmer mig för att hämta på torsdag, hyr täckt kärra på OKQ8 ifall det blir skitväder, troligen blir det minusgrader och därmed salt får man förmoda.
Ner i källaren.Bakbromsok 2 går lätt (nu när man vet hur, skruva,skruva på insexbulten som är gömd bakom en annan skruv), hittar dock en del rostskador på lilla styrpinnen, går kanske att polera upp. Kolven ser rätt OK ut några små pitting långt fram. Stålborstar och grundmålar.
Borstar också rent termostathuset som såg för bedrövligt ut, fortsätter av rena farten med ventilkåpan, blir rätt hyfsad, nu blir jag tveksam om jag ska måla den röd som jag tänkte.Får sova på saken.
Calls Mazda again, and they find what parts to order after 3 hours, seems that the waved spring washer for the gear shift stick was a real problem to find.
Roadster calls and there has been a days delay in transport, I decide to rent a covered trailer (in case of bad weather) and go to Stockholm on Thursday.
Back to the basement, next calliper is easy to disassemble when you know that there is a hidden allen screw behind another bolt. Finds some corrosion on the guidance pin, guess I'll buy a new one. Some small pitting on the piston that I was able to polish away.
Some more grinding and polishing on thermostat house and rocker cover. Have to give it a second thought about painting the rocker cover red.




Fortsättning följer

To be continued