Skrotning Miatan, Taking the Miata apart
Fredag 29 september
Får tillgång till garaget, flexar hem och köper 10 gipsskivor och 4 l färg, klar med "inbyggnad" på kvällen. Tar in Miatan i garaget.
Fixes up the rented garage with some walls and paint and brings in the car.



30/10
Pallar upp bilen och börjar demonteringen, först med att få loss stötdämparna bak som redan är sålda. Först loss med batteriet, sen tömmer jag bensin, motorolja, växellådsolja och diffen. Bort med hjulen, fälgarna skitiga så att det förslår. Lossar bensinpåfyllningsröret för att komma åt vänster dämpare bak.
The rear shocks are already sold so they go first after removing battery and draining all fluids. The rims are very dirty on the inside. Takes away fuel filler hose to gain access to left shock.

Gör missen att helt ta bort toppmuttern på ena dämparen varpå det är ett illhelvete att få loss den. Gör inte om misstaget med den andra.
Börjar plocka bort lite kring motorn. Först plastbaljan under motorn. Inga originalfästen här inte, listigt gömda skruvar och clips. Tömmer kylaren och sen bort med fläkt och kylare för att få lite svängrum. Expansionskärlet åker också.
Upptäcker läckage, styrservoledning som är genomrostad. Lyckas få loss en ledning och tömmer styrservon hjälpligt
Makes the mistake of taking away the top nut on one shock witch makes life no fun.
Starts dismantling plastic covers beneath motor, some tricky fasteners that didnít come from the factory. Fan and radiator goes next.
Discovers some oil leakage, itís a pipe for the power steering thatís leaking. The pipe couplings are a real pain to loosen.
1/10
Fortsätter med att demontera luftintag och luftflödesmätare, kommer ihåg att börja märka upp kablar allt eftersom de tas loss.
Continues with air intake and flow meter, labelling all cables.


Får loss servopumpen, spännanordningen rejält rostig. Får inte loss fästet från blocket för det sitter en gömd bult under en styrning för bult som agerar gångjärn för pumpen. Svårast att få loss är faktiskt hydraulledningarna.
Power steering pump is difficult to loosen, rusty nuts. Canít figure out how to loosen the bracket, there is a bolt behind the hinge!
Tänker plocka bort insuget också men det finns en gömd bult som jag inte hittar, får sitta kvar tills motorn är ur.
Tries to remove the intake manifold but there is some hidden bolt also.
Generatorn är lika motspänstig som servopumpen. När justerade någon remspänning på den här bilen??
The alternator is just as stubborn as the PS pump, whenever was the belt adjusted?
Börjar lite lätt med det elektriska. Plockar loss mittkonsolen, enkelt. Bara en sladd till askkoppsbelysningen. Tänker ta instrumentbrädan, men får inte loss ratten. Fixar en provisorisk avdragare hemma i kväll. Börjar lossa elen i motorrummet, inte så lätt att lista ut och benämna rätt vad alla kablar vid motorerna/reläerna har för funktion, får heta 1/1, 2/2 vid skarvarna.
Tar bort vindrutetorkarmotorn och hela mekanismen för torkarna.
Starting with the electrical, centre consol has just illum. for ashtray, going next for dashboard but canít loosen the steering wheel, have to make a tool for myself tonight. Aims for motor compartment instead, labelling all the cables but some I canít figure out what to call so Iíll just number them at the joints. Removing wipers, motor and the whole mechanism.
Must find a wiring diagram! Still waiting for the Mazda handbook I ordered at Amazon.
Mån 2/10
Avdragaren till ratten funkar, en avlång tjock plåt med två hål för bultar som passar mot de gängade hålen i rattekrarna. Fortsätter med instrumentbrädan, nu börjar det bli utmanande att lista ut var allt sitter fast. Får loss själva mätarkonsolen ganska enkelt. Sista skruven jag hittar sitter mitt uppe på framme vid rutan under ett täcklock. Borde släppt ner rattstången innan jag försökt dra loss instrumentbrädan. Hade jag lyckats lista ut att två skruvar dolde sig bakom mittersta luftutsläppen hade allt varit enklare. Kom på att även vajrarna för ventilationen också måste lossas innan brädan kommer loss.
Hastighetsmätarvajern lossade enkel tack vare ett snäpplås på sidan.
The homemade tool to pull of the steering wheel worked fine, just a flat bar with two drilled holes to match the threaded holes in the hub. Itís a real challenge to figure out where all fasteners for the dashboard are. I find the last screw hidden beneath a plastic cover at the centre of the dashboard close to the windscreen. I guess it would have been easier if I had dropped down the steering column before trying to pull out the dashboard. If I had figured out that two screws were hiding behind the centre air vents, everything would have been a lot easier. Also became aware that wires for ventilation levers had to be removed.
The speedo cable was very easy thanks to a snap lock.

Homemade wiring discovered, the circuit board has a broken connection to fuel meter.

Tis 3/10
Lossa kablar, börjar längst bak som förefaller enkelt, men alla dessa fästen med plastpluggar gör mig galen. Måste på något annat! Försöker ta loss bromsoken fram, går rätt bra, men skivan sitter som berget. Fram med stora avdragaren så smäller de loss.
Loosening wires starting at the rear as this seems most easy, but all those plastic fasteners make crazy. Tries something else! Begins with front callipers and it works fine, but the discs are stuck. Picks up the big puller, and bang, it pops off.



Ons 4/10
På kablarna inne i kupen, ALLT måste lossas, säten, hatthylla, fläkt och värmebatteri, isolering. Får bort rätt mycket, inklusive övre delen av rattstången. Tar även loss de bakre bromsoken. Försöker få loss bulten i undre bärarmen bak, stört omöjligt. Lossar handbromsspaken.
Trying to remove the wiring inside the car, EVERYTHING has to be removed, seats, fan, heating to get at the wires. Iím quite successful and even get the upper steering column out of the car. Remove sone rear callipers.
The outer bolt in lower rear wishbone is impossible to loosen.
Removes the handbrake lever.
Torsd. 5/10
Nu åker kabelhärvan ut. Att det kan finnas så mycket kabel i en så liten bil?
På bultarna bak igen, går inte! Kryper under och försöker lossa stagbalken mot diffen, drar med momentnyckeln så den kroknar innan ett knak hörs och de lossnar en aning.
Får också rätt enkelt loss bakre bromsoken, tack vare att jag visste att det fanns en justerskruv under en blindbult.
Rips out the entire main loom. Is it possible to have that much wiring inside such a small car?
New attempt on the bolts in the rear lower wishbones, no way! Crawls under the car with the biggest torque wrench too loosen the beam connecting gearbox and differential, it takes all my strength to loosen the bolts in the diff. The second rear calliper comes off easy now that I discovered the adjusting Allen screw hidden beneath an hex bolt.
Fred 6/10
Monterar tillbaka lite inredning så att inte så mycket ligger och skräpar. Får loss nedre delen av styrstången, mycket 556 går det åt, och genomföringen i torpeden (efter att plockat bort pedalstället).
På främre hjulupphängningen, går hyfsat, men nedre leden har en inre bult vid stötdämparfästet som inte ger sig. Det får bli försök med värme imorgon
Reassembles some panels, seats and other stuff to get it out of the way. Removes the lower steering column, with the help of lot of WD40, and the bulkhead sealing (after removing the pedals).
The front uprights come off easy, but the lower joint has a bolt in the wishbone thatís stuck. Iíll try with some heat tomorrow.

Lörd 7/10
Startar med grovrengöring av fälgarna (invändigt) försöker med målarsoda, lacknafta, limlösare, förtunning, fungerar sådär, fram med stålborsten. Ändå mycket skit kvar, -stålborstning i morgon!
Mycket kämpande med hubbarna, fram gick väl hyfsat med kulledsavdragare och gasolbrännare. Bak fick jag ge upp och ta till kapen för att få loss nedre yttre bussningarna, känns som en förlust.
Started with some coarse cleaning of the rims inside, tries soda and various strong solvents but a rotary steel brush is the only thing working. Much hard work on uprights, at front fairly easy with the help of a gas torch, but at the rear I had to give it up and cut the lower wishbone with a grinder, it felt like a defeat but you canít win them all.

Kopplade av med att ta loss styrväxeln, dränkt i olja och skit men kom loss enkelt som omväxling.
It felt relaxing to work with the steering rack after struggeling with the rear uprights, even though it was very dirty.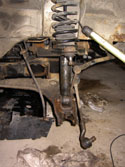 Sen var det att krypa under bak och brottas med fästena för diffen, kardanen, få loss drivaxlarna från diffen (som höll på att knäcka mig). Mutterdragaren är inte så effektiv som jag trodde, drar själv hårdare med ett 30 cm skaft. Passade på att ta bort bränslefiltret, skvalpade naturligtvis ut en dos bensin på golvet, funkade bra som oljelösare av förre hyresgästens spill på garagegolvet.
Lyckades äntligen få bort värmesköldens sista bult. Nu kom jag åt sista bulten för servopumpens fäste.
Later it was another try with the differential, the drive shafts and the prop shaft. The cheap impact wrench I had wasnít much help, I got more force with a 30 cm wrench by hand.
Removed the fuel filter and should have given it a second thought, because I drenched myself with gasoline, the good coming out of it was that it removed the old oil spillage on the floor from some earlier occupant.
Also succeeded in loosening the last bolt on the heat shield and thereby reach the last bolt for the power steering pump bracket.
Sön 8/10
Testade att stålborsta med borrmaskinen invändigt på en fälg, gick inte, fick använda en "scotch"sliptrissa och det gick hyfsat. Tror jag ska försöka med en sliptrissa med lameller. Problemet blir att komma åt inne i ekrarna. Det kanske måste lösas med sandblästring?
På bilen istället, monterade loss avgassystemet. Delade vid grenrörsskarven och kapade loss katalysatorn. Med avgasröret loss kom jag bättre åt kring diff och kardan vilka var nästa att få bort. Diffklumpens framdel är gjutjärn och mycket rostig.
Found out that a ĒScotchbriteĒ flexible disc was most efficient cleaning the inside of the rims.
Cut the exhaust system to get it out beneath the car, because the catalyst converter was welded not flanged into the piping. With the exhaust out of the way, it was much easier to remove the differential. The diff. front piece is made of iron and VERY rusty.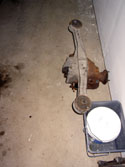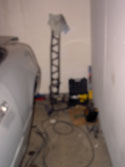 Problemet var att få loss länkbalkens fäste i diffen, en aluhylsa gick att ta loss med rörtång, men en invändig hylsa som måste slagits in med balken på plats? Med kofot gick det att bryta loss den.
Nu gick det att få bort handbromsvajrarna också, inte den mest servicevänliga placeringen precis. Kvar är nu batterikabeln som jag inte fattar om den ska dras ut bakåt eller framåt. Får se när motorn är lyft. Några kablar ansluter uppe på växellådan, inte så lätta att dela, och vad är funktionen? Kom också ihåg att lossa slangen till kopplingen och tömma vätskan.
Nu ÄNTLIGEN läge att skruva ihop något också, den nya motorlyften "Cherry picker", större än jag väntat mig, men det går nog åt då motorn sitter långt bak i Miatan.
Kopplar lyften och testar lite, går inte bra! Testar med att sätta domkraften under växellådan för att få bättre balans och där hänger motorn fritt!!! Imorgon åker den förhoppningsvis ur helt och hållet bara takhöjden i garaget räcker annars får jag väl demontera fronten också.
The biggest challenge was to separate the beam from the differential, the flanged aluminium sleeve was removed with a pipe wrench. The other long one must have been inserted through the beam and it was completely stuck so I used a prybar to break the beam loose.
Now I could access the hand brake wires, a not very intelligent location for service purposes.
Only thing left is the battery cable, canít figure out if it should be pulled out through the luggage comp. or the other way, maybe Iíll see it better when the engine I out. There are a couple of wiring connectors on top of the gearbox which are difficult to get at.
Finally I can start assembling something, the "cherry picker". It was bigger than expected, but I think itís good because the engine sits quite far back both in the Miata and the Westfield.
Straps the engine and starts lifting, no good. Need to put the jack beneath the gearbox to get better balance, and itís free!! Tomorrow Iíll lift it out completely hoping I have enough height inside the garage, otherwise Iíll remove the entire front panel.