Uppgraderingar / Updates
2011 Apr 02
Har spendertat 3 hela dagar på felsökning. Bilen vägrade starta efter att allt var återmonterat, inte ens ett klick från startmotorn, jag till och med demonterade startmotor och solenoid och testade var och en för sig utanför bilen, men ihop fungerade de inte. Det är trångt att komma åt startmotorn när allt är monterat! Till slut hittade jag vad jag gjort fel, när jag hade haft isär startmotorn för att göra rent och fixa till hade jag vänt solenoiden 180 grader (vilket jag inte trodde var möjligt, men gick alldeles utmärkt). Som visat på bilderna nedan är felvänt markerat med X, och rätt med V.
I,ve spent 3 whole days troubleshooting. The car refused to start after everything was refitted, there wasn't even a faint click from the starter motor or solenoid. I even tested them outside the car each one but together they didn't work! It's poor space gettig at the starter motor after everythig fitted. I finally found the problem, when I cleaned and painted the starter motor I had refitted the solenoid half a turn wrong (I had no idea that it was possible). For others to avoid the problem, the picture with the X is the wrong way, with V is the right way.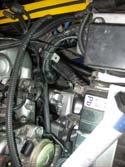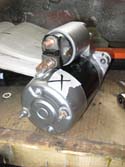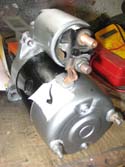 2011 Feb 19
Nu är stenskottskydden på plats liksom nya lyktorna bak. Växellåda liksom nytt lager i svänghjulet är moterat och diffen på plats. Jag har även monterat ny bromsvätskebehållare vilket medför att det blir bättre plats för röret till kompressorn. Problemet var att huvudbromscylindern var tvungen att få en gängad bussning ditsvetsad för att mha. banjobultar kunna ansluta slangar från den nya behållaren. Jag svetsade även dit katalysatorn från den gamla Miatan, har satt dit ett par extra indikatorlampor för blinkers eftersom de som sitter i instrumentpanelen skyms av ratten vilket innebär att jag ofta glömmer att slå tillbaks spaken. Att den inte går tillbaka automatiskt beror på att Westfieldens styrväxel är mer direkt än Miatans, alltså färre rattvarv och då fungerar inte returen i alla lägen.
Now the stone chip guards and the new rear lights in place. The spare gearbox and diff as well as a new spigot bearing. I also replaced the brake liquid container with a remote one. This because the interference with suction pipe for the supercharger. This caused me to weld in a couple of threaded bushings in the main brake cylinder so I could connect the hoses with banjo bolts. I fitted the catalytic converter from the old Miata when I substituted the Westfield silencer (the one that cracked). I also added a couple of indicator lights in the dash to help me remember switch of the turning indicators, the original lights in the cluster are hidden by the steering wheel and I frequently forget to turn the indicators of. (You can't hear the relay clicking in a Westfield).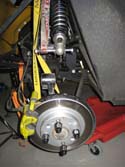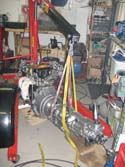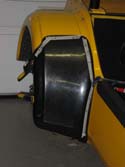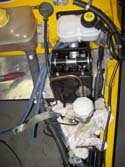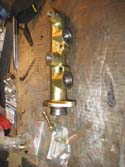 2010 Dec 27
Har varit lite slö med uppdateringar, men lite har blivit gjort under hösten. Jag har bla. skaffat en lite nyare diff och växellåda som jag gjort iordning, riktigt billigt i Tyskland, mindre än halva priset mot i Sverige. Har även en oljekylare på lut som ska klämmas in någonstans. Sen kommer lite nya dim o backljus samt nya stenskottskydd ocså att monteras.
It's been quit for a while, but some work has still been done. I bought a gearbox and a diff from a used spare part dealer in Germany, less than half the price compared to Sweden. I also bought an oil cooler, stone chip guards for the rear fenders and found a couple of round fog and reverse lights on the net. Those lights are a lot nicer than the standard ones.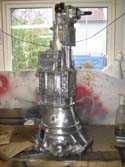 2010 Aug 10
Ett knackande ljud liknande dåliga ventillyftare började höras och jag lyckades slutligen spåra det till ett nållager i inloppsänden av kompressorn. Den demonterades och jakten på nytt lager påbörjades, det var lite special, mm på axeldiametern men 15/16" ytterdiameter och betydligt längre än vanlig standard på nållager. Jag hittade det så småningom i England (INA FC65477.1) för £10 st. Chocken var sen att 1,5 dl olja för växellådan kostade 40 euro! Men nu är nya lager ipressade och kompressorn hopmonterad igen. Jag väntar dock med att montera tillbaka den tills jag har besiktigat om ett par veckor, första ordinarie besiktningen.
A while ago I started hearing a ticking noise with cold engine (not unlike old valve lifters). After quite some troubleshooting it became clear that it was from a bearing in the supercharger, an Eaton M45. After breaking it down I found that it was one of the needle bearings in the inlet side of the rotors. At first I didn't think it would be easy to find a spares since it's mm:s on axle dia and inch outside dia and this needle bearing is also longer than standard dimensions. After some browsing on the net, it showed not to be an uncommon problem. Got the bearings from England at 10 pound each, but the real surprise was the price of the oil in the SC gearbox, 40 Euro for 150 ml! A bit cheaper in US, $30, but freight cost an astonishing $135. So for the while being I'm running without the SC, and I'm missing it a LOT. The SC is now rebuilt and waiting to get into the car again, but I'll wait until after the annual SVA which is due in a couple of weeks. Some pictures (it's the left one, you can see the discolouring)





2010 Apr 15
äntligen åtminstone 10 grader varmt ute, så det kändes lagom för årets premiärtur. Allt fungerar som det ska och mest nöjd är jag med Protechdämparna, vilken skillnad!
Finally at least 10 deg above zero, that called for the first run this year. Everything worked as it should and I´m really pleased with the Protech shocks, what a difference!

2010 Mar 20
Rör och slangar monterade, plus lite ventilationshål i huven
Pipes and hoses fitted, I also added som vents in the bonnet.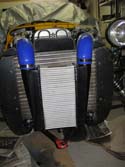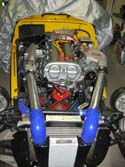 2010 Mar 09
I väntan på våren (snön ligger fortfarande djup) så skaffade jag en begagnad laddluftkylare från GIK turboteknik för att ha något att göra, inte för att jag egentligen behöver en. Demonterade kylaren, mätte in för nya fästen tillverkade, svetsade och monterade dit kylaren. Mätte och beställde rör och silikonslangar.
In wait for spring (snow still deep outside) I purchased a used intercooler to have something to keep me occupied, not that I really need an IC. Removed the radiator and fan, measured position for IC and new supports. Fabricated, welded and fitted the IC. Measured length for pipes and hoses and ordered them, so I'm close to finish it all.





2010 Jan 09
Jag har på inrådan från Frank (se schema och kommentar) gjort en bypass-operation. Ett litet delflöde leds förbi termostaten till tomgångsventilen, det ska minska risken för att bygga upp en ångkudde bakom termostaten och därmed i topplocket. Det var rätt mycket att demontera för att komma åt termostathuset.
On Franks recommendation, (see diagram and quote "Inge, make sure you always have some flow over the thermostat. I solved it by connecting the ISC (idle) valve to that capped nipple in the back. Normally, the ISC gets its feed from a nipple near the n°1 runner on the intake manifold (green arrow). Cap that nipple and run the waterline to the nipple in the back (blue arrow).") I've made a bypass-operation. There is quite a lot to disassemble before getting at the thermostat housing.






2010 Jan 06
Lite mer har hänt, stötdämparna är monterade. Kylslangarna färdigmonterade, jag fick bygga om stödet för filter och luftflödesmätaren för att få plats med termostaten på den nya platsen samt fixa en specialklamma för att hålla rören på plats. Byggt om sugledningen mot kompressorn som låg för tight mot bromsvätskebehållaren. Fiskat upp och skruvat fast flottören till tankmätaren som hade skakat loss.
A bit more has happened, new shocks are in place. Coolant reroute are all in place, I had to modify the support for AFM and filter to make room for the thermostat and make a special bracket to hold the pipes in place. Rebuilt the suction pipe in front of supercharger that was a bit to tight towards the brake fluid reservoir. Picked up the floating device for the gas tank transmitter which probably had shook loose in bumpy English roads.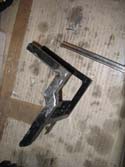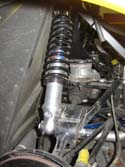 10 Dec
Jultomten kom tidigt till Oskarshamn, nya dämpare från Protech!
Santa's an early bird in Oskarshamn, got my new Protech shocks!

8 Dec
Har fått de slangbitar jag behövde för att dra om kylvattnet, målade aluminiumrören svarta för att få dem lika de jag hade tidigare. Kapat och pluggat slanganslutningen på locket som är flyttat från bakänden toppen samt kapade och svetsade returen för värmepaketet (som inte finns i Westfielden)
Got the hoses and pipes I needed for rerouting the cooling, I painted the aluminium pipes black to match the existing ones. Cut the hose connection of the lid from the back of the head and sealed it by soldering and cut and welded the return pipe from heater.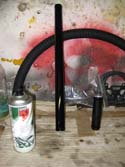 6 Dec
Jag var tvungen att byta en pinnbult i grenröret där muttern skurit. Montering ventiler, tätningar och lyftare, återmontage topp, kammar och kamrem.
I had to substitute a bolt in the downpipe flange where the nut had stuck. Assembling valves, shaft seals and lifters, head, cams and cam belt.














28 Nov
När toppen ändå var av passade jag på att bättra på med lite färg och jag kommer också att dra om kylningen så att utloppet kommer till fullo i bakänden på toppen och inte bara cirkulationen till värmebatteriet som inte finns. Vad jag läst mig till så är den modifierade cirkulationen i Miatan ett problem som inte fanns i 323:an där motorn ursprungligen fanns. I Miatans motorrum fanns helt enkelt plats att ta ut kylningen i bakänden på toppen..
With the head off I did some touch up of painting and also decided to reroute the cooling system. As the Westfield dosen't need heater I'm just going to blind theese conections off and move the thermostat to the rear end of the head.


09 Nov
Har börjat fixa lite sviter efter sommarens körning, bla. från väldigt skakiga engelska vägar. Jag började med att byta hjullager/nav höger fram och följde upp med att svetsa en sprucken bakgavel på ljuddämparen (vanligt problem med Westfields dämpare). En sak som oroade mig rejält var ett skramlande ljud från kompressorn vid vissa varvtal, det visade sig tack och lov vara ett brustet fäste, riktigt dåligt svetsat från tillverkaren. Har också börjat plocka ut stötdämpare för att mäta upp dem så att jag kan beställa ett gäng av högre klass, Protech verkar vara ett bra och prisvärt val. De fortsatta jobben är byte av ventilskafttätningar och slipning av ventilerna. När jag lyfte av toppen syntes det tydligt att cylinder 2 bränt olja och avgasventilerna var int i bästa skick där.
Starting my "winter jobs" some probably due to bumpy english roads. First job was changing a front wheel bearing. Next was easy to identify, a big crack at the rear end of the silencer, now welded. I had heard a sound that scared me a bit, it was a mechanical noise from the supercharger at certain revs, it proved to be a broken support, also now welded. I also removed a shock to measure it for ordering some updated shocks, probably Protech. The main, ongoing, job is changing valve stem seals and grinding the valves, when I took the cylinder head off I noticed that cylinder no. 2 had been burning oil and exhaust valves didn't look to good. With the head off I did some touch up of painting and also decided to reroute the cooling system. As the Westfield dosen't need heater I'm just going to blind theese conections off and move the thermostate to the rear end of the head. To be continued.....









09June06
En mix av LED-blinkers och vanliga lampor med mekaniskt relä fungerar inget vidare, reläet behöver ett visst motstånd annars blinkar det helt hysteriskt. Jag har därför monterat några kylda motstånd som fixar den saken.
A mix of LED indicators and ordinary bulbs and a mechanical relay doesn't work very good, it blinks at an hysteric rate. Therefore I've fitted some cooled resistors to correct the problem.


09Apr18
För att få plats med bagageluckan fick jag ta bort vindskyddet jag tillverkat tidigare, ur störtbågen. Jag kapade ner ramen och ersatte nätet med Plexiglas
To give space to the boot lid I had to remove the wind shield I had made earlier. I cut the old frame down to fit and glued a (Plexiglas/polycarbon?) sheet into the frame instead of the net.




09Apr11
äntligen kom bagageluckan som jag beställde i början av Januari! Passningen var inte riktigt lika bra som övriga karossdetaljer, men annars inga större problem att montera efter jag hade påmint Westfield om att det hade varit bra att få en instruktion.(Den kom faktiskt omgående per mail). Måste också fundera på någon sorts begränsning av hur mycket luckan kan öppna, vajer av något slag kanske.
Finally I got the boot lid I ordered in January!. It didn't fit quite as nice as other body parts, but I didn't have any real problems after receiving a manual from Westfield (by the way, it wasn't included in the kit, true to Westfield delivery standards). I've also have to find a solution how to prevent the boot lid from opening too much, I guess some type of wire will work.








09Apr05
Bytt blinkers runtom, lite diskretare fram och LED-lysen bak med lite snyggare fästen än Westfields släpvagnslysen. Skruvade dit en tryckmätare också.
Försökte fylla i hålen efter den gamla blikersen med gelcoat inifrån mot ett stöd på utsidan men det fyllde inte helt så nu vet jag inte om jag ska lägga mer jobb på det eller anse att det är "good enough".
Fitted new indicators all around, a bit more discrete in the front and more good looking LED:s in the rear (a lot nicer than Westfield standard). I also fitted a boost gauge.
I also tried to fill the holes after old indicators with gelcoat from the inside with a backing on the outside. It didn't fill the holes completely, so now I'm trying to figure out if it's good enough or if I'll put in a lot of extra work.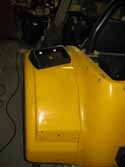 09Feb19
Jag har gjort om bakre delen av avgasröret, mycket pyssel och många skarvar. Svetsade dit en bogserögla fram.
I've modified the rear end of the exhaust system, a lot of fiddling and welding. The reason is mainly to avoid fumes sucking into drivers seat. Also made a towing possibility in front.






09Feb09
Det har inte hänt så mycket i vinter, men nu har jag lagt lite tid på att göra ett lite mer funktionellt luftintag under hålet i huven. Jag kommer nog att göra om bakre delen av avgasröret lite grann också. Har också beställt en lucka över "bagagerummet", men leveranstiden är lång.
It hasn't happened much this winter, but now I've put some time into making the air intake a bit more functional. I'm also going to modify the rear end of the exhaust system. I've also put an order for a boot lid, I think it finishes off the car a bit better, and when travelling I've got at least one small lockable compartment so I won't need to drag everything around just parking in the city.




08Aug 06
Efter bekymret med överhettning så har jag bytt till en kallare termostat, 71 grader, samt monterat tätningsplåtar runt kylaren för att styra mer luft genom kylaren
After the overheating problem I fitted a cooler thermostat, 71 deg C, and fitted some sealing plates around the radiator to guide more air through the radiator


08July 15
Har svetsat om avgassystemet igen, det blir för tröttsamt att ha utloppet precis vid vänster öra, så jag har med diverse krökar dragit det till bakänden. Jag har också passat på att fixa ett luftintag för lite kallare luft genom att göra hål i huven och skärma av med en plåt på insidan. Efter rembrott två på kompressorn tror jag att jag hittat felet, fästet för spännhjulet var inte 90 grader, troligen har det dragit sig när det svetsades, så det drev remmen bakåt hela tiden. Har efter bästa förmåga slipat för att få det så vinkelrätt som möjligt. Nästa provtur får visa om det blivit OK.
I've rewelded the exhaust system once again. I'm fed up with having it in my left ear all the time. A lot of bends was necessary to get it to a proper position at the rear. I've also fixed a cold air intake by making another hole in the bonnet and a shielding plate beneath. After a second broken supercharger belt I think I found what's wrong. The support from JR for the tension wheel wasn't straight angel, probably due to tensions from welding, so the wheel guided the belt backwards towards the engine. It should have been machined to 90 deg! As good as possible I grinded off the front surface and hopes for the best. Next trail run will show if it's OK.







08April 5
Idag provstartade jag och varmkörde bilen efter vintervilan och kompressorinstallationen. Fantastiskt kul och nästan lite snopet, startade på första försöket, sen var det bara att justera tomgång och tändning. Bifogar ljudfil och även en liten .avi
Today I started the Westfield after winter rest and SC installation. It started at once, both fun and a bit taken aback that it was so easy, only had to adjust idle and timing. Enclosed soundfile and also a small .avi
Så lät första starten med kompressorn och nya avgassysteme.
Sound of first start with SC and new exhaust
Liten filmsnutt av första starten.
Movie of first start with the JR supercharger and new exhust
08April 14
Efter att ha testat några olika utföranden och redan på idestadiet förkastat flera, så bestämde jag mig för att göra en bula av aluminiumnät, relativt enkelt och släpper samtidigt ut lite varmluft.
After rejecting som ideas and testing a few, I decided to cover the hole for the SC with a bulge of aluminium net. Quite easy to fabricate and will also help evacuating hot air.






08Mar 30
Fixade till stödramen för suffletten, den tenderar att vika sig lite i fästet mot karossen. Det blir ju ganska stor kraft av vinden på taket. Gjorde iordning nos och huv med håltagning för kompressorn, och även för vakumdosan som jag trodde skulle klara sig utan håltagning.
Fixed a strengthening bracket at the fixing point of the structure for the weather gear, it has bent a bit, I guess due to wind pressure. I've been taking the holes in the bonnet to make room for the supercharger, and also for the vacuum pot which I had hoped shouldn't been necessary.







08Mar 23-27
Har jobbat vidare med fäste för lufmassemätaren, svetsat dit fäste för spännskruv i kompressorfästet, vinklat om vakumklockan för bypasspjället, dragit diverse slangar för tomgångskontroll och vakum. Monterade "Power card" tilläggselektroniken som känner av trycket i insuget och förlänger spridarnas öppningstid, en enkel variant som inte påverkar tändförställning eller påverkas av temperatur mm. Tömde bromsvätskan och tog loss bromsvätskebehållaren, kapade av hörnet, bockade till en aluminumbit, värmde upp den och tryckte plasten mot den heta plåten för att få perfekt passning och limmade sen dit plåten med superlim(den sorten som biter på termoplast)
Been working with new bracket for AFM, welded a bracket for a tensioner bolt on the SC support, made a new bracket for the vacuum bell so I could tilt it 90 deg backwards, traced various hoses for idle control and vacuum. Fitted the "Power card" that prolongs opening time for injectors, a simple device that just works with inlet manifold pressure. Drained the brake fluid, removed the reservoir cut a corner made a piece of alu-plate and heated it, pressed the plastic against it to get perfect fit and then glued the plate to the reservoir with a superglue for thermoplastic.




















08Mar 24
Medan jag väntar på lite rörmaterial till insuget snickrade jag ihop ett nytt avgassystem. Istället för dämparen på tvären längst bak så sätter jag två efter varandra på sidan, ska bli spännande att höra hur det låter.
While waiting for pipe material for inlet to SC I'm fabricating a new exhaust system. Instead of the second silencer below and in the back of the car I'm fitting two in a row at the side, I'm a bit anxious to know what it sounds like.





08Mar 19-21
Fick kompressorkitet från Moss motors i USA i onsdags, lite av julafton att packa upp lådan. Provmonterade kompressorn och lite andra delar. Fästet för spännrullen behövde slipas till lite eftersom det tog i utloppet för vatten till värmare. Det verkar som remmen är lite för kort för det finns inte en chans att få dit spännrullen. Kollade med Peter Sandström (Miata expert), skickade även ett mail till Moss motors. Peter svarade prompt och nämnde att en del har haft problem med att kompressorföstet i toppen har brutit sönder toppen, jag hade själv också sett bilder på det på nätet. Han hade en enkel lösning på problemet med ett påsvetsat fäste och en spännskruv, så nu har jag tillverkat ett sådant. Ett problem att lösa är att det är lite trångt vid inloppet till gasspjället, tanken till huvudbromscylindern är lite i vägen, funderar på att helt enkelt kapa ett hörn på tanken. I övrigt så har jag öppnat kabelhärvan på vänster sida och dragit tillbaka kabeln till LLM (luftmassemätaren), har även förlängt kabeln till lägesgivaren för gasspjället (1,5 m). Måste tänka på att göra det hyfsat lätt att återställa till vanligt insug vid en kommande besiktning, tack och lov är det 2 år dit eftersom bilen räknas som nybil.
Got my SC kit from Moss Motors on Wednesday, just like Christmas though it's March. Trail fitted the SC and some other parts. The bracket for the tensioner needed to be grinded a bit at the bottom to give room for heating outlet pipe. The supplied belt is to short, just about an inch I guess. Spoke to a friend at the Swedish Miata forum, he recommended to make an extra support on the SC bracket because it has happened that the head has broken due to the load from the SC and belt tension. He had made a simple solution that I'll copy. Another problem to solve is that it's poor space between throttle inlet and brake master reservoir. I'll probably just cut a corner of the reservoir. Other things done are opening up the wire loom to get the connector for the AFM back to the new position and lengthening the wires for throttle position sensor. I've got to make things easy to restore to as it was when time comes for inspection .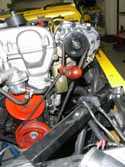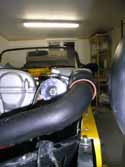 08Mar 08
Medan jag väntade på beställda prylar målade jag "skuffen" svart med Hagmans stenskottskydd. Tålig yta med friktion så att det lilla som ryms där inte halkar omkring.
While waiting for ordered parts, I painted the boot black whith stoneguard paint, rough surface stops the little things you can put there rattel around.

Har äntligen fått hem prylarna jag beställde, så motorn åkte ur inklusive växellådan. Det betydde att jag fick ta bort klädseln på tunneln vilket inte fungerade så bra pga att kardborrebanden som håller den på plats lossnade från klädseln. Därför syr jag nu fast banden i klädseln så att det fungerar bättre nästa gång den ska tas bort. Tog också ur stolarna för att täta runt infästningarna i golvet med silikon, jag märkte att det läckt in lite vatten där.
Got the parts from P5 so I pulled the motor and gearbox out of the car. To do that I had to remove the trim and the tunnel top, the Velcro strips didn't stick to the trim so they will be sewn to the trim so I won't have that problem next time. I also pulled out the seats so I can seal the holes i the floor panel with some silicone to avoid leakage.


Bytte de bakre bromsklotsarna till de nya Axxis-klotsarna, ska även byta de främre. Nya svänghjulet och kopplingen är monterade och motor och växellåda klara att lyfta in. Plockde ur instrumenten och bytte till gula instrumenttavlor, passar bättre till bilen i övrigt.
Changed rear brake pads to the new Axxis pads, front ones will also be changed. Couldn't resist a little "bling" so I took out the instrument cluster and changed to yellow dials, matches the body better. Phil didn't have a 1,6 clutch at the moment but a 1,8 and a second hand FM flywheel, so in went the new flywheel and clutch. Motor and gearbox are now ready to return into the car.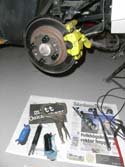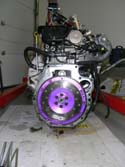 08Jan 08
Eftersom garagebygget gjorde ett stort hål i kassan så blir uppgraderingarna i år ganska blygsamma. Jag börjar lite blygsamt med ett par lite styvare fjädrar bak, 250 lbs isf 190 lbs eftersom fjädrarna bottnade i kraftigare gupp. Jag har också lagt en beställning på en koppling med lite mer bett, likaså nya bromsbelägg som ska greppa lite bättre. Kopplingen är en SPEC stage 2, och beläggen Axxis Ultimate (på rekomendation av Phil från P5)
Since building the garage made a big hole in the wallet this year upgrades will be quite moderate. I started quite modestly changing to stiffer springs at the rear, 250 lb instead of 190lb. I also put an order at P5 for a SPEC stage 2 clutch and Axxis Ultimate brake pads, which I hope will act more distinctly than the ones I have today.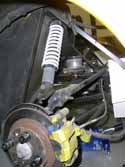 Open the boot, loosen the spring tension with a C spanner, loosen the top fastener of the shock, change spring and it's done!
2007 Sept
Eftersom jag haft en vibration i ena framhjulet vid ca 120-130 som inte verkar bero på balansering, skaffade jag nya bromsskivor fram. Det blev naturligtvis borrade skivor även om det är overkill för min slags körning, men det ser fräckare ut. Jag testade sen upp till 170 utan problem. Ordna också till vänster backspegel som inte kunnat vinklas ner tillräckligt, såvitt man inte är bortåt 2 m lång. Inuti fästet finns en fyrkantig platta som begränsar hur mycket man kan vrid backspegeln, jag fräste av hörnen med en "Dremel".
Since I've had vibrations in a front wheel around 75 mph that doesn't depend on unbalanced wheel I decided to get new rotors. I bought drilled discs, not that my driving needs it, but it got nice looks. Later I tested up to 110 mph without problems Also fixed the right hand rear view mirror that couldn't be angled down enough (unless you're 6,5 feet tall). Inside the support there is a square disc that limits the movement. I used a "Dremel" to grind of the corners.





Drömmar/Dreams
Jag har börjat fundera på ett vinterprojekt, överladdning av något slag. Efter lite preliminära efterforskningar hos Flyin Miatas Westfieldprojekt så verkar det inte finnas någon turbo som går att knöla in under huven. Likaså är det trångt för en kompressor. Dock sprang jag på en remdriven turbo som heter Rotrex som nog skulle gå att få dit. Risken är att budgeten spricker, väntar med spänning på en offert. Som en liten frestare laddade jag ner ljudet av ett dyno-test av en Sylvia Striker (liknar Westfielden) med Rotrex överladdning.
I've started thinking about a winter project, forced induction of some kind. After some preliminary contacts with Flyin Miatas Westfield project it seems that there are no turbochargers that fit beneath the bonnet. Likewise it's poor space for a supercharger, until I contacted Phil at Performance 5. He's suggested the use of a Rotrex SC (more like a belt driven turbo) that will fit. My only fear is that my budget will bust. As a teaser, I downloaded the sound of a dyno test of a Sylvia Striker with a Rotrex SC, from Youtube.
Visit Rotrex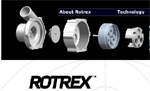 Visit Performance 5


Dyno test, Sylvia Striker