Motor, Engine
Kolla även under Uppdateringar där en del finns beskrivet. Also check under Updates were some jobs are described.
Engine specification and engine number


Datum 2020 Jul 06
Hittade en läcka i grenrörspackningen igen! Orsaken var att mittersta flänsen på grenröret inte var i plan med de andra två, värmde röret rött med gasol och bockade till rätt läge. Ska testa en annan utformning på avgasröret, men gör en skarv framför originaldämparen så att jag kan enkelt byta tillbaka.
Found a leak in the manifold gasket once again! The reason was that the mid flange was out of plane, heated the tube red-hot and bent it into position. I'm going to test another setup of exhaust, made a new joint just ahead of original silencer so it will be easy to go back it I'm not happy with the outcome.








Datum 2020 Jun 19
Kapat grenröret för att få bättre markfrigång. Hittade en läcka i grenrörspackningen. Var tvungen göra nytt hål i golvet för lambdasonden.
Did cut the exhaust manifold to get better ground clearance. Found a leak in the manifold gasket. Had to cut a new hole in the fotwell for the wideband lambda sensor.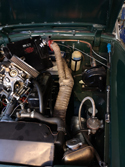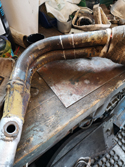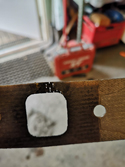 Datum 2020 Mar 21
Har varit ute och provkört några mil, bilen går bra. Det råmar ju betydligt mer från Webern än från SU, men det får man väl leva med, bilen känns piggare nu. Har bytt ut lambdasonden så nu har jag visning på instrumentet, ska bli intressant att se vad jag får för värden ute på vägen. Har bytt ner en storlek på lågfartsmunstyckena från 55 till 50 har även köpt storlek 45 eftersom det känns som det går lite fett. Ställde även upp elektroniska fördelaren några snäpp så får vi se om det gör skillnad eller om det börjar spika.
I've been out driving for about 15-20 miles, and the car runs OK. It's a lot more "throaty" sound from the Weber than the SU's, think I can live whit it as the car feels a bit quicker now. Put in a new lambda sensor, so now I got readings in the gauge, need to get out on the roads to see where I am, suspects a bit rich, so I went from 55 to 50 on the idle jets, I did buy a couple of 45 jets as well. Raised the electronic distributor a couple of notches and need to drive on the roads to check that the engine isn't pinking under load, if not I can go to even more advance.

Datum 2020 Mar 11
Monterade bort SU-förgasarna efter att bilen gått igenom besiktningen. Då kan man se de välpolerade insugen. Weberuppsättningen saknar anslutning för vevhusventilationen, så jag gjorde en röranslutning i locket till filtret. Filmsnutten är första gången motorn går med Weberförgasaren. Jag har bara två uppsättningar tomgångs- och huvudmunstycken, så jag får kanske investera i lite fler för att få motorn gå perfekt.
Removed the SU carburetors after the car passed the MOT. Now you can see the well polished inlet channels. The Weber lacks connection for crank case ventilation, so I made a pipe connection to the air filter casing. The movie is showing the first moment engine is running with the Weber carburetor. I only have two sets of jets so maybe I will need to buy some more to make the engine run perfectly.






film/movie motor med Weber
Datum 2020 Feb 29
Monterat nya flottörer och nålventiler i förgasarna.
Replaced the floats and needle valves in the carburettors.

Datum 2019 Nov 23
Skummet i filtren var helt pulvriserat så jag köpte en tvättsvamp och skar upp den i passande bitar.
The foam in the air filters was just a powder, made a subsitute out of a sponge that I sliced and cut to size.


Datum 2019 Nov 20
Monterade ihop SU-förgasarna och motorn startade direkt. Första filmsnutten är absolut första gången motorn driver runt själv, andra filmsnutten är med lite justerad tändning och sen upp till drifttemperatur (eller lite för högt om man kollar tempmätaren) har några vattenläckor vid slangklämmor som måste kollas och dras åt.
Fitted the SU carburetors and the engine started at once. First movie is the first moment engine is turning over by itself, second after adjusting the timing, later I adjusted the carburetors and ran the engine to working temperature (actually a bit hot if the gauge is showing correct, I'll check with the IR-thermometer). I have a couple of water leaks at a some hose clamps that need attention before next run of the engine.




film/movie

film/movie
Datum 2019 Nov 18
Försökte starta, men först inget alls. Ingen soppa till cylindrarna, upptäckte att flänsen mellan förgasare och grenröret inte var åtdragen. Fortfarande tänder det inte, skiftade till gamla typen fördelare som är enklare att justera, fick några tändningar men nu verkar jag få för mycket soppa, stiften blir blöta. Bränner stiften rena med gasolbrännare. Gör ren de gamla SU-förgasarna och tänker prova med dem, de borde vara enklare att justera in än Webern som har fasta munstycken.
Tried to start the engine, but nothing happened, no fuel to the cylinders. Discovered that the flange between carburetor and manifold wasn't tightened. Still, no bangs, changed to old type distributor which is easier to adjust, got some bangs, but now I seem to get too much fuel, wetting the spark plugs. Cleaned the spark plugs with a torch. Cleaning up the old SU carburetors and intend to test if they work better, at least I can adjust fuel mix easier than in the Weber that has fixed jets and I only have a couple of jets to experiment with. In case I get the engine running with the SU's I'll try later with the Weber again.






film/movie
Datum 2019 Nov 17
Fyllt på några liter bensin och startat bränslepumpen så jag kunde justera in bränsletrycket, nära start nu.
Filled a couple of litres of petrol, started the petrol pump and adjusted the fuel pressure, not long to starting the engine now.

Datum 2019 Sept 26-27
Markerat ÖD med färg och körnslag eftersom original sitter mitt under och är i stort sett omöjligt att se.
Bestämt mig för att montera oljekylaren även om jag inte kopplar in den (kanske senare, men behöver andra slangar än de som kom med kitet). Jag har gjort en mall i wellpapp och ska skära hål i skärmplåten nedanför kylaren, detta för att varm luft från oljekylaren inte ska påverka vattenkylaren.
Tagit hål för oljekylaren, bestämde mig för små konsoler isf stor plåtbricka som fastsättning, skyddar baksidan med ett nät.
Marked up an alternative TDC with paint and punch marks as original marking is quite impossible to see
Decided to fit the oil cooler even I won't connect it (yet, maybe later, but need new hoses as the ones that came with the kit doesn't work at all, too short, to stiff). I've made a cardboard template and will cut a hole in the cover below the radiator, thinking that the hot air from the cooler will be diverted from the radiator.
Cut the hole for the oil cooler, decided to fit it with four brackets instead of one big plate, also protecting the rear side with a mesh net.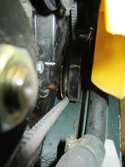 Datum 2019 Jun 04
Köpt och monterat ett filter till vevhusventilationen, original gick det antagligen till SU-förgasarnas insug.
Bought and fitted a filter on crankcase ventilation, original was probably connected to the SU-carbs intake manifold.
Datum 2019 May 23
Tänkte ge oljetrycket en chans till innan jag började plocka sönder saker, så jag fyllde olja, tog loss banjobulten till oljelededningen till filtret, skruvade i en slang tänkt för oljekylaren, detta för att få lite tryckhöjd, och pumpade i olja med en oljekanna. Blåste lite lätt med tryckluft och hörde att det bubblade i tråget, fyllde mer olja via slangen, återmonterade banjobult och ledning, drog runt motorn och olja kom ganska snart ur röret för oljetrycksmätaren. Jättenöjd med min dag!
Märkte att fjädrarna vid förgasaren inte riktigt räckte till att dra tillbaka gaspedalen, så jag monterade en extra fjäder på själva pedalen.
Decided to give the oil pump another chance before dismantling sump and other things, so I filled up with oil, removed the banjo bolt for pipe to oil filter, attached a hose meant for the oil cooler to get some positive height and pressure, filled the hose with oil and blew carefully with compressed air and could hear it bubble in the sump. Filled the hose with more oil and let it drain a bit, removed the hose and reattached the banjo bolt, turned the engine with the starter, and very soon I had oil pouring out of the line to the oil pressure gauge. Very happy with this result!
Noticed that the springs at the carburetor didn't fully pull back the throttle pedal, so I added an extra spring at the throttle pedal shaft.

Datum 2019 May 23
Monterade tillbaks avgassystem och förgasare och tänkte att nu är det dags att snurra motorn på startmotorn och få ut olja i systemet. Drog runt motorn men ingen olja kom i tryckmätarledningen, kollade att den inte var täppt, tog loss tryckregleringsventilen, även där helt torrt. Plockade loss ledningen till oljefiltret, torrt även där, försökte fylla pumpen bakvägen genom utloppet i blocket, men ingen olja pumpas. Får tömma oljetråget och ta loss för att kolla att pick-upen inte är lös eller inte når ner till oljan, kanske fel oljesticka sitter i och visar fel nivå. Är det inte det som är problemet, är det tyvärr bara att lyfta ur motorn, oljepumpen sitter bakom svänghjulet, suck.
Refitted exhaust system and carburetor and was thinking, now is the time to spin the engine on the starter to get the oil out in the system, I had manually lubricated the valve mechanism first. No problem turning the engine, but no oil came through the oil pressure gauge line, checked for blockage and found none. Checked the by-pass pressure valve, and it was dry. Loosened the oil feed pipe to the filter, also dry. Tried to prime the oil pump by filling oil through to the outlet of the engine block, no result. Need to drain the sump, and remove it to check that the dipstick shows correct level or if the pick-up is too short or loose. If that's not the problem I have to take the engine out of the body, because the oil pump sits behind the flywheel, :(

Datum 2019 May 18
Fyllt olja i motorn.
Bestämt mig för att svetsa dit en anslutning för en lambdasond, tänker så småningom motera en bredbandslambda av enklaste slag (SLC 2 Free från 14piont7.com, sond och mätartavla för 95 USD, bara en sond brukar kosta 1500-2000 kr)som hjälp för att välja munstycken i Webern. Var tvungen att ta isär avgasröret och ta loss grenröret för att komma åt att göra hål och svetsa. Nu återstår bara att skruva ihop igen.
Filled the engine with oil.
Decided to weld in a connection for a wide band lambda and will buy a SLC 2 Free (the simplest possible probe/gauge) from 14point7.com, only USD 95. It will be a great help when choosing jets for the Weber. I had to take apart the exhaust system and exhaust manifold, so I could drill (and grind, because the step drill was too long to drill a hole big enough) the hole for the weld in connection. Now welded and exhaust system waiting to be fitted together again.





Datum 2019 May 10
Anslutit vakumledning för fördelare till insuget. Gott om 4 mm nylonslang, minkvantitet vid köp var 20 m.
Försökte hitta markeringen för TDC med en lite webbkamera, men tom den är för klumpig för att se mellan oljetråget, ramen och remskivan.
Nya munstycken till acc-munstycken och huvudmunstycke, de som följde med var betydligt mindre än den rekommendation jag läst om. Uppsättningen är nu:
Venturi 36
Main 165 (earlier 135)
Air corr 175
Em tube F2
Pump jet 50 (earlier 40)
Idle 55F9
Aux vent ?
Connected vacuum hose for distributor to inlet manifold. Now I have plenty of 4 mm nylon hose, minimum quantity to buy was 20 m.
Tried to find the marking for TDC on the pulley with a small webcam, but even that one was to clumsy to get a view between sump, frame and pulley.
Fitted new size of jets for pump- and main jets, those who came with the carburetor was to small according to the recommendations I've read. The setup is as above in Swedish text.



Datum 2019 May 01
Anslutit vakumledning för servot till insuget. Måste nu hitta 4 mm nylonslang för anslutning av vakum till fördelaren.
Connected vacuum hose for power brake to inlet manifold. Now I have to find 4 mm nylon hose for vacuum to distributor.

Datum 2019 Apr 30
Efter att ha gjort djupdykning i skruvförrådet hittade jag långa 1/4" skruvar till fläkten. Borrade och gängade (G 1/8) i utloppet på filterhuset för manometer så att bränsletrycket kan ställas in. Monterade tryckledningen till oljetrycksmätaren. Tillverkade en 110 mm lång bult för bakre generatorfästet och monterade generatorn, mätt upp utvändigt mått remskivorna och beställt en XPZ 847 kilrem, återstår att se om jag mätt och räknat rätt. Satte täckplåtar över hålen för genomföringarna av oljekylarens ledningar.
After a dive in the nut and bolt storage I found long enough 1/4" screws for the fan. Drilled and tapped (G 1/8) in the filter outlet for a pressure gauge, so I can adjust the fuel pressure. Fitted the pressure hose/tube for the oil pressure gauge. Made a 110 mm long 8mm bolt for the rear alternator bracket and fitted the alternator. Measured the outside around the pulleys and ordered a XPZ 847 belt, hoping I measured and made the calculus correct. Welded a couple of plates over the holes for the oil cooler pipes.






Datum 2019 Apr 29
Var till en lokal hydraulikverkstad och fick tillverkat en 60 cm lång slang isf den 30 cm slang som fanns i montagesatsen. Det fick bli en slang utan den tjusiga yttre rostfria armeringen/slitskyddet. Försökte och försökte hitta en bra plats för termostaten, testade med alternativ placering av oljekylaren men det blir inte bra så jag ger upp och struntar i oljekylare. Huvudsakliga problemet är att de rostfriklädda slangarna är väldigt styva samt att det blir väldigt trångt runt startmotor, generator, fördelare och styrstång. Gör om fästet för elfläkten så att den kommer så nära ordinarie kylaren som möjligt för bästa effekt, gör ett fäste som använder fästena tänkta för oljekylaren. Måste rätta till ett problem till, bromsservot ör ca 5 mm för nära luftfiltret för att det ska gå att montera/demontera, gör om bakre fästet till servot.
A local hydraulics work shop made me an 600 mm long hose instead of the 300 mm long supplied in the kit, it's without the fancy stainless steel braiding though. Tried and tried to find a god spot for the oil cooler thermostat, even tested an alterative placing of the cooler but one thing is that the braided hoses are very stiff and the other is that it becomes very crowded around starter, distributor, alternator and steering column, so I'll skip the oil cooler. I made a new support for the electric fan bringing it as close as possible to the radiator for best effect, using the supports intended for the oil cooler. Also needed to modify the support for the power brake as its fouling the air filter making it impossible to change the air filter.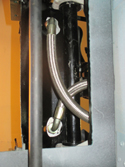 Datum 2019 Apr 26
Monterat avgasröret, som tur var hade jag rörexpander så jag kunde anpassa utloppet av grenröret till rätt passning.
Exhaust system in place, fortunately I had a set of tube expanders, so I could make the joint between manifold and exhaust pipe fit.


Datum 2019 Apr 25
Tillverkat och monterat fästen för avgasröret, gjort en knäck på rakröret för att få rätt vinkel mot grenröret.
Made and fitted supports for the exhaust system, made a little "bend" on the straight tube to make it fit against the exhaust manifold.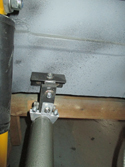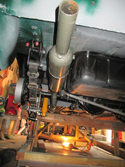 Datum 2019 Apr 18
Monterat grenröret, lite trångt, var tvungen demontera värmebatteriet innan jag lyckades krångla ner grenröret. Monterat hastighetsmätarvajern och kopplat in backljuskontakten. Plockat fram avgasröret och förberett för montage.
Fitted the exhaust manifold, it was so tight space so I had to remove the heater before I was able to wrestle it in place. Fitted speedo cable and connected the reversing light switch. Fetched the exhaust pipe and silencers preparing to fit them.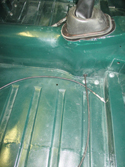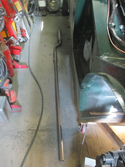 Datum 2019 Mar 22
Lindade det nya grenröret med avgasbandage.
Wrapped the new exhaust manifold with bandage.



Datum 2019 Mar 01-02
Bockat till ledningen från tank till pump, tillverkat rörclips av upphängningsklammer för kopparrör till vattenledningar. Fäst broms och bränsleledning samt tillverkat ett stöd för bränslefiltret.
Bent and fitted the line from tank to pump, made P-clips from hangers for copper water/heating pipes. Fixed brake and fuel lines and made a bracket for the fuel filter.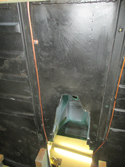 Datum 2019 Feb 21-22
Monterat bränslepump och tank så att jag kan dra bränsleledningen. Gjorde ett nytt fästjärn för den nya pumpen som passar på den gamla pumpens fästen.
Renoverat tryckregulatorn med nytt membran, nytt filter och tätningar i filterdelen.
Fitted the fuel pump and the fuel tank, so I'll know how to trace the fuel line. Made a new bracket for the new fuel pump that fit on the old pumps screws that are welded to the body.
Renewed the Filter King fuel pressure regulator with new diaphragm and new filter cartridge and seals in the filter part.



Datum 2019 Feb 05
Rengjort och polerat upp plastfläkten.
Cleaned up and polished the plastic cooling fan.


Datum 2019 Jan 19
Bytte ut samtlliga pinnskruvarna för grenrör och insug och flera av muttrarna eftersom gängorna var skadade på flera av skruvarna.
Fitted new screws and most of the nuts for exhaust and intake manifold as severel screws had damaged threads.

Datum 2019 Jan 03
Lyfte ur motor och växellåda efter inpasssning av växellådsfästen mm. så att jag kan börja slipa/borsta bort rost före grundmålning.
Removed engine and gearbox after adapting and drilling holes for new gearbox mounting among other things, so now all is prepared for grinding and steelbrushing body before painting.

Datum 2018 Dec 18
När jag skulle provmontera motor och växellåda insåg jag att det måste finnas en mellanbit mellan ram och gummidämparen. Kollade online hos Moss hur de skulle se ut och gjorde sen en djupdykning i lådorna med delar. Ett av dem behövde repareras och ja svetsade in en ny plåtbit och borrade och slipade upp nya bulthål innan de målades.
When attempting test fit of the engine I realized there should exist a support between rubber damper and chassis. Checked online at Moss what it should look like at made a dive in the boxes. Found them an realized that one needed a bit of repair, I welded in a new piece of metal, drilled and filed out the holes for bolts before painting them.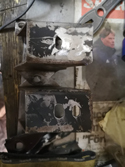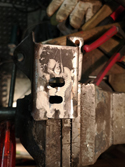 Datum 2018 Dec 13
Tagit av maskeringen och monterat tillbaka en del detaljer. Eftersom bilen kom med en helt ny oljekylare kunde jag få användning för en adapter, från ett tidigare projekt, så man kan ansluta slangarna till oljekylaren vid oljefiltret
Refitting some parts to the engine. As the car came with a brand new oil cooler I was lucky to have an adapter leftover from an earlier build, fitted it beneth the oilfilter.



Datum 2018 Dec 12
Första riktiga jobbet blir att göra iordning motor och växellåda så att jag kan provmontera och anpassa karossen för nytt växellådsfäste och ev urtag i innerskärmen för Webern innan jag börjar med själva karossen och grundmålningen av den. Slipade rent blocket och målade med svart motorfärg.
First real job is to finish the engine and gearbox so they can be test fitted and the body adopted to the new gearbox, maybe I'll also need to make a cut out in the inner wing for the Weber. After that I can start cleaning up the main body and prep it for primer and paint. I ground the engine clean and painted it black with engine paint.