El
Kolla även under Uppdateringar där en del finns beskrivet. Also check under Updates were some jobs are described.
Modifierat kopplingsschema / Modified wiring diagram

Datum 2018 Nov 20
Fick tillbaka en renoverad originalföördelare från Distributor Doctor, de var tvungna att byta motvikterna, axelhålen var alldeles ovala.
Got my (original spare) refurbished distributor back from Distributor Doctor, the advance weights had to be substituted, tha axle holes were quite oval.


Datum 2018 Apr 26
Gjort iordning en reservfördelare, isf att ta med rotor, kondensor, brytare, fördelarlock, blev det inte mycket dyrare att köpa en komplett från Accuspark, visserligen en motsvarande Lucas 25D, men flyttar man tändkablarna ett steg moturs och vrider fördelaren max medurs funkar det hjälpligt. Rätt fördelare är Lucas DM24P Man kan naturligtvis köpa en elektronisk från 123 Ignition, men då pratar vi 3000 kronor.
Prepared a spare distributor instead of bringing rotor, condensator, points and distributor cap. It wasn't much more expensive buying the equivalent of a Lucas 25D from Accuspark. It works OK if you move the ignition cables one step counter CW and turns the distributor max advanced. Accurate distributor would be Lucas DM24P. I could of course bought an electronic from 123 Ignition, but then the cost would be 250 pounds.

Datum 2018 Apr 11
Gjort klar larminstallationen, den för ordentligt med väsen.
Finished the DIY alarm, it makes a terrible noise.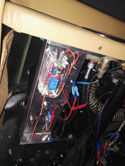 Datum 2018 Mar 14
Köpte NOS borstar och fjäder till vindrtetorkarmotorn på Ebay, hade en tillfällig lösning med en gummisnodd för att hålla borstarna på plats. Den nya armarna hade bredare fästen men kolen var lika stora så jag plockade över kolen till de gamla armarna, fjäder och isolatorer också ditpillade.
Bought NOS brushes and spring for windscreen wiper motor on Ebay, the temporary solution with a rubber band joining the brushes had to go. The new arms for the brushes had a wider "hinge" but fortunately the carbon bits fitted in the old arms, so now the brushes are renewed and joined with isolators and new spring.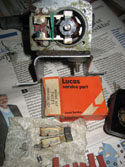 Datum 2018 Feb 05
Har börjat tillverka ett enkelt larm gjort av ett fördröjningsrelä, en brytare, en blinkdiod och en siren kopplat till dörrkontakternan när sirenen ljudit 10 sekunder växlar reläet och släpper ett annat relä som bryter all ström. Inget för att hålla seriösa tjuvar borta (till det har jag en "Mega" rattkrycka), men det kommer i alla fall att ge ett skrämskott.
Started making an alarm (sort of) made from a delay relay a blinking diod a switch and a siren (not home yet) which I wired to door switches, after 10 seconds the siren stops when the relay switches and makes another relay drop and cut all current. Not to keep the professional thieves out, but will cause an initial scare. For additional security I have an " Megalock" steering wheel lock (Insurace company demands it)

Youtubeklipp

Datum 2018 Jan 17
Monterade in en säkringshållare för dioden i kabeln från laddningslampan till generatorn.
Connected the diod stucked into a fuse holder.

Datum 2017 Oct 27
Fick hem diod att placera i magnetiseringskabeln till generatorn för att kunna stänga av motorn med tändningsnyckeln. Som det är nu så kommer tillräcklig ström andra vägen via laddningslampan för att hålla huvudreläet och därmed ge ström till tändningen. Som det är nu får jag stanna motorn med den dolda strömbrytaren i kabeln till tändspolen. Att det fungerar så här bekräftade jag genom att plocka ur laddningslampan ur hållaren och då går det att stänga av motorn med nyckeln.
Got delivered a diod to place in an inline fuse holder into the secondary alternator wire. Explained by Alan at the TR Register forum, as follows. To verify I removed the lamp and it's possible to turn of the engine with the ignition key.
The problem is the Alternator Warning lamp circuit. When you turn the ignition on the white wires on the ignition switch are fed with 12 volts via the switch and the coil & pump relays operate. The 12 volts also feeds the alternator warning bulb which is earthed through the alternator coils and the lamp lights. Once the engine is running and the alternator is charging the earth within the alternator coils begins to show a voltage and the lamp begins to dim as the voltage equalises on both sides of the lamp. Eventually the voltage on both sides of the lamp is equal and the warning lamp goes out. When you turn the ignition key off the alternator is still producing a voltage (it is still spinning) which flows back through the lamp into the white wires on the ignition key. Under "normal" operations the current passing back through the lamp is insufficient to power the coil and fuel pump and they cease to work and the engine dies. However you have fitted relays and removed the load from the white wires and I suspect that the current flowing back through the lamp is sufficient to hold the relay coils energised and keep the coil and pump operating.

Datum 2017 Oct 01
Lite mellanspel med omkoppling el. Flyttade vindrutespolningen till tryckknappen på rattspaken och flttade signalhornet från den knappen till signalknappen i rattcentrum (nya kablar dragna genom rattstången). På den lediga platsen för vindrutespolningen satte jag en brytare med LED-lampa för varselljusen.
A little in between electric modifications. Moved horn push from the stalk push button to a push button in steering wheel and moved wind screen washer to the stalk, the free space after wind screen washer is now occupied by a switch with LED-lamp for DRL.



Datum 2017 Sept 20
Fick hem en ny bränslemätare, tog glas och kromring från den gamla Jaegermätaren så att den blir lika de övriga. Kopplade in den via 10V-matningen till tempmätaren, tyvärr så visade den fullt när tanken var tom så jag modifierade en unversalgivare jag hade liggande genom att vända motståndet 180 grader, var tvungen att göra en adapterplatta också för att få den att passa mot tanken.
Got the new fuel gauge and robbed the domed glass and chrome bezel from the old Jaeger gage to make the new one look like the other gauges. Connected it to the 10 V feed just as the temp gauge, but unfortunately it showed full when tank was almost empty so I modified a spare universal sender by flipping the resistance 180 degrees, also had to make an adapter plate to make it fit to the tank.



Datum 2017 Aug 09
Monterade ett par LED dagsljuslampor på stötfångaren, stör inte så mycket och är lätta att ta bort om jag (eller någon annan) tycker det stör på en gammal bil. De vanliga strålkastarna har ju den gamla typen av glödlampor så de drar rätt mycket ström om man kör med dem jämt på.
Fitted a pair of LED DRL:s on the bumper irons, doesn't look to bad, and if I (or someone else) doesn't like the look of it on an old car they are easy to get rid off. The standard head light lamps are the old bulb type an consume a fair bit of energy when you are supposed to run with lights on all the time.

Datum 2017 Jul 24
Var tvungen att modifiera defrostermunstyckena för att slangarna skulle gå fritt bakom ratten och bakom handskfacket.
Har tillverkat ny koppling för blinkerslampan där strömmen tas från utgående kablar till blinkers via en likriktare dels för att jag då kan använda en LED-lampa och för att det elektroniska blinkreläet inte har någon utgång för indikeringslampan (tack Bob för tipset). Gjorde även en varningssummer för att inte glömma belysningen på, den är kopplad över ett växlande relä som släpper om tändningen slås av och då får summern sin ström från hel/halvljus matningen.
Had to modify ventilation nozzles to make room for hoses behind steering wheel and behind glove box.
Made new wiring to flasher indicator taking current from outgoing wires to flasher lamps, RH and LH, due to that the electronic flasher relay doesn't have any connection for the indicator lamp (thank you Bob for the tip) and now feeding the lamp over an rectifier so I can use a LED lamp as indicator. Also fitted a buzzer to warn if light is left on when ignition is off. The ignition feed holds the relay so the buzzer is left without current, when ignition is turned of the relay switches to a feed from main light so if light is on the buzzer sounds.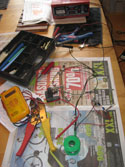 Datum 2017 Jul 22
Nästan klar med elutcheckningen, har bra den sent tillkommna varselljusbelysningen kvar. Har även dragit runt motorn med startmotorn. Bara en bränd säkring pga av en strömförande kabel som inte var ordentligt fastskruvad utan jordade när den släppte, kan inte vara annat än nöjd! Det enda som tog lite tid att reda ut var att blinkers var kopplade i kors och en anslutning i ena bakre blinkers inte hade riktigt bra kontakt. LED-lamporna i bakljusen lyser verkligen skarpt som syns i videon nedan.
Almost finished checking out electrics, only the late addition of DRL left. I've also turned the engine over with the starter for the first time. Only one fuse was burned during checking due to a live wire not screwed tight came loose and grounded, must say I'm very happy. Only thing that took some time to sort was flashers working in diagonal and bad contact in one of the rear flashers. The LEDs in the rear flashers really shines as seen in the video below.


Youtubeklipp

Datum 2017 Jul 20
Så var det då dags att börja väcka liv i bilen, sista rycket är instrumenten och brytarna, fick också för mig att använda reservreläet till varselljus så bara för testets skull ligger en överbliven diodlampa framför grillen.
Med hjärtat i halsgropen får väl medges så kopplade jag in batteriet och vred om säkerhetsbrytaren och ingen rök eller smälta säkringar. Första testet blev P-ljus och instrumentbelysning, vänster P-ljus fram lyser väldidgt starkt så där är nog kablarna skiftade, troligen samma sak vänster bak. Hel och halvljus inkl. ljustuta fungerar som det ska från den nya spaken. Nästa övnig blir att ta säkring för säkring i den nya säkringsdosan.
After finishing wiring the instruments and the switches it's time to wake the car up, did one final job using the spare relay to install DRL, just for testing there is a diod lamp hanging in front of the grill.
With the heart thumping I connected the battery and flicked the safety switch and no burnt main fuses or smoke anywhere. Started checking side lamps and panel light, seems front side lamp is to strong, probably need to switch the leads. Main lamps, dip switch and flash in the new stalk works. Next I'll test fuse by fuse functions wired over the new fuse box.




Datum 2017 Jul 11
Monterat hastighetsmätare och varvräknare, satte även dit ratten, mycket jobb med att rensa den gamla gängan för att få muttern att ta.
Speedo and rev counter in place as well as steering wheel, a lot of job cleaning the thread to make the center nut "take". Happy about the position of the multi stalk, looks like it was meant to be.

Datum 2017 Jun 27
Så, nu är alla lampor uppkopplade liksom multispaken vid ratten. Nu återstår bara instrumentklustret att koppla upp.
Well, now are all lamps and idicators wired as well as the multi switch stalk at the steering column. The only wiring missing now is the instrument cluster..

Datum 2017 Jun 25
Provmonterade multispaken och upptäckte att kåpan jag gjorde inte passade utan jag var tvungen att modifiera den.
Test fitted the home made escutcheon for the multi switch and had to adapt it to make it fit.




Datum 2017 Jun 19-22
Monterade tändförstärkaren från Boyer Bransden.
Med overdrivereläet på plats och inkopplat med brytare, är det färdigkopplat runt reläer och säkringar, strålkastare och blinkers nästa.
Jag har också uppdaterat kretsschemat då vissa saker har varit lättare i praktiken än teorin att koppla.
Fitted ignition module from Boyer Bransden.
Whith OD-relay wired up, everything is ready around new relays and fuses, headlights and indicators next.
I've also updated the wiring diagram due to that some things worked easier in practice than theory.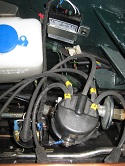 Datum 2017 Jun 16-18
Lite mindre aktiviteter på bygget nu på sommaren, har dock haft besök av sonsonen Emil 2 år som för tillfället är extremt intresserad av fordon.
Har dock börjat koppla lite el, ser rörigt ut men jag har koll.
Plockade ur det mekaniska reläet ur aluminiumburken och passade in det elektroniska reläet som behövs för att klara av LED-lampor i blinkersen, fick de specialtillverkade lamporna för ett tag sen från en kille i England.
A bit less activity in the garage now during the summer, I had a visit from my grandson Emil 2 years old and at the moment extremly interested in any kind of vehicles.
Had a little time fiddling with the electrics, looks a bit messy but I'm in control.
Removed the mechanical relay from the aluminium casing and adapted the electronic relay to fit inside, it is needed to make the LED-lamps work, some time ago I got the hand made LEDs from a gentleman in England who makes them.






Datum 2017 Jun 03
Dragit de grova ledningarna mellan battreri-säkerhetsbrytare-solenoid-startmotor och lött på terminaler.
Med bakskärmen på plats har jag kunnat montera baklyktan.
Traced the thick wires from battery to saftey switch-solenoid-starter and soldered terminals.
With the rear wing in place it was possible to fit one of the rear lamps.


Datum 2017 May 24
Monterat hastighetsvajern, försökt hitta mjuk dragning inte för nära avgasröret.
Fitted speedo cable, tried to find a smothe route not to close to exhaust.
Datum 2017 May 22-23
Efter att ha varit på Tjolöholm Classic i helgen så är det dags för nya tag i garaget. Lite svårdefinierat under vilken rubrik jag skulle lägga dragning av rör till oljetrycksmätaren, men det får bli under el eftersom det är ett instrument. Vet inte om det draget enligt"orginal" men jag hittade en bra väg för kopparröret som börjar med en banjoögla runt en av fästskruvarna för oljefilterhuset, sista delen upp mot instrumentet är nylonslang.
Har också dragit slangar för vindrutespolning och fixat ett fäste för Biltemas universaltank med pump.
Monterat vindrutetorkarmekanismen och motorn samt alldeles till höger om motorn en säkerhetsbrytare.
Back in the garage after visiting one of the bigger gatherings for classic cars in Sweden. Not easy to define under what headline I was to put tracing of copper pipe for oil pressure gauge, but as it is an instrument I'll post it here under electrical. I don't know which is the "original" route but I found an accaptable route which I'm happy about. The final pipe up to the gauge is a nylon tube.
Also plumbed the wind screen washer pipes and made a bracket for the "universal" tank and pump.
Fitted wiper mechanism and motor and to the right of the motor a saftey switch.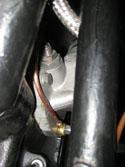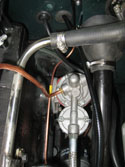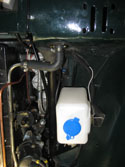 Datum 2017 May 17-19
Fortsatt med eljobb, fixat kabelstammar till blinkers och P-ljus framme. Fick ett par lamphållare på posten idag från John på engelska TR-forumet, löjligt dyra som reservdel. Sen har jag kopplat upp relähållaren, håller nu tummarna för att jag tänkt rätt. Monterat skringslådan i bilen, fick även batteriet på plats
Continued with electrics, fixed new harnesses for front indicators. Received a couple of bulb holders for instrument illumination thanks to John on the English TR-forum, new repro are ridiculous prices. I've also wired up the relay holder hoping I have done it correct. I've fitted the new box for fuses and relay, also put the battery in it's place.






Datum 2017 May 16
Monterat lite elprylar som tomt laddrelä(eftersom jag satt in 12V växelströmsgenerator), säkringar och solenoid. Monterat signalhornen och på väg att montera vindrutetorkarmekanismen när jag upptäckte vad den kontiga hylsan som legat bland överblivna smådealjer var till för. Alltså stödet under plåten för axelgenomföringen, men insåg då att det alltså saknas en. Tillverkade snabbt en av ett rör med två lager plåt påsvetsade så att jag kom upp i rätt ytterdimension och sen snedkapade till samma vinkel som den riktiga hylsan. Har också börjat koppla lite bland instrumenten, löder för säkerhets skull om alla kopplingar och slipar rent kontaktytor. Jag har också fått hem de specialtillverkade LED-lamporna för blinkers och bromsljus bak, de är ju ganska små så det gäller att de syns i modern trafik.
Fitted some electrical equipment as empty dynamo control box (empty because I've fitted 12 V alternator) fuses and solenoid. Fitted the horns and about to fit wiper mechanism when I discovered what that odd spacer that has been in the box of unidentified small parts is for, it's sitting between wiper box and body, and then found out that I need another. Fabricated another one out of a piece of tubing to which I welded two layers of sheet metal to achieve right outer diameter and then cut it to same angel as the original piece and to same length. Also started to wire up the instruments, soldering all connections and grinding clean contact surfaces. I also got the handmade LED lamps for the rear lamps and stoplight from Robert Lebroucq.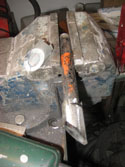 Datum 2017 May 11
Gjort rent och putsat krom och målat strålkastarpottorna samt monterat ihop strålkastarna inkl nya kablar.
Cleaned, painted the headlamp buckets, polished the chrome and fitted the assembly together including new harness.


Datum 2017 May 06
Provmonterade instrumentbrädan för att se om extrapanel jag gjort för tillkommande brytare gick fri från växelspaken, och det gjorde den inte, så jag tillverkade en ny längre och smalare som jag sätter under handskfacket.
Test fitted the dashboard to judge if the extra panel I made for additional switches would clear the gear stick, and it didn't, so I made a new one slimmer to be fitted beneath the glove box.



Datum 2017 apr 24
Sticker mellan med lite elrelaterat, tillverkat en hållare för signalhornsknappen eftersom originalet saknas. Klätt den med samma vinyl som instrumentbrädan. Har inte bestämt om jag ska använda den eller knappen i blinkersspaken.
While the filler hardens I'm attending to some electrics, made a support plate for the horn push as the original is missing. Covered it with some left over vinyl from the dashboard. Haven't decided yet if I'll use this horn push or the one in the stick for indicatrors.



Datum 2017 Feb 22
Kände för att sticka mellan med lite eljobb, fixade till stopplampan och skyltbelysningen. Puts måla, göra nya gummipackningar, vulktejp på kabelskyddet.
Felt like doing a bit of electrics, fixed the stop and plate light. Brushing, painting, making new rubber seals, sealing the protective cable sleeve with some self vulcanizing tape.


Datum 2017 Feb 01
I väntan på packboxar till bakaxeln så har jag modifierat och kompletterat kabelhärvan. Först så har jag delat vid säkringsdosan så att en del kablar inte går igenom torpedväggen, så har jag gjort en kompletterande stam från den nya säkringsdosan till instrumentpanelen, en stam fram till elfläkt, extraljus, tempgivare och termostatgivare för elfläkten. Ytterligare en stam från nedre änden på styrstången (där de invändiga kablarna mynnar ut i original) upp till den nya blinkers/ljusomkopplare/helljusblink/signalhornsspaken. Man märker att det är en sak att rita kopplingsschema men något helt annat att omsätta i praktiken, speciellt eftersom jag anpassar till original kabelstam så att möjligheten finns kvar att gå tillbaka till original signalhorn och blinkersomkopplare tex.
Allt är också uppmärkt så att jag kommer ihåg hur det var tänkt när det är dags att dra kablarna i bilen
.
While waiting for delivery of rear wheel axle oil seals, I've modified and completing the wire loom. First I've split the loom at the bulkhead so some wires will finish behind in the new fuse and relay box, I've also made another loom from that box to dash panel for extra functions. Another loom goes to electric cooling fan and thermostat, spot lights and temperature sender. Also one loom that goes from end of steering column up to new lever for indicator/dip/flash/signal. Discovered that it's one thing to design a wiring diagram, another to make it in real life, especially when I'm trying to adapt to the original loom.
Everythig is now tagged so I'll remember how I planned it when the time comes to install the electrics for real.



Datum 2017 Jan 28
I väntan på nya bakhjulslager, blir det lite småplock med bla elprylar.Testade vindrutetorkarmotorn men inget hände, plockade isär gjorde rent och upptäckte att fjädern som sänner kolen hade släppt, hoppas det var det som var felet. Mest pilligt var det dubbla nållagret med lösa nålar att montera ihop igen. Har också fått tillbaka renoverad vakumdosa från Distributor Doctor.
Uppföljning: Hur dum får man bli? Testade motorn och inte ett liv, lite gnistor vid kontakten bara, plockar isär och snurrar på alla delar och inget tar emot, då slår det mig, fjäder kortslutur ju mellan hållarna för kolen. Det måste alltså ha funnits någon form av isolator i änden av fjädern som deintegrerat. Som temporär lösning satte jag ett gummiband över kolhållarna och vips så snurrar motorn som den ska!
.
Waiting for delivery of rear wheel bearings gives time to take care of som minor electric works. Tried the wiper motor but nothing happened, took i apart and cleand it up, discovered that the spring that holds the brushes was loose, hope that it's the problem. Most fiddely thing was to get back all the small needles in the main bearing. Also got back the vaccum unit for the distributor from Distributor Doctor.
Follow up: How stupid ca you get? Tested the wiper motor and it was dead, just a few sparks at the terminals. Pulls everything apart and test that it rotates as it should cleans the collector and suddenly it hits me, the spring that holds the brushes together shorts the current, there must have been some sort of isolator at the end of the spring that has disintegrated. Pulled a rubber band over the brushes as a temporary measure and the motor runs as it should!



Datum 2017 Jan 22
Tog mig an att identifiera alla ändar i den nya kabelhärvan, tror mig ha hittat alla förutom en ände som enligt schemat slutar i inget. Den kabeln i härvan är nog den enda som är fel, den kommer från blinkreläet och ska tillbaka via röret i styrstången (original) och borde därför varit i den vänstra grenen av kabelstammen, nu slutar den framme vid höger hjul, men det spelar mindre roll eftersom jag ska använda en annan lösning på blinkersspak, se nedan.
Hittade en klamma bland sparade glödlampor, det har verkligen bekymrat mig var jag skulle få tag i den klamman som håller fast ytterröret i drivningen av torkaren. Passade på att göra rent hela mekanismen till torkarna och fetta in den igen.
.
I think I found and tagged all wires in my new loom (TR2 LHD) from Moss. The only thing I think they got wrong, it's the (GN green/brown) wire coming from the flasher that should have been in the LH part of the loom but is now in the RH part, but no big deal.
There is one "blind end" that is confusing me in this connection (now at RH front wheel) a GN wire ending in nothing? Asked on TR register forum and the suggesed wire should just be ignored, has no function.
Finally found the clip that secures the outer tube of wiper mechanism to the arm drive, was a bit worried but found it among save bulbs. Took the opportunity to clean the mechanism and put in new grease.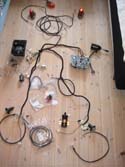 Datum 2016 Dec 30
Det har varit julhelg så bygget har stått still, men nu har jag börjat lite lätt med att tillverka en kåpa för den kombinerade spaken för blinkers, hel/halvljus och signalhorn. Inget problem att senare installera originaldon men den här varianten underlättar körandet. Försökte göra kåpan i aluminium men det fungerade bättre i tunnplåt.
Nothing done over holidays but started works again with fabricating kind of a cowl of my own for the combined stalk for indicator, dip/main beam and horn push. If I later want to return to originality, no problem, but I think this gives better "driveability". Tried aluminium at first but worked better in thin steel plate.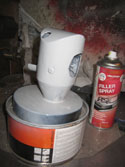 Datum 2016 Dec 20
Kopplar av med lite jobb med elsystemet, just nu fördelaren. Drivaxeln var sliten så den är nu utbytt liksom brytare, kondensator, rotor, kåpa och tändkablar. Tyvärr verkar vakumklockan läcka så jag ska kolla med Distributor Doctor om jag ka få tag i en ny där.
Relaxing with som job on the electrics, at the moment the distributor. Driveshaft was worn so a new one is now fitted as well as points, condensor, rotor, cap and HT leads. Unfortunatly the vacuum unit is leaking so I'll check with Distributor Doctor if he can supply a new unit.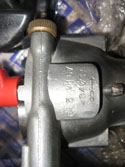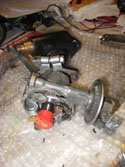 Datum 2016 Dec 16
Tänkte gömma de extra säkringarna och reläerna under täckplåten för hålet till högerstyrning. Hittade en bra lösning hos
Racetorations
, men när jag tänkt efter passar den inte pga placeringen av vindrutetorkarmotorn så jag fick tillverka en egen variant med lite mindre låda och reläerna placerade på baksidan, gjorde också en förhöjd kant bakom locket för att minska risken för inläckage av vatten.
Thinking about how to hide the extra fuses and relays beneath the cover plate for RHD. Found a good solution at Racetorations, but thinking about it, it will not work due to placing of windscreen wiper motor so I had to make my own box with a little less room and relays placed on the rear. I also made a raised edge beneath the lid to minimize the risk of water leakage.










Datum 2016 Nov 23
Bestämde mig för att göra en extra instrumentpanel nedanför övriga brytare och instrument isf att fälla in tex vänster om ratten. Det som tillkommer är brytare och kontrollampa för DRL/Varselljus, manuell start av elfläkt för kylaren med kontrollampa, brytare för värmefläkt och reglage för värmeventil smat knapp för vindrutespolarpump. Har skaffat nya gummipackningar till baklamporna.
Decides to make an extra dash panel below the original instruments and switches instead of fitting additional switches in the dash for instance to the left of steering wheel. The additional things are switch and control lamp for DRL and override for radiator cooling fan, switch and control for heater and fan and finally switch for wind screen washer pump. I have also got new rubber seals for rear lamps.



Datum 2016 Nov 18
Köpt ny temp- och amperemätare, för att få dem mer lika de gamla instrumenten köpte jag även kupade glas och en sarg med mer rundad profil. Bytt på tempmätaren så att man kan se jämförelsen.
Nu är alla mätare och brytare klara i panelen.
Bought new Smith temp- and amp-gauges, to make them look more like the old Jaeger instruments I bought domed glass and a rounder bezel. I've changed on the temp gauge to show the difference.
Now are all gauges and switches there in the dash.



Datum 2016 Oct 22
Testat occh rengjort startmotor och solenoid, före och efter bild.
Tested and cleaned up solenoid and starter, before and after pictures.


Datum 2016 Oct 19
Plockat isär och konstaterat att tankgivaren fungerar, gjort ren den och oljetrycks- och bränslemätaren, bränslemätarens nål verkar ha gått av den är väldigt kort. En av byglarna till hastighetsmätare och varvräknare saknades så jag har tillverkat en ny. Före och efter bild på de små mätarns visar vad lite rengöring och puts kan göra.
Dismantled and found that fuel level sender works, cleaned up the sender and the two small gauges, fuel level gauge needle is very short and has probably broken. One of the brackets for holding rev counter and tacho is missing so I welded one up. A before and after picture of the gauges shows what a bit of cleaning and polishing can do.




Datum 2016 Oct 17
Har börjat kolla på vad som finns bland instrumenteringen, saknas gör bla ampermätare, temperaturmätare och kontakt för ljus. Saknas gör ochså den kombinerade signal och blinkerskontakten som ska sitta i rattcentrum och så finns det ett par strömbrytare som inte fungerar, tändningslåset saknar nyckel men nya är billiga. Hyfsat lika amperemätare finns billigt att köpa men tempmätare får man nog gå över till elektrisk, original finns inte längre. överväger att byta amperemätare mot voltmätare som jag gjorde i TR6:an, den ger bättre information än ampermätaren. Rattcentrumet finns att köpa nytt men kostar minst 1200 kr så jag funderar på att bygga något eget tills vidare, men vi får se.
I've started to check what I've got in terms of instruments, missing are amp-, temp-gauges and the light switch. I'm also missing the combined indicator switch and horn contact for the steering wheel center, these are quite expensive so I'm thinking of making something temporary, but we'll see. Amp gauges that are quite similar to original are easy to find and inexpensive, temp gauge like original doesn't exist anymore so I will use an electrical instead. Not sure if I'll use amp gauge, perhaps I'll use a volt gauge instead like I did in the TR6, it gives better information.