Uppgraderingar / Updates
Datum 2022 Nov 12-15
Lite försent fick jag hem relinade bromsbackar till bromsarn bak. Bromsarna luftade, hjulen återmonterade. Bytte olja och filter också. Tog en liten provtur, 16 grader varmt mitt i november, allt känns OK. Glappet som kändes speciellt när man "frirullar/costar" är borta. Tankade upp bilen och höjde lufttrycket i däcken, då den nog kommer att stå ett tag, fast ingen egentlig vinterförvaring, den står i ett varmgarage med några andra bilar och ett par båtar, så det är bara att dra av kapellet och ut och köra om det kommer fina dagar.
A couple days to late, I got the relined brakeshoes for the rear axle, easy to fit later if needed. Brakes bled, wheels fitted. Did an oil-change and new filter. Took a test-drive, an incredible 16 centigrades in mid-November, and everything sounds and feels OK. The play I felt earlier when coasting is totally gone. Filled the tank, raised tire pressure and stored the car in a warm garage together with some Porsches (GT3, 914, Carrera S 4x) a TR6, Nissan Skyline and a Merc coupe. It's not locked in, so I can just remove the cover and take it out for a spin at any time if there will come some nice warm days.


Datum 2022 Nov 11
Drivaxlar, bromssköldar, bromsledningar, handbromsvajrar, bromstrummor återmonterade. När jag skulle montera handbromsvajer så hittade ett brustet fäst för vajern, vilket förklarar varför det inte gått att justera handbromsen, plockade fram svetsen och lagade fästet, nu är förhoppningen att jag har handbroms igen.
Driveshafts, backing plates, brake lines, handbrake wires, brake drums are back in place. When I was about to fit handbrake wires, I discovered why I hadn't been able to adjust and get handbrake working, a support for the wire had broken. I got the MIG welder out, and mended the support, so now I have great hope the handbrake will work once again.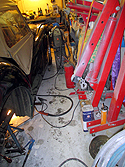 Datum 2022 Nov 10
Började med att dra in lagerbanorna för pinjongen med mitt verktyg, det klarade av det lilla lagret, det stora lagret gick så tungt att gängorna på gängstången gick av. Det var bara att baxa upp hela axeln i pressen, och där gick det lätt. själva rulllagren fick ligga i ugnen vid 150 grader, ytterlagren på själva diffväxeln gled på hur lätt som helst, det stora pinjonglagret behövde lite övertalning. Det lilla pinjonglagret fick jag dra av ett par gånger och ändra shims-tjocklekar tills det gick lagom tungt enligt manualen. Sen var det bara att motera tillbaks växeln i huset, ta bort spännverktygeet, sätta på locket och baxa axeln på plats.
I started pulling in the pinion races with the tool I made, but it only managed the smaller one, when trying to pull the bigger race, the threads stripped. Only option was lifting the axlile up into the hydraulic press. Easy done in the press. The roller bearings went into the oven at 150 deg C, the two bearings on the differential slipped on very easy, the big inner bearing on the pinion needed some persuasion. The smaller pinion bearing had to come off a couple of times to get the right amount of shims giving the proper torque as to the workshop manual. After that, the differential went back into the house, with a little more resistance than it came out. Sealed the housing and put the axle back in its place.






Datum 2022 Nov 09
Nu har jag fått hem avdagaren, hur enkelt är inte jobbet med de rätta verktygen, också glad att jag inte köpte den billigare varianten, nästan alltid gäller "man får vad man betalar för". Inre lagerbanorna är demonterade, planetväxeln/solhjulet ur monterat(genom att slå ut låspinnen som håller axeln), och återmonterat med ny axel och nya lagerbrickor. Glappet är nu minimalt.
Got the new puller tool delivered, and what a joy to work with the proper tools, glad I didn't buy the cheaper one, it's almost every time true that "you get what you pay for". Inner races are all removed the planet gear has been out (by punching out the locking pin), and new axle and thrust washers fitted. The play is much reduced.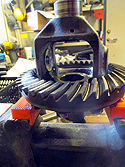 Datum 2022 Nov 07
Insåg att jag inte kunde få loss lagren från pinjongens axel, och inte heller lagren för drivaxlarna med de verktyg jag har, så jag har beställt en knivavdragare från Verktygsboden. Medan jag väntar på leverans av det nya verktyget, så tillverkade jag ett verktyg till av diverse spillbitar för att pressa in pinjongens lagerbanor i diff-huset med hjälp av de gamla lagerbanorna.
I realised that none of my tools would work to get the bearings off the pinion axel and the driveshaft bearings in the differential. I, therefore, ordered a bearing splitter (knife edge) from a toolshop online. While waiting for the new tool to be delivered, I made another tool for pressing the pinion-bearing races into the differential house, out of some scrap bits, among other bits, using the old races.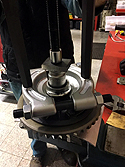 Datum 2022 Nov 05
Jag tillverkade ett par verktyg av diverse spillbitar, ett för att spänna isär diff-huset,, och ett annat för att hålla fast pinjongen. Nu är kronhjulet ute, liksom pinjongen och lagerbanorna för pinjonglagren. Det inre pinjonglagrets bana har "pitting"/frätskador. När jag lossade låsmuttern för pinjongen kändes det som den satt lite för löst.
I made a couple of tools, one to spread the housing, another to lock the pinion. The crown wheel is out, the pinion is out, the races for the pinion bearings are out. The inner race of the pinion bearings has some pitting, and removing the pinion locking nut, it felt a bit too loose.








Datum 2022 Nov 02
Påbörjat årets renoveringar med att demontera bakaxeln så jag kan renovera differentialen.
Started this years updates by taking down the rear axle, so I can renovate the differential.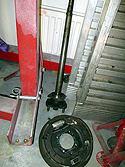 Datum 2022 Jul 20
När jag skulle lyfta bilen för att justera frambromsarna hade jag huven öppen, bilen gled av domkraften och av dunsen hoppade staget för huven ur sitt fäste, huven gick igen och staget punkterade aluminiumkylaren ohjälpligt. Plockade fram den gamla kylaren med hål för startveven och efter den var monterad och jag varmkörde visade sig att den läckte vid påfyllningsrörets skarv mot själva kylaren. Försökte löda men hade inte rätt lod så jag beställde ny kylare och även vattenpump från Limora, vattenpump för att ha en i reserv. Monterade vattenpump och kylare efter att också flyttat över och svetsat fästena för elfläkten. Nu är kylsystemet tätt igen. Jag passade på att köra ett test för att kolla att jag inte har några avgaser i kylvätskan, lösningen förblev blå, så inga problem med topplockspackningen heller.
When I was jacking up the car to adjust the front brakes, the car slid off the jack, and due to that I had the bonnet open the "thud" made the stick that keeps the bonnet open jump out of its bracket and with the bonnet closing the stick punctured the aluminium radiator, not reparable. Found the old radiator with a hole for the starting crank and fitted it, when running the engine I discovered a leak where the neck meets the main radiator, I tried to solder it without success. I bought a new radiator, and water pump to get one in reserve, from Limora. After moving and welding the brackets for the electric fan to the new radiator and fitting the pump and radiator I now have a good system once again. I also made a test to check for headgasket leaks into the cooling liquid, but the indicating liquid stayed blue, so all systems go.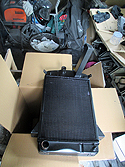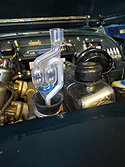 2017 Jun-Jul
Bromsproblem hela tiden med att efter en stunds körning började bromsarna ligga an, det gick att lösa temporart genom att släppa trycket via luftningsnippeln på servot, trodde det var servot så det blev bytt mot ett likadant, problemet kvarstod. Beställde nya bromsslangar från Rimmers, men det visade sig att de hade fel anslutningar, så de gick i retur. Tog bort servot, problemet kvar! La ut en fråga på TR register forum, fick tipset att bromspedalen var tillbakajusterad så att kolven i huvudcylindern inte gick helt tillbaka så att returporten aldrig öppnade, och mycket riktigt var det felet. Efter att ha provat att felet inte kom tillbaka, återmonterade jag servot. Kvarstår att fixa lacken som förstörts av allt slabbande med bromsvätska.
Problems with the brakes all the time, after a while of driving the brakes started locking up. I was able to solve it temporarily by bleeding the system with the bleeding nipple on the servo. I started believing the problem was the servo, so I took it away, but the problems continued. I ordered a new set of brake hoses from Rimmers in case my hoses were blocking up inside, had to return the hoses to Rimmesrs due to connections not fitting at all. Posted a question on TR Register Forum and got the tip that the main cylinder wasn't returning fully and thus blocking the return opening in the cylinder. I adjusted the brake pedal and Main cylinder positions and it solved the problem. After test drives, I refitted the servo and now all is OK.





Datum 2020 Mar 26
När jag provstartade bilen för en vecka sen gick den uselt och ju mer jag körde och kollade stift mm desto sämre gick det. Till slut såg jag att tre av fyra stift var sotiga, alltså kan det inte vara förgasarnas fel utan måste vara tändningen. vid närmare koll av fördelarlock och tändkablar visade det sig att kontakthylsan i tre av fyra tändhattar/tändkabelskor inte satt fast. Nu en vecka senare har jag fått hem både nya stift och tändkabelskor och bilen går precis som den ska.
When I made a test run, a week ago, the car ran poorly and the more I checked plugs and carbs, the worse it ran. When I finally saw that 3 out of 4 plugs were sooty, it had to be ignition problems, started to look at rotor, points, cap, cables and HT cable connectors, I discovered that the metal connector inside the connector housing was loose on 3 out of 4. Now a week later, I've fitted new connectors and plugs and the engine runs as it should. Problem solved.


Datum 2020 Feb 15
Klar för gatan, ägnade några timmar att få bort repor i överkant vänster skärm, misstänker att magnetlisten i "mekarskyddet" dragit åt sig slipspån som jag sedan gnuggat mot skärmen när jag hängt över motorrummet.
Winter job finished, spent a couple of hours removing scratches on top of left front wing. I suspect that the magnetic strip in the protecting cover did attract grinding residues which I then rubbed into the wing while hanging over the engine.

Datum 2020 Feb 13
Hittade en bild på nätet som förklarade var den från bygget överblivna plåtbiten ska sitta, ett stag mellan ram och fästet för styrsnäckan.
Bockade till ett plattjärn som fäste för en mekanisk kontakt till bromsljuset (överbliven från Mazdan jag använde som donater till Westfielden). Anledningen att montera den är att de hydrauliska kontakterna som är standard tenderar att ge upp.
Found a picture on the net that explained where, from the build left over strap. is supposed to sit, a strap between the steering box support and the frame.
Bent and drilled a piece of flat bar to become a support for a mechanical brake light switch (switch left over from the Mazda I used as donor for the Westfield). The reason to fit a mechanical switch is that the hydraulic switch tend to malfunction.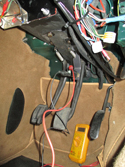 Datum 2020 Feb 12
ToDolistan nästan klar, bara mekanisk bromskontakt kvar.
To Do list almost finished, only mechanical brake switch left to do.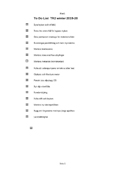 Datum 2020 Feb 12
Gör urtag och svetsar in förstärkning för att fläkten ska gå fri.
Gör en ny bättring av samma område som förut på huven, blir marginellt bättre, fått bort några slipmärken och skiftningen i gränsen mellan ny och gammal färg lite mindre tydlig.
Making cut out for fan and welding in reinforcement.
Trying to improve the paint repair on the bonnet, only marginally better, got rid of some grinding marks and the shift in colour in the border between old and new paint is a bit fainter.




Datum 2020 Feb 10
Har limmat dit en extra tätningslist i suffletten för att minska läckaget vid regn.
Skulle bara montera ny säkringshållare så skulle jag vara klar, men så blev det inte. Efter att nya säkringsdosan var monterad testade jag elen igen och då visade det sig att kylfläkten inte fungerade, felsökte och det visade sig att jag hade spänning ända fram, problemet var att den nya fläkten är större än den gamla så överdelen av fronten klämde fast fläktvingarna. Demonterade fronten igen och testade fläkten, den fungerar. Nu gäller det att hitta en lösning.
Glued an extra rubber seal at front of soft top to reduce leakage when raining.
Just had the new fuse holder to fit to finish the jobs, but that didn't happen. After fitting the fuse box I started testing electrics and it showed the cooling fan didn't work, checked and found I had full voltage at the fan, problem was that the apron squeezed the fan stopping it from working. Dismantled the bumper and apron once again and tested, the fan works. Now I have to find a solution, probably involving some cutting and welding.



Datum 2020 Feb 08
Slipat och polerat, blev hyfsat resultat, bättre än spricka i alla fall. Var tvungen att ta loss instrumenten för att komma åt spolarmunstyckena för att göra rent dem samt möjlighet att kolla vilken spänning jag har till tempmätaren, spänningen var mindre än 10 V så det är inte anledningen att mätaren visar för hög temperatur.
Grinded and polished whit decent result, better than the crack at least. Had to remove the instrument cluster to get at the windscreen washer jets to make it possible clean them. It gave possiblility to check the voltage to the temperature gauge. The voltage is less than 10 V, so that is not the reason why the gauge is showing to high readings.

Datum 2020 Feb 07
Ska försöka fixa en lackskada, en spricka i bakkant av förhöjningen av huven. Först slipade jag ur den med en Dremel, spacklade och slipade samt lackade med en Airbrush. Återstår slipning och polering.
Trying to fix a crack in the paint on the bonnet, close to the vents. First I did grind out the cracks with a Dremel, then filler and fine dry and wet sanding, finally painting with an Airbrush. Wet sanding and polishing still remaining.




Datum 2020 Feb 06
Lite knöligt montera tillbaka fronten så jag klistrade tjockt med maskeringstejp för att skydda skärmkanterna. Fronten på plats, alla sladdar inkopplade och testade. Stötfångaren på plats men inte fastskruvad än.
A bit of struggling to fit the apron, so I covered the wing edges with plenty of masking tape to protect them. Apron now in place, all wires connected and tested. Bumper in place but nuts not tightened yet.



Datum 2020 Feb 05
Provstartade och motorn gick på bara två cylindrar, visade sig att främre förgasaren inte levererade något bränsle. Dålig rengöring medförde pluggat munstycke, så efter rengöring och justering av tändningen och tomgång går motorn som den ska. Nu går det även att justera ner tomgången. Körde upp till full temperatur, elfläkten kickade in ett litet tag men temperaturen verkar mycket stabilare nu än förut. Har gjort ett par mindre justeringar förutom kylarbytet, borrade ett litet hål i termostatens tätningsbricka för att få ett litet genomflöde samt borrade upp strypningen i bypassen från 4 till 6 mm. Tempmätaren visar ca 10 grader för mycket jämförtdet värde jag får när jag mäter med IR-mätaren på temperaturgivaren.
När jag skulle montera tillbaka fronten upptäckte jag att det lilla förstärkningsstaget längst ner var trasigt i svetsen, bara slipa rent svetsa och måla.
Tested to start the engine but it only ran on two cylinders, it showed that the front carburetor didn't deliver any fuel. Had to blame myself for poor cleaning, the jet was plugged by debris. Cleaned it up, adjusted timing and tick over and now the engine runs as it should, can even adjust the tick over as I wish. Ran to full temperature, electric fan kicked in for short moments at full temperature and it looks like the temperature is more stable now than before. I've done a couple of minor adjustments apart from the new radiator, drilled a tiny hole in the theromstat sealing plate to get a bit of flow all the time over the temperature sender and enlarged the hole in the bypass from 4 to 6 mm. Temperature gauge still shows 10 degrees more than the value I get while measuring with an IR-thermometer. That's also confirmed by the temperature switch which starts the electric fan.
When I was about to fit the front apron, I discovered that the little reinforcement stay at the bottom had ruptured in the weld, just have to grind clean and weld and paint.

"film/movie"

Datum 2020 Feb 04
Bytt ut spjällhusen på förgasarna, behövde borra och gänga några hål eftersom de "nya" spjällhusen var i "vänsterutförande" och min motor behöver "högerutförande" var även tvungen att skifta spjällaxlarna av den anledningen.

Switched throttle bodies but had to drill and tap a couple of holes as the "new" bodies is "left-handed" but my engine needs "right-handed", also had to switch the butterfly axles as well.


Datum 2020 Feb 02
Fyllt motorolja och växellådsolja samt luftet bromsar och koppling. Fixat ett stag för att hålla motorrumsfläkten, gjorde även ett förlängt stag till signalhornet så jag kunde vända det neråt för att ge plats för fläktslangen. Gjort en liten förlängning till extrapanelen för strömbrytare så att jag kan montera brytaren för mottorumsfläkten. Börjat plocka isär och göra ren spjällhusen jag köpte på ebay, det känns som spjällen tätar bättre än de jag renoverade från början. Ska byta ut själva spjällhusen men flytta över munstyckena och all annan kringutrustning.
Filled motor oil and gear box oil, finished bleeding brakes and clutch. Made a strap to hold the engine bay fan and made a longer bracket for the horn, so I could turn it upside down and make room for the ventilation hose. Made a small extension to the extra switch panel for the engine bay fan switch. Started dismatling a couple of carburetor bodies I bought on ebay, it feels like they are much tighter and seals better than the ones I refurbished from start. I'll switch the throttle bodies and will use the jets and the rest of the pieces from the old carburetors.




Datum 2020 Jan 31
Luftning av systemet gick inte så bra, det blev två setg tillbaka. Stor läcka när jag kopplade in Easybleed-systemet, flera deciliter bromsvätska hamnade på mattan under pedalerna, med påföljande sanering. Alla försök att täta läckan i utloppet på servot misslyckades, inklusive tillverkning av ett helt nytt rör. Fick ta loss servot och kunde konstatera att gängpluggen bottnade innan den pressade fast rörkonan. Lösningen blev att slipa bort lite gängor längst fram, nu verkar systemet vara tätt.
Bleeding the systems didn't go well, two steps back. Massive leak when I attached the Easybleed system, ended up with half a pint brake fluid on the carpet below the pedal box, followed by serious cleaning effort. All attempts to tighten the union at servo outlet failed, including making a completely new brake line. Removed the servo to test in the workbench and discovered that the thread of the tapered plug bottomed out before pressing the brake line flange to seal. Cut away a couple of threads and problem solved. Tomorrow, new attempt to bleed the system.


Datum 2020 Jan 30
Bytt ut repro-huvudcylindern mot den renoverade original-huvudcylindern, som synes är originalcylindern större än repromodellen, problemet är att gäganslutningarna för både adaptern för kopplingsledningen och bromsledningen är annorlunda. Stukning på plats efter byte av gängplugg. Allt på plats inklusive vakumslang, nu återstår luftning av systemet.
Switched repro MC to a renovated original MC, as seen the repro MC is smaller, including the problem that threads are different. Therefore changing connection in place and pressing new flange. Everything in place including vacuum hose, only remaining bleeding the systems.





Datum 2020 Jan 29
Tillverkat ett andra stöd för servot som gör att det sitter hel stabilt. Har också fixat ett nytt fäste för stången till huven.
Made a second bracket securing the servo, now totally stable. Also made a new bracket for the bonnet supporting rod, now clear of the servo.


Datum 2020 Jan 28
Gjort en kartongmodell som förlaga till servots stöd. Svetsat ihop en konstruktion av vinkeljärn, monterat 3 nitmuttrar och provmonterat. Ska måla stödet och sen klura ut hur mycket jag måste flytta fästet för stången som håller huven öppen så att den går fri från servot.
Made a card board template for the support to the power brake servo. Welded up a structure from angle bars, fitted 3 rivnuts and test fitted the servo. Will paint the support, and then figure out how much I need to move the clip that holds the bar for holding the bonnet open so the bar doesn't interfere with the servo.





Datum 2020 Jan 27
Börjat förbereda för bromsservot genom att göra ett valumanslutning på insuget. Mycket jbb för litet resultat, var tvungen att ta bort förgasarna och hela insuget för att komma åt att borra och gänga en ansluning för en slangnippel. Kollar att servot får plats uder huven. Testar även att hitta en plats för motorrumsfläkten.
I've started to prepare for power brake by making a vacuum take of at the inlet manifold. A lot of work for tiny result, had t remove the whole setup of carburettors to drill and tap the end of the manifold for a hose connection. Checking that the servo fits unde the bonnet. Also testing to find a permanent place for the engine bay cooling fan.







Datum 2020 Jan 26
Kontrollerat att termostaten öppnar vi rätt temperatur, vilket den gjorde enligt stektermometern. Fixade till packningsytorna på termostathuset, knackade till en packning och monterade. Fick kapa av några millimeter på den nya kylarens konsoler för att få ner den på ramens fästen. Var tvungen att kapa av en bit och svetsa ihop det ena övre staget då justermånen på den gängade änden inte räckte till, jag har inget 1/4" UNF gängsnitt. Som tur var testade jag att fläkten roterar åt rätt håll, det gjorde den inte, svart kabel är inte alltid jord tydligen.
Tested the thermostat with a steak thermometer to verify it's opening at right temperature, which it does. Fixed the sealing surfaces of the thermostat housing, and as I only had one spare gasket I knocked one out of universal gasket sheet. Had to cut of a couple of millimetres of the new radiators supports against the frame to make it fit. Had to cut out a bit, and weld it together, of one of the upper support rods as there wasn't enough thread to adjust it, I haven't got a 1/4 UNF die to cut new thread. Luckily I tested the rotation of the fan to see if it was pushing, it didn't, black wire isn't always ground obviously, but now it's pushing.









Datum 2020 Jan 23
Monterat Revingtons modifierade lock till styrsnäckan med fjäderbelastad pinne.
Fitted Revingtons modified steering box lid with springloaded pin to remove slack.



Datum 2020 Jan 21
Monterat nya smörjbara bronsbussningar (från Revington) i parallelstaget. De ersätter gummibussningarna som är standardutförande.
Fitted new greasable bronze bushes pins (from Revington) in the track control rod. Replacing the standard rubber bushes.







Datum 2019 Dec 20
Med nya verktyget gick det lätt att byta oljefilter. Plockat ur kylaren också, nu ska det gå att komma åt bussningarna i styrarmen.
Whit the new tool it was easy to change oil filter. Radiator also removed, now its good access to fit the "track control pin kit" and the "top plate with spring loaded pin for the steering box" bought from Revington, before fitting the new radiator.


Datum 2019 Dec 19
Har tappat ur kylarvatten och oljor samt demonterat stötfångare och fronten, glömde inte att märka upp alla elledningar till blinkers, lampor mm som hänger ihop med fronten. Oljefiltret är nästa punkt, drog sönder ett verktyg och det andra greppade inte tillräckligt bra, så nu har jag skaffat en tredje variant som är det mest robusta jag kan hitta.
I've drained oils and coolant and removed bumper and front apron, didn't forget to mark up wiring for lamps and other electrics at the front. The oil filter was actually the biggest problem, it's a spin on filter, broke the first tool, the second tool didn't grip enough so I had to buy the most robust tool I could find.



Datum 2019 Nov 25
Garaget friställt för TR2:an nu när Midget kan rulla av egen kraft. Ett år sen sist så visst servicebehov finns. Tänker byta till kylare utan hål för vev för bättre kylkapacitet samt några Revingtonprylar för bättre precision i styrningen. Kanske sätter in ett bromsservo också och den nyrenoverade huvudbromscylindern. Vintern är lång.
Garage liberated for the TR2 now when the Midget is finished and can be driven. One year since last time for the TR in the garage so some need for service and I'm also going to put in a radiator without hole for the crank for better cooling capacity. Some of Revington gadgets are going in to improve steering. Maybe I'll also will fit a power brake unit and fit the renovated master cylinder. Winter is long.

Datum 2019 Sept 30
Efter att inte lyckats balansera originalhjulen pga orundhet och skevhet som visat sig mellan 85-105 km/h, så köpte jag ett set fälgar med däck avsedda för en TR6:a. Var lite osäker på om de skulle passa pga att ET var över 20, ska egentligen vara ET 7 på en TR2, men de passar bra. Kanske för att däcken som sitter på är 195 breda isf mer lämpliga 165, provkörde och det kändes stabilt, problemet är att det är väldigt tungstyrt när man ska parkera.
After not succeeding in balancing original wheels due to out of round and warp, which manifested itself between 85 and 105 km/h, I bought a set of used TR6 Minator wheels 15/5,5 ET20. I was a bit unsure if they would fit due to lager ET than the ET 7 which is standard for a TR2. Maybe it works and look OK due to the 195 wide tires that came with the wheels. Made a test run, and they work great until you want to park the car, the steering becomes very heavy with the larger wheels. I knew that, and have to consider shifting tires between the rims.



Datum 2019 Aug 07
Efter att ha brutit naglar på Teenax knappar bestämde jag mig för att göra ett verktyg som hjälpmedel, det fungerar alldeles utmärkt.
After breaking several nails trying to loosen Teenax buttons, I decided to make a tool to help loosen them. It works great!.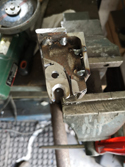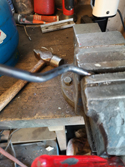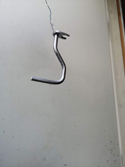 Datum 2019 Jun 28
En tändspole till knäckt i värmen, körde med reservspolen hängande i vävtejp. Nu är spolen flyttad till innerskärmen. Passar också på att kolla om en motorrumsfläkt avsedd för båtar hjälper till att få kallare luft till förgasarna, sugslangen tar luft framför/vid sidan av kylaren. Fläkten är bara 75 mm i diameter men kan blåsa 3 m3/min så det är förvånansvärt bra blås men den är lite högljudd.
Another coil gave up due to heat, drove home with the spare coil hanging in duct tape. Now the coil is moved to the inner wing. I am also test fitting a bilge pump use to ventilate engine room and keel of motor boats, it sucks air via a hose in front and at the side of the radiator. It's only 3" in diameter but a lager fan will not fit, it pumps amazingly much air though, more than 100 cfm, but it's a bit loud. It will be interesting to see if it has any effect on the carburetors.



Datum 2019 May 11
Vad som blev gjort på ToDolistan.
What was completed on the To Do list.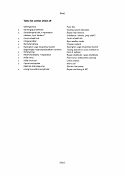 Datum 2019 May 11
Vindruta och sidorutorna (nu i ny färg) monterade.
Wind screen and side screens (now in new colour) are fitted.



Datum 2019 Mar 19
Sidorutorna klara och suffletten nästan färdigmålad.
Side screens are finished and the soft top almost finished.


Datum 2019 Mar 14
Äntligen kommit mig för att måla om vinylen så att dörrar och sufflett blir lika. Plockade ur rutorna ur ramarna och sprayat en gång för att se hur långt en burk räcker, beställde 3 burkar till av kulören "Light parchment". Maskerade rutorna i suffletten också innan jag ska göra rent med den speciella rengöringssprayen som gör rent och löser upp vinylen lite, den vill jag inte ha på rutorna.
Finally, started painting the vinyl of side screens and soft top, so they'll match in colulor. Took out the windows from the side screens and sprayed out a full can to see how much it covers, I ordered 3 more cans of the colour code "Light parchment". Masked the screens of the top, before cleaning with the special solvent that cleans and softens the vinyl surface, I don't want any of that on the screens.



Datum 2018 Dec 19
Fick hem den av Past Parts renoverade huvudcylindern för broms och koppling, det viktigaste är nya lopp i cylindrarna men den kom med nya tätningar och packningar också. Inte billigt, men kommer inte att läcka som den helt nya jag köpte ifjol från Moss.
Got back the MC (master cylinder) for brakes and clutch from Past Parts, resleeved and fitted with new gaskets and seals. Not cheap, but wont't leak like the new one I bought from Moss.


Datum 2018 Nov 24-25
Har börjat montera in Revingtons "Logic overdrive switch" som får overdriven att falla ur när man växlar, justerat upp kopplingsschemat och börjat montera kablar i reläsocklarna från Revington, har också tillverkat ett gemensamt fäste för det vanliga overdrivereläet och Revingtons.
Inkopplat och provkört, funkar bra.
Passade på att koppla in blinkersvarnare, den fungerar så att efter 10 blinkningar (ställbart 1-20) börjar en summer varna tills man slagit av blinkersen, funktionen kopplas ur när man har bromslamporna tända, men börjar ljuda efter 10 blinkningar när man släppt bromsen, också testat i trafiken och det fungerar. Ganska diskret summerton.
I've started to fit Revingtons "Logic overdrive switch" which makes the overdrive drop when shifting gears. I've updated the wiring diagram and fitted the relay sockets with wires, also made a common support for both ordinary OD-relay and the new Revington relay.
Installed and tested in traffic, works fine.
Took the opportunity to install a indicator warning buzzer, it starts sounding after 10 pulses (adjustable 1-20), if you hit the brakes it disengages the buzzer and after releasing the brakes it starts buzzung after 10 pulses if you haven't turned of the indicators, also tested in traffic and it works, the buzzer isn't to loud.





Datum 2018 Nov 23
Bytte ut de här sealed beam lamporna mot nya reflektorer med halogenlampor, sealed beam lamporna hade en väldigt konstig ljusbild som bländade medtrafikanterna.
I swapped the sealed beam lamps for new reflectors with halogen lamps, the sealed beams had a veryy funny light pattern blinding oncoming traffic.

Datum 2018 Nov 23
Köpte nya bromstrummor till bakbromsarna och det första jag upptäcker när jag ska montera trumman är att hålet för att justera backarna saknas. Borrar hål med gamla trumman som mall sätter dit trumman men den går inte på ända till navet, upptäcker att bulthålen är 12 mm när 15 mm behövs för att "kragen" på hjulbulten ska gå igenom hålet, borrar upp samtliga hål och nu äntligen passar trumman.
I bought new rear brake drums, and the first thing I discovered fitting the drum is that the hole for adjusting the brake shoes is missing. Using the old drum as template I drilled a 16 mm hole and then tried to fit the drum but no luck, the holes for the bolts are to small, they need to be 15 mm to let the "neck/rim" of the bolt pass. Drilling the holes with a 15 mm bit, and now finally the drums fit.



Datum 2018 Nov 22
Jag fick tillbaka den renoverade fördelaren från Distributor Doctor, men när jag monterade den såg jag att rotor pekad nästan 45 grader annorlunda än den gamla fördelaren. En av anledningarna att jag lät renovera fördelaren var att den billiga fördelaren jag köpte från Accuspark som reserv pekade lika mycket "fel". Kontaktade Martin Jay på DD och vi kom fram till att den fördelare jag använt har drivningen 45 grader fel, antagligen beroende på att den reparerats pga att låspinne eller hålet glappat och drivningen vridits till ny position för att kunna borra och sätta i ny låspinne. För att få fördelaren i bättre läge lyfte jag drivningen och vred den en kugg, svårigheten är att vrida drivningen av oljepumpen till rätt läge när man vrider fördelardriften i nytt läge.
Borrade ur låspinnen ur drivningen, plockade isär och kollade fördelaren. Smorde och satte ihop den med ny fiberbricka mellan hus och drivningen, justerade in drivningen i samma position som den renoverade fördelaren, borrade nytt hål och säkrade med en rörpinne.
I got the refurbished distributor back from Distributor Doctor and when fitting it I noticed the rotor was pointing about 45 deg different than the one I took out. The reason I sent an old distributor to be repaired was that I needed a spare and the cheap emergency one I bought from Accuspark I had to turn approx 45 deg to make it work. Now, fitting the one I got back from DD seems to also end up in more or less the same position as the Accuspark distributor. Conclusion is that there must be something funny about the one I've been using. Got in contact with DD and we agreed that the one I've been using probably has had the drive dog fitted in a new position due to worn securing pin/hole. To get the distributor in a better position I had to take out the drive and turn it one cog, the difficulty is to get the oil pump drive in the right position, but now it's done and the motor test started.
Drilled out the drive dog pin, took the distributor apart, checked all parts, put everything back together, turned the drive dog to the same position as the refurbished distributor and drilled a new hole and secured it with a roll pin.





Datum 2018 Nov 14
Fick en NOS bromcylinder till bakhjulen från Peter Wigglesworth, det tackar vi för, mycket bättre kvalitet än reprocylindrarna.
Received a NOS rear brake cylinder from Peter Wigglesworth, thanks a lot, much better quality than repro cylinders.

Datum 2018 Nov 4
Ute för att checka bromsar och stötdämpare, friskt med bara Brooklandsrutorna i höstdimman.
Out checking brakes and shocks, a bit chilly with only Brooklands in the autumn fog.

Datum 2018 Nov 3
Monterat bromsskor med nya belägg fram. Satt i nya nålar i förgasarna, normal isf. "rich". Har grovjusterat men måste ut och köra för att testa om det blev någon skillnad, tidigare gick det bra på varv över 2000 men vid låga varv var jag tvungen att använda lite choke för att motorn skulle gå jämnt. Har också bytt ut kylarvätskan inkl. ny glykol.
Fitted relined brake shoes at the front wheels. Fitted normal mix needles in the carbs, the ones I had was "rich" which worked OK under load, but coasting an at low revs I had to use a little bit of choke to make engine run well, I've just made approx. tuning but need to run on the roads to verify tuning of carbs and to see if theese needles work better. I've also change colant and flushed out the radiator.




Datum 2018 Nov 1
Satte dit det nya navet isf. det som hade ett kast i ena hörnet. Tyvärr har det här helt nya hålen för de försänkta skruvarna som håller bromstrumman förskjutna, trumman passade OK på originalnavet, har kontaktat Revington som jag köpte det hos.
New hub in place, replacing the one with a corner out of plane. Unfortunatly this new hub has the holes for the countersunk screws that hold the brake drum a bit out of place, the drum fitted OK on the old hub. I've got in contact with Revington who sold it.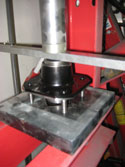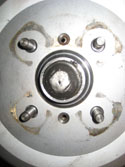 Datum 2018 Nov 1
Bestämde mig för att kolla bromsarna bak och upptäckte att den helt nya bromcylindern höger bak hade läckt och blött ner bromsbackarna med bromsolja så de är i princip förstörda. Nya finns inte så man kan bara få dem genom utbytessystem och det blir rätt dyrt om man räknar in frakt tor England, nästan 1000 kr per sida. Monterade isär och inspekterade cylindern, den har åtminstone 3 porer i tätningsytan. Som tur är hade jag sparat en gammal cylinder som faktiskt efter rengöring ser bättre ut invändigt, den har också en mer komplicerad inre konstruktion med separat kolv för handbromsen och en tryckfjäder bakom själva bromskolven, så jag monterade den. Jag upptäckte att jag hade några lätt begagnade bromsskor liggande bland sparade saker, som såg rätt lika ut TR2:ans bromsskor. Samma diameter, samma bredd men en skänkel var lite längre och hålen för fjädrarna satt lite olika, så jag kapade till samma längd och borrade några nya hål och har nu bromsskor som passar. Men, när jag monterade märkte jag att ena skon inte riktigt passade så jag provade med originalskon, och den passade int riktigt heller! Google, och hittade en bild på monterade bromsbackar som inte såg likadant ut som mitt montage, så jag skruvade loss bromsskölden, roterade den 45 grader, vände bromscylindern 180 grader och då passade allt. Följaktligen var det bara att göra likadant på vänstersidan. Har nu antagligen bättre fungerande bromsar bak.
Decided to check on rear brakes and wasn't happy with what I discovered. First RH brake cylinder was leaking and had soaked the brake shoes with brake fluid, those shoes can only be bought as exchange and to a hefty price if you include shipping to and back to Sweden. Removed the cylinder (new from Rimmer or Moss) and found at least three pores in the sealing area, I had saved an old cylinder which actually looked better and has a different design internally (more complicated with a separate "piston" for the handbrake and a spring behind the actual brake piston, so I used that one instead. Discovered a couple of brake shoes in the salvaged parts that I think comes from an old Volvo Duett, they looked quite similar so I adapted two of them by cutting them to the same length as the original ones and drilled a couple of new holes for the springs, they fit nicely and cost me nothing. BUT, when first fitting the shoes one didn't seem to fit, so I tried with the original and got the same problem! Google, and found a picture showing a different view of the position and orientation of the cylinder, started undoing the backplate, rotated it 45 degrees and rotated the cylinder 180 degrees, screwed everything together and now it's as it's supposed to be. Fixed the LH side as well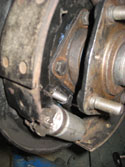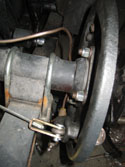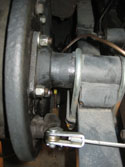 Datum 2018 Oct 30-31
Fick renoverade stötdämpare från Stevenson Motors och monterade dem.
Got the refurbished shocks from Stevenson Motors and replaced the ones in the car.



Datum 2018 Oct 28
Börjat checka hjul, lager och bromsar. Först vänster fram där navet rullar lite trögt, så jag drar loss kollar fett och lager, problemet verkar vara att det yttre lagret sitter väldigt stumt på axeln så när man dragit det och sen ska släppa lite på spänningen flyttar det sig inte. gjorde så att jag drog till det började kännas lite tungt lossade muttern ett"hack" och drog ut navet med avdragare, så nu känns det OK.
Kollade båda naven med indikatorklocka och vänster nav har ett lite för stort kast vid en hjulbult, tror jag ska sätta dit ett reservnav jag har.
Started checking wheels, bearings and brakes. Starting with left front hub which doesn't spin as easy as RH side, pulled of the hub and checked grease and bearings, the problem seems to be that the outer bearing sticks really hard to the axle so after tightening the nut and then loosening it nothing happens, so I tightened it again and reversed a flat on the nut and then pulled the hub out with a puller tool and now it feels OK.
Check both hubs with an indicator clock and the LH hub has a bit to much offset at one wheel bolt so I'm planning to use the spare hub I've got instead.

Datum 2018 Oct 27
Fick en överbliven bogserögla från en kompis, så jag skar isär den och snodde rundstången, rätade på öglans ändar, borrade hål i vinkeljärnet jag gjorde tidigare som kylarskydd, svetsade dit öglan. Nu har jag fäste för bogserlina vilket förhoppningsvis betyder att jag aldrig behöver använda den..
Got a left over towing hank from a friend, so I stripped out the round bar and drilled a couple of holes in my home made radiator protection bar, welded the hank to the angle bar. Now I have the means to be towed, which probably means it will never happen.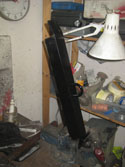 Datum 2018 Sept 29
Handlade på mig ett par begagnade bakre stötdämpare och en dito fördelare från en medlem i TR-klubben. Stötdämparna skickade till Stevenson Motors för renovering och fördelaren till Distributor Doctor. Ska även köpa ett framhjulsnav och en "Logic overdrive switch" från Revington. Börjar samla på mig lite delar att jobba med i vinter.
Purchased a couple of used rear shock absorbers and a distributor from a fellow club member. The shocks went to Stevensons Motors for restoring and the distributor to Distributor Doctor. I'm also about to buy a front wheel hub and a "Logic overdrive switch" from Revington. I've started to collect some parts and pieces for the winter season jobs.

Datum 2018 Jul 29
Jag har haft problem med en läcka vid huvudcylindern för broms och koppling, det förstör färgen, men har inte var så allvarlig att det påverkat funktionen. Bestämde mig för att köpa en ny då jag är osäker på om jag kan hona cylinderloppen ytterligare, jag har ju bytt tätningarna och man får hoppas att det inte var någon av de nya som var defekt. Jag har läst om undermålig kvalitet på gummidetaljer, men tyvärr även på nytillverkade cylindrar. Gjorde rent och slipade, tvättade och maskerade samt lackade nödtorftigt, får se om jag försöker göra det snyggare i vinter. Monterade de nya cylindrarna och observerade att de inte är riktigt lika i bakänden, det är även olika gänga i godset för adaptern till ledningen för kopplingen. Kunde förresten konstatera att det var kopplingcylindern som läckt. Fick sen hjälp av en bekant att lufta bromssystemet.
I've had a problem with a small leak at the brake and clutch master cylinder taking the paint out but not so big that it affected the functions. Decided to buy a new cylinder instead of trying to grind/polish it further, the seals are all new, but I've heard of rubbish quality of both rubber details and new master cylinders but I'm hoping It will work out well. Stripped out the cylinder grinded and washed away ruined paint, masked it up and sprayed new paint as a quick fix, I'll try to make it better in the coming winter. Comparing the old and new cylinder I observed that the new is a bit different at the rear end and that the threads for the adapter piece for the clutch line are different. By the way I noticed that it was the clutch cylinder that had been leaking. Got help from a friend working the pedals to get the air out of the lines, I have a vacuum tool but somehow it has problems getting all air out of the system, another problem is the small volume in the the master cylinder reservoir, I managed to empty it twice, drawing new air into the brake lines..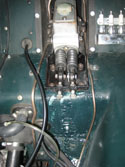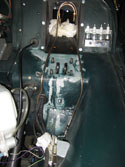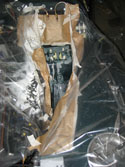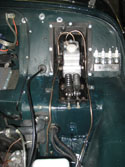 Datum 2018 May 03
Fått hem nya bromstrummor fram, hoppas att vibrtionen som kom vid 90-100 kmh försvinner. Jag är tvungen att kapa av 4 mm för att de ska gå fria från P-ändarna som sticker ut mer än orignal pga de modifierade styrarmarna från Revington. Jag målar trummorna med högtemperaturfärg och bakar trummorna i 250 i ugnen för att härda färgen.
I've got the new front brake drums and hope that it will sort the unbalance at 60 mph and above. I have to cut 4 mm of the rim of the drums to make them fit, the track rod ends are getting to close to the drums caused by the Revington steering arms. I'm painting the outside of the drums with high temperature paint and I'm curing the paint at 250 centigrade in the oven.




Datum 2018 May 01
Har monterat en backspegel på vänster skärm så jag får lite bättre koll på trafik bakom.
I've fitted a rear view mirror on left front wing to get a better view what's behind.


Datum 2018 Apr 26
Gjort iordning en reservfördelare, isf att ta med rotor, kondensor, brytare, fördelarlock, blev det inte mycket dyrare att köpa en komplett från Accuspark, visserligen en motsvarande Lucas 25D, men flyttar man tändkablarna ett steg moturs och vrider fördelaren max medurs funkar det hjälpligt. Rätt fördelare är Lucas DM24P Man kan naturligtvis köpa en elektronisk från 123 Ignition, men då pratar vi 3000 kronor.
Prepared a spare distributor instead of bringing rotor, condensator, points and distributor cap. It wasn't much more expensive buying the equivalent of a Lucas 25D from Accuspark. It works OK if you move the ignition cables one step counter CW and turns the distributor max advanced. Accurate distributor would be Lucas DM24P. I could of course bought an electronic from 123 Ignition, but then the cost would be 250 pounds.

Datum Apr 13 2018
Bra att ha saker som jag stoppar i reservhjulsutrymmet, 5 l reservdunk, varningstriangel, bogserlina, domkraft, reservdäck på burk, en verktygssats, en liten L-lampa. Enda originalverktyget är hjulmutternyckeln. Ska även stoppa dit startkablar. Får fundera på reservdelar, men fläktrem, kondensator, rotor, brytarsptsar är väl ett minimum.
Stuffed som essentials in the spare wheel compartment, 5 l spare fuel can, warning triangle, tow line, jack, spare wheel on can, some basic tools and a little LED-torch. Only original tool is the wheel nut spanner. Still missing is wires for emergency start. Also need to have some spareparts like fan belt, condensor, rotor, breaker points at least.

Datum Dec 08 2017
Ny vindruta levererad från Rimmers. Kostade på en Triplexruta eftersom den sägs ha bäst passform. Priset var OK eftersom Rimmer hade ett av sina erbjudanden (17% rabatt) men frakten var svettig.
Got the new windscreen from Rimmers. Decided to buy the Triplex screen even though it's twice the price of the cheap ones, it's said to fit the frame better than the cheaper ones. The price became a bit better as Rimmers had one of their offers of -17%. The shipping cost to Sweden was hefty though. TR shop had a better offer but they didn't leave any guarantee that I should get the windscreen in one piece.

Datum Nov 10 2017
Köpte ett par ramar till "sidescreens" från en privat säljare i England, har inte riktigt bestämt om jag ska gå på original eller modifierat utförande. Reparationen redovisad på sidan Kaross.
Bought a couple of sidescreen frames from a private seller in UK, haven't decided yet if I'm going for originality or if I'm going to modify them. Repairing of the sidescreens documented under page Body.