Inredning / Interior/Trim
Datum 2020 Mar 07
Uppdaterat nödkittet, förutom fläktrem, tändstift, lampor, säkringar och relän så stoppar jag ner en fördelare och en bensinpump. Lite verktyg behövs också, tumnycklar, insexnycklar i tummått, tång, skruvmejslar, ett universlinstrument. Självklart finns startkablar och bogserlina som sista utväg, funderar också på om det lilla bagageutrymmet har plats för en reservdunk, tanken är bara på 27 liter.
Updated the emergency kit, except fan belt, spark plugs, light bulbs, fuses and relays I'll add a distributor and a fuel pump. Some tools are also needed like, inch spanners and Allen keys, plier, screwdrivers and multi meter. Obviously the last resort are jumper cables and towline, also pondering over a small Jerry can, if it will fit in the tiny boot, the tank only take 27 liters.

Datum 2019 Nov 17
Monterad höger stol, gjorde en brädbit för att hålla skenorna på plats medan jag monterar stolen, det tog evigheter på vänster sida att rikta in dem, på den här sidan gick det hur enkelt som helst. Monterat ratten. Börjat göra en mall för en matta i bagageutrymmet, klippte ut en matta från en bit på "bra att ha hyllan".
Fitted RH seat, made a piece of wood to keep the rails in place while fitting the seat to the floor, it took ages to fit the LH seat but this side took no time at all. Fitted steering wheel. Started making a template for a carpet to the boot floor, and cut out a carpet from material "in stock".




Datum 2019 Nov 16
Monterade vänstra sätet och upptäckte att det inte gick att skjuta sätet hela vägen bakåt pga placingen av rullen till säkrhetsbältet. Fick skifta plats på bältena och placera rullen uppe på bakre innerskärmen, nu kan man skjuta sätet hela vägen bakåt. Även brandsläckaren är på plats.
Fitted the LH seat and discovered that it couldn't be pushed all the way back due to the seat belt roll. Had to shift position of the belts and place the roll up on the rear inner wing, now the seat can be pushed all the way back. Even the fire extinguisher is in place.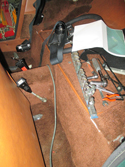 Datum 2019 Nov 15
Ställt in sätena klart för montage.
Put the seats in ready to be fitted.

Datum 2019 Nov 08
Gjort färdig suffletten, nästan skrynkelfri, men väldigt svår att spänna fast, troligen pga den nya tätningslisten i framkant.
Finished the hood, almost wrinkle free, and very difficult to close at the front, probably due to the new sealing strip.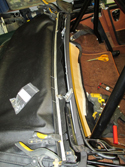 Datum 2019 Nov 07
Fortsatt jobb med suffletten, enligt tips från Moss fäster jag kromlisten och tryckknapparna i bakkant med mutterclips isf plåtskruv direkt i sargen. Monterar profilen i framkanten, markerar mitten inför limmning mot frontprofilen samt höjer temperaturen i garaget till rejäl sommartemperatur så att det ska gå lite lättare att sträcka vinylen.
Continuing with the hood, following a tip from Moss I'm using nut clips instead of screws directly into the plate edge to secure the hood, retainer and the push button washers. Fitting the header railing, marking out the center before glueing the vinyl to the rail. Raised the temperature to summer levels in the garage to make the vinyl soft and cooperative.








Datum 2019 Nov 06
Banden i sufflettställningen var i mycket dåligt skick så jag köpte 40 mm brett polyesterband på Hornbach för bara 25 kr/m att ersätta med. Gjort klar kantskoningen i bakkant. Börjat preparera för montage av suffletten, tagit loss skenan i framkanten av den gamla suffletten och borrade ett större hål i underkant för att få ut alla resterna av popnitar som skramlade omkring inuti. Stålborstat och målat samt lagt ut den nya suffletten.
The webbing in the hood frame was in very bad shape, so I purchased 40 mm wide polyester webbing (only 2 Pound/meter) to use as replacement. Finished the rear edge trim. Started preparing for the new hood, removed the retainer and header rail from the old hood, had to drill a hole in the bottom of the header rail to get out the remains of the blind rivets that were ratteling around inside. Steel brushed and painted the header rail and spread out the new hood over the frame.









Datum 2019 Nov 05
Börjat montera kantskoningen på den bakre sargen, inklusive kardborrefästet för suffletten bakom dörren. Anpassat högra panelen på växellådstunneln så att man kommer åt luckan för luftning av slavcylindern till kopplingen. Var tvungen göra nya hål i dörrpanelerna för dörrhandtagen, de förstansade passade inte alls. Nu är alla mattor på plats, saknar några tryckknappar till mattan bakom sätena.
Started fitting the edge trim at the rear, including the Velcro strips behind the door for the hood. Adjusted the RH trim panel on the gearbox tunnel to make access to the hatch for bleeding the clutch slave cylinder. Had to punch new holes in the door trim panels for the pull handles, the pre punched didn't fit at all. Now all carpets are in place, missing a couple of push buttons for the carpet behind the seats.







Datum 2019 Nov 02
Monterat säkerhetsbälten och lite fler paneler och mattor, bla. de på golvet vid fötterna som sitter med tryckknappar.
Fitted saftey belts and more trim panels and carpets, among others the ones on the floor with are attached with push buttons.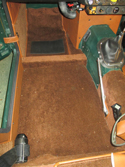 Datum 2019 Oct 28
Limmat lite fler mattor samt klätt B-stolparna. Gjorde en plastbricka över hålet för mutterbrickorna till dörrlåsen. Börjat stansa hål i kantskoningen runt bakre sargen.
Glued some more carpets as well as vinyl on B-posts. Made a plastic lid to cover the hole for the nut washers to the door locks. Also started fitting the beading of the rear rim by punching holes where the existing holes are in the steel rim.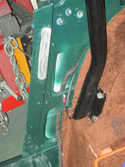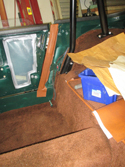 Datum 2019 Oct 24
Monterat dörrstoppar, panel på mittkonsolen och innerbelysningen där, klistrat asfaltmattor som ljuddämpning i fotutrymmet samt mattan på kardantunneln.
Fitted door stops, trim panel on bulkhead with interior light, glued sound dampening material on the floor and the carpet on the tunnel.





Datum 2019 Oct 23
Monterat några paneler och provmonterar suflettbågen. De 3 banden mellan ett par av bågarna bör nog byta ut, de är väldigt styva.
Fitted a couple of trim panels and test fitted the hood frame. The 3 webbing strips are in a poor condition and need to be substituted.



Datum 2019 Oct 16
Klistrat mattor på bakre hjulhus så jag kan montera störtbågen.
Glued carpets to the rear wheel arches, so I can fit the roll over bar.

Datum 2019 Oct 12
Dörren på vänstersidan nästan klar, fattas bara tätningslisterna.
Now door on LH side almost finished, only missing weather strips.


Datum 2019 Oct 11
Ibland blir det ett steg bakåt för att komma framåt. Tänkte skruva dit "peggarna", för "Lift The Dot" i ett sittbrunnskapell, uppe vid vindrutan samt skruva dit kantskoningen ovan instrumentbrädan, men upptäckte att det skulle jag gjort innan jag satte dit instrumentbrädan. Kollade också att jag hade alla mattor som behövdes men där upptäckte jag att jag inte hade tryckknapparna som håller mattorna i golvet, så det blev en beställning från MGOC Sparepart.
Sometimes you need to take one step back to get forward. Was going to fasten the pegs for Lift The Dot buttons in a tonneau, up behind the wind screen and also fit the padding above the dashboard, but discovered that I should have done that before fitting the dashboard. Checked that I had all of the carpets and discovered that I didn't have the push buttons to fix the carets to the floor, so I ordered them from MGOC Spareparts, much cheaper than Moss and Limora/SC parts.



Datum 2019 Sept 28
Köpte en justerbar ventil och en push-pull vajer från CBS för att kunna justera värmen utan att behöva öppna huven. Tillverkade en konsol för ventilen och satte in ett par nitmuttrar i värmepaketets hölje där jag skruvade fast den. Justervajern fäste jag i extrapanelen jag har under instrumentbrädan.
Bought an adjustable valve a push/pull wire from CBS to make the heater adjustable without opening the bonnet. Made a bracket for the valve and fixed it to the heater box with a couple of rivnuts. I fixed the wire to the extra dashboard panel I've fitted below the dash.







Datum 2019 Aug 25
Tycker att ratten som följde med bildelarna är väl liten, 12 tum, så jag köpte en relativt billig 14 tums ratt på nätet. Borde göra bilen mer lättstyrd och ger bättre vy av instrumenten, än bättre om man vänder den "upp o ner", i alla fall känns det så. Jag kanske skulle såga av en eker?
I think the steering wheel that came with the parts is to small, 12 inch, so I purchased a cheap 14 inch copy online. It should make the steering easier and gives a better view of the speedo and the rev counter, even better if I turn it "up side down" if there is such a thing. It feels strange with one spoke pointing upwards, maybe I should just cut it?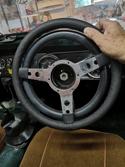 Datum 2019 Jun 21
Snyggat till domkraft och hjulnyckel.
Touched up the jack and wheel nut wrench.

Datum 2019 Mar 11
Fick hem nya suffletten från Limora, för en gångs skull billigare än Moss, rejält mycket billigare, så jag köpte en sufflet med dragkedja runt bakrutan.
Got the new soft top from Limora today, for once cheaper than Moss (even with the 15% Moss discount), a lot cheaper, so I felt that I could afford a top with zip out rear window.

Datum 2019 Feb 09
Målat, satt i tätningar och monterat ihop värmebatteriet samt klistrat på lite etiketter jag hittat i lådorna som följde med bilen. Putsat upp flaskan till vindrutespolningen så gott det går, etikett även här.
Painted, sealed and fitted the parts of the heater to a box and glued on some labels that I found in the boxes that came with the car. Cleaned up the windscreen washer bottle as good as it gets and fitted a label here also.


Datum 2019 Jan 16
Köpte en stoppning till kanten på instrumentbrädan från MGCO, den är visserligen till MGB men passar med lite anpassning. Fick börja med att ta ut en ränna på baksidan med en handöverfräs samt korta den knappt 10 cm. Hittade en ny typ av kontaktlim, lösningsmedelbaserat, men helt tixotropt, inte en enda limsträng, jättebra att jobba med.
Kommer att klä om listerna till överkanten av dörrarna i svart då jag inte tror jag kan hitta vinyl i rätt brun färg .
I bought padding for the dashboard from MGCO, it's actually for a MGB but fits with a little adapting. Started by milling out a channel on the rear side and shortening the padding with approx 100 mm. I found a new type of contact adhesive that's much easier to work with than the old "stringy" type (it's not water based).
Will also cover the door capping in black vinyl, I don't think I'll find vinyl in right brown colour.