« Lotus 2 Eleven kit car build diary
Drivlina
Kolla även under Uppdateringar där en del finns beskrivet. Also check under Updates were some jobs are described.
Växellåda manuell 6-växlad typ C64. Borde vara C63 från Celica för att få rätt växelmönster. 1st 2nd 3rd 4th 5th 6th Reverse Final 3.166 2.050 1.481 1.166 0.916 0.815 3.250 4.529
Datum 23 May 04
Upptäckte att jag inte hade luftat kopplingen ordentligt efter motorbytet, gjort om gjort rätt.
Dicovered that I hadn't bled the clutch enough after switching engines, now done properly.



Datum 22 Jun 30
När jag körde kunde jag ibland höra ett skavande ljud, det visade sig att fälgarna bak nuddade stötdämparna i vissa lägen. Jag köpte 3 mm spacers på Biltema och problemet var löst.
While driving I sometimes heard a scraping sound, closer investigating gave that it was the rear rims just nudging the shocks from time to time. Easily solved by buying spacer at a local parts shop.

Datum 22 Jun 03
Upptäckte att jag hade glapp i båda bakhjulslagren, vid kontroll visade det sig att splinsen bottnade så att lagren aldrig förspändes, detta pga att jag inte insett att det behövdes en distansbricka mellan drivaxel och lagrets insida, att jag inte fattat detta berodde på att jag bara hade hittat en sådan bricka utan att förstå var den hörde hemma. Den finns inte med i varken Lotus eller Toyotas manualer, men så är ju navet modifierat också. Jag beställde vanliga planbrickor för M27 vilka hade rätt hål dia 28 mm och ytterdiameter 50 mm, isf original 52 mm, samt rätt tjocklek 4 mm. Provade att med brickan monterad dra hjulmuttern till rätt moment, 220 Nm, och då fanns inget glapp alls kvar. Fick hjälp med att svarva ur en invändig fas på köpt planbricka och sen med lite puts med slipmaskinen satt den som en smäck. Det enda som sknas nu är en genomgående bult med brickor för höger framhjulsnav (ersätter drivaxeltappen), i vänster framhjul har jag axeltappen med hastighetsgivare från den skrotade drivaxeln. Kolla på "elfliken" Apr 29
Discovered play in both rear wheel bearings, when checking I discovered that the splines were bottoming out so there was no pressure at all on the bearings. This was dependent on the fact that I had not understood that there was missing a distance washer between the bearing and the driveshaft. It's not found in either Lotus or Toyota handbooks, because the hubs I've got are a bit modified, bearing are Lotus original though. I ordered a plain flat metric washer M27 which has the same thickness, 4 mm, and the same ID, 28 mm, as the original washer, the outer diameter is 50 mm instead of 52 mm. I got some help turning out the inside of the washer and with a little bit of grinding it fits perfectly. I tried fitting a spare driveshaft with the washer and tightening the wheel nut to a specified 220 Nm and there was no play at all anymore. The only thing missing now, is a bolt with washers for the RH front wheel, to simulate the driveshaft and wheel nut. In the LH wheel, I have the end of the scrapped driveshaft with the transmitter for the speedo that keeps the bearing in place. Check out under "electrical" Apr 29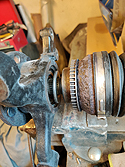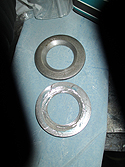 Datum 22 Feb 14
Upptäckte att jag monterat den krokiga drivaxeln på vänster sida, nu utbytt.
Discovered that I had fitted the bent driveshaft on the LH side, now replaced with a good one.


Datum 22 Jan 27
4 nya däck hemma. det blev Hankook Ventus, kollade även på Kumho, Toyo och Yokohama men valde Hankook på däckfirmans rekomendation.
4 new tires home, I did choose Hankook Ventus, checked out Kumho, Toyo and Yokohama but the choice became Hankook on the recommendation from the tyre shop.



Datum 22 Jan 10
Gjort ren och målat drivaxlarna samt återmonterat.
Cleaned, painted and refitted the driveshafts.



Datum 21 Sept 27
Tillverkat adaptrar till växelspaksfästet för växelväljarvajrarna. Växlandet fungerar (bakvänt) och lite kärvt, kanske måste fila lite till på fästet på växellådan.
Made a couple of adapters to the gear stick mount for the gear shift cables. Gear shifting works but is not as smooth as I would like, so I might need to do some more adjustments to the bracket on the gearbox.




Datum 21 Sept 24
Fick inte växelmekanismen att fungera, började med att göra om vajerfästet för tredje gången. Monterade det modifierade grenrörsfästet som ger bättre passage för vajrarna.
Couldn't make the gearshift mechanism work, had to modify the cable bracket for the third time. Fitted the modified exhaust manifold support that gives a better passage for the cables.



Datum 21 Sept 17
Monterat drivaxlarna.
Fitted driveshafts.

Datum 21 Sept 05
Försökt reda ut hur växelmekanismen ska fungera, började med att göra om vajerfästet för att få bättre frigång mot grenröret. Tyvärr ger standardarmarna för växelväljaren och medföljande växelspakar helt inverterat växelmönster med ettan nere till höger. Det följde med ett set armar som skulle ge rätt lägen för växlarna, men tyvärr så passar inte den motviktsbelastade spaken på skaftet, eftersom den motviktsspak som sitter i växellådan är gjuten på axeln, vilket antagligen betyder att axel blir för kort om jag försöker ta bort befintlig arm. Bytt ände på ena växelvajeren så att den passar mot växelspaken. Efter en konversation men Monkeywrench garage fattade jag att Lotus använt Celicans växellåda som har växelmekanismen på framsidan, annars helt lika. Så nu är frågan om att lägga ut 5-6000 för en annan växellåda eller lära sig växla i ett inverterat mönster.
Trying to understand how gear stick and gear shift mechanism works, started changing the wire bracket to not have the wires so close to the exhaust manifold. Unfortunately standard shifter arms and the gear sticks that came with the car gives totally inverted shift pattern at the stick with 1 down at right. The car came with another set of arms for the gearbox which would give the normal pattern at the stick, but the counter weighted arm doesn't fit the shaft because the standard counterweight arm is welded to the shaft and removing the arm would cause the shaft becoming to short for the new arm. Cut off and welded in another end of one of the gear shift cables so it will fit against the gear shift stick. In a conversation with Monkeywrench garage, I learned that Lotus has used the gearbox from Celica, that box has the gear shift mechanism on the front side, but everything else is the same as the Corolla box. So, now is the question if I'll spend £5-600 for a Celica gearbox, or learn to shift gears in an inverted pattern.