« Lotus 2 Eleven kit car build diary
El
Kolla även under Uppdateringar där en del finns beskrivet. Also check under Updates were some jobs are described.
Datum 2021 Sep 12
Kopplat upp motorelen på motorn utan kompressor
Wired up the engine without compressor.

Datum 2021 Jul 26
Kopplat upp parkeringslamporna
Wires up the parking lights.

Datum 2021 Jun 16
Putsade upp baklamporna och tror jag nöjer mig med dem, nya LED går på mellan 1000-2000 kr. Nästa projekt var att anpassa Lotushållaren för ljus- och blinkers-spak till Toyotaspaken, fick göra lite anpassningar även av Toyotaspaken. Största jobbet var dock att tillverka en klamma som håller spaken i läge. På andra sidan finns ju plats för en Lotus originalspak, men jag vet inte vilka funktioner man skulle koppla till den isf vindrutetorkare och spolare?
Polished the lenses of tail lights, I think I'll keep them for the moment, new LED lights will cost between 100 and 200 GBP. The next project was adapting the Lotus stalk holder to the Toyota stalk for light and indicator control, also had to make some adaptation of the Toyota stalk. The biggest job was to make a bracket for holding the stalk in place. On the opposite side, there is room for the original windscreen wiper and washer stalk, but I've got no idea what functions it could be used for, yet.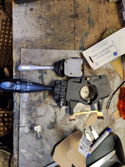 Datum 2021 Jun 03
Har jobbat med instrumentbrädan, slipat och klarlackat samt placerat ut varningslampa för låg nivå bromsvätska, tryckknapp för varningsblinkers, strömuttag och startnyckel. Modifierade startnyckeln genom att ta bort rattlåset och fixa ett nytt fäste, nyckeln sitter nu till vänster om ratten. Jag kanske monterar original tändningslås bara för funktionen rattlås, kan förenkla vid försäkring om funktionen finns. Kollade efter dimljus eftersom det ena hade spräckt glas, original Lotus är orimligt dyrt, flera tusen kronor, Elise-shop har en ersättare för ca 80 euro plus frakt, jag köpte ett till Pegueot från Autodoc för 250 kr och modifierade fästet så det passar hållaren från Lotus, hög timpenning på det jobbet.
I've been working on the dashboard, grinding down the surface and clear coating it. Cutting holes for warning light low brake fluid level, push-button for hazard light, charging outlets (cigarette lighter and USB), and ignition key. Modified the key by removing the steering lock and making a new support so it can be fixed to the dashboard, to the left of the steerig wheel. I might fit original ignition key just for the steering wheel lock function, some insurance companies demand it. Was searching for a new front fog light as one has a cracked lens, original Lotus is ridiculously expensive, several hundred pounds, Elise-shop has a replacement costing 80 euros plus shipping, I found one for a Peugeot with the same diameter and approximately sized brackets for less than 30 pounds at Autodoc. I modified the bracket to fit the Lotus bracket, saving a lot of money.






Datum 2021 May 26
Det har gått på lite sparlåga ett tag, men nu har jag gjort fästen för stora säkringslådan, ska göra inspektionslucka i tröskellådan senare så man kommer åt att kolla och byta säkringar. Har också gjort skarvkontakter för resten av kablarna mot motorn så denna enkelt kan separeras och lyftas ur.
A bit of slow progress for a while, but now I made brackets for the main fusebox, I'll make some hatches in the sill later for inspection and possibility to change fuses. I've also made junctions on the remaining wires from the engine so it will be easy to take the engine out, if necessary.




Datum 2021 May 09
Jobbar på med kabeldragningen och försöker hitta bra vägar samtidigt som jag är begränsad av längden på befintlig kabelstam. Tror att jag hittat plats för ECU och kopplingar mot motorn kabelhärva, svetsat in fästen i ramen för ECU och kopplingsdosor.
Still working with wire looms and trying to find good routing but I'm a bit restricted by the length of the existing Toyota loom. I think I found a good place for the ECU and the junction boxes for the wire loom from the engine. I've also welded in brackets in the chassis the junction boxes and the ECU.

Datum 2021 Apr 26
Fortsätter montera kontakter, nu för sidoblinkers, har också dragit kablar till nivåvarning bromsvätska, tar ström från en överbliven säkring fram till en liten varningslampa jag sätter i instrumentbrädan, kunde inte använda Toyotas varningslampa eftersom den var inkluderad i ABS-systemt jag rivit ut. Flyttat bakåt och städat upp runt anslutningarna mot motorn, kopplat upp bränslepump och nivågivare. Fick leverans från Car Builders Solution av backlampa och bakre dimljus med reflex runtomkring, ytterdiametern är lika Lotus lamporna, hade också beställt USB-ladduttag och tryckknapp för varningsblinkers.
Keeping on fitting connectors, now for side indicators, I've also wired up the level warning of brake fluid by taking power from an unused fuse up to a warning lamp I'll fit in the dashboard, couldn't use the Toyota warning lamp as that one was wired up in the ABS system that's not existing any more. Moved attention to the wire loom connecting the rear of the car, mainly the engine and the ECU, but also connected the fuel pump and the level transmitter. Got delivery from Car Builders Solution of reflectors with fog light and reversing light inside, outer diameter is the same as the Lotus tail lights. I also got a USB charging outlet and a pushbutton for Hazard lights.






Datum 2021 Apr 26
Har börjat montera "gör det själv"-kontakter, bla.för blinkers där tom. anslutningen mot själva lamphållaren blev special. Har tillverkat en kabelkanal bakom framhjulet som skydd för kablarna. Kopplat upp ytterligare en kylfläkt, tillverkat fästen för fläkten.
Started making DIY connectors, among others for front indicators. Also made a channel behind the front wheel to protect the wiring. Wired up the second new cooling fan, had to make brackets to keep the fan in place.












Datum 2021 Apr 15
Jobbat vidare med kablarna mellan fram och bakände, bl.a. förlängt en kabelhäva från motorn fram till säkringsboxen placerad fram. Har börjat med den grova ledningen från batteri via säkerhetsbrytaren till startmotorn och kabeln från generatorn tillbaka till säkringsbox och batteri. Jag har identifierat kablarna i den lilla kabelhärvan från Lotus som kopplar upp allt ljus bak, så jag kan koppla ihop den med Toyotakablarna.
Have been working with the wiring between front and rear, I've among other thing lengthened a wire loom from the engine to the front fuse box. I've also stated with the two thick wires from battery, via the safety switch, to the starter and the one from the alternator to the battery. I've identified all the wires in the Lotus loom connecting all the rear lightning so I can join it with the Toyota wiring loom.




Datum 2021 Apr 11
Jobbat med kablarna framme, kopplat upp en strålkastare, monterat nya signalhorn, dragit fram ledningar till dimljusen, gjort fäste för reläboxen till ljus och ordnat en gemensam jordpunkt. Har också monterat batteriet och huvudströmbrytaren.
Have been working with wiring at the front, wired up headlights, new horns, fog lights, made brackets for relay box and ground point. I've also fitted battery and main safety switch.






Modifierat kopplingsschema och legend/ Modified wiring diagram and key to diagram
Datum 2021 Apr 05
Flyttat relä- och säkringsboxen för hel- o halv-ljus bakåt i kabelhärvan så att man kan komma åt den via luckan fram. Förlängt ca 30 kablar som ansluter till instrumentet.
Moved the fuse and relay box for main lights a bit to the rear in the wire loom so it can be reached at from the bonnet (front) . Extended 30 wires to the instrument cluster connector to reach the new position in relation to the fusebox.



Datum 2021 Apr 02
Spårat lite kablar i motorns kabelhärva, framförallt matning från generator och matning till startmotor eftersom dessa måste förlängas fram till batteri och säkringarna. Köpte ett AGM-batteri och tillverkade en batterilåda, passade på att göra fästen för den stora säkringslådan framme vid batteriet.
Traced wires from alternator and to starter as those have to be lengthened up to the fuse box up front. Made a battery box to the AGM-battery I bought and also made brackets for the fuse box I placed close to the battery.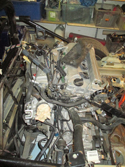 Datum 2021 Mar 24
Har monterat generatorfästet och generatorn, ganska tight fit. Öppnat upp framför instrumentbrädan så jag kunnat trä igenom säkringsdosa och kablar, samlat kablarna som går bakåt och de räcker precis till bakstammen.
I've fitted the alternator bracket and the alternator, tight fit. Opened up in front of the instrument cluster, so I was able to thread the wire loom and fuse box through, I also joined the wires going to the rear, and they are long enough, just.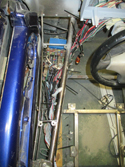 Datum 2021 Mar 22
Då jag inte hittar delar av fästet för generatorn tillverkar jag ett eget av plåt.
Not finding parts of the alternator bracket, I'm making my own out of steel plate.





Datum 2021 Mar 20
Nu vågar jag inte klippa mer, jag har lagt ut härvan och samlat kablarna med buntband. Provar i bilen vad som passar och vad som behöver ändras. Troligen räcker huvudstammen mellanstora säkringsdosan och ECU som tur är, men alla de tunna kablarna till instrumentet måste förlängas. En annan fråga är batteriet bak eller fram, i Toyotan sitter batteriet bredvid motorn och väljer jag samma lösning måste ett gäng kablar färlängas fram till den svarta avlånga säkringsdosan som har huvudsäkringarna, eller så flyttar jag batteriet till framändan och förlänger kablaget från generatorn (plus några andra kablar), men det verkar enklare och borde heller inte vara fel ur viktbalanssynpunkt heller.
I don't dare cut any more, so I spread out the cables and temporarily joined them with cable ties. Testing in the car what works and what needs to be altered. It seems that the main loom between the big fuse and relay box and the ECU is long enough, but all the thin wires from the loom to the instrument cluster needs to be lengthened. Another question is if I'll put the battery at the back or at the front, in the Toyota it sits next to the engine and if I choose the same solution Quite a few thin wires and the main feed to the main fuses need to be lengthened up to the black fuse box that sits at the front. The other solution is that I move the battery to the front and lengthens the wires from the alternator (and a few others), this seem simpler and will also improve the weight distribution a bit.




Datum 2021 Mar 17
Fortsatt med att rensa i kabelhärvan, men nu vågar jag inte klippa mer efter ytterligare en vecka med näsan i kopplingscheman, har rensat ut 7.5 kg kabel. Jag har även rensat bort ett antal kopplingsstycken och skarvat kvarvarande kablar permanent. Mycket hjälp av betaltjänsten <"Toyota tech.eu"> där jag laddat ner alla kopplingsscheman och annan teknisk dokumentation.
Continuing to strip the wire loom, but now I don't dare cut any more after another week of cutting and studying wiring diagrams. I've removed 7.5 kgs of wire and also quite a few junction boxes and then joined the remining wires permanently. I've had a lot help from pay per hour <"Toyota tech.eu"> where I've downloaded all the wiring diagrams and other technical documentation.


Datum 2021 Mar 11
Fortsatt med att rensa i kabelhärvan, radio o högtalarkablar, ABS, styrservo, vindrutetorkare och spolning (fram o bak), höjdreglering strålkastare. Har också börjat spåra upp system som ska behållas, hel o halvljus, dimljus, blinkers, backljus, tändningslås mm.. Försöker också lista ut vilka kablar som finns i den kapade stammen till bakre delen av bilen.
Continuing to strip the wire loom, radio and speakers, stability control, power steering, wipers and washers (front and back), level control head-lights. I have also started to track systems to keep, such as headlight, foglight, reversing light, indicators, starter key among other things. Also trying to figure out which wire is which in the loom to the rear of the car, which is cut of.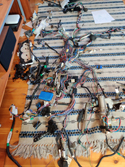 Datum 2021 Mar 02
Börjat lite försiktigt rensa i kabelhärvan, först bort blev air-bagsystemet och stolsvärmen.
Started cutting out wires from the wire harness, first out was air-bag system and heated seats.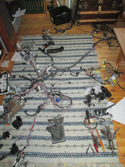 Datum 2020 Dec 04
Lagt ut de båda kabelhärvorna för jämförelse. Lite skrämmande mängd kablar vid första påseende, men försiktigt ska väl en hel del som stolsvärme, krockkuddar, innerbelysning mm. kunna klippas bort. Började med att borra ur låsskruvarna till tändningslåset för att få loss det från styrservot, en annan komponent som inte kommer att behövas. ABS och antispinn lär väl också få stryka på foten.
Spread out the two wiring looms to compare them. A little bit terrifying amount of wires at first glance, but with some caution, a lot should be able to get rid of, such as seat heating, air bags, inner lighting etc.. Started with drilling out the locking screws for the ignition lock separating it from the servo, another thing that will be gone as well as ABS and traction control.