« Lotus 2 Eleven kit car build diary
El
Kolla även under Uppdateringar där en del finns beskrivet. Also check under Updates were some jobs are described.
Styrbox, säkringar i tröskellådan, huvudsäkringar vid batteriet, relän vid huvudsäkringar och i motorutrymmet.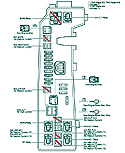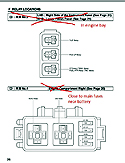 Datum 23 jun 26
Då det inte fungerade med mittbackspegel på lång pinne, den vibrerade av, så satsar jag på digital backspegel. Tillverkade ett fäste, gjorde en kabelgenomföring i instrumentbrädan, monterade backkamera och GPS. Nu har jag vy bakåt, och framåt med för den delen, sidobakspeglarna må vara snygga, men mycket sikt är det inte i dem.
When it didn't work with the central rearview mirror on a long stick, it vibrated off, I chose to fit a digital rearview mirror. Made a bracket and fitted a grommet in the dashboard to pass through the wires, fitted a rear camera and also a GPS receiver. Now I have a rearview, and front as well if I choose to, the side rear view mirrors look nice but they are too tiny to give a good view.







Datum 23 May 06
För att summera, så har jag kopplat in en tillfällig varvräknare och en "Boost"-mätare, jag har fixat till en "glömt ljus"-summer via en dörrströmbrytare. För att få signal till varvräknaren tillverkade jag en multikabel för framtida bruk, en av ledarna är för varvräknarens signal. För att få impuls till tryckmätaren drog jag en vakumslang med 3 mm ID, tyvärr så finns det inget tryckuttag på motorn, jag hittade efter en stunds letande en slangnippel med 3 mm anslutning hos Miniracingteknik. Borrade ett 3,5 mm hål i tryckledningen, gängade M4x0,75. Tilverkade ett montageverktyg av en liten fyrkantstång med en slits i samt en klick tuggummi för att hålla fast den lilla nippeln. Testade och fick ingen signal. Kollade att slangen var fri, monterade ur nippeln igen och konstaterade att den inte var helt genomborrad, borrade ur och återmonterade och nu har jag signal på tryckmätaren, kollade också att inkopplad kompressor ger tryck.
To sum upp recent weeks, I've fitted and wired up a revcounter gauge and a "Boost"-gauge, I've fixed a"forgotten light" buzzer connected to a door switch. To get a signal to the revcounter, I made an multiwire cable with only one wire used for the revcounter, the remaining are for future use. To get a pressure, or rather a vacuum signal to the pressure gauge, I used a 3 mm ID vacumm hose, unfortunately there is no outlet after the compressor to connect to, so after searching the web I found a hose connector M4 and male 3 mm outlet, I found it at firm selling parts for Miniracing. I drilled a 3,5 mm hole in a tube on the pressure side of the compressor and tapped it with M4x0.75. Afraid of loosing the tiny connector, I made a mounting tool of a square aluminium tube with a slit and a chewing gum to hold the connector and screwed it in place. Tested and got no signal, after fault finding I discovered that the tiny connector wasn't fully drilled through, now it is and the pressure gauge is working, I also checked that engaging the compressor changed the pressure, and it does.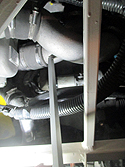 Datum 23 Apr 19
Kopplat upp reläet till kompressorns magnetkoppling med ström från säkringen "Wiper 25 A" via en strömbrytare, detta tills vidare. Måste klura ut hur jag kan få en vakumsensor med brytare koppla in och ur kopplingen beroende på trycket i insuget eller om det ska vara på differenstrycket över gasspjället?
Wired up the relay for engaging the magnetic clutch of the supercharger feeding it from the "Wiper 25 A" fuse and an on/off switch. This until I found out how to automatically engage/disengage the relay with some kind of pressure/vacuum sensor/switch functioning on he pressure in the manifold or the differential pressure over the throttle.


2023 Apr 04
Fått tillbaka kompessorelns styrbox med nycklar kodade att passa mot den boxen (nycklar sknades helt, eller rättare sagt fel nyckel följde med den styrboxen), men slipade att passa bilens tändningslås alltså lika den nyckel jag haft hitintills. Passade också på att beställa en reservnyckel till eln/boxen som sitter i bilen, jag har bara en nyckel och det är ju lite riskabelt med tanke på att den är kodad mot styrboxen.
I got back the ECU for the compressor engine, now with keys coded to fit that box, I had no keys at all before because the key that came with the box was the wrong key. The new keys are cut to fit the same lock as the one for the engine and ECU in the car. I also ordered a spare key for the ECU and lock in the car, as I only have one working key, and that is a risk I'm not willing to take.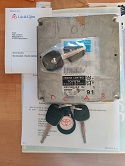 2023 Apr 01
Flyttade upp handtagen för säkerhetsbrytare el och brandsläkkaren upp i instrumentbräda. Jag gjorde en låsbygel för att inte jag eller någon annan oavsiktligt ska lösa utt brandsläckaren.
I moved the release handles for main switch and fire extinguisher up into the dashboard and made a safety bracket for the fire extinguisher, so no one can release it by accident.


2023 Mar 20
Testat det nya ODB-uttaget, och jag får data till felkodsläsaren. Bytte ut instrumentklustret, problemet med det svarta klustret var att det kräver bakgrundsbelysning, men när man tänder belysningen dagtid så dimmas instrumentbelysningen och blir i princip omöjlig att se när solskyddet i integralhjälmen är nerfällt. Som syns på bilden lyste 4 varningslampor som inte är relevanta, jag tog helt enkelt bort lysdioderna bakom.
Tested the new ODB connection, and it gives data to the code reader. I changed the instrument cluster from black to white, because the black one needs background light and while using the DRL it dims the instrument so it can't be read with the sun visor in the helmet closed. As seen in the picture, 4 warning lights were glowing, all for non-existing systems, so I simply removed the light diodes behind.

2023 Mar 13
Testar att flytta ODB-uttaget från 2003-kabelhärvan till den från 2006 som sitter i bilen och som av någon anledning inte har ODB-uttag. Hittar alla anslutningar utom 2 som jag misstänker är relaterade till ABS och Airbag, Placerar kontaktdonet i kåpan som sitter som skydd över ECUn. Monterat en ny version av varningssignal för glömd blinkers, den börjar varna efter ca 20 blinkningar med gradvis högre ljud, signalen pausas om man håller foten på bromsen, som tex vid ett trafikljus.
I'm trying to move the ODB connections from the 2003 wire harness to the 2006 harness in the car, where the ODB for some reason is missing. I found all the connection except for 2 that I suspect are related to ABS and Air-bag systems. I also fitted a new version of warning signal for forgotton indicator, it starts after a delay of 20 ticks with a gradually increasing sound and it is temporarily paused if you hold down the foot brake, for instance at a traffic signal.







2023 Feb 16
Testade ett tips från nätet om att släcka lampan för elfel, inte underligt att den lyser med tanke på hur mycket som fattas i kabelhärvan. Tipset är "ta bort 20 A säkringen för EFI (säkringsboxen vid batteriet) sätt på tändningen i 10 sekunder , slå av tändningen och montera tillbaks säkringen så ska varningslampan vara släckt vid nästa start", och det fungerade.
I tried a tip on the net how to turn of the engine warning light, no wonder my lamp is glowing considering how much is missing in the wire loom. The tip is "take out the 20 A fuse for EFI (in my case from the fusebox close to the battery), turn on ignition without starting, leave for 10 seconds, turn off ignition and fit the fuse. Next time you start the warning light is out", and it worked, at least once ;)
2022 Jun 28
I väntan på verktyget för att fixa kylvattenrören bytte jag instrumentpanelen från vit till svart, men bensinmätaren är fortfarande inte med, det finns signal ända fram, börjar fundera på om det finns + och - även om givaren i princip bara är ett motstånd mitt på ledningen?
While waiting for the special tool to fix the cooling pipes to arrive, I switched from the white instrument cluster to the black one, but the fuel gauge isnn't showing anything even though there is signal over the transmitter, I'm starting to wonder if theris + and - one the wires even thoughthe transmitter is jus a resistance in the middele of an wire?



2022 May 19
Kollade om varningslampan för nivå bromsvätska fungerade genom att lyfta upp flottören, det gjorde den inte. Checkade då att kretsen var OK genom att kortsluta givarledningarna, och lampan lyste, konstaterade också att givaren inte kortslöt. Bröt isär locket där kontaktblecken sitter och såg då att det ena var helt utslitet. Chansade på att köpa en universalgivare (för 400 kr)eftersom det inte går att köpa bara locket till Lotus behållaren, utan man måste köpa behållare med givare till det facila priset av 145 euro plus frakt, och det är från den billigaste leverantören i Holland. Monterade universalgivaren och det fungerar som det ska.
Checked the warning for low brake fluid level by lifting the transmitter, but no warning light, checked the circuit b´y shortening the wires and light came on, checked the transmitter but no contact. Broke the transmitter apart and saw that the contact surfaces were totally worn out. I bought a universal transmitter, for 40 euro, an fitted it and it works. If you want the Lotus part you need to buy the whole tank with lid and transmitter, the cheapest I could find was in Holland, and the cost was 145 euro, shipping not included.




2022 Apr 30
Gjort fäste för, kopplat in och gjort setup på nya hastighetsmätaren. Försökt göra en grovinställning av lamporna, upptäckte att jag hade vänt ena dimljust fram upp och ner, nu ändrat. Ganska olika ljusbild på nya och originaldimljuset.
Made a bracket for, wired up and did setup of the new speedo. Tried to make a soet of adjustment of the lamps, discovered that I had fitted the new foglamp upside down, now corrected. Very different projection from the original and the new foglamp.






2022 Apr 29
Efter ytterligare felsökning inser jag att hastighetsmätare inte kommer att fungera, på den här växellådan finns ingen givare, hålet är helt enkelt pluggat, så jag antar att hastighetsmätaren får sin signal från ABS-systemets dator. Jag beställde därför en enkel hastighetsmätare avsedd för elcykel, kapade en dålig drivaxel och monterade magneten i denn. Magneten ger impuls till givaren som jag monterat på navet.
After more troubleshooting, I realised that the Toyota Speedometer won't work, on my gearbox there is no transmitter, just a plug in the hole where it is supposed to sit. I guess that the ECU gets it's signal from the ECU of the ABS-system. I bought a simple speedo that is used on elcycles. To get a signal I cut the end of a bent driveshaft and drilled in a magnet that gives impuls to the transmitter for the speedo.

2022 Apr 14-22
Hittade 1 klippt kabel som ska indikera till ECU att tändningen är på, och då startade eln. Jag ser att varvräknare och hastighetsmätare inte fungerar, efter mycket letande, först i reservkabelstammen för att hitta mätpunkter och kopplingsställen, sen i bilens kabelstam. Hittade två signalkablar till som inte borde varit klippta, så nu återstår att skarva i ett par stumpar kabel där också. Att kablarna var klippta tror jag beror på att de hänger ihop med ABS,traction control och farthållare vilket jag städat bort, lite för ambitiöst tydligen.
While troble shooting i finally found a cut wire to ECU that indicates that the ignition is ON, soldered in a new wire and the engine runs. Now I can see that rev counter and speedo doesn't work, so after a lot of tracing in the spare wire loom to identify wires and junctions to be able to know where to measure in the cars wire loom I found another pair of signal wires to ECU. I think the reason I had cut those wires is that they also are connected to traction control and ABS, which I have cut out in total. Remains to solder in a couple of thin wires and I hope all systems are go.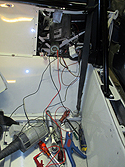 2022 Apr 08-13
Felsökning, mycket segt, eln går runt men ingen gnista och ingen soppa. Insåg att jag var tvungen demontera bensinpumpen, började plocka under plåt under men insåg att jag måste demontera växelreglage och handbroms förutom att släppa ner tanken. Jag tog det drastiska beslutet att kapa en rambalk och plåten bakom stolarna för att göra en lucka som kan användas i framtiden för att lättare komma åt ECU, relän, kontakter förutom bensinpumpen. Det visade sig att en intern skarv i pumpen inte var hopmonterad. Det hjälpte dock inte, pumpen startar inte via tändningen, men fungerar med direktmatning, konsekvensen var att bensinfiltret jag hade monterat sprack. Nytt bränslefilter på plats och skarvning av rambalk med lösmonterbar bit och lucka tillverkat.
Hittade en felkoppling i en förlängning av en del av kabelstammen, men det hjälpte inte heller. Nu studeras kretsscheman så ögonen blöder
Tracing the problems is going very slow, engine turns but no fuel and no spark. Realized that I had to take out the fuel pump and started removing the plates underneath the frame to drop the tank, but changed my mind and cut a chassis member above the pump as well as the rear wall behind the seats to get access to the pump, ECU, relays and joints. This will be useful in the future, so I made a removable part of the chassis and a hatch in the wall. The fuel pump problem was an internal joint not connected, but it didn't help, the pump is running with a temporary direct feed though. When the pump started running, it blew up the fuel filter, now changed to another type of filter.
I found an error in an extension I had made in the wiring loom, but that didn't solve the problem with spark and fuel. Now I'm studying the wiring diagrams so intense I'm getting cross eyed.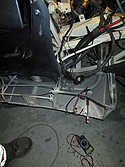 2022 Apr 06-07
Felsökning, tog lite längre tid än väntat att hitta felet på vänster blinker fram, det visade sig vara den helt nya glödlampan som var defekt. Nästa objekt var signalhornet, mycket kabelspårning där felet var mitt alldeles eget, kabeln var inte skarvad, och skarven var dold inuti ett skyddsrör. När panelen framför vindavisaren var loss passade jag på att fixa utlösningshandtag för brandsläckaren.
Inget bromsljus berodde på att en terminal hade lossnat från bromskontakten, passade på att justera in läget på kontakten. Problemet med varningsblinkers berodde på att att man kunde montera tryckknappen 180 grader fel i sockeln, det förde med sig att jag även var tvungen växla poler på diodbelysningen i knappen.
Tracing the problem with LH front indicator took more time than expected, the problem was a faulty brand new bulb. The next object on the list was the horn, in this case, the fault was entirely mine, a not joined wire inside a protective shielding tube. While the panel in front of the windscreen was out of the way, I fixed the release cable for the fire extinguisher.
No brake light was depending on one terminal not connected to the brake switch, I took the opportunity to adjust the position of the switch. The problem with the hazard indicators not working was due to the reason that the switch was able to be attached to the socket 180 degrees wrong, following that I had to also switch the polarity of the LED illumination in the switch.








2022 Apr 05
Monterade ett utlösningshandtag för säkerhetsbrytaren. Kopplade in batteriet för första gången, mycket fungerar, men inte vänster blinker fram, signalhorn, varningsblinker och bränslepumpen. Lite att ta tag i mao.
Fixed an emergency pull handle for the main safety switch. Connected the battery for the first time, most things work, but LH front indicator, warning indicators, horn and most important fuel pump. Some trouble shooting is needed.








2022 Apr 04
Kopplat in instrumenten och instrumentpanelen liksom högt bromsljus och belysning nummerplåt.
Wired up the dash and connected the instrument cluster, I also fitted the high brake light and the licence plate lamps.



2022 Mar 30
Gjort klar bakre delen när jag fått LED-lamporna till högt bromsljus och skyltbelysning, har dubbelkollat att lamporna har + åt rätt håll. Har också tillverkat en skyddskåpa över styrbox och relän.
Finished the rear clam after recieving the LED-lamps for high brake light and licence plate lamps, I've really checked that the LEDs have + on the right side. I've also made a protective cover for the ECU and relays.

2022 Mar 29
Installerat stötkänslig brytare som kopplar bort bränslepumpen och tänder varningslampa i panelen om den har löst ut. Kopplat jordsladd till bränslepåfyllningen, kopplat in kabelstam bak och fixat en brytare för belysningen i bagage- och el-rum.
Installed an inertia switch that will disconnect the fuel pump and will activate a warning lamp in the dash panel if triggered. Made a ground connection for the filler neck. Connected the rear wire loom and completed the wiring for the lamps in the boot and engine bay, including a switch.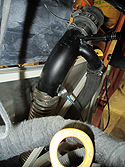 2022 Mar 28
Konverterar Lotus bakre kabelstam till att passa LED-lampor, alla skarvkontakter utbytta. Upptäckte att skyltbelysningen är lånad från Rolls Royce. Diverse pyssel med montering av lyktorna, fick bla tillverka ett gäng plåtar för att hålla baklyktorna då hålet i karossen var större än hålbilden i de spacers jag monterat för att linserna ska komma tillräckligt långt ut för att var lagenligt synliga. Monterar även belysning i bagage och elrum.
Converting Lotus rear wire loom to fit LED lamps, all connectors are now new. Discovered that the licence plate lamps are from Rolls Royce. Quite a lot of work fitting the lamps, I had to make reinforcement plates to hold them in place as the holes in the body are larger than the circle of holes for screws in the spacers I'm using to get the lamps enough far out to be visible. I've also fitted lamps to illuminate the luggage compartment and the engine bay.








2022 Feb 26
(Elrelaterade bilder från Chassi-fliken)Har tillverkat en kabelkanal för tröskellådan, passade på att tillverka en bit kabelkanal i fronten också. Jag behövde fixa spacers för att höja säkringshållaren en bit från kylvattenröret, kan ju bli rätt varmt annars, sen behövde jag fixa serviceluckan för att komma åt säkringarna, hålls på plats med Dzus snabblås.
(Electric related pictures from Chassis page)I made a cable tray for the wiring in the sill, I also made a bit of cable tray for the wiring at the front. I had to make some spacer to raise the fuse box a bit above the engine coolant pipe, it can become quite hot, then I made the necessary service hatch to get to the fuses, kept in place with Dzus fasteners.







Datum 2022 Jan 12
Kompletterat vajerfästet till säkerhetsbrytaren med vajerspännare och tillverkade en 90 graders vajerledare, en för inre och en för yttre utlösarhandtag. Nöjd med bockningen av röret utan bockverktyg, bara gasbrännare.
Added a wire guide and wire tensioners for the release wires to the safety switch. Happy with bending the tube only using a torch.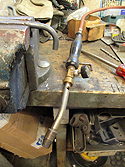 Datum 2022 Jan 01
Återinstallerat kabelhärvan, fixat genomgång i hjulhuset och gjort ett vajerfäste vid säkerhetsbrytaren för att kunna lösa ut den med vajer och handtag.
I fitted the wire loom back, made a pass-through in the wheel arch and made a wire bracket at the safety swith so it can be remotely released.



Datum 2021 Sep 12
Kopplat upp elelen på eln utan kompressor
Wired up the engine without compressor.

Datum 2021 Jul 26
Kopplat upp parkeringslamporna
Wires up the parking lights.

Datum 2021 Jun 16
Putsade upp baklamporna och tror jag nöjer mig med dem, nya LED går på mellan 1000-2000 kr. Nästa projekt var att anpassa Lotushållaren för ljus- och blinkers-spak till Toyotaspaken, fick göra lite anpassningar även av Toyotaspaken. Största jobbet var dock att tillverka en klamma som håller spaken i läge. På andra sidan finns ju plats för en Lotus originalspak, men jag vet inte vilka funktioner man skulle koppla till den isf vindrutetorkare och spolare?
Polished the lenses of tail lights, I think I'll keep them for the moment, new LED lights will cost between 100 and 200 GBP. The next project was adapting the Lotus stalk holder to the Toyota stalk for light and indicator control, also had to make some adaptation of the Toyota stalk. The biggest job was to make a bracket for holding the stalk in place. On the opposite side, there is room for the original windscreen wiper and washer stalk, but I've got no idea what functions it could be used for, yet.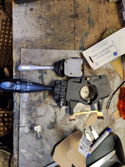 Datum 2021 Jun 03
Har jobbat med instrumentbrädan, slipat och klarlackat samt placerat ut varningslampa för låg nivå bromsvätska, tryckknapp för varningsblinkers, strömuttag och startnyckel. Modifierade startnyckeln genom att ta bort rattlåset och fixa ett nytt fäste, nyckeln sitter nu till vänster om ratten. Jag kanske monterar original tändningslås bara för funktionen rattlås, kan förenkla vid försäkring om funktionen finns. Kollade efter dimljus eftersom det ena hade spräckt glas, original Lotus är orimligt dyrt, flera tusen kronor, Elise-shop har en ersättare för ca 80 euro plus frakt, jag köpte ett till Pegueot från Autodoc för 250 kr och modifierade fästet så det passar hållaren från Lotus, hög timpenning på det jobbet.
I've been working on the dashboard, grinding down the surface and clear coating it. Cutting holes for warning light low brake fluid level, push-button for hazard light, charging outlets (cigarette lighter and USB), and ignition key. Modified the key by removing the steering lock and making a new support so it can be fixed to the dashboard, to the left of the steerig wheel. I might fit original ignition key just for the steering wheel lock function, some insurance companies demand it. Was searching for a new front fog light as one has a cracked lens, original Lotus is ridiculously expensive, several hundred pounds, Elise-shop has a replacement costing 80 euros plus shipping, I found one for a Peugeot with the same diameter and approximately sized brackets for less than 30 pounds at Autodoc. I modified the bracket to fit the Lotus bracket, saving a lot of money.






Datum 2021 May 26
Det har gått på lite sparlåga ett tag, men nu har jag gjort fästen för stora säkringslådan, ska göra inspektionslucka i tröskellådan senare så man kommer åt att kolla och byta säkringar. Har också gjort skarvkontakter för resten av kablarna mot eln så denna enkelt kan separeras och lyftas ur.
A bit of slow progress for a while, but now I made brackets for the main fusebox, I'll make some hatches in the sill later for inspection and possibility to change fuses. I've also made junctions on the remaining wires from the engine so it will be easy to take the engine out, if necessary.




Datum 2021 May 09
Jobbar på med kabeldragningen och försöker hitta bra vägar samtidigt som jag är begränsad av längden på befintlig kabelstam. Tror att jag hittat plats för ECU och kopplingar mot eln kabelhärva, svetsat in fästen i ramen för ECU och kopplingsdosor.
Still working with wire looms and trying to find good routing but I'm a bit restricted by the length of the existing Toyota loom. I think I found a good place for the ECU and the junction boxes for the wire loom from the engine. I've also welded in brackets in the chassis the junction boxes and the ECU.

Datum 2021 Apr 26
Fortsätter montera kontakter, nu för sidoblinkers, har också dragit kablar till nivåvarning bromsvätska, tar ström från en överbliven säkring fram till en liten varningslampa jag sätter i instrumentbrädan, kunde inte använda Toyotas varningslampa eftersom den var inkluderad i ABS-systemt jag rivit ut. Flyttat bakåt och städat upp runt anslutningarna mot eln, kopplat upp bränslepump och nivågivare. Fick leverans från Car Builders Solution av backlampa och bakre dimljus med reflex runtomkring, ytterdiametern är lika Lotus lamporna, hade också beställt USB-ladduttag och tryckknapp för varningsblinkers.
Keeping on fitting connectors, now for side indicators, I've also wired up the level warning of brake fluid by taking power from an unused fuse up to a warning lamp I'll fit in the dashboard, couldn't use the Toyota warning lamp as that one was wired up in the ABS system that's not existing any more. Moved attention to the wire loom connecting the rear of the car, mainly the engine and the ECU, but also connected the fuel pump and the level transmitter. Got delivery from Car Builders Solution of reflectors with fog light and reversing light inside, outer diameter is the same as the Lotus tail lights. I also got a USB charging outlet and a pushbutton for Hazard lights.






Datum 2021 Apr 26
Har börjat montera "gör det själv"-kontakter, bla.för blinkers där tom. anslutningen mot själva lamphållaren blev special. Har tillverkat en kabelkanal bakom framhjulet som skydd för kablarna. Kopplat upp ytterligare en kylfläkt, tillverkat fästen för fläkten.
Started making DIY connectors, among others for front indicators. Also made a channel behind the front wheel to protect the wiring. Wired up the second new cooling fan, had to make brackets to keep the fan in place.












Datum 2021 Apr 15
Jobbat vidare med kablarna mellan fram och bakände, bl.a. förlängt en kabelhäva från eln fram till säkringsboxen placerad fram. Har börjat med den grova ledningen från batteri via säkerhetsbrytaren till starteln och kabeln från generatorn tillbaka till säkringsbox och batteri. Jag har identifierat kablarna i den lilla kabelhärvan från Lotus som kopplar upp allt ljus bak, så jag kan koppla ihop den med Toyotakablarna.
Have been working with the wiring between front and rear, I've among other thing lengthened a wire loom from the engine to the front fuse box. I've also stated with the two thick wires from battery, via the safety switch, to the starter and the one from the alternator to the battery. I've identified all the wires in the Lotus loom connecting all the rear lightning so I can join it with the Toyota wiring loom.




Datum 2021 Apr 11
Jobbat med kablarna framme, kopplat upp en strålkastare, monterat nya signalhorn, dragit fram ledningar till dimljusen, gjort fäste för reläboxen till ljus och ordnat en gemensam jordpunkt. Har också monterat batteriet och huvudströmbrytaren.
Have been working with wiring at the front, wired up headlights, new horns, fog lights, made brackets for relay box and ground point. I've also fitted battery and main safety switch.






Modifierat kopplingsschema och legend/ Modified wiring diagram and key to diagram
Datum 2021 Apr 05
Flyttat relä- och säkringsboxen för hel- o halv-ljus bakåt i kabelhärvan så att man kan komma åt den via luckan fram. Förlängt ca 30 kablar som ansluter till instrumentet.
Moved the fuse and relay box for main lights a bit to the rear in the wire loom so it can be reached at from the bonnet (front) . Extended 30 wires to the instrument cluster connector to reach the new position in relation to the fusebox.



Datum 2021 Apr 02
Spårat lite kablar i elns kabelhärva, framförallt matning från generator och matning till startel eftersom dessa måste förlängas fram till batteri och säkringarna. Köpte ett AGM-batteri och tillverkade en batterilåda, passade på att göra fästen för den stora säkringslådan framme vid batteriet.
Traced wires from alternator and to starter as those have to be lengthened up to the fuse box up front. Made a battery box to the AGM-battery I bought and also made brackets for the fuse box I placed close to the battery.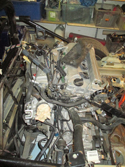 Datum 2021 Mar 24
Har monterat generatorfästet och generatorn, ganska tight fit. öppnat upp framför instrumentbrädan så jag kunnat trä igenom säkringsdosa och kablar, samlat kablarna som går bakåt och de räcker precis till bakstammen.
I've fitted the alternator bracket and the alternator, tight fit. Opened up in front of the instrument cluster, so I was able to thread the wire loom and fuse box through, I also joined the wires going to the rear, and they are long enough, just.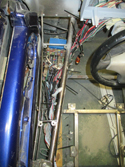 Datum 2021 Mar 22
Då jag inte hittar delar av fästet för generatorn tillverkar jag ett eget av plåt.
Not finding parts of the alternator bracket, I'm making my own out of steel plate.





Datum 2021 Mar 20
Nu vågar jag inte klippa mer, jag har lagt ut härvan och samlat kablarna med buntband. Provar i bilen vad som passar och vad som behöver ändras. Troligen räcker huvudstammen mellanstora säkringsdosan och ECU som tur är, men alla de tunna kablarna till instrumentet måste förlängas. En annan fråga är batteriet bak eller fram, i Toyotan sitter batteriet bredvid eln och väljer jag samma lösning måste ett gäng kablar färlängas fram till den svarta avlånga säkringsdosan som har huvudsäkringarna, eller så flyttar jag batteriet till framändan och förlänger kablaget från generatorn (plus några andra kablar), men det verkar enklare och borde heller inte vara fel ur viktbalanssynpunkt heller.
I don't dare cut any more, so I spread out the cables and temporarily joined them with cable ties. Testing in the car what works and what needs to be altered. It seems that the main loom between the big fuse and relay box and the ECU is long enough, but all the thin wires from the loom to the instrument cluster needs to be lengthened. Another question is if I'll put the battery at the back or at the front, in the Toyota it sits next to the engine and if I choose the same solution Quite a few thin wires and the main feed to the main fuses need to be lengthened up to the black fuse box that sits at the front. The other solution is that I move the battery to the front and lengthens the wires from the alternator (and a few others), this seem simpler and will also improve the weight distribution a bit.




Datum 2021 Mar 17
Fortsatt med att rensa i kabelhärvan, men nu vågar jag inte klippa mer efter ytterligare en vecka med näsan i kopplingscheman, har rensat ut 7.5 kg kabel. Jag har även rensat bort ett antal kopplingsstycken och skarvat kvarvarande kablar permanent. Mycket hjälp av betaltjänsten <"Toyota tech.eu"> där jag laddat ner alla kopplingsscheman och annan teknisk dokumentation.
Continuing to strip the wire loom, but now I don't dare cut any more after another week of cutting and studying wiring diagrams. I've removed 7.5 kgs of wire and also quite a few junction boxes and then joined the remining wires permanently. I've had a lot help from pay per hour <"Toyota tech.eu"> where I've downloaded all the wiring diagrams and other technical documentation.


Datum 2021 Mar 11
Fortsatt med att rensa i kabelhärvan, radio o högtalarkablar, ABS, styrservo, vindrutetorkare och spolning (fram o bak), höjdreglering strålkastare. Har också börjat spåra upp system som ska behållas, hel o halvljus, dimljus, blinkers, backljus, tändningslås mm.. Försöker också lista ut vilka kablar som finns i den kapade stammen till bakre delen av bilen.
Continuing to strip the wire loom, radio and speakers, stability control, power steering, wipers and washers (front and back), level control head-lights. I have also started to track systems to keep, such as headlight, foglight, reversing light, indicators, starter key among other things. Also trying to figure out which wire is which in the loom to the rear of the car, which is cut of.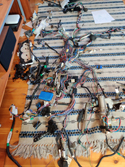 Datum 2021 Mar 02
Börjat lite försiktigt rensa i kabelhärvan, först bort blev air-bagsystemet och stolsvärmen.
Started cutting out wires from the wire harness, first out was air-bag system and heated seats.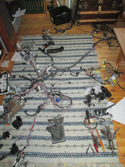 Datum 2020 Dec 04
Lagt ut de båda kabelhärvorna för jämförelse. Lite skrämmande mängd kablar vid första påseende, men försiktigt ska väl en hel del som stolsvärme, krockkuddar, innerbelysning mm. kunna klippas bort. Började med att borra ur låsskruvarna till tändningslåset för att få loss det från styrservot, en annan komponent som inte kommer att behövas. ABS och antispinn lär väl också få stryka på foten.
Spread out the two wiring looms to compare them. A little bit terrifying amount of wires at first glance, but with some caution, a lot should be able to get rid of, such as seat heating, air bags, inner lighting etc.. Started with drilling out the locking screws for the ignition lock separating it from the servo, another thing that will be gone as well as ABS and traction control.