« Lotus 2 Eleven kit car build diary
Motor, Engine
Kolla även under Uppdateringar där en del finns beskrivet. Also check under Updates were some jobs are described.
Engine specification and engine number
2ZZ-GE TWC MTM 6F (engine type, twin cam, manual transmisson, 6 speed)
Toyota Corolla T-sport, 141 kW -03,
Drivebelt V-ribbed VKMV 6PK 1420

Datum 22 Aug 03
Strax efter jag åkt hemifrån kände jag stark bensinlukt, öppnade motorhuven och allt var vått av bensin. Det visade sig att det läckte från fördelningsröret till spridarnam, från något som jag tror är ett membran troligen för tryckutjämning, se röd markering på bilden. En kompis körde mig hem och jag skruvade loss fördelningsröret från kompressormotorn och ersatte det på motorn i bilen, sen var det bara att fortsätta färden.
Just 10 km from home I felt a strong odour of petrol, stopped and opened the bonnet and everything was wet with fuel. It was the feeder pipe to the injectors that was leaking. Probably from a device for equalizing pressure, some sort of membrane /red circle in the picture). A friend picked me up and we returned home, I dismantled the same piece from the spare compressor engine and swapped the broken one, then I continued the trip.

Datum 22 Jun 28
Äntligen klar med kylsystemet, dels problemet med små krypläckor vid några rörändar och sen lösning på problemet med luftning av kylaren. Först lång väntan på ett riktigt verktyg för att göra ordentliga vulkar på rörändarna, köpt från Useful tools i England. Att fixa detta betydde förstås rivning av tröskellådor mm. När allt var hopmonterat igen och provturen resulterade i att motorn kokade insåg jag att jag inte lyckats lufta kylaren ordentligt, så jag köpte ett slangavstick från Dahlhems, DO88 har också, monterade på slangen efter att ha stansat hål med medföljande hålpipa och anslöt en bit bromsrör med en luftningsnippel i änden.
Finally finished with the cooling system, one problem was tiny leaks at some of the tube ends, probably due to bad beads, another problem was the overheating bue to insufficient bleeding of the radiator. To make proper beads I bought a tool from Useful tools England. To get the piping out of the car I had to dismantle the sills among other things. When everything was in place and the testdrive resulted in overheating, I ordered a hose take-off, Revotec, cut a hole in the hose with the punch that came with the take-off set, and fitted it and added a piece of brake line ended with a bleed nipple.






Datum 22 Apr 20
Jättenöjd idag då motorn äntligen tände efter veckor av felsökning i scheman och kabelhärvor, felet mitt eget så klart, hade klippt bort ca 20 cm signalledning till ECU som ska förmedla signalen att tändningen är på. Innan dess fungerade allt utom just gnistan på stiften.
Really pleased today when the engine finally fired up after weeks of troubleshooting in diagrams and wire looms. The fault was my own of course, I had cut out about 20 cm of signal wire to the ECU, the wire that tells the ECU ignition is on. Before that everything worked except the spark on the plugs.
Second time turning of the key, one plug oft to confirm spark makes the sound a bit odd.

Short video of engine ideling.

And this is what it sounds like reving it up a bit.

Datum 22 Apr 05
Monterat slangarna till bränslepåfyllning, fyllt glykolvatten (5 liter) och satt batteriet på laddning samt nytt batteri i nyckeln.
Fitted the fuel hoses, had to buy a bit larger hose to make it possible to use the old filler neck. Filled the cooling system with glykol water, 5 litres. Put the battery on charge. Also put a new battery in the ignition key.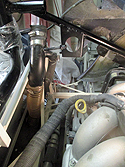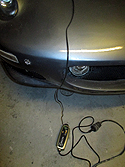 Datum 22 Mar 09
Anpassat avgasrör och änddämpare till öppning i karossen.
Adapted end of exhaust system to opening in the body.

Datum 22 Jan 28
Gjort färdig värmeskölden, i två delar för att kunna montera den.
Finished the heat shield, made it in two parts to make it possible fit.






Datum 22 Jan 27
Dragit bränsleledning inklusive filter. Har lindat en bit av avgasröret med isolering för att minska värmeutstrålningen. Har också börjat tillverka en värmesköld runt avgassystemet.
Traced the fuel line including fuel filter. Wrapped the hottest part of the exhaust pipe to reduce the heat radiation. I've also started making a heat shield.






Datum 22 Jan 25
Återmonterat grenrör och avgassystem efter att äntligen fått tag i rätt grenrörspackning.
Refitted the exhaust manifold and exhaust system after finally finding the correct manifold gasket.


Datum 22 Jan 21
Jag har pluggat luftinsprutningsportarna i toppen, behövs egentligen inte då grenröret inte har öppningarna uppborrade, men jag borrade upp portarna från 8 till 8,5 mm och gängade M10x1,5 mm smat drog dit en stoppskrup säkrad med Locktite.
I've plugged the air injection ports. starting with increasing diameter from to 8.5 mm, tapping M10x1,5 mm and inserting grub screws coated with Loctite.





Datum 22 Jan 13
Modifierat gasvajer lite och kopplat in den. Tillverkat en adapterbit för att ansluta kopplingshydrauliken, övergång från 1/4" rör och UNF-gänga till 4,75 mm rör och mm-anslutning i slavcylindern.
Modified the accelerator wire a bit and conneted it to the engine. Manufactured an adpter pipe between Lotus 1/4" pipe and UNF thread to Toyota 4,75 mm pipe and mm thread in the slave cylinder.




Datum 22 Jan 11
Blindar bort luftinsprutningen, finns tydligen två varianter, en via topplocket (som är bortblindat i mitt grenrör) och den här varianten där luften blåses in i grenröret. Jag kapar och svetsar igen matningsröret, i hålen i grenröret stoppar jag i en bit av en 6 mm skruv och lägger över en svetsloppa för att den inte ska ramla ur, vill inte svetsa i onödan i grenröret.
Blinding off the air pump inlets, obviously, there are two versions, one guiding the air through the head (those ports are blinded in my exhaust manifold) and the other version is air inlets in the manifold like mine. I cut and welded the supply pipe sealed, cut pieces of 6 mm screws and put them in the holes in the manifold, put a small weld dot to secure them and grinded smooth.






Datum 22 Jan 09
Motorn på plats i ramen igen.
Engine back in the chassis again.

Datum 21 Sept 30
Fått hem ett par nya fästen för avgasrörsupphängningen, samma som till MGF och därför billigare köpa hos MG än Lotus.
Got a couple of new hangers for the exhaust system delivered, same as for MGF, so much cheaper to buy from MG spare parts dealer than from Lotus.

Datum 21 Sept 23
Upptäckte en pöl olja under motorn, oljetråget håller inte tätt mot blocket. Försökte montera aluminiumtråget men det fungerade inte, något tog i, efter diverse mekande visade det sig att fördelningsplåten var boven, kapade av några hörn och sen fungerade det. Passade på att tillverka ett fäste för extra oljekylare, kommer dock inte att använda oljekylaren till den här motorn då den redan har en vattenkyld oljekylare inbyggd. Modifierade staget till grenröret för att få en bättre passage för vajrarna till växelspaken, modifierade även vajerfästet en gång till (inte på bild).
Discovered a puddle of oil under the engine, oil sump isn't sealing. Tried to fit the new aluminium sump, but no luck, after some trial and error I found out that the existing "spreader plate" was the culprit interfering with the new sump. Cut off some corners and made it fit. I also made a bracket for an external oil cooler, I won't use it with this engine as it already has a water-cooled oil cooler. Modified the exhaust manifold support to ease the passage of gear shift cables, also modified the cable bracket once again (no picture).






Datum 21 Sept 21
Gjort fäste för expansionskärlet och kopplat in kärlet. Svetsat in en nippel för expansionskärlet. Fyllt på motor- och växellådsolja samt bytt oljefilter.
Made a support for the expansion bottle and plumb it in. Welded in a nozzle for the expansion bottle. Filled engine and gearbox with oils and changed the oil filter.




Datum 21 Sept 20
Gjort klar kylvattenledningarna mellan kylare och motor, återstår inkoppling av expansionskärl och fäste för kärlet. Har monterat det nya luftfiltret för att kolla att det inte krockar med expansionskärlet och kylvattenledningarna.
Finished the plumbing of coolant pipes between engine and radiator, remains to plumb in the expansion bottle and make a support for it. Fitted the new air filter to check that it will not interfere with the expansion bottle.



Datum 21 Sept 19
Svetsat klart upphängningarna till avgassystemet, slipat bort skåror från anslutningen till grenrörspackningen. Börjat fixa kylvattenledningarna mellan kylare och motor.
Finished welding of the hangers for the exhaust system, grided away scoring in the flange that sits against the exhaust manifold gasket. Started fixing the plumbing of coolant pipes between engine and radiator.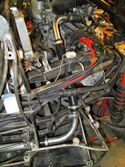 Datum 21 Sept 18
Svetsat upp avgassystemet och b&oumlrjat med upphängningarna.
Welded the exhaust system and almost finished the hangers.






Datum 21 Sept 17
Har börjat klura på avgassystemet, inte mycket plats, men med diverse böjar ska jag nog få dit det. Tillverkade en saknad klamma till upphängningen. Beställde en multirem PK6-1420 och den passade. Har också beställt diverse slangbitar för att börja sy ihop kylsystemet.
Started trying to figure out the exhaust system, not a lot of space, but with a lot of bends, I think I'll make it work. Made a missing bracket for the exhaust hangers. I ordered a new serpentine belt, PK6-1420, and it fitted. I've also purchased some radiator hoses to start making up the coolant system.





Datum 21 Sept 12
Bytte motor till den utan kompressor, 190 hk, passade på att kolla hur det ser ut där man måste plugga luftpumpsinblåsningen i toppen.
Switched engines to the one without compressor, 190 hp, took the opportunity to check what it looks like where I will need to plug the openings in the head for air inlet from the air pump (which I will not use).