« Lotus 2 Eleven kit car build diary
Motor, Engine
Kolla även under Uppdateringar där en del finns beskrivet. Also check under Updates were some jobs are described.
Engine specification and engine number
2ZZ-GE TWC MTM 6F (engine type, twin cam, manual transmisson, 6 speed)
Toyota Corolla T-sport, 141 kW -03,

Datum 21 Sept 30
Fått hem ett par nya fästen för avgasrörsupphängningen, samma som till MGF och därför billigare köpa hos MG än Lotus.
Got a couple of new hangers for the exhaust system delivered, same as for MGF, so much cheaper to buy from MG spare parts dealer than from Lotus.

Datum 21 Sept 23
Upptäckte en pöl olja under motorn, oljetråget håller inte tätt mot blocket. Försökte montera aluminiumtråget men det fungerade inte, något tog i, efter diverse mekande visade det sig att fördelningsplåten var boven, kapade av några hörn och sen fungerade det. Passade på att tillverka ett fäste för extra oljekylare, kommer dock inte att använda oljekylaren till den här motorn då den redan har en vattenkyld oljekylare inbyggd. Modifierade staget till grenröret för att få en bättre passage för vajrarna till växelspaken, modifierade även vajerfästet en gång till (inte på bild).
Discovered a puddle of oil under the engine, oil sump isn't sealing. Tried to fit the new aluminium sump, but no luck, after some trial and error I found out that the existing "spreader plate" was the culprit interfering with the new sump. Cut off some corners and made it fit. I also made a bracket for an external oil cooler, I won't use it with this engine as it already has a water-cooled oil cooler. Modified the exhaust manifold support to ease the passage of gear shift cables, also modified the cable bracket once again (no picture).






Datum 21 Sept 21
Gjort fäste för expansionskärlet och kopplat in kärlet. Svetsat in en nippel för expansionskärlet. Fyllt på motor- och växellådsolja samt bytt oljefilter.
Made a support for the expansion bottle and plumb it in. Welded in a nozzle for the expansion bottle. Filled engine and gearbox with oils and changed the oil filter.




Datum 21 Sept 20
Gjort klar kylvattenledningarna mellan kylare och motor, återstår inkoppling av expansionskärl och fäste för kärlet. Har monterat det nya luftfiltret för att kolla att det inte krockar med expansionskärlet och kylvattenledningarna.
Finished the plumbing of coolant pipes between engine and radiator, remains to plumb in the expansion bottle and make a support for it. Fitted the new air filter to check that it will not interfere with the expansion bottle.



Datum 21 Sept 19
Svetsat klart upphängningarna till avgassystemet, slipat bort skåror från anslutningen till grenrörspackningen. Börjat fixa kylvattenledningarna mellan kylare och motor.
Finished welding of the hangers for the exhaust system, grided away scoring in the flange that sits against the exhaust manifold gasket. Started fixing the plumbing of coolant pipes between engine and radiator.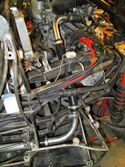 Datum 21 Sept 18
Svetsat upp avgassystemet och b&oumlrjat med upphängningarna.
Welded the exhaust system and almost finished the hangers.






Datum 21 Sept 17
Har börjat klura på avgassystemet, inte mycket plats, men med diverse böjar ska jag nog få dit det. Tillverkade en saknad klamma till upphängningen. Beställde en multirem PK6-1420 och den passade. Har också beställt diverse slangbitar för att börja sy ihop kylsystemet.
Started trying to figure out the exhaust system, not a lot of space, but with a lot of bends, I think I'll make it work. Made a missing bracket for the exhaust hangers. I ordered a new serpentine belt, PK6-1420, and it fitted. I've also purchased some radiator hoses to start making up the coolant system.





Datum 21 Sept 12
Bytte motor till den utan kompressor, 190 hk, passade på att kolla hur det ser ut där man måste plugga luftpumpsinblåsningen i toppen.
Switched engines to the one without compressor, 190 hp, took the opportunity to check what it looks like where I will need to plug the openings in the head for air inlet from the air pump (which I will not use).