« Lotus 2 Eleven kit car build diary
Chassiåtgärder, bromsar, fjädring och styrning
Kolla även under Uppdateringar där en del finns beskrivet. Also check under Updates were some jobs are described.
2021 Dec 01
Efter att agerat flytthjälp en månad är det dags att återuppta bygget. Lagade en skada på "Crash box", och har klarlackat aluminiumplåtar för golv och front samt börjat återmontage.
After helping one of the kids move, for almost one month, I'm back in business. Mended a flange on the crash box, clear coated some aluminium panels and started fitting things back on the chassis.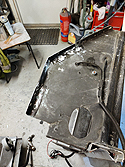 2021 Nov 03
Börjat återmontera hjulupphängningen fram. Har skaffat bultar hållfasthetsklass 10.9. Fick också användning av min största hylsa, 36 mm, för att lossa och spänna fast muttern som låser ställskruven på styrväxeln.
Started fitting things back to the frame, beginning with front suspension. Shopped some bolts class 10.9 as recomended for critical joints. I also got use for my biggest socket (36 mm) to loosen and retighten the locking nut on the adjuster screw in the steering rack.



2021 Oct 28
Målade de tunna rören utanför själva ramen med pensel, duktigt med spill ändå. Avslutat med 2 lager 2K akryllack.
Painted the small tubes outside of main frame with a brush, even so a lot of spillage. Finished off with 2 layers of 2K acrylic paint.

2021 Oct 26
Nu är andra 2K epoxigrund lagd.
The chassis is now painted with second layer 2K epoxy.



2021 Oct 24
Nu är första lagret 2K epoxigrund lagd.
The chassis is now painted with first layer 2K epoxy.



2021 Oct 23
Har tillverkat ett par golvplåtar till, ordnar fästen med nitmuttrar, men detta är för att hålla på plats när jag slutligen fäster allt med popnitar.
I've made a couple of plates for the floor and made fasteners for them with riv-nuts, this to hold them in place for final fastening with pop rivets.


2021 Oct 21
Nu är chassit helt demonterat och jag har hängt upp det i taket för att lättare komma åt undersidan, håller på att stålborsta allt innan jag går över med fettrengöring före 2K epoxigrunden. Ångrar lite att jag sålde karosserisnurran, men jag skulle ju inte ge mig på flera sådana jobb, ha ha.
The chassis is now completely disassembled and I have suspended it from the roof to get better access beneath, using various rotating steel brushes all over before degreasing and painting with 2K epoxy. Regretting having sold the chassis rotisserie, but I wasn't going to do more of those jobs, haha.



2021 Oct 14
SFRO besiktning 1 avklarad, så nu är det klart för att måla ramen. En före och en efter-bild med allt löst förutom hjulupphängningarna bortplockat. Jag var tvungen att göra konsolen för instrumenten demonterbar för att få plats att dra ut rattstången.
A before and after picture with everything except trailing arms removed from the chassis. I had to make the console for the instrument cluster removable, or it wouldn't have been possible to remove the steering column.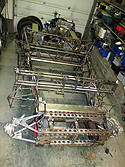 2021 Oct 12
Köpte en paketvåg som tar vikt upp till 300 kg. Mätte under varje hjul med motstående hjul pallat under till samma tjocklek som vågen. Vikten är som när bilen besiktigades, dvs. endast olja i motor och växellåda, alla andra system tomma, bara en stol monterad. Vikterna blev, hö.fr (där batteriet sitter) 124,5 kg, vä.fr 115,5 kg, hö.bak 188,2 kg och vä.bak 201 kg. Summa 629 kg så det pekar väl på en slutvikt runt 750-800 kg
I bought a parcel scale capable to measure 300 kg. The weights are as the chassis was inspected, dry except oil in engine and gearbox. When measuring, I raised the wheel on the opposite side by putting a wooden bit of the same thickness as the scale under the wheel. The corner weights are RH front 124,5 kg, LH front 115,5 kg, RH rear 188 kg, LH rear 201 kg, sums up to 629 kg which indicates a final weight of 750-800 kg.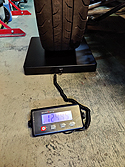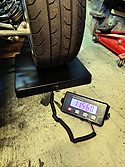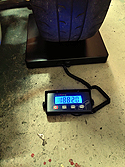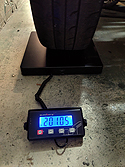 2021 Oct 04
Har nu rullat bilen på egna hjul (utan motor igång) för transport till första besiktning. Besiktningen godkändes, saknas några måttuppgifter, annars allt OK. Besiktades i Landsbro av Bo Andersson, även känd som "Bildoktorn". Bilen har nu eget chassinummer, YVVB1215372110022.
The car has now rolled a bit on its own wheels (towed) for transport to the first inspection of "rolling chassis". It was approved, only a few measures of brakes missing, to be added later. The inspection was done by a famous (in Sweden) auto profile from radio/TV and own published books. The car has now its own VIN, YVVB1215372110022.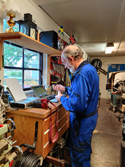 2021 Sep 30
Kapat till en aluminiumplåt till golvet framför stolarna, kan vara bra att ha någonstans att sätta fötterna när bilen ska rulla mot första SFRO-besiktningen. Har massproducerat fästen att skruva fast golvet i, senare kommer golvet att limmas och nitas mot ramen.
I've cut an aluminium plate for the floor in front of the seats and mass-produced brackets to hold the floor to the frame, I need a floor to have somewhere to put the feet when rolling the car to the first inspection of rolling chassis. Later on, I'll glue and rivet the floor to the frame.




2021 Sep 27
Gjort en mall för golvet under fotutrymmet, ska montera det temporärt inför besiktningen så att jag inte behöver sitta som i en Familjen Flinta-bil när jag ska bogsera den upp på transporten till första besiktningen.
I made a template for the footwell floor, I will fit it temporarily, so I won't sit like in The Flinstones car when towing the vehicle up on the transport to the first official inspection of a rolling chassis.
2021 Sep 2021 Sep 16
Monterat de nya huvudcylindrarna och luftat bromssystemet.
Fitted the new master cylinders and bled the brake system.

2021 Sep 12
Rivit ur pedalstället för att kunna byta både huvudbromscylinder och kopplingscylinder, de jag har verkar ha torkat ihop. Passade på att ta några bilder av chassit runt motorn när denna är urplockad.
Had to take out the pedal box so I can put in new master cylinders for brakes and clutch, existing ones seems to have dried out. Took the opportunity to take some photos of the chassis around the engine while the engine is out.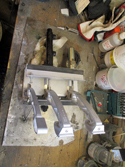 2021 Sep 07
Gjort klar bromsledningarna och luftat systemet, men får ingen verkan från bromspedalen, antar att 20 år gamla tätningar gjort sitt. Beställt ny huvudbromscylinder från Elise-parts (huvudcylindern är inte reparerbar). Tillverkat 2 distanser för bakre stagen till störtbågen mot ramen, nu gäller det att få tag i M10x50-60 långa insexskruvar. Jag har också svetsat in två plåtar för insatnsning av chassinummer.
Finished the brake lines and bled the system, but, can't get any pressure from the pedal, I guess 20 years have dried out the seals. I've ordered a new Main brake cylinder from Elise-parts (the main cylinder is not a reparable part). I also made 2 distance pieces for the rear struts for the rollover bar to the chassis, now I've got to source a couple of M10x50-60 socket head cap screws. I have welded in 2 plates for the VIN number.







2021 Sep 05
Gjort nytt justerbart fäste för handbromskontakten (från Toyota), liksom fäste för bromsbalansventilen. Har även dragit fram en något knölig bromsledning till ventilen.
Made a new adjusable braket for handbrake warning switch (from Toyota), as well as a bracket for the brake balance valve. Also traced the brake line up to the valve, a bit tricky routing.




2021 Sep 04
Som förberedelse för första SFRO-besiktning har jag monterat stötdämpare och fjädrar samt bromsoken och handbromsmekanismen, har också tillverkat och monterat de första bromsledningarna.
Preparing for the first "pre-MOT", I've fitted suspension and brakes including handbrake mechanism. I've also made and fitted the first 2 brake lines.






2021 Mar 11
Tillverkade ett verktyg för att kunna backa kolvarna. Hittade en instruktion hur man renoverar kolvtätningarna i de bakre oken, rätt komplicerat så jag avstår tills vidare och byter bara tätningar för bultarna oket glider på. Har dock putsat och målat oken gula. Främre bromsoken är nyare och från en Opel Speedster så de gör jag inget med, har bara kollat med tryckluft att kolvarna löper fritt.
Made a tool to reverse the calliper pistons. Found an instruction how to repair the rear callipers, but it is a bit complicated so I'll leave it for now after checking with compressed air that the pistons move, just changing the seals for the bolts on which the calliper slides. I've cleaned and painted the rear callipers. Front callipers are quit new from an Opel Speedster, so I'm just checking with compressed air that the pistons move.


2021 Feb 23
Fick hem repsats till bromsarna köpt från Elise-parts.
Got the repair kits for the brakes ordered from Elise Parts.

2021 Feb 10
Gjort färdigt fästet till instrumentklustret. Överväger att skära loss konsolen och flytta den en centimeter åt höger eftersom den inte sitter centrerad över styrstången. Har en känsla av att det kan bli en sån där sak som man bara ser själv, men irriteras över.
Finished the support for the instrument cluster. Might need to remove and fit it again, it's not perfectly centred above the steering column. I have a feeling that it will become one of those details you will regret not to be fixed once you had the opportunity.




2021 Feb 05
Tillverkat ett fäste för instrumentklustret från Toyota. Först monterade jag en plåt för att simulera vindrutan och se var instrumenten behövde placeras, sen en pappersmodell för att kunna göra konsoler till klustret.
Made a support for the Toyota instrument cluster. First I fitted a plate strip to simulate the windscreen to help see where to place the instrument cluster. then I made a paper model to be able make brackets for the cluster.








2021 Feb 02
Svetsat in fästen för strävorna som stödjer störtbågen framåt. Första försöket blev inte så bra, det gick inte att stänga dörren helt, men fixat nu.
Welded in the support for the forward facing leg of the roll over bar, first attempt not so good, couldn't quite shut the door, now fixed.



2021 Jan 30
Svetsat in fästen för säkerhetsbältena samt justerat läget på fästet för främre huvlåset lite framåt.
Welded the seatbelt supports to the frame and adjusted the bracket for bonnet lock a bit forward.



2021 Jan 12
Svetsat in fästen för sätena.
Welded the seat supports to the frame.

2021 Jan 11
Första svetsarna i ramen var att svetsa ihop några justeringar förre ägaren förberett för att anpassa rörstrukturen mot chassien.
First welds in this frame was joining up a couple of cuts previous owner made to adjust the tubular frame to the body.


<