« Lotus 2 Eleven kit car build diary
Kaross
Kolla även under Uppdateringar där en del finns beskrivet. Also check under Updates were some jobs are described.
2021 Aug 25
Provmålar nu med BMW "Stahl grau", men lutar mer åt den blåa färgen.
Making another test with BMW "Stahl grau" (Steel grey), but I like the first bluish colour better.

2021 Jul 25
Med en lucka i sommaraktiviterna så har jag fortsatt med att göra anslutningar för luftkanaler för bromskylning, rätt svårt få till en övergång från rektangel/avlångt/runt till cirkelrunt. Inte så vackert, men de är ju gömda under skärmarna så ingen ser dem. Har gjort fästen för parkeringsljusen samt satt fast dessa och luftintagen med glasfiber/epoxi.
With a break in summer activities, I've continued with the brake cooling ducts making connections for round aluminium hoses. It was a bit tricky to go from square/oblong/round to a circular opening, the result isn't pretty, but nobody will see them under the wings. Made bracket for the parking lamps and fastened them and the air ducts with GRP.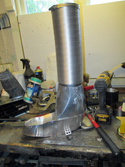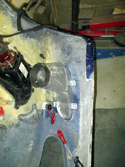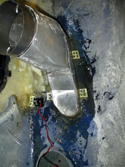 2021 Jul 9
Fortsatt tillverka kanaler i aluminium att plastas fast i de nya öppningarna i fronten. Provmålat ett hörn bak, utan klarlack, med en sprayflaska fylld med BMW "Stahl Blau" som jag tror ligger rätt nära den kulör jag vill ha på bilen.
Continued making the aluminium ducts that will be fastened with GRP in the new front openings. Made a paint test with a spray can filled with BMW "Steel Blue" colour, no clear coat yet, and I think it is quite close to the colour I want.




2021 Jul 1
Fyllt med cellplast och glasfiberspackel runt de nya lyktpottorna. Gjort pappersmodell för plåtkanal i kylöppningarna i fronten.
Filled with foam and GRP filler around the new openings for fog and reversing lights. Made a papermodel for the duct behind the openings for air to front brakes, tranfered it to aluminium plate.




2021 Jun 30
Sågat hål för de små parkeringslamporna samt fäst hållarna för baklyktorna med glasfiber.
Cut the holes for the tiny parking lights and glued the taillight recess in place with GRP.


2021 Jun 28
Har fortsatt med baklyktorna, sågat upp hålen och passat in lykthållarna. Har också tagit hål i fronten för luftintag till bromskylning.
I've continued working with the taillights, cutting holes and fitting the holding cups. I've also cut openings in the front for air to the brakes.







2021 Jun 25
Har jobbat lite med glasfiber, försöker göra infällningar för back- respektive dim-ljus, använt en plastburk som form.
Been working a bit with GRP, making recess/"pots" for reversing light and fog light, I've been using a plastic can.



2021 Feb 28
Fortsatt jobba med biten som ersätter originalvindrutans plats, nu med ett lager kolfiber.
Continuing working on the panel that substitutes the original windscreen in the body, now with a layer wowen carbon fibre.



2021 Feb 22
Fortsatt slipa och spackla upp lagade delar av karossen.
Continuing sanding and applying filler on repaired body parts.


2021 Feb 19
Medan jag jobbat med instrumentbrädan, passar jag på att även spackla upp lagade delar av karossen.
While working on the dashboard, I took the opportunity to apply filler on repaired body parts as well.



2021 Feb 14
Börjat fixa det trasiga hörnet framför vänster bakhjul, glasfiber är väldigt kladdigt att jobba med.
Started fixing the damaged corner in front of LH rear wheel, GRP is a sticky thing to work with.


2021 Jan 27
Börjat lite försiktigt med injustering av vänster skärms bakkant mot dörren. Nästa steg blev att tillverka en droppkant längst fram på aluminiumplåten mellan vindruta och huv. Jag kommer antagligen att använda aluminiumkonstruktionen som form för en glasfiberpanel.
Started the work on the body by adjusting LH wing in the rear end to line up with the door. Next job was making a channel, to collect and drain water, in the front edge of the aluminium plate between windscreen and bonnet. I'll probably use the aluminium as a mould for a GRP panel.